Food & Drink
The Well Woman's Kale Citrus Salad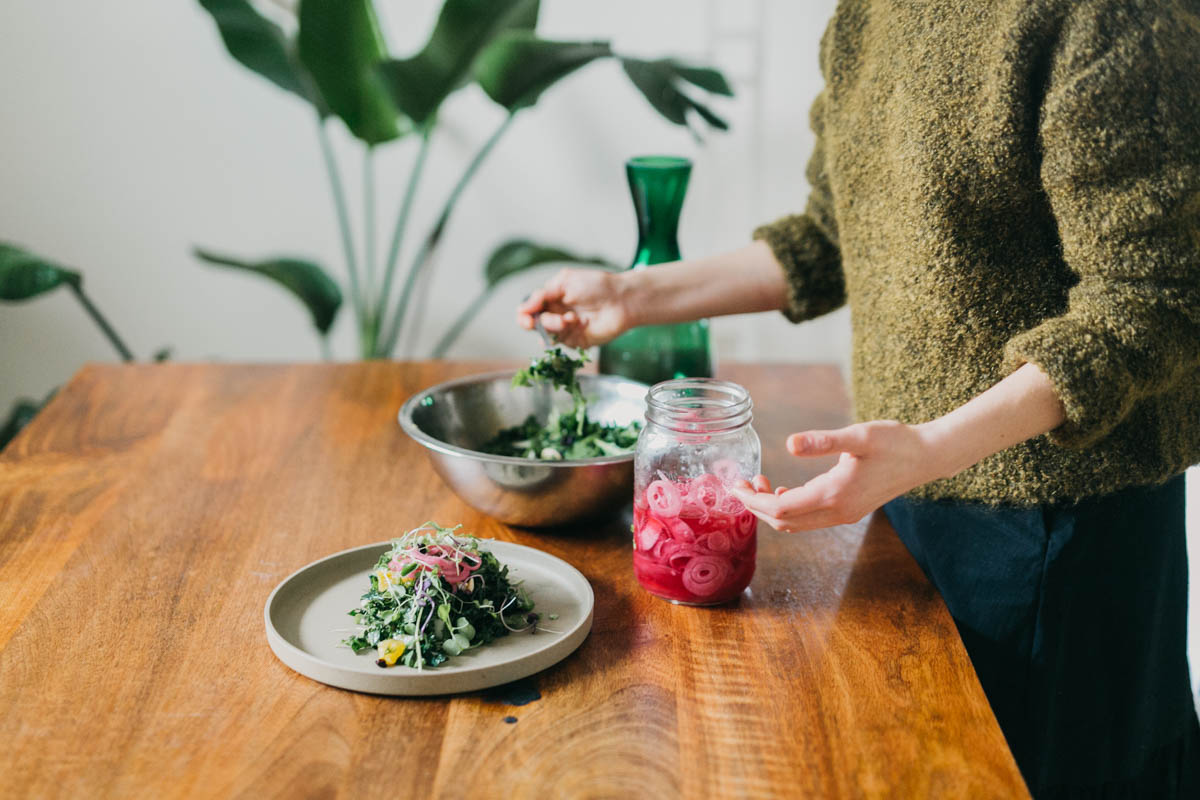 Yesterday, the Well Woman's Tonya Papanikolov—holistic wellness and plant-based alchemy expert—brought us a delicious alternative to the classic, yet not always totally healthful, banana bread recipe. Her program, and the idea behind the Well Woman's pitch, is combining six things that lead to a more healthful life: holistic development, nutrition, community, ritual, curiosity, and sustainability. The combination of these practices in your everyday life, Tonya says, creates radiance from the inside out.
Especially at the start of a new year, we seem to be bombarded with quick fixes to health issues. Tonya's practice preaches just the opposite: an approach that reveres sustainability and longevity is the ultimate goal. In the hopes of sticking to our wellness goals and New Year's resolutions towards the end of the month, we asked Tonya for another recipe that was simple, delicious, and healthful, that we could incorporate into our routines for months to come. Her Citrus Kale Salad was just what the doctor ordered: a fresh twist on an old classic recipe is the secret to creating ritual without redundancy. We know what we're having for lunch this weekend, and hope you can incorporate this guaranteed-to-please dish into your rotations, too. And if you're feeling inspired to get back on the wellness train after a month of settling back into your routine, check out our other healthy eating tips from Shira Lenchewski, Kelly LeVeque, and Elissa Goodman, and keep an eye out for more later this month. XXJKE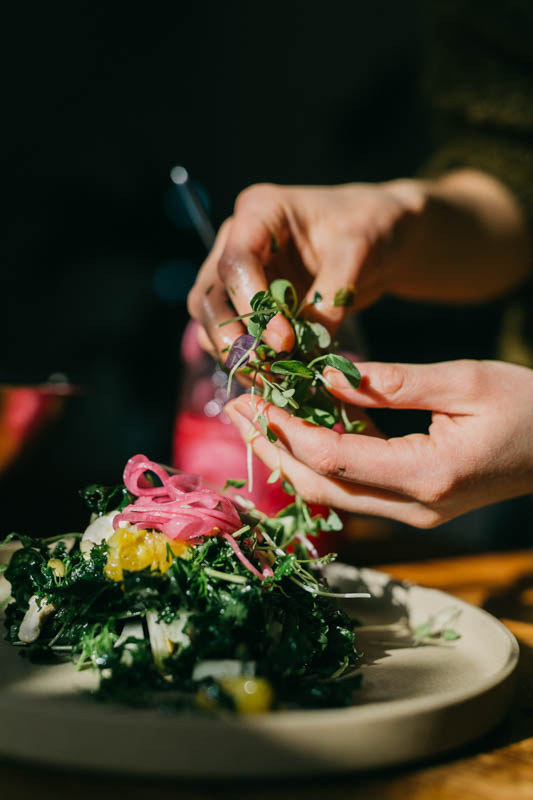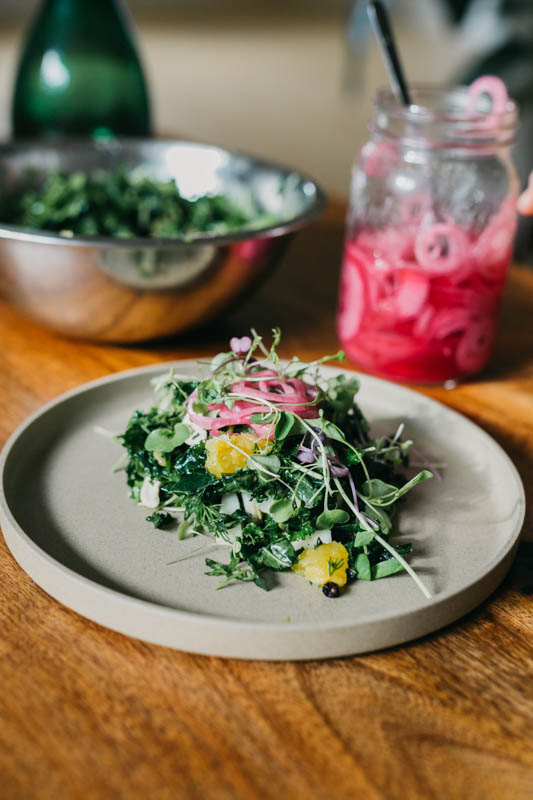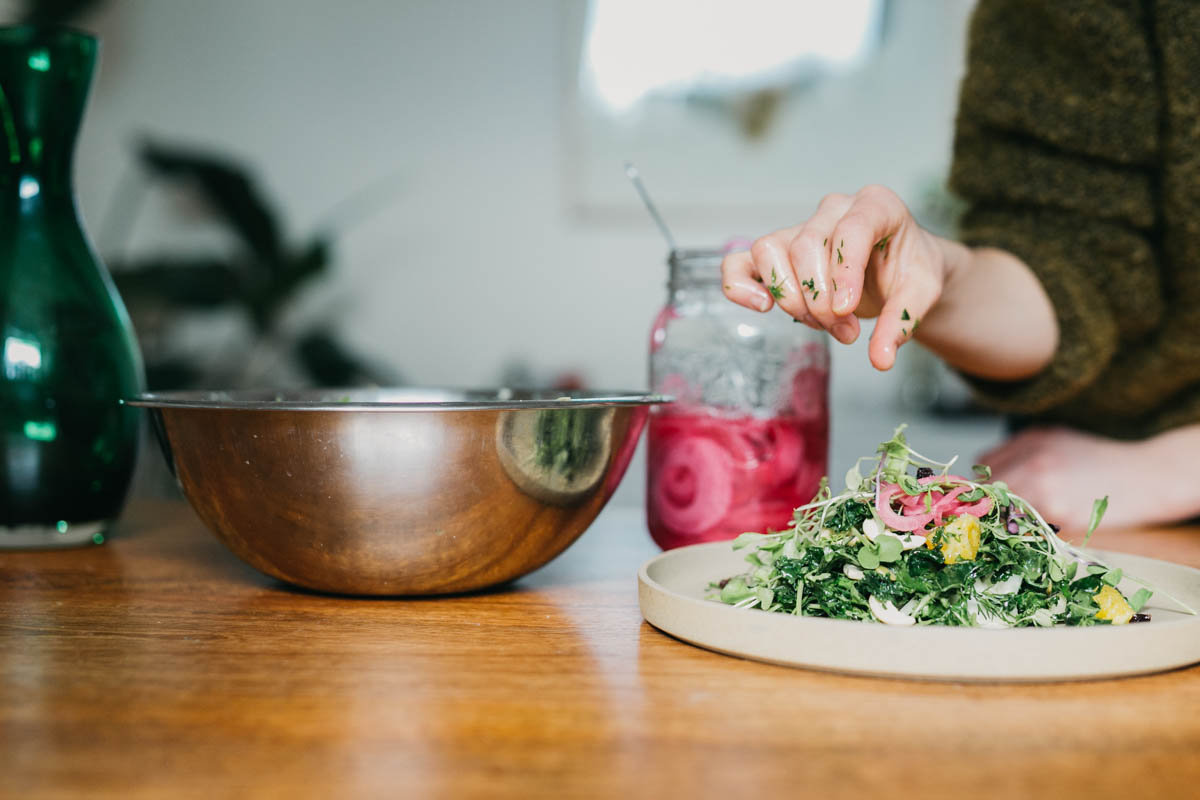 Ingredients for the salad
3-4 kale leaves washed, de-stemmed, chopped, and massaged

1 cup

237 ml

arugula
2 Tbsp fresh dill
1 orange supreme cut
1 grapefruit supreme cut

1/3 cup

79 ml

cashews

1/3 cup

79 ml

pumpkin seeds

1/3 cup

79 ml

currants
Ingredients for the dressing
1/4 cup

59 ml

olive oil

1/4 cup

59 ml

apple cider vinegar
1 Tbsp Dijon mustard
sea salt & fresh cracked pepper to taste
splash orange juice
1. Add chopped kale to a mixing bowl with 1 tsp olive oil and massage with hands.
2. Add all other ingredients and mix well.
3. Prepare salad dressing and toss salad well.
4. Plate salad and top with micro greens and pickled onion.