Wellness
The January Wellness Survey with Lauren Roxburgh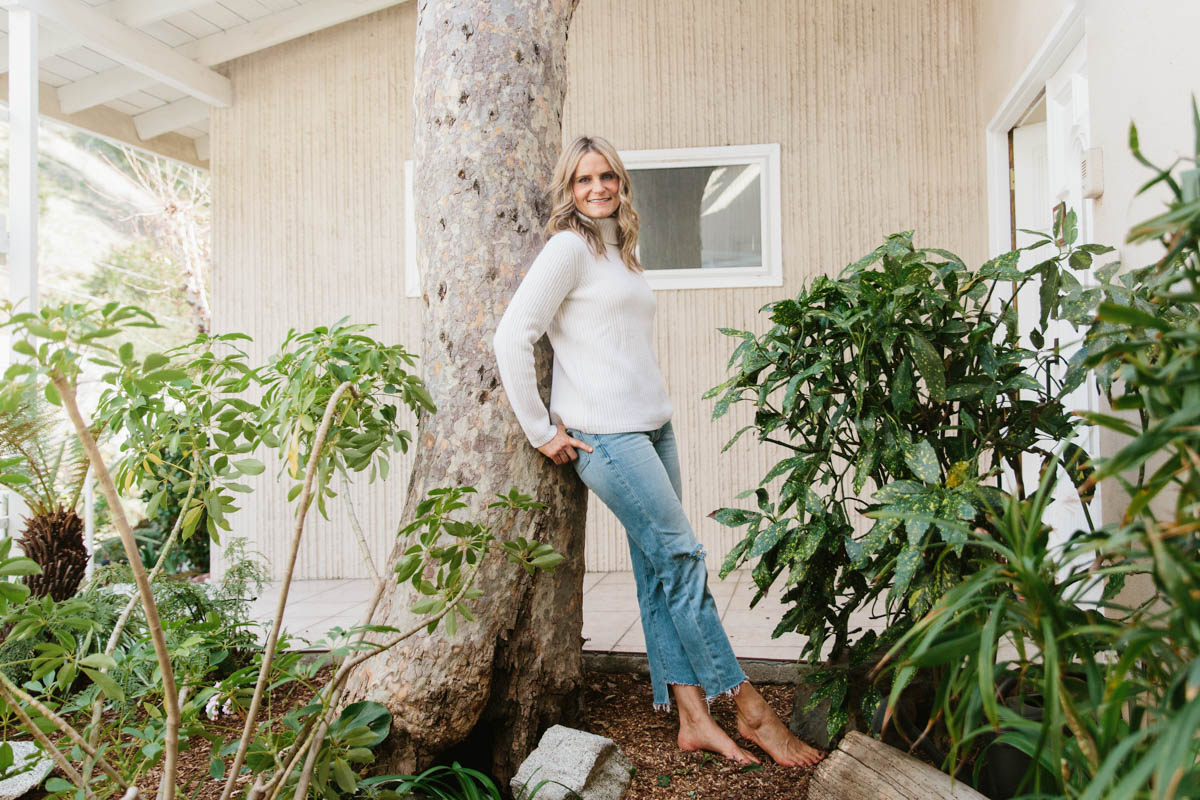 Lauren Roxburgh aka "The Body Whisperer" is a trainer, healer and alignment expert revered for her transformative foam roller workouts. Certified in Structural Integration, classical Pilates, nutrition and pre-and post-natal yoga, Lauren's work focuses on the fascia (connective tissue) of the body to create a leaner, stronger, healthier physique. Lauren's workouts are accessible through her Be Aligned video series, so you can get the technique down in the comfort of your own home. Her exercises help to increase circulation, regenerate and restructure connective tissue and can even diminish cellulite—it's no wonder her client base includes top athletes and celebrities. With her own line of foam rollers and an internationally best-selling book (Taller, Slimmer, Younger), it's safe to say that Lauren is the de facto alignment expert. For this week's January Wellness Survey, we talked to Lauren about the powers of alkaline water, staying in the present, and how sometimes, self-care looks a lot like a glass of Italian red wine. XXJKE
Rip & Tan: Describe your morning routine: 
Lauren Roxburgh: I wake up around 6:30 or 7 AM and meditate for 5 to 10 minutes. After that, I drink an 8-ounce glass of alkaline water with fresh lemon from our garden. Then my hubby makes us coffee and we hang with the kiddos for a bit in bed. Next, it's 6 to 8 ounces of pure organic celery juice or another juice blend—usually beets, apples, lemons, and oranges. I make breakfast for the kiddos and a smoothie full of fiber, greens, and fats like MCT oil, protein, or Paleo Pro Bone Broth Collagen powder. Then—assuming I don't have to race out the door to see a client or have a meeting—I head to my quick and effective Detox Flush sequence of Dry Brushing, rolling, and rebounding. I do a quick infrared sauna session then drink my charcoal lemonade and jump in the shower and get on with my day feeling clear, grounded and revitalized.
Rip & Tan: What are your go-to remedies to remain focused and energized throughout the day?
LR:
-Write a daily TO-DO list and check it off as I get it done (and most importantly I don't stress it too much if it all doesn't get done!)
-Stay in an attitude of gratitude.
-Recharge and de-stress throughout the day by taking deep, expansive breaths to calm my nervous system. This is a grounding exercise that keeps me a "rest and digest" state of being and brings me into in the present.
-Stay hydrated, ideally with alkaline water.
-Eat LOTS of fiber to stabilize blood sugar—mostly avocados and beans.
-Drink loose-leaf green tea.
-A five-minute bounce on the rebounder.
-A quick travel roller session can and give you a boost of energy at any point in the day!
Rip & Tan: How do you wind down in the evening? Describe your bedtime routine.
LR: My favorite ways to wind down are to roll out while watching Netflix, take a hot bath with magnesium chloride salt, drink Tulsi tea….and I have to admit to having a glass of Italian red wine almost every night!
A huge game changer for me was when I started taking Natural CALM Magnesium powder before bed, it helps me get the most restorative sleep. Then I brush my teeth, exfoliate my face, moisturize from head to toe, snuggle my hubs and then I'm off to dream land.
Rip & Tan: How do you introduce health and wellness in an approachable, attainable way to those who might be intimidated or overwhelmed? 
LR: Wellness is a natural state of being for a human. It's our birthright to be well and live well.  If someone if not feeling "well" it's hardly surprising—we have a ton of pressures and stresses coming at us every day. Just start on your path to true wellness by making small, sustainable changes. I love the saying "an ounce of prevention is worth a pound of cure." Wellness also does not mean deprivation and it's not all or nothing. It's actually about being in the flow, connected and aware on all levels.
Rip & Tan: Do you foresee any breakthroughs or wellness trends that may emerge in the year ahead?
LR: Way more people will be working out at home by using virtual programs to save time. The amount of time it takes to get to a class can drain the time you have to move, so in-home workouts are very appealing. I've developed my own program based on my best-selling book, Taller Slimmer Younger. This digital course gives you ten weeks of workouts as well as a meal plan packed with what I like to call "Fascia Food" recipes, a detox flush and an online community—our Aligned Tribe—to support you every step of the way. This ten week program is the perfect way to kick start your wellness journey.
Rip & Tan: How can you tell whether a wellness craze is a fleeting fad or something to integrate into your daily routine?
LR: As your grandmother probably used to say, "the proof is in the pudding." Fads come and go. Ultimately, you've got to get in touch with your own needs, instincts, desires, and goals. Think about what works for you, and whether the latest craze fits with what you want. I encourage people to try new things, but don't get caught up in the hype. Give it a chance, evaluate how it feels, listen to your gut, and if it works and it feels right, integrate it into your daily routine.
Rip & Tan: What is your favorite way to treat yourself?
LR: I love getting Microcurrent for the face and body. It electrically reboots your system and lifts and heals everything while boosting your immunity. I also regularly get acupuncture and I love Ayurveda healing treatments. And did I mention some Italian red wine!??
Rip & Tan: How do you manage to quiet the din of over-stimulation? Do you have any tips on managing stress? 
LR: Be present. Unplug. Meditate. Breathe. Listen to your gut. Learn to say NO to things that don't feel good and yes to the things that do.  My message is all about alignment—as I say, when you align your body, you align your life. When you tune in to the physical, it can be a bridge to the emotional and spiritual self, where our truth lives. When we get our physical bodies into the correct alignment, we often find other things in our life also come into alignment as well.
I also believe that stress is a reaction and we do have the choice of how to react or respond to anything in life. A big one for me and for my clients is becoming aware of the pelvic floor, which for many can be an area of subconscious "clutching" or tension, which can come from our desire to be in control of everything.
I'm a huge fan of the foam roller—so much that I created my own model! Aside from helping heal your body by lubricating the fascia to get your body back into alignment, a good rolling program will help you spend more time in a state I like to call "rest and digest" (as opposed to the stressed-out state of "fight or flight.") Rolling balances your parasympathetic nervous system to improve your digestion, boost your metabolism and give you a sense of calm presence. Balance is the key to unlocking your body's true potential to heal itself and manage stress with more efficiency.
Rip & Tan: Describe the place (mental or physical) where you can find peace away from the outside world:
LR: I find mental and physical peace in our cozy home, in nature on a hike or at the beach. At the end of the day, it's pretty simple: being present with family and friends, being in nature and moving my body brings me the most peace.
Rip & Tan: What is the most common wellness misconception you've come across in your career? 
LR: As a former all-American swimmer and collegiate athlete, I know the dangers of working out too much. It can cause over-development of certain muscle groups and create compression in the joints, organs and muscles, which leaves you unbalanced and out of alignment. There is a place for cardio, but I believe it needs to be balanced with more restorative workouts that build the intrinsic and core muscles.
Rip & Tan: Do you have any daily mantras or words of wisdom you live by?
LR: Be the change you want to see.