Wellness
CAP Beauty on the Profound Act of Self-Care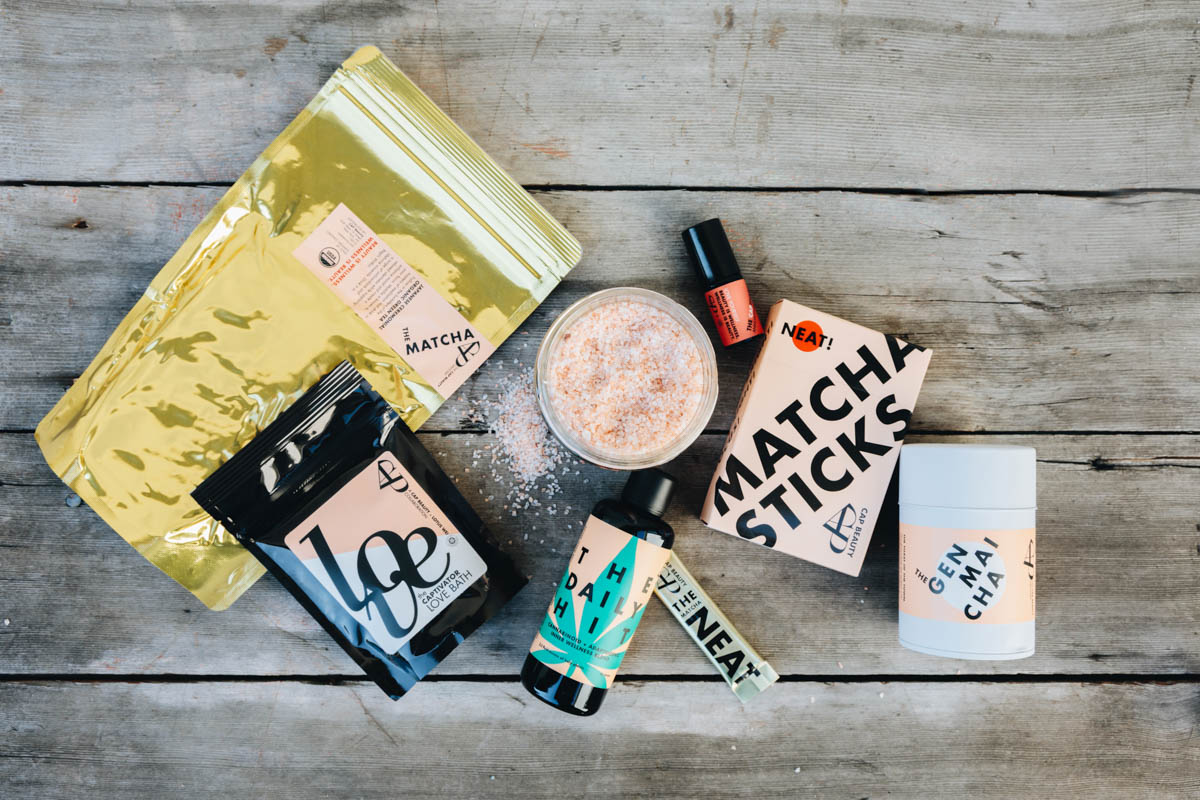 When we last talked to the founders of CAP Beauty, Kerrilynn Pamer and Cindy DiPrima, they had just opened their first brick-and-mortar shop and spa in New York City's West Village. Since then, the duo has risen to the upper echelons of luxury, proving that natural beauty is no fleeting fad. CAP Beauty's second shop is a neighbor to us here in West Hollywood as the de facto beauty counter to Fred Segal's flagship boutique. Alongside an inventory of over 150 all-natural brands (Vintner's Daughter, Tata Harper, In Fiore and Sun Potion, to name a few), CAP Beauty has just debuted their very first in-house line of products. You won't find any makeup here (for now)—rather, these are wellness essentials that work from the inside out. Think: stone ground raw coconut butter, powdered matcha and an aromatic anointing oil. We talked to Kerrilynn Pamer, one of the women behind CAP Beauty on their new line of products, defining "all-natural" and the small, consistent acts of kindness they incorporate in their day-to-day.
Rip & Tan: Your first line features products more commonly found in the pantry aisle than the beauty counter (matcha powder, coconut butter, pink mountain salt). How did you come to define 'beauty' as a holistic endeavor?
Kerrilynn Pamer: We believe that true, radiant beauty begins within. When you have a vibrant, healthy inside, it reflects on the outside. And for us, beauty can't be separated from the kitchen and what we eat. I have celiac and so have first-hand experience with the connection between what I eat and how I feel and look. I feel my best when I nourish myself and remove ingredients that compromise my condition. We live by the motto that "Beauty is Wellness"—to have the kind of beauty and health that we're looking for, the two can't be separated. They are intrinsically linked.  
Rip & Tan: We love the CAP Beauty aesthetic—from the packaging to the web design to the layout of the retail space and spa, everything you do is elevated, bright and joyful. How do you find the balance to be both aspirational and accessible?
KP: Our mission from day one has been to be both inclusive and aspirational. Cindy and I pride ourselves on being approachable and we hope that comes across in the CAP experience. We also pride ourselves on having a passionate interest in design. We believe that aspiration and inclusivity is the future. We want everyone at our party. And we want everyone to benefit from the power of plants, aesthetics and kindness. 
Rip & Tan: Everything at CAP comes with the promise that its ingredients are 100% natural. How do you make sure you're upholding these standards? 
KP: Our definition of 100% natural means that the product doesn't contain any synthetics. We thought this would be the easiest way to define what natural meant when we set out on this journey, but this has been a complex issue. There is much debate concerning when an ingredient loses its natural state, and what is the true definition of a synthetic and is a topic that we are constantly researching and studying. We rely on the integrity and transparency of our vendors for support in this mission and do our due diligence when researching brands and products to bring in. 
Rip & Tan: The most recent "Stress in America" study done by the American Psychological Association found that people are more stressed and anxious now than in any previously recorded year. Have you noticed an increase in the demand for anti-anxiety remedies? What wellness advice can you give to those seeking to find balance under stress?
KP: I think that shopping at CAP is the ultimate act of self-care. Treating yourself with products that are loaded with life force and vibrancy is a direct statement that you care about yourself. And we do have some great products that will help with that stress and anxiety. 
Rip & Tan: How do you think the recent popularity of self-care and wellness will affect the next generation? What changes would you like to see in the future of the industry?
KP: I love to think of the move towards self-care and wellness impacting the next generation. We often hear that the act of self-care is indulgent, expensive or exclusive but we think self-care is accessible to all. I'm talking about taking a walk, meditating for 10 minutes, preparing a healthy meal for yourself. By incorporating small, consistent acts of kindness and care into your day and making that your norm sets a new stage for how you feel about yourself.  Let's point the next generation towards this simple, yet profound act.
Rip & Tan: If the possibilities were endless and money was no object, what dream project would be next for CAP Beauty?
KP: We hope that the possibilities are endless and try to approach all at CAP with that attitude! Our dream is to create true healing spaces where people can come to access their highest selves. We're working on it!