Living
Profile: Eve Gerber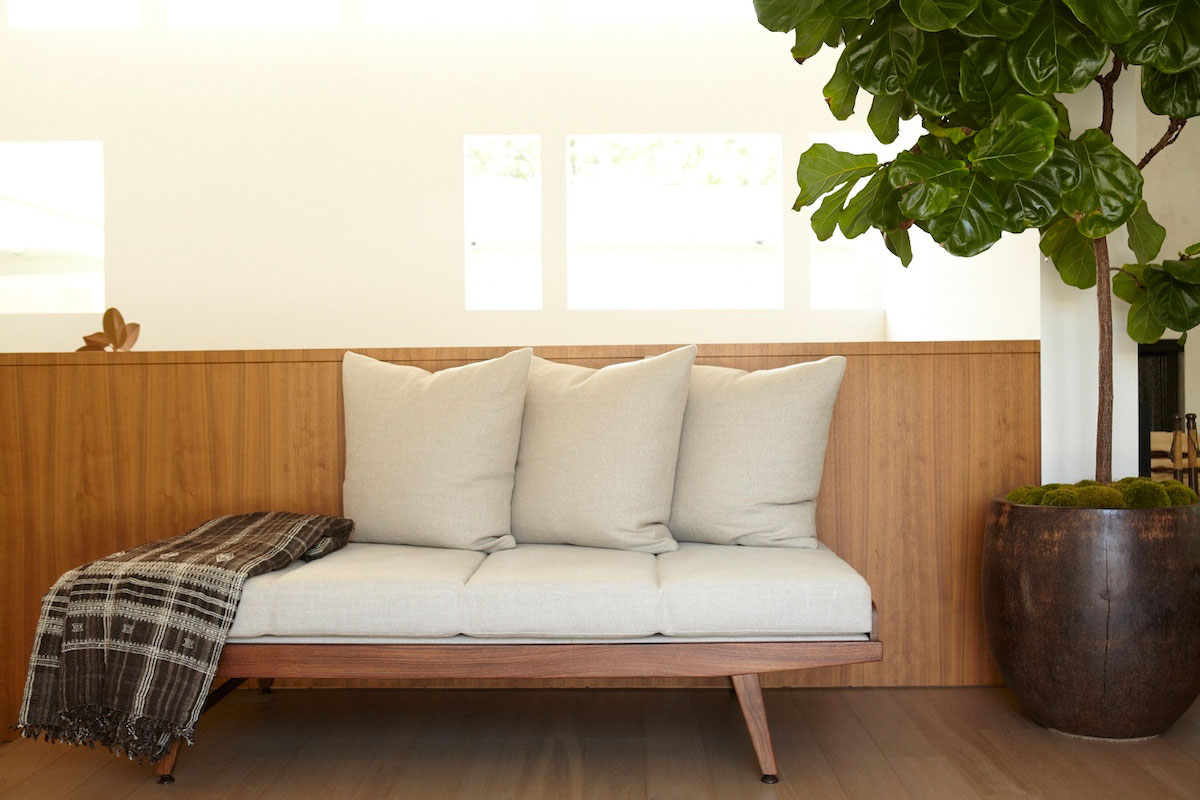 I was lucky enough to meet Eve Gerber through my husband, Richard – they have been close friends since high school and went to college together. Eve is a native Angelino who went to the Center for Early Education and Crossroads like me, and later on to USC. After working in the entertainment industry, Eve met her husband, Bill Gerber, and started a family at a young age. Eve and Billy have been married for almost 20 years and have three incredible daughters, Emma (18), Grace (16) and Georgia (11). Besides being an amazing mother, Eve is very philanthropic and co-founded a local nonprofit called HEART. She's also on the board of its parent organization, The Violence Intervention Program.
But what I really want to share with you is Eve's insane taste and a gorgeous new house that she decorated with the help of one of her best friends, the amazing interior designer Molly Isaksen. Molly and Eve did an incredible job, and whenever we go over I am inspired to change things at my house, which to me is the ultimate form of flattery. I wanted to share Eve's serine, effortless, California style with R+T in hopes that you will find it as inspiring as I do. XXJKE
Beauty
R+T: What are your go-to beauty products? Why?
I have really dry skin, especially during the winter, and I use a lot of moisturizer. I've been using Kiehl's Cream de Corps body cream for years. I've tried other things, but I always go back. I am obsessed with hand cream and keep tubes of it everywhere. My two favorites are by Nuxe and Herbacin Kamille. Goe Oil is great for hands and feet, too. By Terry makes a wonderful rose lip balm and Aquaphor is another must-have at all times.
R+T: Is there anything special you would like to share about your beauty routine?
I trust the experts! Mark Townsend cuts my hair and I go to Michael Canale for color. Terri Lawton takes care of my skin and I use several of the products she sells by Julisis. My favorites are the Silver Night Cream and the Facial Oil Serum.
R+T: What are the 5 products you couldn't live without?
Every day, no matter what: Cle de Peau concealer and waterproof black mascara ( Serge Lutens for day, Dior Show for night), Jouer tinted moisturizer. Le Metier cream tint is amazing for my dry winter skin and there's my favorite fragrance, as well – 1969 by Histoires de Parfum.
R+T: Bath or Shower?
I love long hot baths but seem to only find the time for a quick daily shower.
R+T: What do you sleep in?
Olatz silk pajamas.
Health
R+T: Do you have any health tricks?
Mostly just love and laughter. I did the Clean Program with my husband last January and felt amazing after 21 days of clean eating. He has pretty much stayed with the program, but I will need to begin at square one if I do it again in the new year.
R+T: What do you do to stay healthy and balanced?
I believe everything is okay in moderation. I exercise, but not obsessively. I eat the foods I love, but I don't overdo it. My husband and children are my first priority, but I always make time for my girlfriends.
R+T: Do you work out? If so, what do you swear by?
I have been practicing yoga for over 20 years and try to get to class at Maha Yoga or YogaHop three times a week.
R+T: What do you do to relax?
A hot bath, a glass of red wine and good book – heaven.
Decor
R+T: What's your design philosophy for your home?
I love beautiful things and spaces, but I also want my home to feel warm and comfortable and not too perfect or predictable.
R+T: What are your favorite pieces in your house?
I love our Alison Berger sconces, the tables we got from BBDW in New York and I am super excited about a bar we have in production, which is being designed by Charlie Ferrer. I also have my sights – and heart – set on a Herve Van Der Straeten light fixture for our entry.
R+T: What are your favorite home stores?
I was devastated when Turpan closed in Brentwood – it was one of my favorites. I love OK on Third Street, Heath Ceramics, JF Chen, Garde, Nicky Kehoe, Tortoise on Main. There's an incredible store in San Francisco called March. I wish you could shop on their website – I shop a lot online.
R+T: What's your favorite room in the house?
Probably our kitchen. We're a family of foodies and we spend a lot of time in there.
R+T: Did you design your house yourself or did you work with someone?
I worked with LA's most talented interior designer, Molly Isaksen . She also happens to be one of my very best friends.
R+T: How did you and Molly first meet?
We met when we were teenagers working at Ron Herman in Brentwood. Molly was my boss.
R+T: How was it having your best friend help you decorate your house?
We had a blast! Besides having impeccable taste, Molly is so close with my family and knows exactly how we live.
R+T: What are your favorite objects and accessories in the kitchen?
Our Vitamix blender gets a lot of use. I also really love the Adam Silverman canisters on our kitchen island – they have beautiful Alma Allen walnut wooden lids.
Entertaining
R+T: Do you entertain at home?
Yes.
R+T: What are your tricks for entertaining?
I try to find out what people do and don't eat – everyone in LA seems to have some sort of food allergy, aversion or is on a special diet and I never want anyone to go home hungry. Since I don't enjoy baking, I like to pick up dessert when we entertain. Right now I am obsessed with the Blums coffee crunch cake and Durrango cookies from Valerie Confections and coconut sorbet from Dolce Isola. For summertime, Harry's Berries from the farmers' markets are a must.
R+T: How do you set the scene when you have people over?
Fresh flowers, scented candles, lots of delicious food and plenty to drink. And a cheeseboard – always a cheeseboard.
R+T: Are there any tips for what to do or what to avoid?
I read somewhere that your guests will only enjoy the evening as much as the host. I try to remember this and resist the urge to fuss over the details after friends arrive or tidy up before the last person leaves. If it seems like you are working at your party, your guests can't relax.
R+T: What is your favorite song or playlist when you have people over?
We try to tailor it to the crowd, but my husband insists you can never go wrong with The Beatles.
R+T: Plated, buffet or family style for a dinner party?
It really depends on the occasion, but we seem to do more buffet than anything else.
R+T: What are your favorite flowers and where do you buy them?
White peonies are my absolute favorite but are only available a few months a year. I buy them wherever I see them – downtown at the flower mart, local florists and even Whole Foods. Billy just sent me a huge box of them from Lily Lodge for our 19th wedding anniversary.
R+T: Do you do them yourself or do you use a florist?
I do them myself and get some help for special occasions.
R+T: Who is your favorite florist?
Maurice Harris from Bloom & Plume.
Fashion
R+T: How would you describe your style?
Classic and minimalist – I know what works for me and I stick with it.
R+T: Who are your favorite designers?
Phoebe Philo, Stella McCartney, Alaia, The Row.
R+T: What are the 5 pieces you can't live without this season?
Cropped trousers, a fitted cocktail dress to the knee, leather leggings by The Row, a silk ladylike blouse and Manolo Blahnik pointy toe BB pumps.
R+T: What is your uniform?
Acne or J Brand Jeans, Isabel Marant t-shirt or Top Shop tank, Stella McCartney blazer and last year's Margiela boots. When it's cold, I wear one of my many Jenni Kayne coats.
R+T: What is your newest purchase?
The perfect LBD from Tom Ford that I wore last week to celebrate my wedding anniversary.
Food
R+T: Is there anything about your diet you would like to share with R+T?
Well, I guess it could be better. Now that we grow our own vegetables, I am trying to eat more of them. I don't deny myself the foods I really love, but I try not to over-indulge too often.
R+T: Do you cook?
Yes – but I am also excellent at ordering in!
R+T: What's your favorite recipe?
Right now I am loving this vegan quinoa & sweet potato chili I found on Pinterest. All the picky eaters in my house like it. Of course, I like mine with some sour cream and grated cheddar cheese.
R+T: What's your kids' favorite recipe?
I think they would say the meal we call "Lettuce Cups". It's marinated, grilled chicken (we also do it with shrimp) with angel hair pasta in a spicy peanut sauce, shredded carrots and cucumber and a garlic sweet and sour sauce. It takes a bit of time and dirties up a lot of dishes so I don't make it all the time, but every time I do, they say it's their favorite.
Art
R+T: Who are your favorite artists?
Cy Twombly, Rothko, Ed Ruscha, Gerhard Richter, Robert Graham, Anish Kapoor.
R+T: What's your favorite piece of art you own?
For my 40th birthday, my husband commissioned the immensely talented Tierney Gearon to create an image using our three daughters. It is breathtakingly beautiful.
Marriage
R+T: How do you balance work, motherhood and marriage?
Balance is my greatest challenge.
R+T: What's your secret to your marriage?
Respect, patience and a sense of humor.
R+T: Is there something you do with your husband on a regular basis?
We both love food and enjoy trying new restaurants, as well as going to our local favorites. We love to travel and recently took a fun four day trip to San Francisco with our daughters, where we planned the entire trip by where we would eat breakfast, lunch and dinner.
R+T: What is the first thing you bought with your husband?
The first thing I bought for my husband was a road bike. The first thing we did together was decorate our first home in Santa Monica.
Kids

R+T: Are there any kids finds you want to share with Rip+Tan?
The little dancers really love their Dream Duffles. It's a duffle bag on wheels that has a collapsable hanging rack inside for their costumes and accessories.
R+T: What's your favorite thing to do/place to go on the weekends with your kids?
All three of our kids have been involved in competitive sports and for well over a decade and our weekends have been spent at horse shows, volleyball tournaments or dance competitions. I don't know if I can even remember a free weekend…
R+T: What is your favorite restaurant to eat at with the whole family?
Pizzeria Mozza – we each have a favorite pizza and we can't get enough of their fried squash blossoms or butterscotch budino.
Current Projects
R+T: Do you have any special causes that mean a lot to you?
Yes! I have been involved with The Violence Intervention Program (VIP) in East LA for 19 years. We provide medical, forensic, mental health, crisis intervention, educational enrichment and support and advocacy services to victims of abuse, neglect and violence. Ten years ago, I gathered some girlfriends and we founded HEART (Helping Ease Abuse Related Trauma) to raise money for clients of the VIP.
R+T: What's your creative outlet and what project are you working on now?
Right now I am working on a line of garden-to-table products with Lauri Kranz from Edible Gardens LA. We are working with stylish friends and clients on beautiful and functional items to use in the garden, kitchen and on your table. Our first creation is a super chic denim gardening apron created in collaboration with Joe's Jeans. XXJKE