Entertaining
Floral Encyclopedia with Moon Canyon: A Winter Citrus Arrangement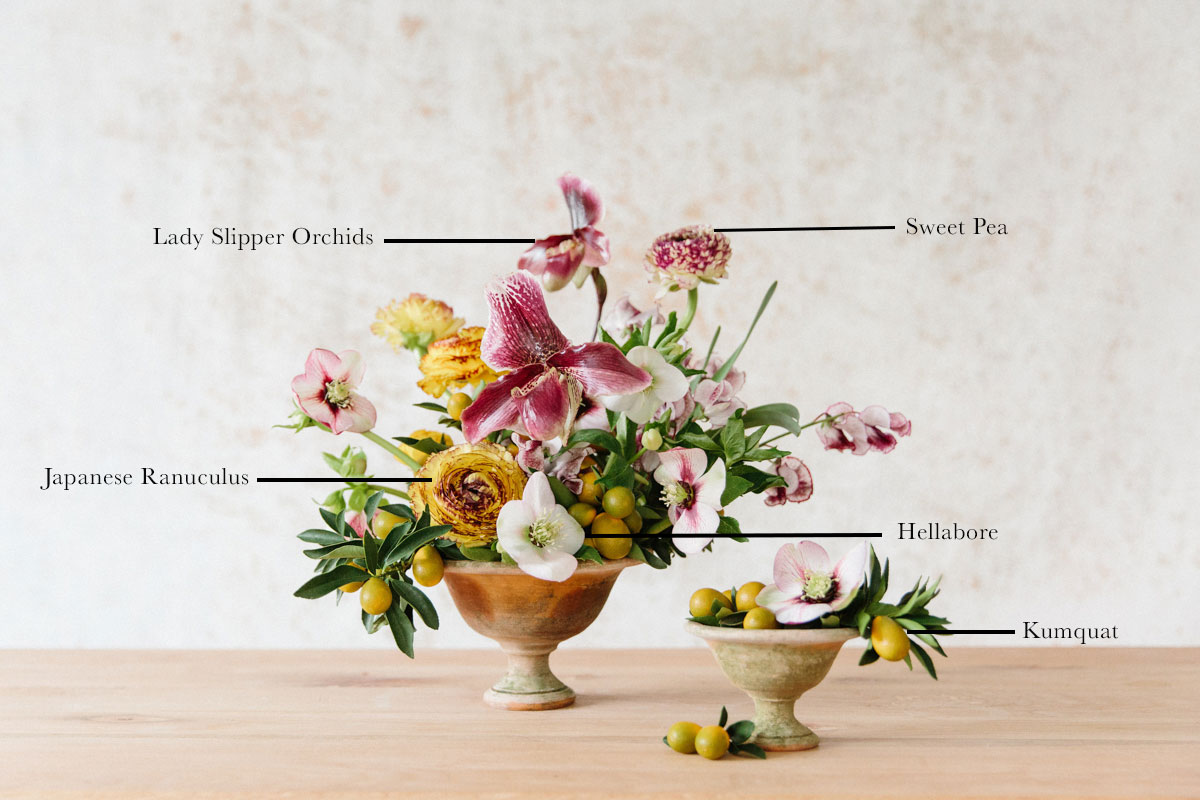 For our latest edition of Floral Encyclopedia with the lovely Kristen Caissie of Moon Canyon, we're celebrating some of the incredible blooms and citrus plants on offer this time of year in Southern California's flower markets. Featuring warm golden tones and a beautiful diversity of textures and shapes, this arrangement is a reminder that even in winter there is so much life and beauty to behold. Get a few of Kristen's tips and learn about the elements used in this display, below. XXJKE 
This winter floral encyclopedia was inspired by the verdant botanicals of California in the winter. Here in LA, winter feels a lot like spring. January and February are our rainy seasons. Everything is lush, green, fruiting, and blooming. This is one of the best times of year for the flowering bulbs and citrus trees. Since we have more citrus than we know what to do with I used kumquat branches as a base. I then built a shape using bulb cuttings of ranunculus and hellebore. I accented with lady's slipper orchid blooms from plants I had left over from my holiday display. These flowers are so dynamic and really have such beautifully variegated petals.  Sweet pea from Japan was a flower market splurge. Just too good to pass up! —Kristen Caissie
Kumquat — A small tree with a sweet yet tangy citrus fruit which resembles a smaller, ovular orange and is in season during the winter and spring.
Ranunculus— Prized for their delicate lacy leaves and heavily ruffled petals, this is a genus that comes in a plethora of vivid shades and can bloom from late winter to early summer.
Hellebore— A late winter–flowering perennial hailing from the Ranunculaceae family with an unusual saucer shape, eye-catching speckling, and contrasting yellow color in the middle.
Lady's Slipper Orchids—Named for its slipper-shaped pouch, which is backed by three twisted petals, these orchids range in color from white and yellow to deep pink and purple.
Sweet Pea—With colorful petals that resemble folded butterfly wings, and winding green tendrils that twist and turn, sweet pea will add romance and softness to any display.