Wellness
Traci Donat's Nourishing Herbal Plant Tonics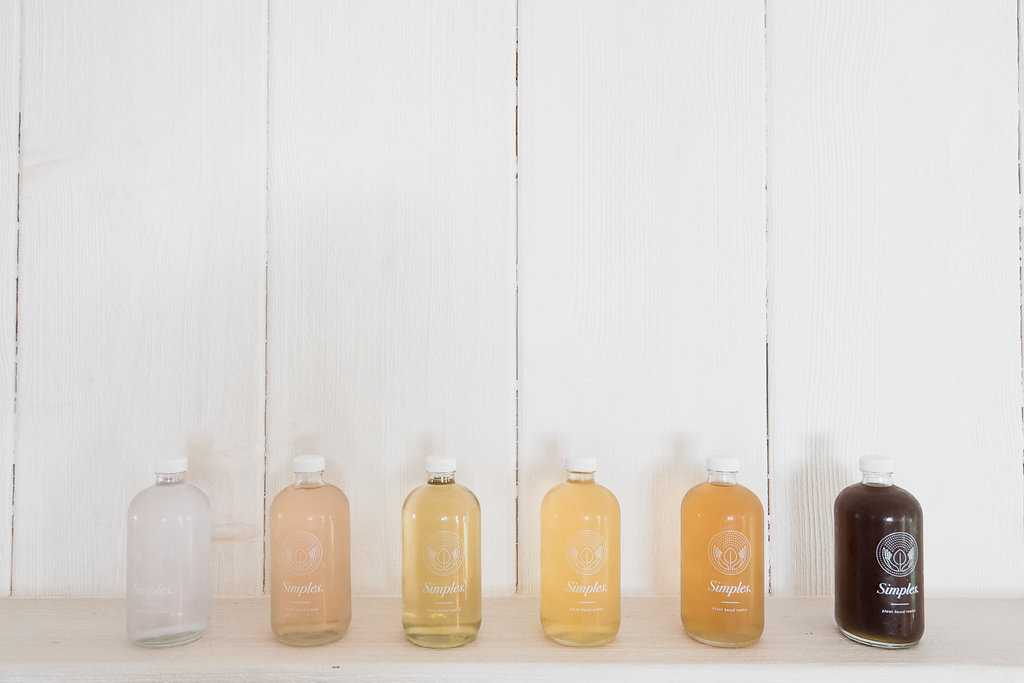 Nourishing drinks are a big part of my routine; I love turmeric lattes, fresh celery juice, and apple cider drinks, among other concoctions. When those feel a little too heavy for the moment, I love a simple herbal tonic or tea. I recently discovered herbalist Traci Donat's line of concentrated plant tonics, Simples Tonics, and fell in love. Each tonic in the line is focused on a single healing plant which is brewed slowly over time to maximize its nutritional value. Oatstraw soothes and balances, dandelion root strengthens and detoxifies, chickweed cools and regenerates; each tonic has its own special power.  
Simples just opened its first brick-and-mortar location in Santa Monica and if you live nearby I encourage you to stop in (the space smells heavenly). For those of you who don't live in LA, Simples is launching an online store soon! For more on the brand and the health benefits of plant tonics, check out our Q&A with Traci below. XXJKE
 Rip & Tan: Can you tell us a little bit about your background in herbalism and plant medicine?
Traci Donat: I began my interest in health and herbalism as a teenager, when I started working with an herbalist.  I felt the benefit of the herbal medicines immediately and powerfully. It was the beginning of a lifelong passion and field of study and practice for me.
TD: It really all came together when I was in my twenties and I discovered a book by Susun Weed.  I couldn't put it down. I completely connected with the nourishing wild pants she wrote about, and the simplicity and availability of the medicine. That's when I began brewing herbal infusions daily and became a passionate student of Traditional Folk Medicine.
Over the years I have studied with many amazing herbalists, taken courses, read books and brewed and made medicine in my kitchen.  I am a constant quest for more knowledge and continue to take many classes and I always learn something new. I am an eternal student.
Rip & Tan: What inspired you to start Simples Tonics?
TD: I have wanted to open Simples for almost 10 years, as I have seen the amazing healing benefits and transformations that happen when you work with the nourishing plants. It felt like everyone was looking outside to some exotic locale for the next superfood and here was this incredible source of nutrition, healing and "superfood" right in our own back yards, literally.
I can only say that I was called. I knew that I had to bring these plants to larger community and that ultimately that was my purpose, and I couldn't be more honored or grateful.
Rip & Tan: What are the key tonics in the line and why are they beneficial to us? 
TD: We currently offer 8 tonics and will be adding a few more and rotating some out as there is a natural seasonal flow to what plants are available.  People often ask what is your favorite tonic, or which is the most popular? And it is a hard question to answer because it such a moving target. Personally I work with all of the plants we offer at different times, for different reasons depending on what my body or soul is craving.  As we have only been open a short time it's hard to really pinpoint the favorites yet; each tonic seems to have its day, literally. Every day we sell out of one tonic, and it's never the same one. I will say that Nettle is emerging as a consistently popular tonic. Probably because it is so nourishing and you feel the benefit immediately, people quickly crave it.
The other question we get as people walk in the shop with wide eyes and enthusiastic curiosity is "what is this place?".  So a brief description on what a Simple is: First of all, we call them Simples as it is a traditional term, meaning to use one plant or herb at a time in a medicinal way. The idea is that by enjoying a single plant you can fully feel and experience the taste, the personality and the benefit of that one herb.  If you start off with blends you don't often know what's working for you or if there is something in there that isn't working for you.
Drinking herbal infusions is beneficial as they are full of bioavailable nutrition. Our belief is that when you give the body proper nourishment in a form it can readily absorb, the body heals, rebuilds and repairs itself where needed.  This is the key to optimal health and longevity.
The plants we work with are loaded with vitamins and minerals and each one also has a special tonic effect for the body. For example, Nettle, which we call the Game Changer, is so rich with vitamins and minerals, it's basically a daily vitamin that your body can quickly assimilate.
But like all of the plants at Simples, they are more than just a nutritional profile. Nettle is great for any kind of stress, physical or emotional, it supports the adrenals and kidneys, helps with athletic recovery, and all forms of depletion, so it increases energy and overall good health.
Rip & Tan: What standards do you have for sourcing ingredients and/or processing the tonics?
TD: All of the plant material we use is certified organic and we work with distributors with high ethical and quality standards.  We brew everything by hand fresh daily with love and intention on site, and hand pour into our glass bottles.
For the vinegars, and tinctures in the Simples line we grow most of the plants we use.  I have a garden at my home that I am currently expanding to grow even more medicinal plants. So there will be new apothecary offerings coming this spring.
Rip & Tan: How do tonics fit into our everyday diets? Any tips on the best way to fold them into your routine? 
TD: The wonderful thing about the Simples Tonics is that they are so easy to incorporate into your daily diet or routine. They are light, mild, delicious, and can travel anywhere with you just like a water bottle.  We suggest starting with 16 ounces per day, but are finding people quickly graduate up to larger quantities as they really connect with the plants and feel the benefit. The nourishing herbs are completely safe, non-toxic and you can't drink too much. However, like anything promoting good health, consistency is key.
Rip & Tan: You recently opened a store in Santa Monica. Can you tell us about the space?
TD: So after a ten-year dream and close to two years of solid effort, the Simples Tonics Shop doors are open! Our shop is a very welcoming, interactive place to come and learn about herbs and folk medicine. We are staffed with herbalists, so it is our pleasure and passion to share these amazing tonics.  There is a learning curve for some people, as this is a new category of beverage that many people are unfamiliar with, so we see our role in the shop as educators. We love sharing our experiences with the plants as helping to guide people to the tonic that speaks the loudest to them. And because of all of our handmade herbal products, the shop smells really good too!
Rip & Tan: How else would you love to grow Simples in the future? Anything you won't do? 
TD: As far as the future, my goal and the mission I have accepted is to bring these amazing plants to as many people as possible. So I would love to see us expanding in the future. Our company is built on a foundation of strong ethical considerations that honor tradition, our beautiful earth, and all who inhabit it. So that will inform how we ultimately scale.
Rip & Tan: What do you do when you aren't working on the business? What are some of your hobbies and favorite ways to spend time off? 
TD: Besides herbalism I enjoy all things health and nourishment related.  I study and cook from different diet plans. I am a nurturer, so I love cooking for my family.  I make fermented foods, healing broths, there's always something bubbling in my kitchen. I also love the outdoors and being in nature, so hiking is a favorite pastime.
Travel is also a passion, and my hope is that Simples will take me to many places where I can share what I have learned, and also to places where I can learn and have new experiences so I can better serve and share through the Simples platform.
More Stories