Living
A Peek Inside Tim Pfeiffer's Maury Island Escape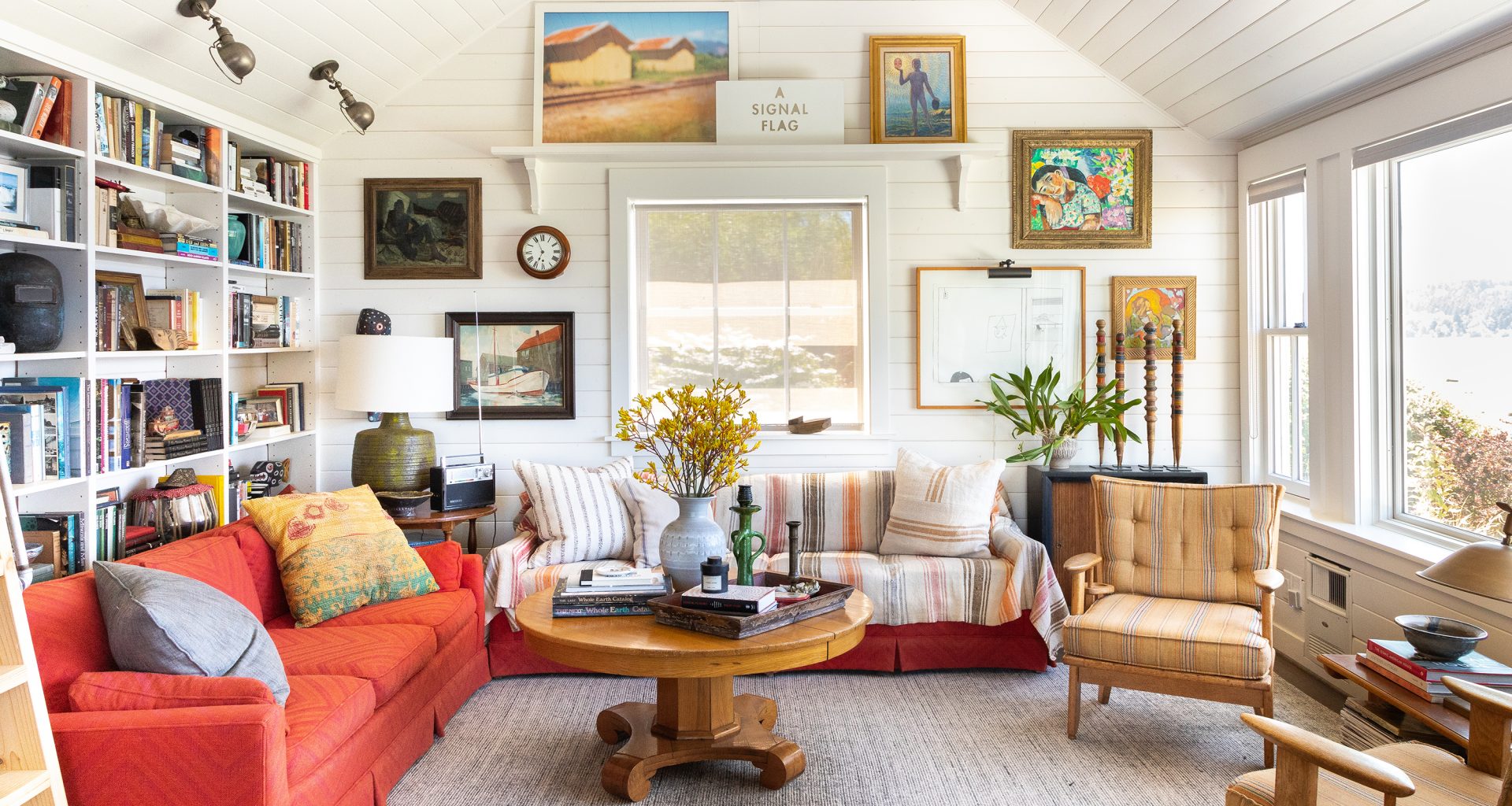 As the co-founder of Seattle's leading design studio Hoedemaker Pfeiffer—not to mention the mind behind the enviable design destination that is Housewright Gallery—Tim Pfeiffer is no stranger to creating noteworthy spaces across the Pacific Northwest. His Puget Sound cottage proves as much. Eager to find a coastal getaway that he could retreat to season after season, Tim settled on the dreamy scene of Maury Island. We recently took a tour of Tim's space, taking the time to pick his brain on the power of creative alchemy, his passion for collected furnishings, and what makes Maury Island feel like home.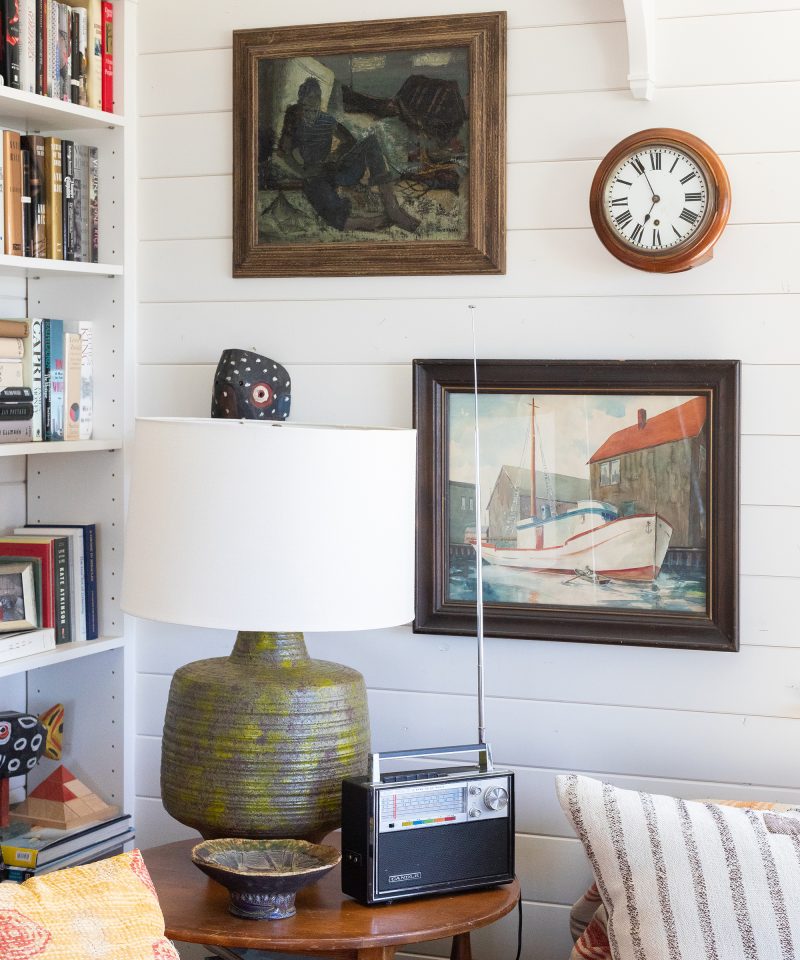 Rip & Tan: Throughout your career, you've helped brands define themselves through beautifully designed spaces that tell stories of their own. What led you to launch your own design firm?

Tim Pfeiffer: Telling stories and building visual narratives generate shared experiences. This had been at the heart of my creative focus within the context of my design work. Balancing the commercial expectations of a brand with authentic lived experience was always the target. Whether designing in the retail or hospitality context, the desire to share moments of a lifestyle through the branded environments remained the constant.

After 24 years away from the Pacific Northwest, my desire to be with family finally drew me back home. Over the years between Seattle and New York, my friend Steve Hoedemaker and I had played with the idea of combining forces. What would we do together that could grow our professional life experiences? We shared a confidence in each other's eye and capacity. Steve had an established engine in his team, I like to say. I had this wealth of global experience and team directing. A shared generosity of spirit, trust in the opportunity, and good timing led us to focus my eye to the home. To create the stories for family life that I had previously created for brands.
Rip & Tan: How does the team at Hoedemaker Pfeiffer use the interplay between architecture and interiors to create spaces made for life's many moments?

Tim Pfeiffer: Like any nest, a foundation is first woven to invite the layers of living to take place. Our architectural team provides the shape and structure for living. The interior design focuses on the intimate, tactile experiences where life's memories are made. Thoughtfully designed space, from the inspiring monumental to the comforting human scale, rhythmically connect to provide celebration and simplicity for family life.

Rip & Tan: How would you define your design ethos? Who or what are some of your greatest influences?

Tim Pfeiffer: As a curious and studied kid, I had the good fortune of a worldly grandmother who shared the intrinsic value of things.  Though not necessarily essential to living, I learned the importance of knowing…why first edition books were more special, the markings on china and silver, and identifiable patterns in Persian rugs and Victorian furniture, and the 1889 Port Townsend house her grandparents built and later lost in the Great Depression. With history from family portraits, she wove a near-mythical narrative of the collected comforts of home in a tarnished silver spoon way—she spoke of my place in the story and my opportunity to be a steward of that way of life. With visual clues engrained, I became her treasure hunting companion at antique and junk stores across the years. A collector bug was implanted early.

Harmonious layers of living…material textures and shapes that bring connection to the home. I design every space for individual family stories but always find myself in every home and environment I create.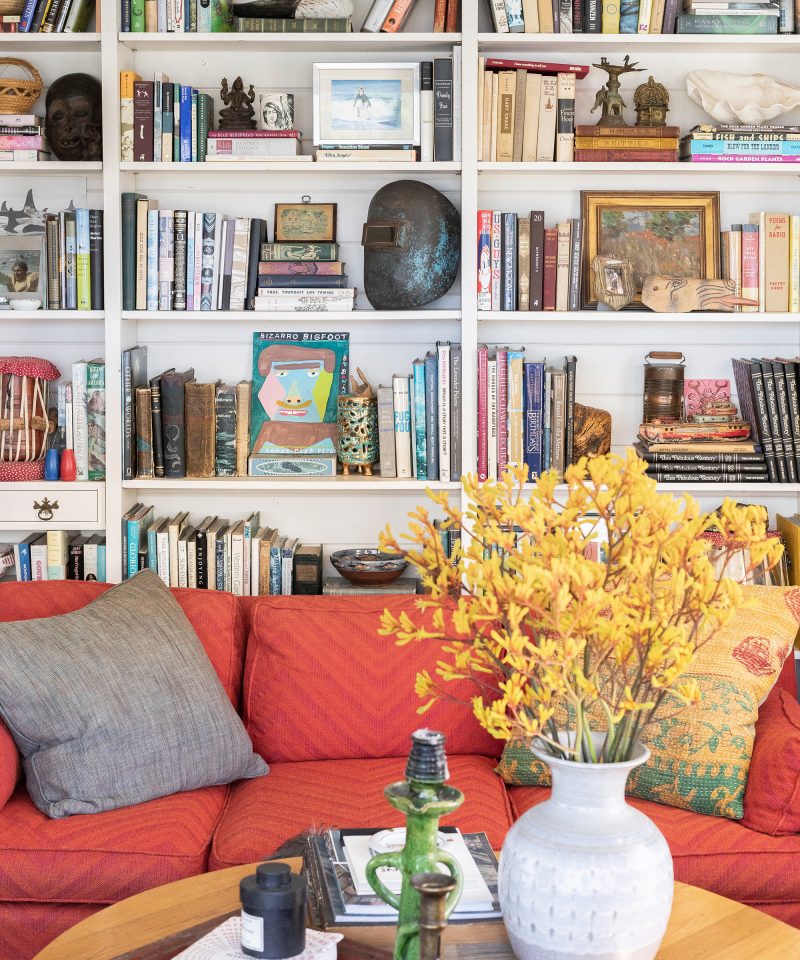 Rip & Tan: Tell us about Housewright Gallery. After years of sourcing pieces for interiors projects of all kinds, what made you decide to open a dedicated space of your own?

Tim Pfeiffer: Two things: the obsessive collector, curator, and treasure hunter in me needed space to expand my passion. My career had taken me across continents sourcing and working with craft people. I wanted to bring my adventures and experience in the art and decorative markets to a brick-and-mortar space. Seattle has been a desert for a truly collected furnishings destination…one that offered a full home spectrum with an international vibe. I wanted this for our clients and for the designers in the area hungry for that resource. I only bring furniture, art, and objects to Housewright Gallery that I would personally enjoy living with.

Rip & Tan: From textiles to tabletop treasures, your gallery-meets-showroom has something for every space. How does Housewright Gallery serve as an extension of your design approach and aesthetic?

Tim Pfeiffer: The blending of furnishings and objects into a home takes time. The visual narrative and stored history imbedded. Finding the harmony within brings me joy. "I can't believe this is in Seattle," and "I totally see you here," was the welcome response I needed to feel we were on the right path. Earthiness, textured, the hand in every piece. A sense of time and place and a strong point of view.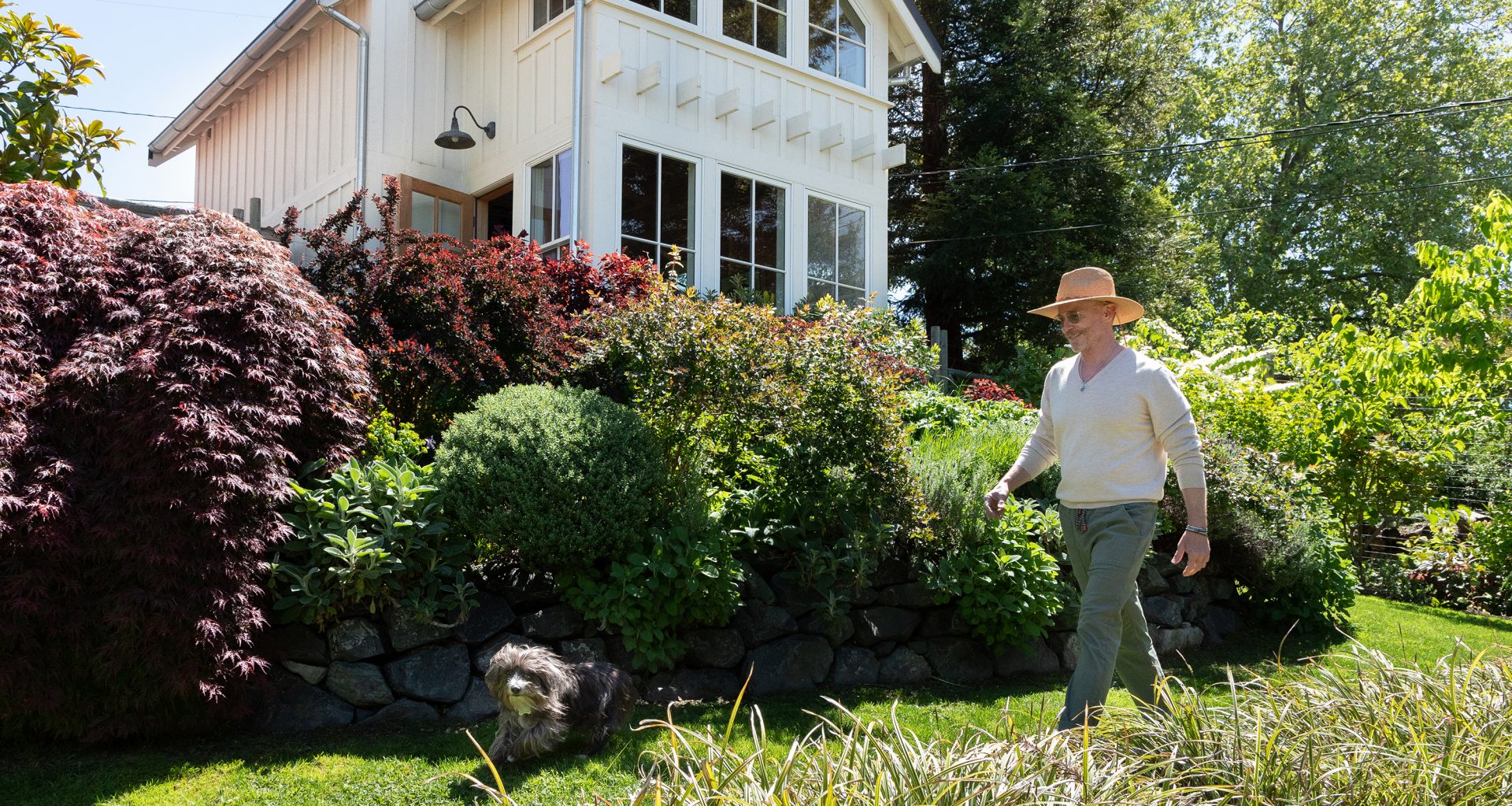 Rip & Tan: Let's talk about your Maury Island home. What was the overall vision for your Puget Sound getaway?

Tim Pfeiffer: The location was a dream for me. We always had Puget Sound family beach cabins shared across the extended family, but in time they were sold with passing generations. Looking due north from my childhood bedroom was Quartermaster Harbor, the waterway between the two islands of Vashon and Maury. I always dreamed of that island spot and recreating a family beach place.

Over my years in New York, I had spent loads of East Coast beach time in the East Hampton, Fire Island, and Provincetown beach communities. Moving home, I wanted my East Coast beach house right here in the Northwest. My vision was simple: inviting, comfortable, and carefree. The simplicity of it all has a foundation for gathering and has become the family destination for celebration and reunion.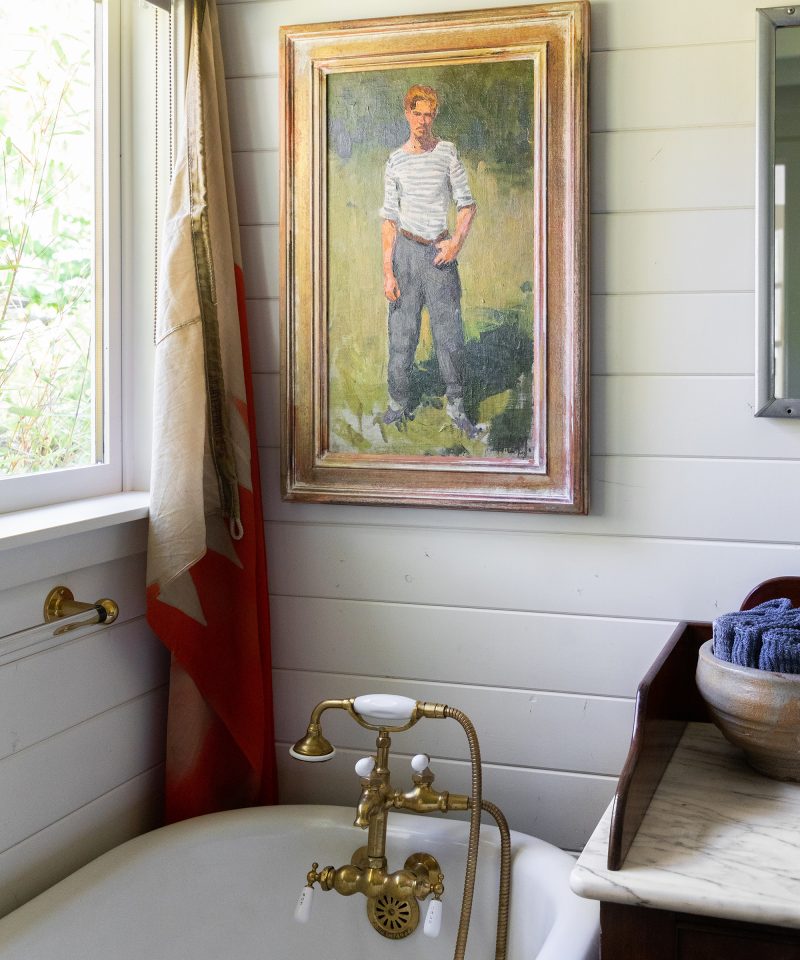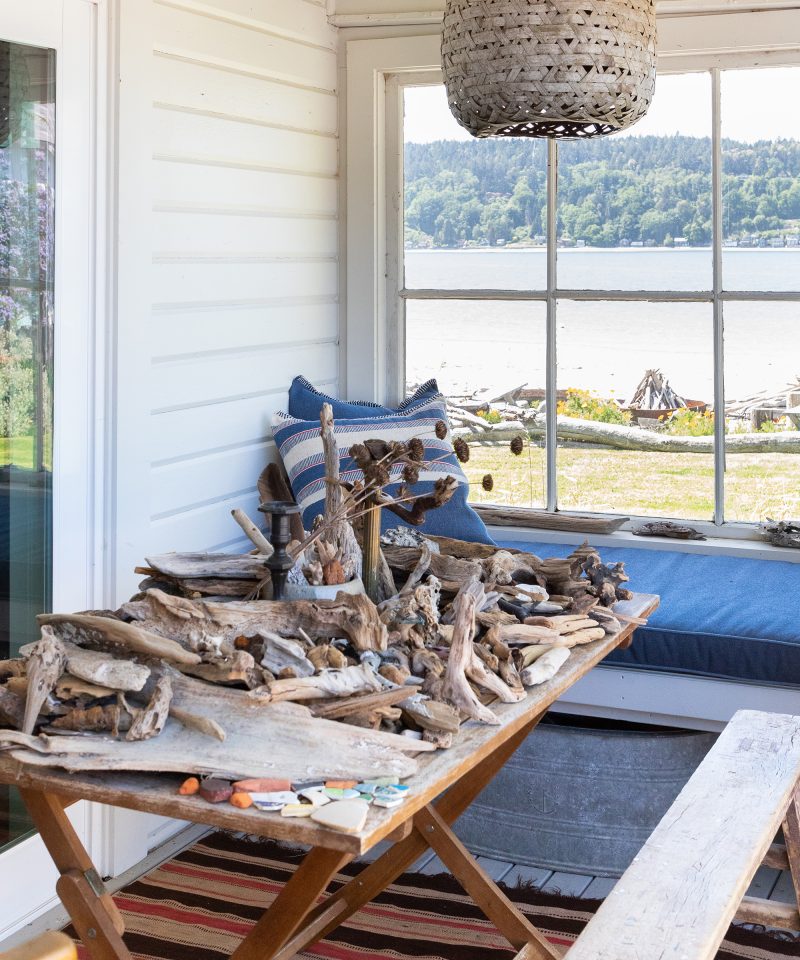 "The late 1890s house was an early ship-builder's cottage with a second unattached worker's cottage. Both had been layered over in dry wall, linoleum, aluminum windows, and dropped ceilings throughout with a breeze way connecting the two. I could see into the bones. My re-envisioned renovation brought perceived history for the place to life."
Rip & Tan: From renovation to final installation, what were some of the biggest transformations and additions that make this space feel special? What are some of your favorite features and pieces in your home and why?

Tim Pfeiffer: The late 1890s house was an early ship-builder's cottage with a second unattached worker's cottage. Both had been layered over in drywall, linoleum, aluminum windows, and dropped ceilings throughout with a breezeway connecting the two. I could see into the bones. My re-envisioned renovation brought perceived history for the place to life. I moved the front door and added a porch, only to be delivered images of the place circa 1910 that showed a porch and door in the position I had chosen—fully paneled and painted throughout, odd angles and shifting planes united in an open plan connectivity that is the heart of the house today.

Rip & Tan: What does living well mean to you?

Tim Pfeiffer: Where passion and curiosity are matched. Contented family and friends. Comfort and emotional engagement are the luxuries of life. A big green garden to tend, a morning dog walk on the beach, and a west-facing water's edge landscape helps to acknowledge the infinite possibilities of the coming days and what surprise awaits.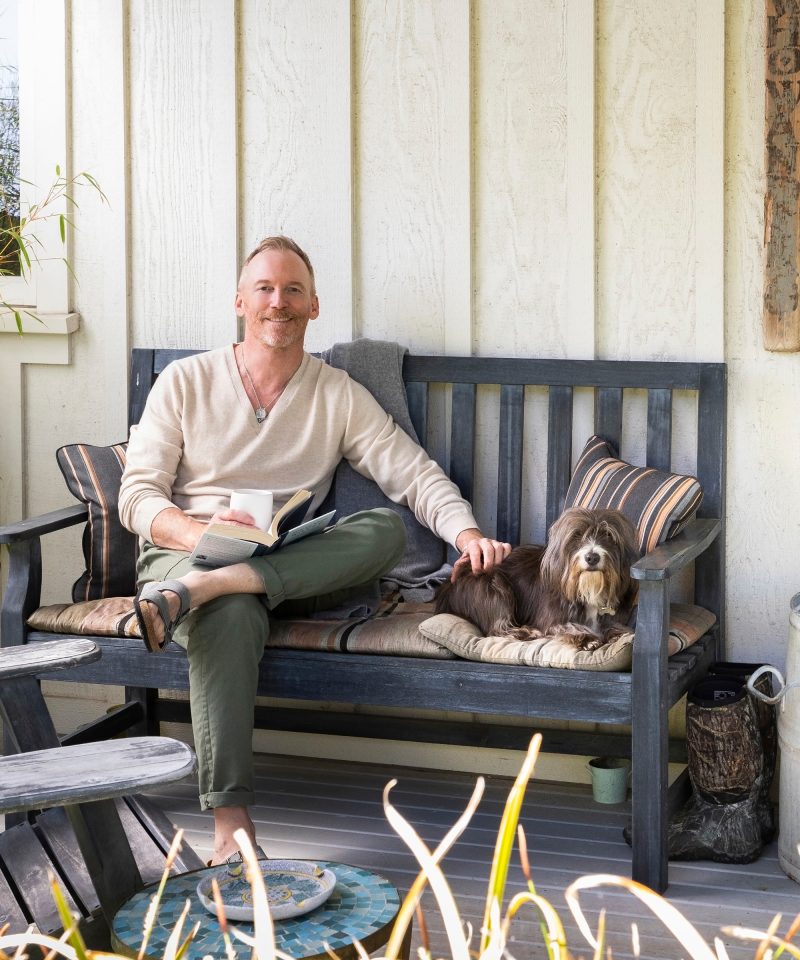 Photos by Ellie Lillstrom