Entertaining
Summer Entertaining: Bucatini & Clams with Annie Campbell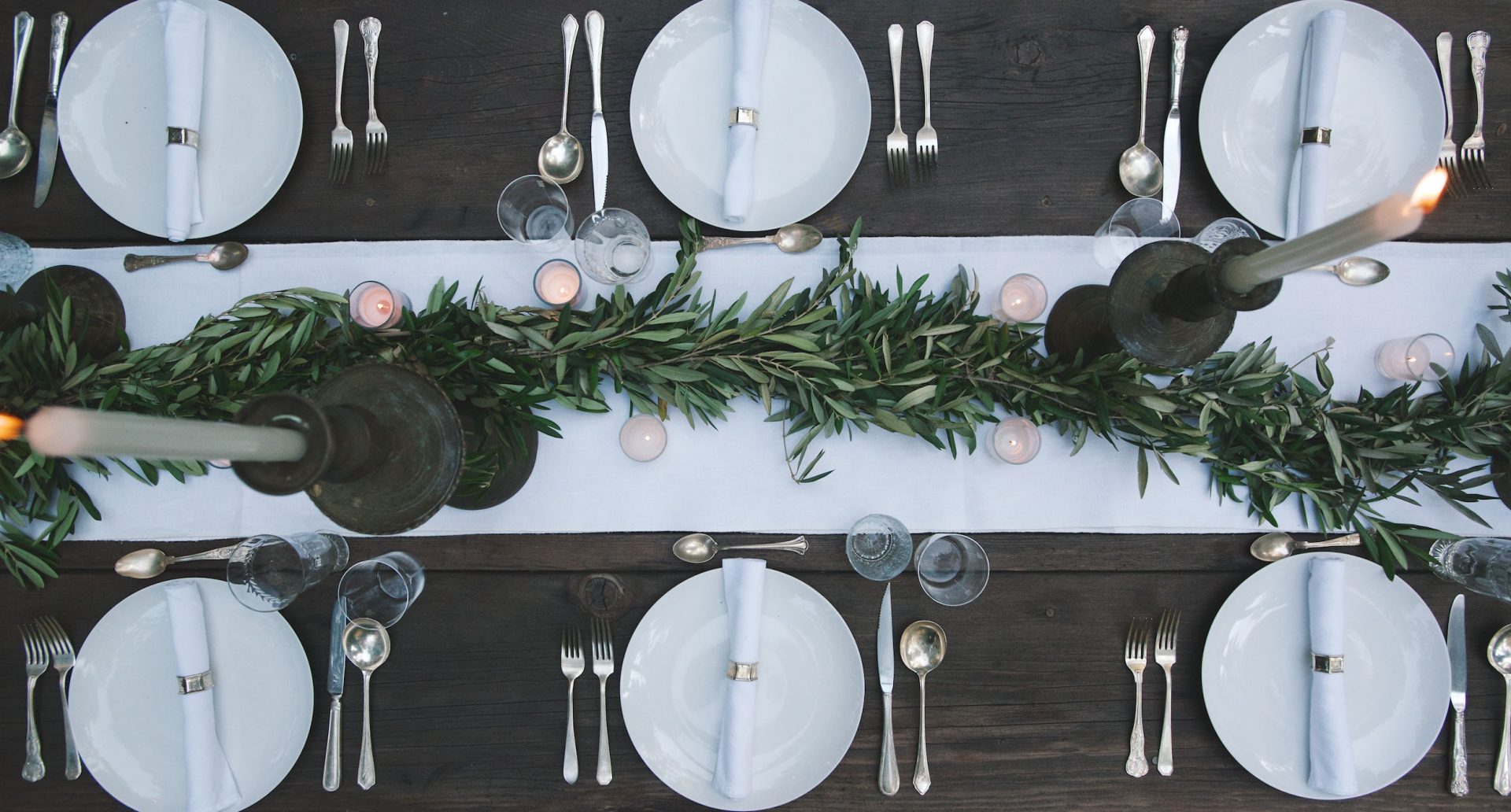 For the second in a series of seasonal entertaining posts hosted by some of my nearest and dearest: a simple, authentic dinner party with girlfriends, thrown by the amazing Annie Campbell of Annie Campbell Catering. A friend's recent engagement and another's upcoming wedding were two great reasons to celebrate, and the perfect excuse for a relaxed mid-summer soiree.
As a busy caterer, party planning extraordinaire (and new mama!), Annie wanted a meal that was hands-free with minimal time in the kitchen. On the no-fuss menu: beautiful, savory appetizers, a fresh pasta with simple, exceptional ingredients, and for the sweet finishing touch: artisanal ice cream.
The Table
While her baby boy napped, Annie set her table with the simple table "uniform" that she has collected over the years – Crate & Barrel Essential Dishes, CB2 Marta Glasses, West Elm White linen napkins, and mismatched hotel silver, all assembled for the purpose of entertaining large groups without rentals. Added elements: mix and match crystal water & champagne glasses collected over time, antique monogrammed napkin rings, found on Ebay, and a brass candlestick from trip to Morocco.
Down the center of the table, Annie placed a beautiful olive garland from Botany, and across the bar, an assortment of blooms from Silver Lake Farms at the Hollywood Farmers Market.
The Menu
Sips
To accompany the meal, Annie served some champagne and wine favorites, including Honig Sauvignon Blanc and Vie Vite Cotes de Provence Rose, both affordable and available at Whole Foods. One of Annie's secrets for successful hosting: always makes sure to keep cases of wine, beer and booze on hand – in case of spontaneous gatherings.
Snacks
In the spirit of David Tanis' A Platter of Figs and Other Recipes, Annie served a simple spread of salamis, figs and cucumbers – the salami from Joan's On Third, and the figs and cucumbers from The Hollywood Farmers Market – atop a vintage cheese board found on Ebay.
To Start
For appetizer, Annie served her guests a simply delicious caprese salad of heirloom tomatoes, basil & burrata. Her perfect every time method: Buy an assortment of pretty tomatoes. Simple slice, sprinkle with Maldon salt, drizzle with olive oil and scatter basil. Top with mounds of burrata and drizzle with a touch of balsamic syrup. And her favorites for ingredients: Tutti Frutti Farms for the best assortment of tomatoes at the Hollywood Farmers Market, and Gioia Cheese Company Burrata, which can be found at Bristol Farms.
To Share
For the main dish, Annie served Bucatini and Clams with Fennel and Leeks inspired by a recipe from her very favorite cookbook, Suzanne Goin's Sunday Suppers at Lucques.
She shared that the key to simple cooking is the quality of ingredients – delicious fresh pasta and perfect summer tomatoes require little fuss, and good sea salt and olive oil make all the difference. The clams she picked up from The Oyster Boys at the Hollywood Farmers Market, and for pasta, Domenico's fresh pasta. One of her very favorites for catering as well as home, this "game changer for pasta dishes" can be found at various farmers markets and The Cheese Store of Beverly Hills.
Sweets
And as the sweet conclusion to a wonderfully laid-back summer get-together: Carmela Ice Creams (Lavender Honey, Peaches & Cream and Mint Chip, to be exact), which she served by bringing the ice cream containers to the table, and scooping to order. XXJKE