Style
Stylist Rachael Wang on Balancing Sensuality and Sophistication in Your Wardrobe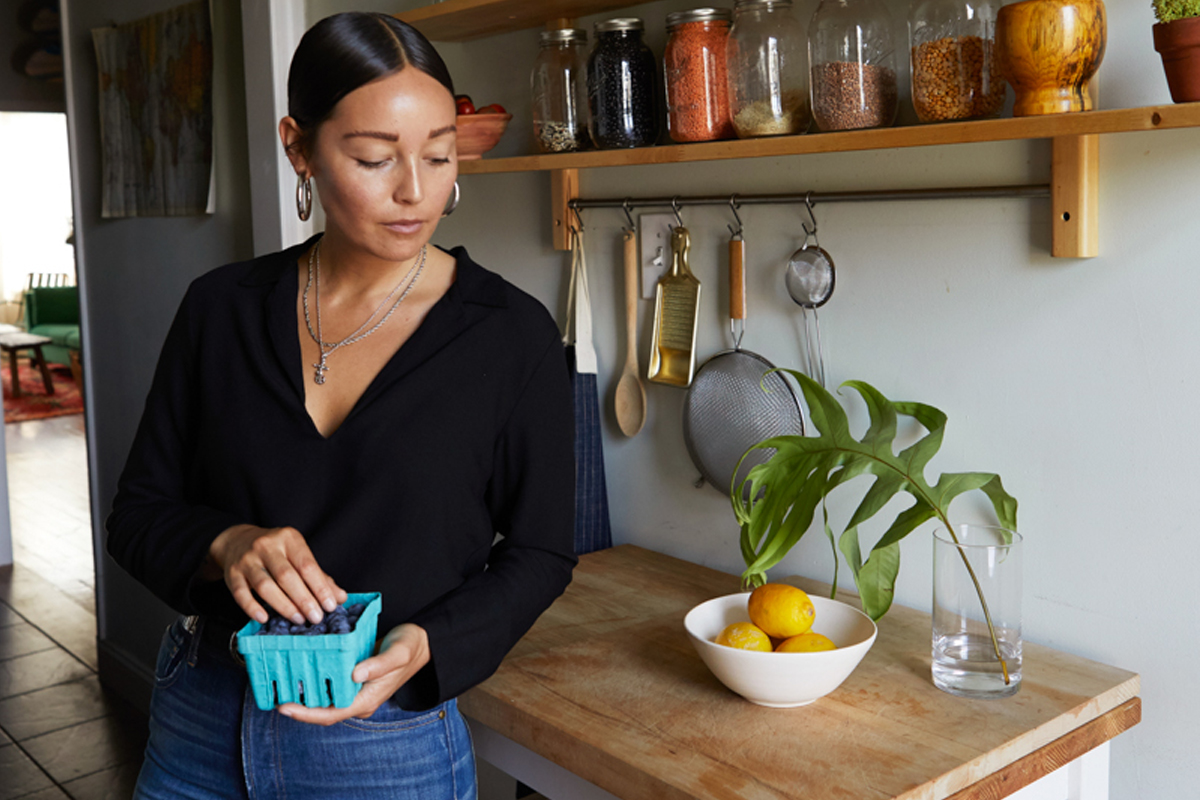 I love incorporating delicate silk and crepe pieces into my wardrobe and collection—and wearing them for more than just a nice night out. There's nothing cooler to me than a silk slip dress and a pair of rugged boots, or a delicate crepe top worn with stiff vintage jeans and flats for a day out. Stylist Rachael Wang, whose beautiful Greenpoint apartment you toured yesterday, played with a similar contrast when she styled herself in some of my new fall pieces.
Rachael commented that she's been wanting to express sensuality and femininity in her wardrobe for a change, while still maintaining her signature covered-up cool. She did that in our shoot by reaching for two delicate black tops, layering on gold jewelry for a bit of glamour, and then grounding the whole thing with denim and corduroy bottoms, and flat shoes. The mix was sophisticated and alluring, without being too serious for an ordinary Brooklyn afternoon. See her outfits and learn a bit more about her styling technique below. XXJKE
Rip & Tan: Why did you gravitate towards these specific Jenni Kayne pieces? How do they jive with your personal style or your wardrobe right now?
Rachael Wang: What I love about JK is that the pieces are always timeless, and easy to wear but with a bit of quirkiness, worldliness or retro detailing that gives them really special personality. These days I find myself leaning mostly toward classics that I can wear over and over again and yet at the same time they feel one of a kind.
I love the modified sailor collar of the black blouse and the beautiful crepe fabric reminds me of the textiles used in the 1940s. I'm always drawn to things that remind me of a story of the past. Most days I wear jeans because they are rugged enough to do most anything in. It's easy to dress them up with a sleek top and accessories. I love the bright happy blue of these jeans and the super flattering high waist. I've been wearing JK's mule slides for years. The shape reminds me of the Moroccan babouche but modified for a chic busy woman. This season's velvets are to die for.
For as long as I can remember, I have always dressed modestly. I felt much more comfortable in wide leg pants and turtlenecks than anything else. But then I woke up one day in the past few months feeling like I wanted to express more sensuality through my clothing. That I didn't need to dress in an asexual way in order to be smart. That I could be clever and funny and also express my femininity all at the same time. I just turned 33 and I finally feel comfortable in my skin and that acceptance has changed the way I approach getting dressed. For example, though it's something I never would have worn before, I'm all of a sudden drawn to the lingerie lace of this silk cami. Mixed with cute and tomboy-ish cropped flared cords, I think this outfit perfectly expresses an evolution of my personal style which is now more than ever about contrast and balance.
Rip & Tan: What personal items did you incorporate into the looks? Where did you find them?
RW: When it comes to jewelry, I usually wear a couple things every day for a few months, then sort of give them a rest and move on. Right now, I've been layering a necklace my mom gave me a million years ago with a Tiffany chain I found on TheRealReal. The earrings are Jennifer Fisher. I love big earrings but sometimes they can get really heavy by the end of the day and sort of give me a headache. These are super light and I have been wearing them a ton.
Rip & Tan: Where would you wear these outfits? How do they fit into your lifestyle?
RW: My days are jam packed with such a wide variety of activities that I need to be dressed for comfort and professionalism at all times so a look like this—the jeans and the black crepe top—is perfect for going from meetings to fittings to dragging trunks up a bunch of stairs. I might wear the corduroy pants and cami out to dinner or to see music with friends.
Rip & Tan: Do you have any rules or advice on how to wear classic pieces in interesting ways?
RW: I love when people add bits of their individual style or personality to a really classic outfit through accessories like a great hat, pair of shoes or a swipe of vivid lipstick.
Rip & Tan: What's something you've learned as a stylist about how to build an outfit? What tricks do you think all women can benefit from?
RW: Fit is incredibly important. Having pants hemmed to the right flattering length makes pants look modern, stylish and more flattering. Size up on pants and have the waist taken in to accommodate great curves or muscular legs. Defining the waist is really flattering on most women and you can do this by tucking a top into pants or a skirt or adding a belt to a dress or over a boxy coat. Ultimately, I really believe you should just wear what you love and what makes you feel happy. If you love color, wear color, if you are drawn to a print, go for it. Fashion is meant to be an expression of how you feel inside.
Rip & Tan: How would you modify these outfits when the weather gets colder?
RW: I love layering a turtleneck under something slinky like the lace cami or a slip dress. I'd also swap out the slides for ankle boots and toss on a beret to keep my head warm.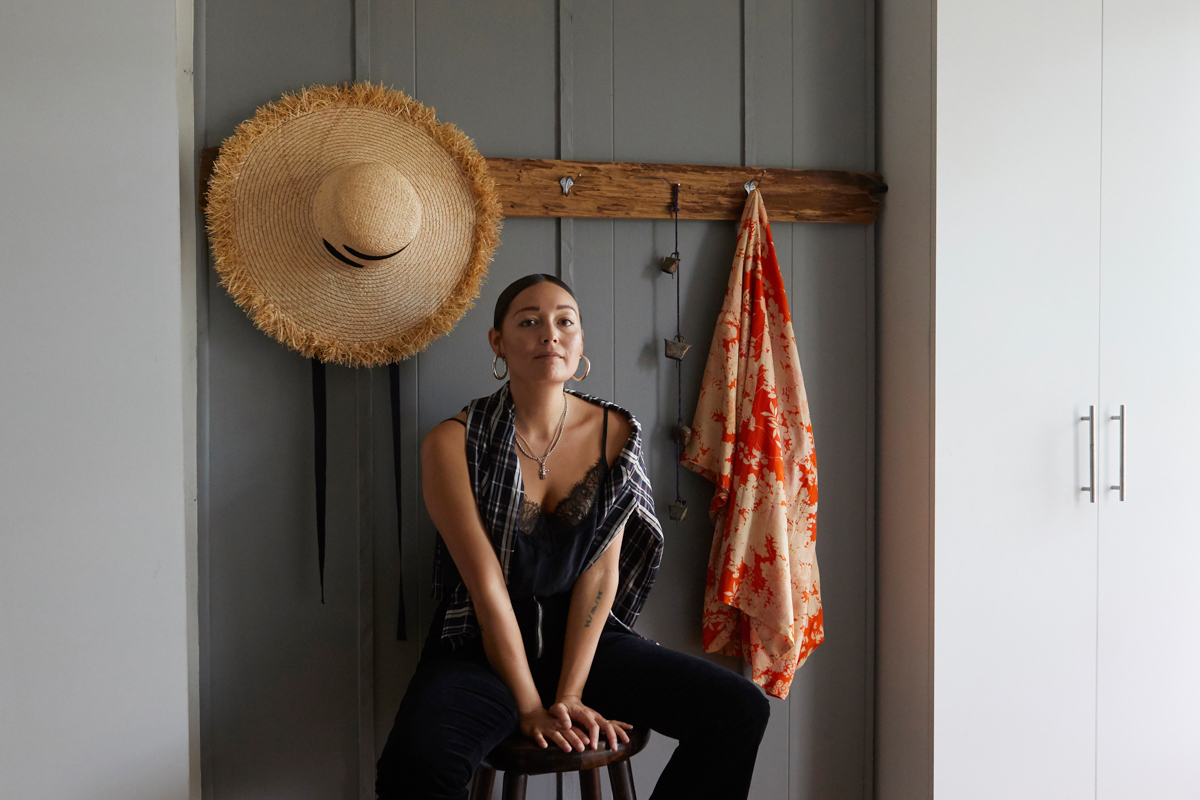 More Stories