Style
Studio Visit: Heather Levine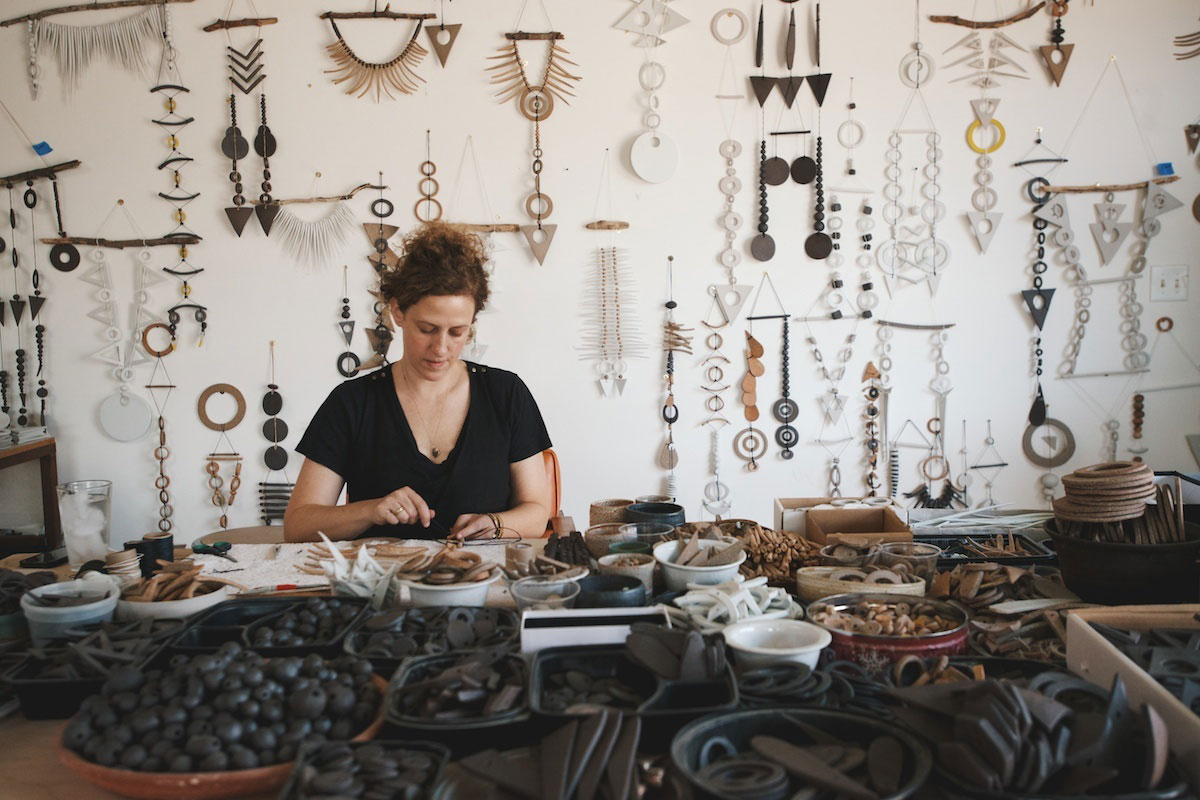 I have long been a fan of Heather Levine's wall hangings and light fixtures, and when I went to visit Victoria Morris' new studio, which she shares with Heather and a few other amazing ceramists, I fell in love all over again. Her one-of-a-kind pieces feel like treasures ­– beautiful, magical, and with the ability to transform any space that they occupy. Needless to say, I am so excited to now feature them in my stores.
Heather was kind enough to open up her doors to us for a look inside her process and workspace. I hope you enjoy this look inside. XXJKE
R+T: How and when did you enter into the world of handmade ceramics? What was it that drew you to this art form?
I started making ceramics in high school, but really learned the process and materials in College where I was an Art Photography Major and a Ceramics Minor. Clay is instantly addicting and a demanding process that you always want to be better at. For me, it took a long time to have confidence in my throwing and the skills to throw a shape that I intended to make. The process requires your attention from start to the time the kiln is open, so I think I am attracted to the process because it needs me to be.
R+T: What are your sources of inspiration?
The Californian landscape. My talented friends. Vintage jewelry and ceramics. Light.
R+T: Tell us a bit about your process…Do you have a clear idea for each of the pieces you create, or do they tend to evolve as they go?
When making the lamps, I look at the shape of the thrown form and decide what patterns will fill the space. After scratching the pattern onto the surface, I then carve each shape by hand to create the negative space for light to come through. The shapes are then saved, cleaned and holes placed in each and fired. For the wall hangings, I use the parts that are available to me at that time. Sometimes I want them to have a feeling, and layout the piece before I knot the pieces together. The wall hangings are only successful when they are balanced – I often take them apart and start over if the piece is imbalanced. Each is one of a kind.
R+T: You make such a beautiful assortment of pieces…how do you determine the types of items that you would like to create?
I strive to make decorative items that feel special and unique. I don't make functional items such as mugs and plates because I have never figured out a way to make them feel unique to me. I suppose I should leave that up to all the incredibly talented ceramic artists I know.
R+T: Perhaps some of our favorites: your magical lamps and pendant lamps… Can you tell us a bit about working with and creating light?
The lights are playful and should feel like a finished object with or without the light bulb on. They are not reading lights or practical, they are meant to feel handmade and as a standout piece in a space. The light effects through different shapes are incredibly fun to think about, and the final pieces when mixed and matched can really turn a room into a light spectacle.
R+T: Can share a bit about the gorgeous materials you use?
I work in high fire stoneware and fire my work to cone 10. There are 3 clay bodies I work with (for reasons such as color of the fired clay, results of the glazes I like to use, and durability of the clay when carved and manipulated). The clay bodies are: Black Mountain, Rods Bod and Coleman Porcelain.
R+T: Tell us about your studio space… How did you find it? What drew you to it? And what impact does it have on your work?
My space is perfect and I knew the minute I walked in. It was the 2nd space I looked at and I think I got very lucky with the location, space, and the amazing light. It's a 2500 square foot warehouse with skylights and rollup doors. I rent two studios out to other artists to have creative people around everyday – this keeps the energy up in the space. The kiln I purchased is a large gas kiln that I currently rent as firing space for other potters in Los Angeles.
R+T: A well-designed studio is one that has…
Great light. An organized system and space for each step the clay needs to take…wet, greenware, bisque, glaze, fired pieces. A firing schedule to stay on top of orders for clients.
R+T: Tell us about a typical day in the studio…
Depends on what needs to be done. Either a day of throwing. Or a day of carving. A day of cleaning parts. A day of making wall hangings. A day of glazing. A day of loading the kiln. Lots of studio visits, lots of packing, lots of cleaning.
R+T: Top five workspace musts?
My Chihuahua, Pierre Levine. Apples. Sparkling Water. Spotify. Clay.
R+T: If you had to, could you pick a favorite piece or collection?
It always changes as the work evolves. I think this is the nature of working with clay…. the work always gets better.
R+T: What is the most rewarding part of your work?
I truly enjoy working with my Designer clients to create unique pieces for their projects. They understand what I do, and it is always rewarding to collaborate together on homes and commercial projects to make something magical come together.