Food & Drink
Smoked Black Bread Panzanella from Sunday Suppers' Kitchen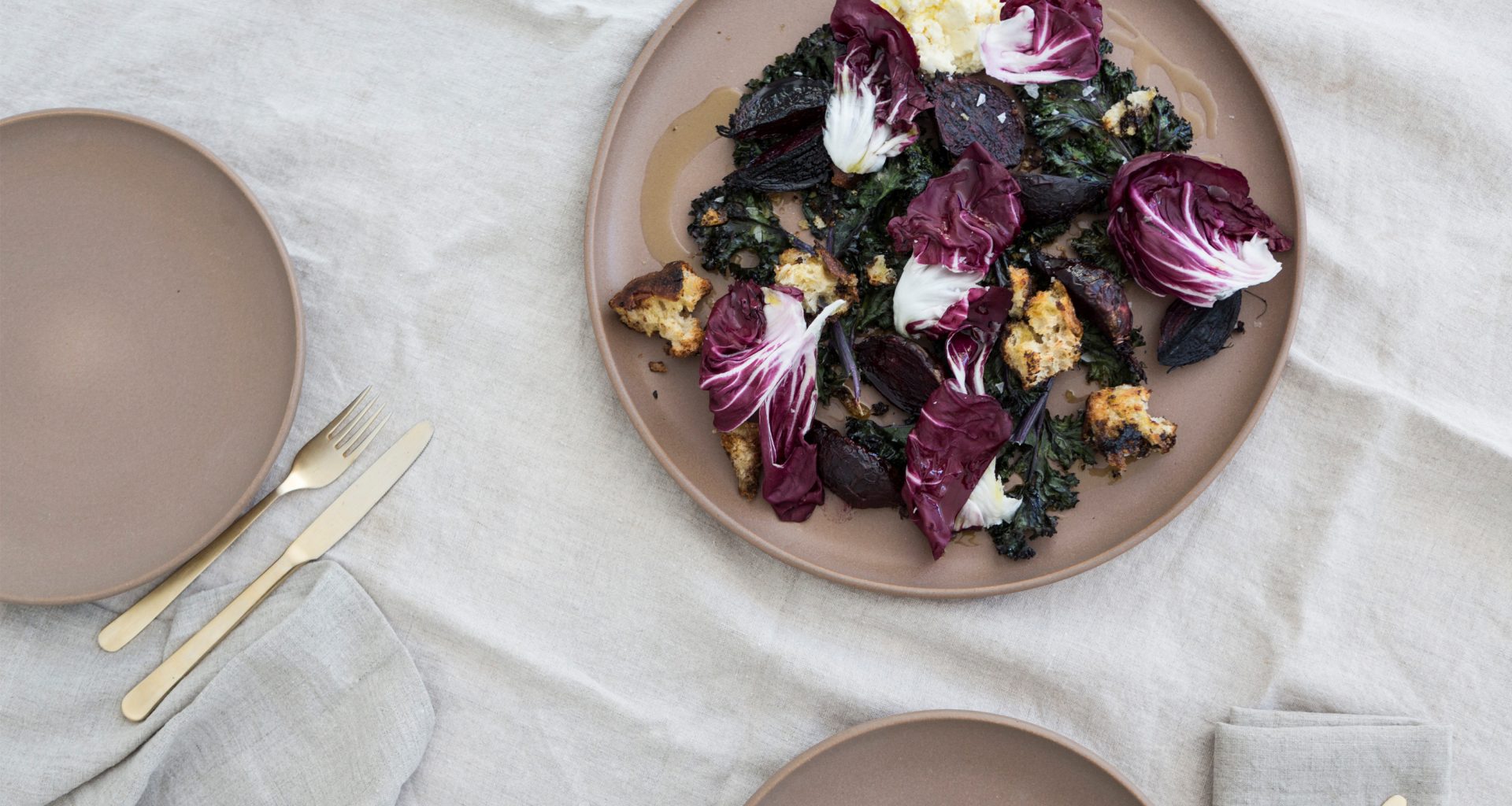 This Smoked Black Bread Panzanella is an early springtime favorite, with warm harmonious flavors of smoke, sweet, and a touch of bitter. Each recipe in Simple Fare is, as its title suggests, simple, but by no means does that imply an artlessness—recipes are aspirational but perfectly accessible. Each dish offers alternatives for original ingredients, so you can tailor your dish to your surroundings and your resources. Smoked ricotta is rich and creamy, but cow's-milk ricotta serves as a great substitution. Saba ("cooked grape juice" in Italian), is an unfermented vinegar that adds a sweetly caramelized note from Trebbiano grapes and a rich, deep hue to the plate. True to Sunday Suppers' mission to connect community through cooking, this dish is best when shared with friends and loved ones.
Smoked Black Bread Panzanella from Sunday Suppers' Kitchen
Recipe
Smoked Black Bread Panzanella from Sunday Suppers' Kitchen
Units:

Course: Salads
Cuisine: Italian
Ingredients
1/2 (120 ml) cup

28509 ml

olive oil
1 Tbsp black sesame paste
1 Tbsp balsamic vinegar
3-5 garlic cloves smashed
Cyprus flake salt
1/4 loaf miche (French country bread), torn into large pieces
3 or 4 large beets unpeeled, scrubbed well and halved
1 or 2 large baby beets unpeeled, scrubbed well
3 Tbsp olive oil
1 Tbsp sherry vinegar
3 or 4 leaves purple kale
2 tsp olive oil
1/2 head radicchio leaves torn
1/2 cup (125 g) smoked ricotta
2 Tbsp olive oil
2 Tbsp saba (grape must syrup)
Cyprus flake salt
For the preparation
Preheat oven to 400° F (205°C). Line a rimmed baking sheet with parchment paper. In a large bowl, whisk together the olive oil, sesame paste, and vinegar. Add the garlic, flaky salt, and bread, and toss. Spread the croutons in a single layer on the prepared baking sheet. Roast for 10 to 12 minutes, until crisp. Remove from the oven and let cool. Keep the oven on.
For the beets
In a cast iron skillet, toss the beets in the olive oil and vinegar until completely coated. Transfer to the oven and roast until fork-tender and slightly crisp on the outside, 40 to 45 minutes. Remove from the oven and set aside.
For the kale
Line a baking sheet with parchment paper. Brush the kale leaves with olive oil and arrange them on the baking sheet, making sure the leaves do not overlap. Roast until crisp, 3 to 5 minutes.
For the finishing
Arrange the radicchio leaves, kale, and beets on a platter. Top with the croutons and spoon the smoked ricotta on the side. Drizzle with the olive oil and saba and finish with flaky salt.