Entertaining
Slim Entertaining: Americana BBQ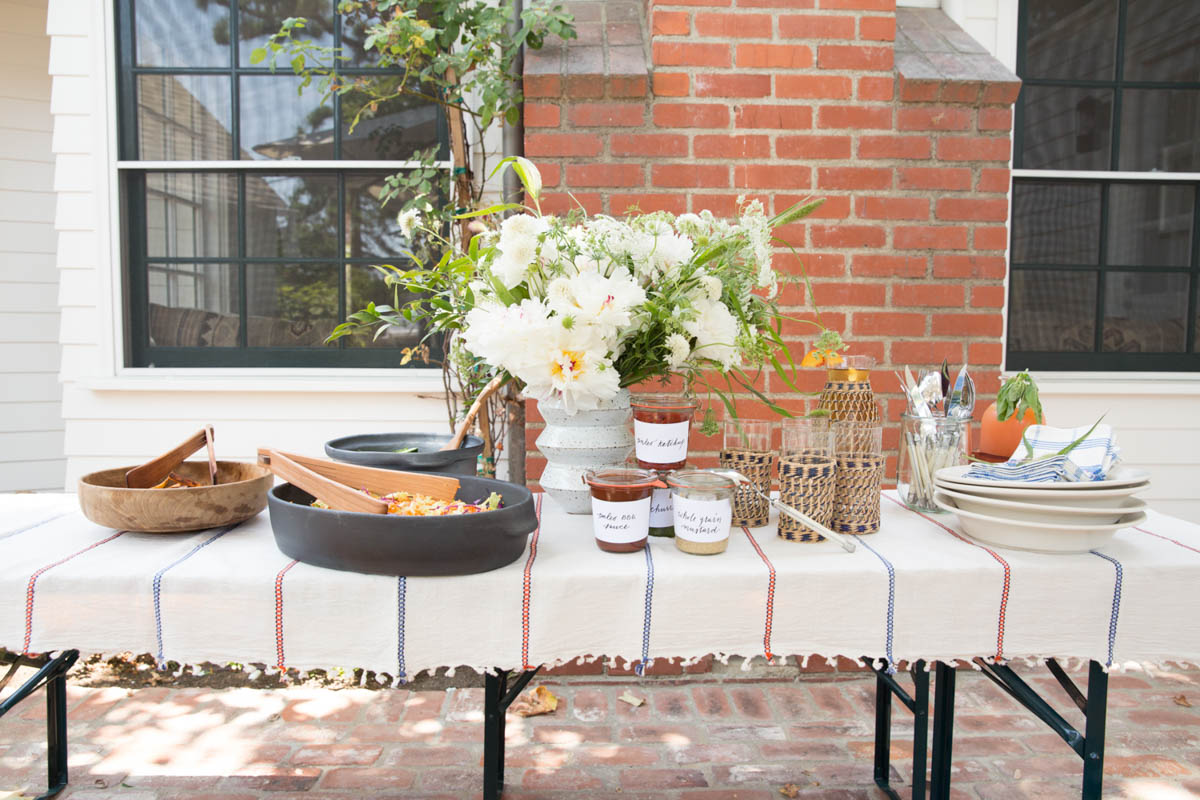 Eating healthfully while entertaining and attending parties can be tricky. To help you come up with healthy dishes you can serve as a hostess or bring as a guest (i.e. things that taste delicious, look incredible, and leave you feeling good) I partnered up with whole-foods nutritionist Shira Lenchewski and Laurel Gallucci of Sweet Laurel Bakery to develop this new series specifically focused on nutritious entertaining. While all of the recipes we share on Rip & Tan are fresh and light, these dishes take things a step further with paleo, vegan, and raw ingredients the whole family will enjoy. First on the agenda: The summer BBQ.
A summer BBQ calls for classic, all-American linens, dish-ware, and serving pieces that aren't too precious for the outdoors. I started with a red, white, and blue cotton tablecloth and gingham napkins from Heather Taylor Home, which were elegant but still casual enough for a BBQ. Rattan glassware and leather-wrapped serving pieces from Simon Hasan and Sol & Luna added to the Americana theme, and by keeping the plates, glasses, and silverware simple, they didn't overpower the table. Because there's always room for a beautiful floral arrangement, I put together a bouquet with dahlias, white peonies, and white and dark scabiosa using a handmade vase by A Question of Eagles for a rustic touch.
Instead of a complete meal with main courses and the whole nine yards Shira, Laurel, and I focused on wholesome sides, refreshing beverages, and nutritious substitutions for BBQ sauces and dessert. The idea being that these easy swaps will take your preferred grilled meat, fish, or veggies to a more healthful place—at your own party, or someone else's.
Instead of classic French fries we made spicy sweet potato fries roasted in coconut oil, coleslaw made with Shira's famous garlic sauce instead of mayonnaise, and a delicious cucumber and herb salad. For beverages we served lavender chamomile iced tea and a virgin kombucha cocktail made with fresh peach juice. The sauces consisted of paleo BBQ sauce made with butternut squash, paleo ketchup, chimichurri, and whole grain mustard. I love the idea of putting the sauces in neatly labeled glass jars, which can easily be put back in the fridge after the party is over, and also work well as a treat for a hostess.
The dessert (a healthy alternative to cakes or ice cream) was something adults and kids will love—a banana boat station. Let guests load each banana up with their choice of dark chocolate, nut butter, cinnamon, fresh mint, roasted walnuts, sea salt, and toasted coconut, then bake the bananas in parchment paper for about 15 minutes. The results are delicious, healthy, and it's a fun activity too. What more can you ask for? XXJKE
Photos: Darcy Hemley