Wellness
Skin Cleansing Advice from In Fiore Founder Julie Elliott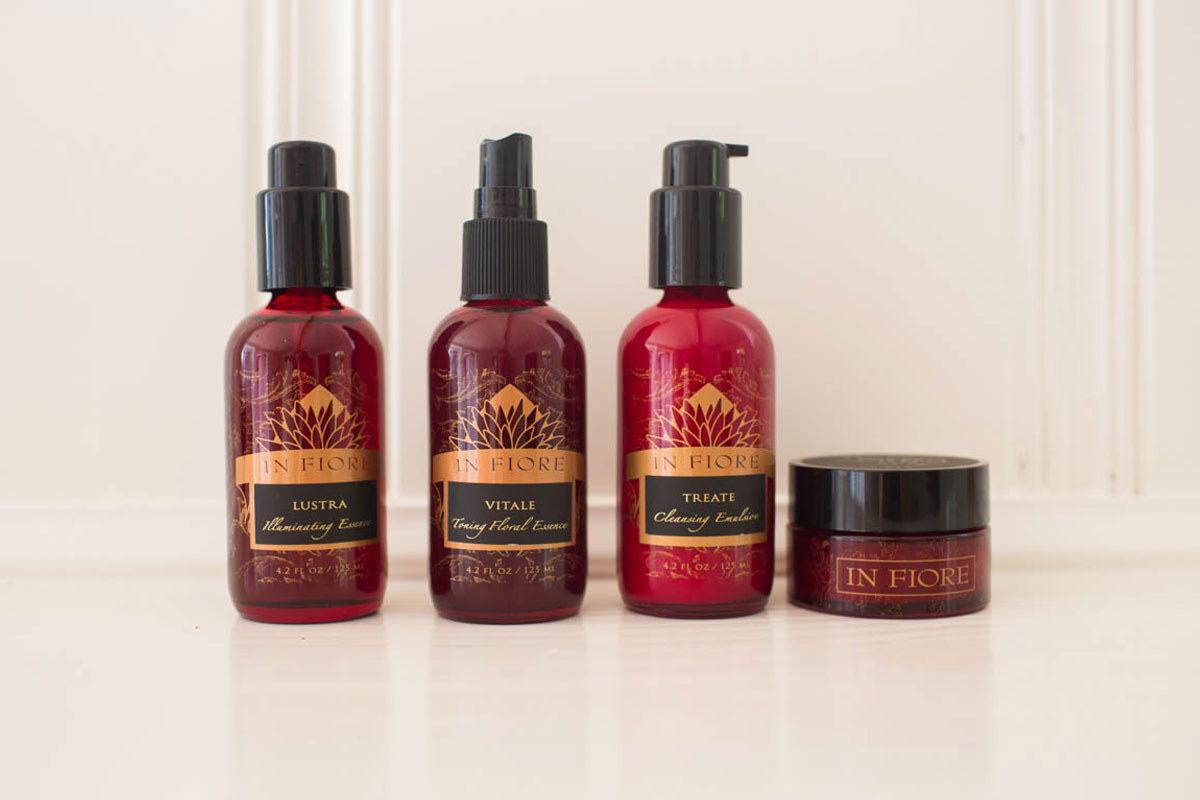 Yesterday marked the launch of our Spring 2017 gift box, which includes a nourishing facial oil from In Fiore that's perfect for this time of year; it invigorates dull skin and improves elasticity too. In Fiore is a San Francisco-based natural, botanical skincare brand and apothecary shop that was founded by Julie Elliott in 1999. It has a real cult following as it was among the first luxury skincare lines to use purely natural ingredients—and because the products are just as effective as they are beautiful. A lifelong student of natural beauty, Julie is very knowledgeable about safe ingredients, product layering, and application techniques when it comes to the skin. Because we all could probably use a complexion pick-me-up this time of year, I thought it was the perfect time to sit down with Julie and get her tips. Her 4-2-4 method of cleansing the skin, for example, is a ritual that'll help you take your skincare products to the next level while relieving stress at the same time! XXJKE
Rip & Tan: How did you first become interested in skincare and wellness?
Julie Elliott: I've been interested in beauty products for as long as I can remember. I grew up in Southern California where I developed a natural interest in clean, healthy living. My mother worked for a company that imported French cosmetics, and I would spend hours at her vanity tables and medicine cabinets, enamored by the bottles, scents, and textures, writing imaginative formulas. This evolved into a lifelong interest in plant botanicals and essential oils.
Rip & Tan: What training or experience did you receive to become the expert that you are today?
JE: I have a lifelong fascination with nature's inherent healing powers. For the last 30 years, I've studied healing modalities including aromatherapy, Ayurveda, the doctrine of signatures, flower essences, anthroposophical science, plant alchemy, and energy medicine. I've traveled the world to meet and study with the most specialized teachers, to source raw ingredients, and to further my knowledge of history and cultures and their wellness regimens.
Rip & Tan: What were you hoping to achieve by launching In Fiore? What is the mission of the brand?
JE: When I launched In Fiore in 1999, there was a significant learning curve to climb. Beauty oils were a very new concept in the states; "oil-free" was the message of that time. Yet I knew that aromatic oils and plant therapies had been used for centuries for their curative and protective powers, and in many cultures, this practice was still alive and well. I wanted to create a product that presented these extraordinary healing remedies in a way that resonated with the luxury consumer because the options that did exist at the time were a little too "crunchy". In fact, In Fiore began, first and foremost, as a luxury brand. That it was all-natural and used only the finest, most high-quality organic ingredients were just part of my DNA.
Education is key to our mission; we want to give people the tools and knowledge to heal their skin. Our skincare line is extensive, and all of our products are very targeted. I'm fascinated by French apothecaries, and I've always thought of In Fiore as an extension of that concept in that once a person understands her skin and its fluctuating needs, she'll be empowered to choose her products accordingly. We also emphasize that it's not only about what you put on your skin, but how you apply it. Circulation is essential, as is lymph flow, and we encourage the integration of practices like massage, dry brushing, and hot/cold showers to improve skin health and increase the effectiveness of our products.
Rip & Tan: Why open an apothecary shop instead of simply selling online or to third party retailers?
JE: I launched In Fiore with three body balms and six body oils, and personally crafted them all by hand. The size of this operation lent itself to starting small on the retail front and growing from there. As we've grown, we've been very selective in our distribution, limiting it to specialty retailers who "get it" and truly appreciate the luxury, sincerity, and intention of a handmade product. Our physical space in San Francisco wholly reflects our brand aesthetic and ethos, and it's nice to have a place where our clients can experience the entire line, ask questions, receive personalized recommendations, and share their needs and feedback to inspire new formulations. 
Rip & Tan: How and where are the products made?
JE: I believe that floral absolutes and raw plant materials must be controlled and hand-selected, and I scour the world for ingredients. We use only the highest quality certified organic or wildcrafted essential oils, herbs, and floral waters. We infuse all of our oils in-house, and make our extracts and tinctures, processing them at a very low temperature to preserve their plant intelligence and conserve their nourishing properties. You can see evidence of this in the rich pigment of our products; this is something that truly sets us apart from a lot of other brands. We also perfect each formulation with our in-house chemist. All of our products are made in the Bay Area. 
Rip & Tan: Tell us about your recent project with Albion in Japan? What products are you creating and when will they launch?
JE: Last year we launched a line of In Fiore products with Albion, one of Japan's oldest and most respected cosmetics companies. It has been an incredible experience. With a focus on "botanical anti-aging," we created a 12-product East meets West hybrid beauty line that emphasizes naturals but incorporates cutting-edge technology. Formulated specifically for the needs of Japanese women, it is designed to integrate with our original line, and we are planning to bring a small assortment of these products stateside by spring. 
Rip & Tan: Tell us about your 4-2-4 method of cleansing the skin. What does it entail and why do you find this method beneficial?
JE: I developed the 4-2-4 Method after spending a lot of time in Japan and observing the skincare practices of Japanese women. Their approach is very different from ours in that they believe that if a product isn't applied correctly, it won't work, and they're not afraid to put in the time. The cleaning process is also a much bigger focus. So I developed the 4-2-4 cleansing ritual and noticed an immediate improvement in my skin; it was plumped, balanced, and glowing. All the things we want.
You begin with a four-minute facial massage with Lustra, a cleansing oil specifically designed to sit on the surface of your skin and draw dirt, impurities, and makeup from your pores. Follow that with a few pumps of Treate, our gentle cream cleanser, layered on top and massaged for two minutes until it emulsifies. Then begins the rinse: two minutes of warm water splashes followed by two minutes of cold water splashes. When you're finished, pat your face dry and apply your oil, serum or creme. The massage increases blood flow to the surface of the skin, which helps products to penetrate more deeply. People sometimes initially balk at the time commitment—10 minutes—but once they try it, they're hooked. The results are undeniable. Plus, it's a great opportunity to put your phone down and decompress from your day. We recommend doing this at night when you get home—before you pick up the glass of wine and turn on Netflix. Your odds of actually doing it are higher, and it gives the active plant ingredients more time to work their magic. In the morning, just splash your face with water and apply your daytime products. No need to do this twice a day!
Rip & Tan: Your beautiful Nourrit Complexe Facial Oil is included in our Valentine's Day gift box. What do you love about this product?
JE: Nourrit oil provides the perfect amount of nourishment for skin during transitional seasons like spring and fall. Its combination of jasmine and frankincense is very revitalizing and works for all skin types, but is especially effective when skin feels dry and sallow and needs a boost of radiance. 
Rip & Tan: What wellness rituals or skincare advice do you give all women, regardless of their age or skin type?
JE: Massage is integral to maintaining the health of the skin's immune system (yes, that is a thing). Lack of circulation is the root of so many skin issues, including rosacea and acne. Massage increases the flow of blood to the skin's surface and helps move the lymph and oxygenate skin cells. No matter your age or skin condition, taking a few minutes every day to integrate a little massage into your regimen is a game changer for your skin.
Rip & Tan: Tell us about your life outside of the beauty industry? What do you do for fun?
JE: I'm a bit of a wanderlust with a big love of travel and exploring new places and cultures, and collecting indigenous jewelry, books, and art. When I'm home in San Francisco, it's all about getting quality time with friends and family. Otherwise, I'm pretty much a nester and love nothing more than a good bath followed by curling up on the couch to nerd out on some rare book on plant physiology.