Wellness
Site of the Day: Thrive Market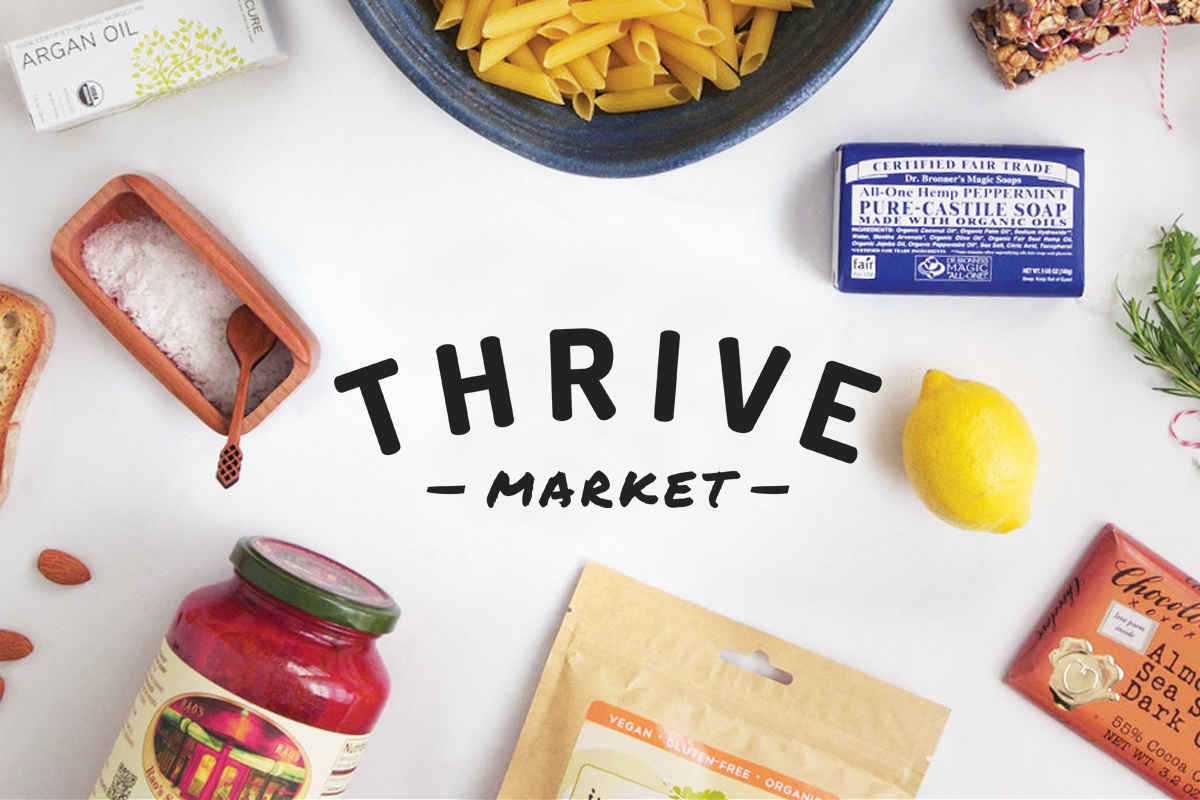 I do my best to make sure that, as a family, the ingredients we cook with, foods we eat, and products we use are safe, natural, and of the highest quality. Unfortunately, these items can often come at a premium, and aren't as accessible as their less-than-healthy counterparts. So when good friend Kate Mulling (our Chalkboard Mag co-host for all things In the Kitchen) introduced me to Thrive Market, an online shopping club for healthy products and foods, I was all in. The basic premise: easy access to three thousand plus organic, non-GMO foods and non-toxic products in everyday sizes (no need for bulk here), with prices 25-50% below retail, delivered to your doorstep – all for a low annual fee.
And just as great as what the membership allows: what it also provides. Each paid membership is matched with a free membership for a low-income family or teacher, furthering their mission to make safe, high-quality products and foods available to everyone. Needless to say, I love everything about this, and wanted to share it with all of you. And, they are being so kind as to offer our readers 2 months free + $10 off first purchase. We asked Kate, one of Thrive's Co-Founders, to share a bit about their mission, their market, and how it all works. XXJKE
R+T: Tell us a bit about the mission behind Thrive Market…
Thrive Market's mission is to make healthy living easy and affordable. We believe that organic, non-GMO food, and non-toxic products shouldn't cost more than the conventional ones. High-quality food and safe personal care products don't have to be more expensive and everyone should have access to them. That's why we match every paid Thrive Market membership with a free membership to a low-income American family or a teacher—we've given away over tens of thousands of memberships and have pledged free memberships for every schoolteacher in the LAUSD.
R+T: How exactly does it work?
Thrive Market is an online shopping club for the top 3000+ healthy products and foods. Unlike traditional shopping clubs, instead of conventional products in bulk sizes, we offer the best healthy products and foods that you'd find at a natural grocery store, in everyday sizes, at 25 – 50% below retail prices with nationwide home delivery.
The idea was inspired by food coops and Thrive Market is a membership-based community. After a free trial period, members pay a one-time, low annual fee of $59.95 (that's less than $5 a month), which most members make back within an order or two. Once you join, you'll never have to pay premium prices for premium products again!
We go directly to brands that are committed to sustainable sourcing, ethical treatment of their employees and eco-friendly packaging and secure wholesale pricing, which we pass on directly to our members. The membership fee allows us to do this and it allows us to match every paid membership for a low-income family so the people that need access to healthy, clean and non-toxic products most can get them at prices that are reasonable and fair. It's a great supplement to Farmer's Market, a CSA or an edible garden—get your produce and meat locally and for everything else, there's Thrive Market!
R+T: We couldn't help but notice the amazing blog that accompanies your market… Can you tell us about some of your contributors? And the beyond-delicious recipes?
We're all about access to healthy living—part of that is the pricing and the home delivery and part of that is education and information. There's so much confusion and noise around health and wellness, so we launched a blog to give you everything you need, including the information and the inspiration to help you and your family look and feel your best. We have columns and articles from our longtime supporters including Deepak Chopra, Robyn O'Brien, Ken Cook from EWG, Dr. Mark Hyman, Jillian Michaels, Kris Carr and more, health hacks, beauty DIYs and we recently brought on a Food Editor who is developing delicious and healthy recipes for us everyday using Thrive Market ingredients—being her taste tester has become one of my favorite parts of my job!
R+T: We're always on the hunt for new brands and products of the health-conscious variety… Any new discoveries that you're particularly excited to share?
One of my current obsessions is BulletProof coffee and I've been making it a couple of mornings each week. It's organic coffee blended with grass-fed butter in my Vitamix, supercharged coconut oil and I add some cinnamon, too. It sounds unusual, but it's pretty tasty and has all the oomph of coffee without the energy crash. It's usually pretty pricey but on Thrive Market, it's really reasonable.
We also just added Dr. Ohhira's Probiotics which are incredible and you don't have to refrigerate them—I take a couple everyday and they give me more energy and brighter skin.
My favorite sweet right now is JEM Maca Almond Butter—a spoonful on coconut milk ice cream is divine.
I'm also getting into adaptogens and I love the Sun Potion line.
When it comes to beauty, I love Weleda's Skin Food for dry skin.
R+T: What's new and next for Thrive Market?
We're wrapping up our first cookbook, which I'm really excited about, and we're always adding more products to the site. We just launched over 300 new baby, toddler, kid-friendly products including everything from BPA free bottles, non-toxic toys, bath products, more diapers, safe baby formulas and more. We also one of the first places online to launch Dr. Bronner's new toothpaste—their Castile Soap is a cult product that people are incredibly loyal to and the Bronner family is all about fair trade and non-GMOs. I'm particularly excited about Murchison Hume and all the new higher-end clean and green beauty lines coming to the site—watch this space!