Living
Profile: Rachel Craven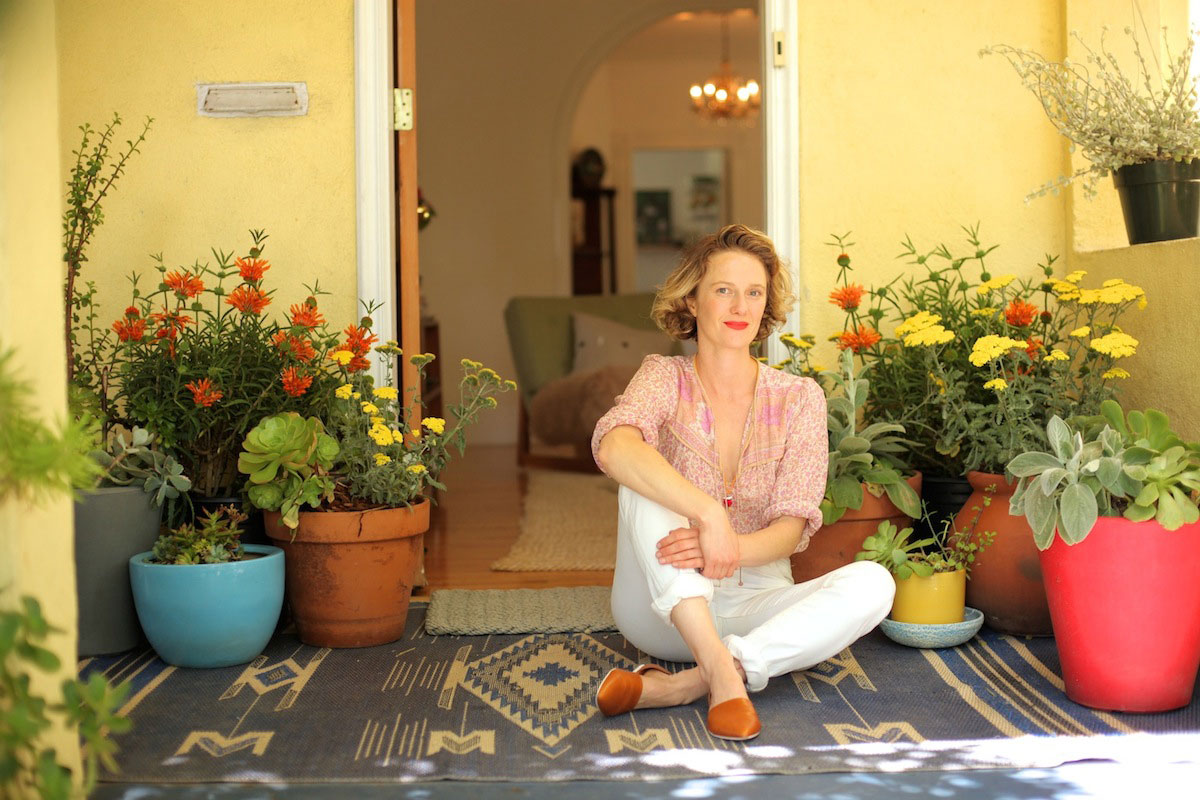 I met Rachel a couple of years ago through mutual friends and instantly fell in love with her linens and overall style. Now based in Echo Park, Rachel grew up in the arts-focused neighborhood of Tribeca, and as the daughter of two painters, enjoyed a richly creative upbringing. She attended The School of Visual Arts, and upon graduation moved to Los Angeles for work as a fashion stylist. Shortly thereafter, her focus shifted back to her love of painting and design, and ultimately, to success in the form of her eponymous line of textiles. Her gorgeous linens are sold in my stores, both General Stores, Heath Ceramics, Spartan, Moon Juice, Beautiful Dreamers in NY, as well as her online shop. I love all of her designs and have several at home, but one of my new favorites is her chic linen apron with leather details. Rachel graciously welcomed us into her beautiful turn-of-the-century Victorian in historic Angeleno Heights that she shares with her husband and young sons, ages five and eight. Her home is peaceful, colorful, and feels uniquely Rachel – chic, yet comfortable and relaxed. What I especially enjoyed about her home is her use of color and pattern, and her ability to bring the outdoor garden in, making it feel like one seamless space. I hope you enjoy this look into her home and laid-back lifestyle as much as I have. XXJKE
Beauty
R+T: What are your go-to beauty products? Why?
I'm mostly a tomboy, so I ask my best friend Beatrice Valenzuela to pick all my beauty products. My only requirements: that they are quick, easy, all natural and smell good. I had always used Dr. Hauschka until she introduced me to Tata Harper (which Bea will be carrying in her store) – I'm especially loving her cleanser and moisturizer. And I LOVE Vered oils – they are perfect for LA desert living.
R+T: Is there anything special you would like to share about your beauty routine?
Simple, all-natural, quick and easy. When done, smells yummy.
R+T: What are the 5 products you couldn't live without?
Vered Body Oils, Tata Harper Creams, Olbas Bath Wash, Nars Makeup with SPF, Burts Bees tinted lip balm.
R+T: Bath or Shower?
Bath, every night.
R+T: What do you sleep in?
Man-sized Indian kurta shirt from Govindas.
Health
R+T: Do you have any health tricks?
Pause in the morning for a walk or moment of quiet before I start my day.
R+T: What do you do to stay healthy and balanced?
Walking, I love Moon Juice and go everyday, Homeopathy, Yoga when I can.
R+T: Do you workout, what do you swear by?
I don't – I haven't found anything that works for me. I walk and do yoga…I secretly hate exercise.
R+T: What do you do to relax?
Go to the Korean spa. My favorite is Natura.
Decor
R+T: What is your design philosophy for your home?
I have two dirty boys, but love organic, clean, cozy things – my philosophy has been to try and remain flexible!
R+T: What are your favorite pieces in your house?
We have lovely chairs in the living room that my dear friend Cheyann Benedict gave us (I think from Lawson Fenning), and I love them. I love all my Adam Silverman and Victoria Morris ceramic pieces I've been collecting. I just traded some for a Heather Levine hanging wall piece – it's so beautiful. I have a Hope Atherton painting she gave to us as a wedding present that I couldn't live without. My favorite pieces are from my lovely generous friends.
R+T: What are your favorite home stores?
Nickey Kehoe, Garde, Lawson Fenning, Heath, and Chay on 3rd Street.
R+T: What is your favorite room in the house?
Our living room is connected to the dining room and is one big open space – it feels like the NYC apartment I grew up in – filled with light.
Entertaining
R+T: Do you entertain at home?
Yes – I love having people over for brunch. It's a really nice time to include the kids and enjoy a yummy meal.
R+T: What are your tricks for entertaining?
I always shop at the Echo Park Farmers Market on Fridays, so having people over on Friday or Saturday morning allows me to make everything fresh. I'm also very lucky to have Cookbook green grocery down the street – everything in there is perfect.
R+T: How do you set the scene when you have people over?
Fresh flowers are my favorite, I love going to The Flower Market early in the morning. My mother is a potter, so I have so many beautiful bowls and platters that she has made for me. I'm a textile designer, so many of my napkins and tablecloths come home with me! I love arranging a table – it makes me so happy!
R+T: Are there any tips for what to do or what to avoid?
Flowers really make a table – I love Kristen at Moon Canyon Design. Also, just buying at the farmers market and adding herbs from the garden can make a table look fresh.
R+T: What is your favorite song/playlist when you have people over?
I leave all that up to my husband. I have "relax" playlists that he makes up for me.
R+T: Plated, Buffet, or Family Style for a dinner party?
Family style mixed with buffet – I usually put a few things on the dining room table for sharing and have a buffet in the kitchen.
R+T: What are your favorite flowers and where do you buy them?
I love peonies, and lilacs are my all time favorite. I love The Flower Market downtown and the farmers market. When I'm doing something special, I call Kristen at Moon Canyon.
Fashion
R+T: How would you describe your style?
Tomboy, waspy, bohemian.
R+T: Who are your favorite designers?
Dosa, Black Crane, Beatrice Valenzuela, Annie Costello Brown, Maryam Nassir Zadeh.
R+T: What are the 5 pieces you can't live without this season?
My KKIBO sweater, my D'Orsay flats, A.P.C. jeans, Retro Super Future Panama shades, vintage felt hat.
R+T: What is your uniform?
Dosa kurta shirt, Hat from Olvera St, Beatrice Valenzuela black booties, Retro Super Future shades, Imogene + Willie high-waisted white jeans.
R+T: What is your newest purchase?
Dosa pre-order for Spring – it's sooo pretty.
Food
R+T: Is there anything about your diet you would like to share with R+T?
I have found being gluten-free to really improve my energy.
R+T: Do you cook?
All the time.
R+T: What is your favorite recipe?
Kale rice pasta with olives and capers – kale is easy to grow and I have tons of it!
R+T: What is your child's favorite recipe?
Homemade gluten-free pizza.
Art
R+T: Who are your favorite artists?
Agnes Martin, Eva Hesse, Louise Bourgeois, Hope Atherton, my Mom and Dad.
R+T: What is your favorite piece of art you own?
My Hope Atherton and my Dad's painting in the dining room.
Kids

R+T: Are there any kids finds you want to share with Rip+Tan?
NICO NICO, Tomboy Kids in Silverlake, Crafting Community was sooo fun for the kids!
R+T: What are your favorite places to shop for kids?
Tomboy Kids in Silverlake, NICO NICO, and my 8-year-old son only wears hats from Undefeated in Silverlake.
R+T: What's your favorite thing to do/place to go on the weekends with your kids?
We go for the most amazing hikes in Angeles Crest Forest – it's actually so close! Also, we LOVE the beach – the boys are getting really good on a boogie board! We go to the Annenberg Community Beach House for a beach/pool swim – it's so fabulous that it's open to the public.
R+T: What is your favorite restaurant to eat at with the whole family?
My kids live on tacos – and Japanese food. We are gluten-free, so we go to Little Tokyo a lot! But they love Guisados tacos. 😉
Textiles
R+T: How and when did you start your textile business?
A year-and-a-half ago out of my house in Echo Park – now I have a studio Downtown.
R+T: What inspired you to begin your business? What are your sources of inspiration today?
I really wanted something to sell at the Echo Park Craft Fair! I had been doing watercolor painting, and painting on fabric seemed like a really fun idea! It was my mom's idea – my parents continue to inspire me. My father is a minimal painter, and the work of Agnes Martin inspires me everyday.
R+T: Do you have any new projects on the horizon?
I'm working with Lauri Krantz on a line for Edible Gardens LA and with Moon Juice on a line of aprons, interior designing my first house in Pasadena, and continue to co-organize (with Bea) the Echo Park Craft Fair, taking place this December 14th & 15th – we have 50 artists now!
R+T: What is your favorite part of your job?
Looking through linen – I just love how it feels. I'm very tactile and printmaking is so satisfying.
R+T: Any favorites within your collection?
I love the apron I'm making! It's comfortable, chic, and feels really nice on.