Living
Profile: Kristen Connolly Vadas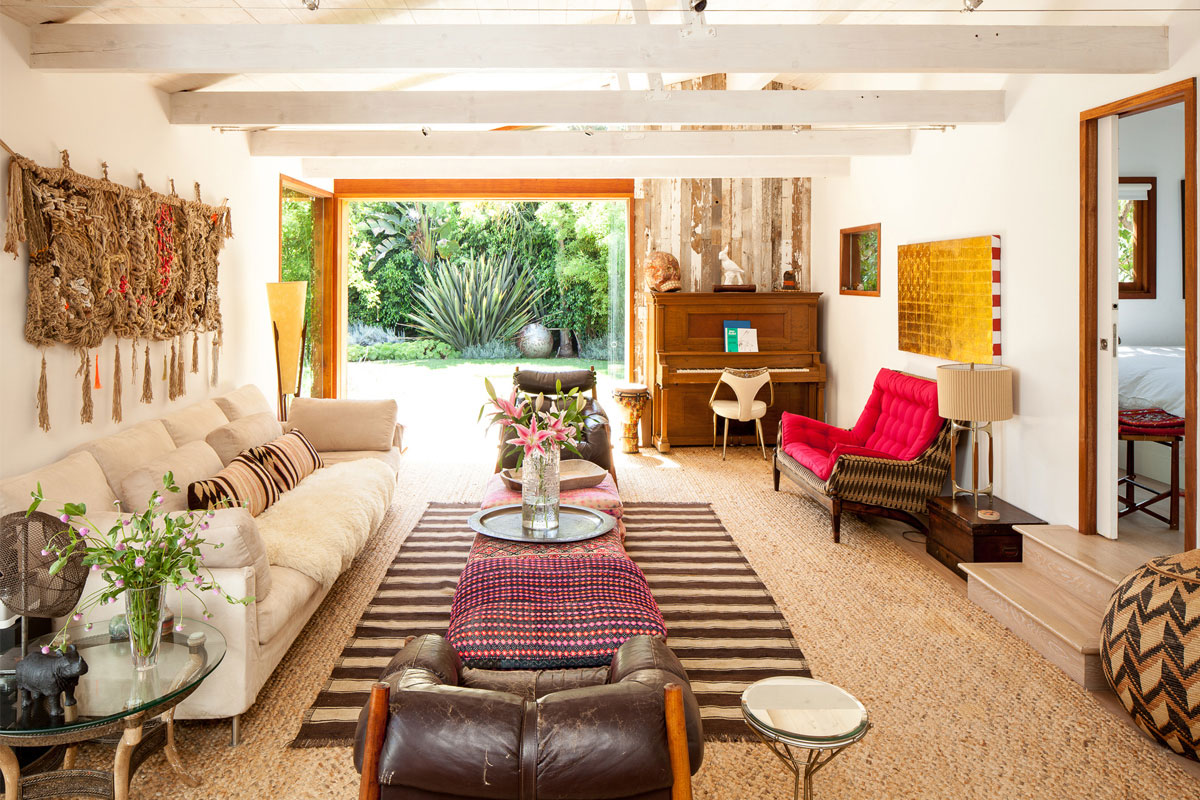 I was connected to Kristen through our mutual friend Lawren Howell. A television development executive for nearly two decades, she most recently ran the Unscripted TV department at the CW Network, overseeing shows such as America's Next Top Model. She recently segued into producing, and is now starting a production company with a focus on developing projects for the teen and young adult audience.
Kristen lives in Venice with her husband Alex and two young children, Lucian (five) and Astrid (two), in a 1925 Cape Cod that over the years has undergone several rounds of additions. Longtime Venice residents, they moved into the home three years ago after having spent nine happy years in a beach bungalow nearby.
Kristen's passion for design is evident the moment you step into her home. Filled with layers of incredible finds – one of her greatest loves is refurbishing flea market diamonds in the rough – it is a space as warm and welcoming as it is thoughtfully considered. I hope you enjoy this look inside. XXJKE
Beauty
R+T: What are your go-to beauty products? Why?
A friend introduced me to the Organic Pharmacy and I now use their Rose Facial Cleansing Gel and Double Rose Rejuvenating Face Cream every day. I love the smell. I also love Le Labo perfume and Boscia B.B Cream with SPF – it is light but evens out your skin tone so naturally (plus protects from the sun).
R+T: Is there anything special you would like to share about your beauty routine?
Getting enough sleep is the key for me to looking healthy and rested. If I am sleep deprived, no amount of moisturizer or bronzer is going to help!
R+T: What are the 5 products you couldn't live without?
Alexandra Wagner White Tiger Serum (amazing!), Blistex (old skool), Dr Bronners Pure Castile Soap in Peppermint (I have one in every bathroom, it reminds me of my mother), Neosporin (I always have a tube in my bag with two active kids), Toms Fennel Toothpaste .
R+T: Bath or Shower?
Depends. Baths in the evenings with the kids, whenever I can. Showers when I'm rushed.
R+T: What do you sleep in?
When I'm sleeping alone, I sleep in sweat pants, socks, and a big tee shirt (very sexy!). When with my husband – nada!
Health
R+T: Do you have any health tricks?
I eat everything, but I don't over indulge.
R+T: What do you do to stay healthy and balanced?
I try to carve out time to see my girlfriends, they always level me and have a calming effect. I started a book club over ten years ago that meets once a month and we have never missed a meeting. It's better (and cheaper!) than therapy – plus we get to read great books.
R+T: Do you workout? What do you swear by?
I used to hate working out, and the word "gym" sent shivers up my spine. Now that I have two small kids and a very busy life, I have a standing date with a trainer twice a week at my girlfriend's PT and fitness studio, Elevate , in Santa Monica.
R+T: What do you do to relax?
I love going to the flea markets at dawn. I often go alone or with a friend. The promise of a treasure yet to reveal itself is a pure tonic. I also love to read and get lost in a book.
Decor
R+T: What is your design philosophy for your home?
When I see something I love, I will find a place for it somewhere! I am not matchy-matchy. I love rough, nubby textures and mixing patterns and styles…everything is pretty eclectic in the house, but finds a way to get along somehow…and I am obsessed with pink!
R+T: What are your favorite pieces in your house?
My Percival Lafer arm chairs and my big floor pillows, covered in vintage fabrics, which can be pulled fireside or used to make a mean kid's fort. Also, the pink velvet couch in our bedroom.
R+T: What are your favorite home stores?
Nickey Kehoe , Surfing Cowboys , Orange , Hammer and Spear , Blackman Cruz and any flea market on the globe!
R+T: What is your favorite room in the house?
Our kitchen, because it is where we spend the most time as a family, and the site of most of our impromptu dance parties with our friends and our kids.
Entertaining
R+T: Do you entertain at home?
Yes! We love to entertain!
R+T: What are your tricks for entertaining?
My husband does the cooking and the wine, I do the décor and the guest list. We know our strengths and stick to them!
R+T: How do you set the scene when you have people over?
I am obsessed with lighting – everything has to be candlelit, dimmed and golden—there is nothing worse than a harsh, overly-lit room to kill a party…a steady stream of good wine and good music always helps too.
R+T: Are there any tips for what to do or what to avoid?
Aside from guests stumbling into bad lighting, make sure everyone is comfortably seated and never searching for a drink. I love moving the party from the dinner table down to the floor cushions in the living room, or to our outdoor fireplace for dessert. A change of scene, at the right time, can really add another layer to the evening.
R+T: What is your favorite song/playlist when you have people over?
My husband usually handles the music and a lot of his material is inspired by KCRW .
R+T: Plated, buffet, or family style for a dinner party?
Plated or family style. Buffets are for cruise ships.
R+T: What are your favorite flowers and where do you buy them?
I love Protea, thistles, wildflowers, grasses, and really any branches. I go early to the downtown flower market and get lost in the jungle.
R+T: Do you do them yourself or do you use a florist?
I always do them myself. I find it relaxing and very creative.
R+T: Who is your favorite florist?
Fashion
R+T: How would you describe your style?
I didn't know how to answer this, so a friend told me that I was "Preppy Boho".
R+T: Who are your favorite designers?
Isabel Marant, IRO, Willow, Jane Mayle, Staci Woo.
R+T: What are the 5 pieces you can't live without this season?
I love my Improvd leather jacket, Golden Goose high tops, IRO structured cotton tee, Lanvin suede booties, super soft cashmere wrap I got in India
R+T: What is your uniform?
Paige Denim moto jeans, IRO tee shirt, & high tops. A jumpsuit for evening. (I do so love a jumpsuit!)
R+T: What is your newest purchase?
High-top Vans.
Food
R+T: Is there anything about your diet you would like to share with R+T?
We eat pretty healthy. We are so lucky to have Farmers markets in southern California at every turn. I am a sucker for anything coconut.
R+T: Do you cook?
Rarely. I like to bake and pretend that I am "getting into cooking", but really my husband is the mastermind in the kitchen.
R+T: What is your favorite recipe?
Pasta Broccoli with chorizo, garlic, and red pepper flakes that takes 10 min and can be made all in 1 pan.
R+T: What is your child's favorite recipe?
Chicken Schnitzel for dinner.
Baby-cinnos" for breakfast (they are like cappuccinos but with chocolate instead of coffee. Very Australian.)
Art
R+T: Who are your favorite artists?
Kim McCarty, Julie Blackmon, Mark Ryden, Peter Stitchbury, Amadeo Modigliani.
R+T: What is your favorite piece of art you own?
A Julie Blackmon photograph that my husband got me for my 40th Birthday this year.
Kids

R+T: What are your favorite places to shop for kids?
My friend Staci Woo's store downtown has the best kids clothes! I really like Zara Kids; they have such wellpriced and cute items for boys and girls. I also love the website Wunway.
R+T: What's your favorite thing to do/place to go on the weekends with your kids?
We love going down to Venice beach with our tipi and meeting up with friends. We all spread out blankets and share shovels and snacks and the kids play for hours. It's pretty heavenly.
R+T: What is your favorite restaurant to eat at with the whole family?
A-Frame. Great cocktails for adults and fun music, with lots of run around space for the kids and yummy shared food and desserts. Something for everyone.
Shopping & Blogs
R+T: What are your favorite stores to shop for clothing?
In LA I love Satine, Jenni Kayne, Staci Woo: the Souvenir Shop, Opening Ceremony, Gorilla Atelier Downtown. I also love finding those one of a kind pieces at Flea Markets or vintage shops that no one else will have.
R+T: What is your favorite city for shopping?
Paris, Milan, and Melbourne.
R+T: What are your favorite sites for shopping?
Ebay, Etsy, 1stdibs, Net-a-Porter, One Kings Lane.
R+T: Are you an impulse buyer, or do you wait to commit?
Depends on the size of the purchase, but I'm generally an impulse buyer. You can always sell it, trade it, or recycle it, if you get buyers remorse…
R+T: What are your favorite sites for recipes?
R+T: What are your favorite blogs?
Entertainment
R+T: Can you share a bit about your journey in television? What was it that drew you to this industry?
I've always loved stories and storytelling. I was a voracious reader as a kid and grew up with a writer father, so I was always surrounded by characters and worlds. And, like most of my generation, I was obsessed with John Hughes movies. When I graduated from college, I had very little idea of what I wanted to do, but I was attracted to the entertainment industry because I loved the escapism and creativity.
My first job was an assistant to a big feature producer, who was straight out of "Swimming with Sharks". It was trial by fire, but I learned a lot. After that, I got my sea legs and went onto Nickelodeon and learned the whole kids television industry, which was so playful and fun. It was the time of "Spongebob Squarepants" and "All That" and I felt I had gone to graduate school. Then Gerry Laybourne, Marcy Carsey, and Oprah were starting up the Oxygen network, and I went over there to head up their West Coast Development office. It was a really innovative time because we were an independent network with a lot of freedom to try everything. I was developing movies, reality shows, improv comedies. Everything was on the table. And that eventually brought me to the CW, where I oversaw their unscripted department for 6 years and was developing programming for the young, female demographic, which is my favorite niche… Everything is so raw and dire and earth shattering at that age, which usually makes for great drama (and comedy!).
R+T: With a resume that includes roles as writer, producer and executive, you've been able to see the process from multiple points of view… Can you share some of the most gratifying (and challenging) aspects of each?
The best part of my job is working with creative, passionate people who love television and storytelling. The process of watching an idea go from a fledgling pitch in a room, to a fully formed television series with flesh and blood characters, and a national audience, is an incredible feeling. It can also be extremely painful watching something that so many people have spent so much time and energy shaping, go on the air and get totally rejected. That's the nature of the business though. You can't please everyone all the time, but you have to go after the stuff that really makes you tick and excites you and just go for it. It's all so subjective.
R+T: Do you have a formula for balancing a demanding career with your roles as wife and mother?
That formula keeps evolving (and I'm open to suggestions!), but we make it a huge priority to have family dinner altogether several nights a week, and my husband and I always have 1 night reserved for just the two of us, even if that means snuggling on the couch after the kids are in bed to watch TV (we are obsessed with Game of Thrones!) or walking down to Abbot Kinney for a local bite.
R+T: Any exciting new projects on the horizon?
I'm very excited to be segueing back into writing and producing again, after so many years on the corporate buy side. I am in the hunting and gathering phase of finding and developing cool material that excites me. I just turned 40, so this year is all about new beginnings and change!
R+T: The perfect evening after a long day would include…
Dinner on the lawn with my family.