Living
Profile: Kendall Conrad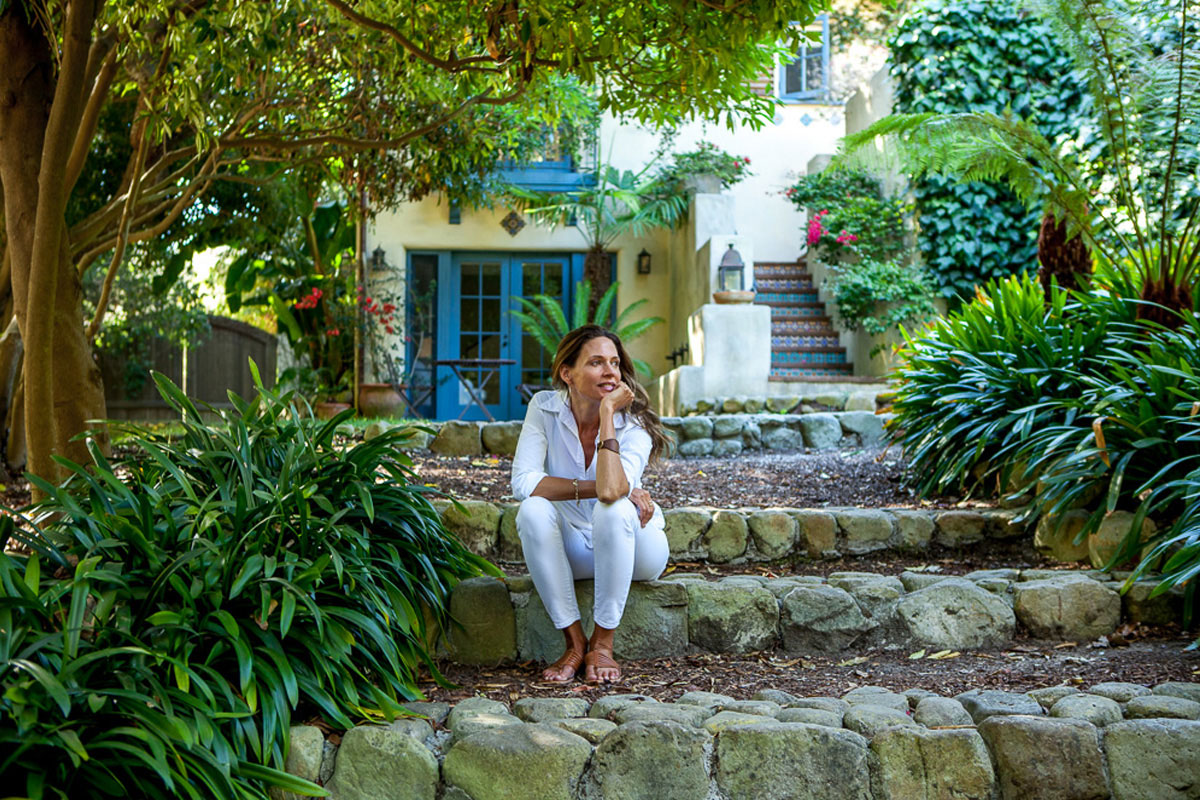 I met Kendall years ago through Jules Allen and Liseanne Frankfurt at a trunk show in Santa Barbara. She makes beautiful handbags, leather goods, jewelry and footwear and has three great stores including one on Abbot Kinney, one in the Brentwood Country Mart, and a newly opened pop-up shop in the Montecito Country Mart.
Kendall was born in to a family of artists – her father, Barnaby Conrad, was a celebrated portrait artist and author, her mother, an interior designer – and experienced a childhood immersed in art, literature, and much travel. While studying at UCLA, she was discovered by John Casablancas, who sent her to Milan and Paris to begin what would be successful career as a model. In the years that followed, she divided her time between NYC, Paris, and Los Angeles, and eventually returned to Santa Barbara – where she had been raised – to raise children of her own with her husband David Cameron.
Kendall lives in Montecito with her husband and two beautiful daughters, Luisa and Fernanda (aka Fanny), in an incredible 1940's Mediterranean. Her home feels like an extension of her personal style – clean and classic, with a bit of an artsy boho edge. Her garden is amazing, and I especially love the indoor/outdoor flow of the home – peaceful, serene, and very Montecito. I hope you enjoy this look inside. XXJKE
Beauty
R+T: What are your go-to beauty products? Why?
I like organic products and always go to Strange Invisible Perfumes, on Abbot Kinney, for the purest, most effective ones. Alex Balahoutis, the owner, is a purest and researches each line she carries very thoroughly. I love the Nahla skincare line. And for body care, I like the Red Flower line. Also, Strange Invisible's own line of body creams and perfumes are amazing! And for hair, I love the Acure shampoos and conditioners.
R+T: Is there anything special you would like to share about your beauty routine?
For special occasions, I make a papaya seed scrub. I take a fresh papaya and scoop out the seeds and put in a high-speed blender such as a Vitamix. Add a tablespoon of water and blitz until the seeds are very fine, this releases all of the live enzymes. Massage into skin for around 30 seconds and then let it sit until you feel the burn, then wash off quickly with cool water and put on a heavy moisturizer. The enzymes that open up from the ground papaya seeds make an amazing exfoliator! Your skin will be very rosy and soft afterwards.
R+T: What are the 5 products you couldn't live without?
1. Flying Bird Rose Cacao Cream. My skin drinks it up.
2. Weleda Skin Food hand cream stashed in my desk, car, kitchen, husband's car and night table – constantly putting it on.
3. Karite Lips shea butter chapstick, stashed all over the place. Again, constantly applying.
4. Almond or Apricot Kernel oil. I always apply to my body after bath or shower.
5. Jojoba oil, for makeup removal.
R+T: Bath or Shower?
Both! I love a hot bath in the evening with a good book. I soak in essential oils and Epsom salts. I like to shower on shampoo and body scrub days, and love to use REN gommage body scrub.
Health
R+T: Do you have any health tricks?
Yes, on days after late nights, I like to eat a sprouted organic tofu rice bowl, with a purifying carrot/cilantro/ginger paste with cayenne pepper, ginger, lemon, garlic and tahini. Makes me feel good and detoxed. Also, lots of charged water with a few salt crystals and sliced guava, fennel or mint in it.
R+T: What do you do to stay healthy and balanced?
I go on very long beach walks with my dogs about 4 or 5 days a week. I walk barefoot and fast and stretchy, and try to use all of my muscles. Going barefoot is really good for your whole body, a practice called "grounding," of which I wholeheartedly adhere to. I love to multi-task and this hits many notes: it is good for my dogs and me, I can do work calls, I can listen to an audiobook, I can have a friend or my husband join me and catch up, I connect with nature, I can meditate while I walk. Many good reasons!
R+T: Do you workout, what do you swear by?
Nope too boring and a big time suck. See above. I like to exercise in nature – ride horses, play tennis, yoga in my garden, boogie board or surf, ski in the winter outside in nature – no gyms.
R+T: What do you do to relax?
I play the piano or cook.
Decor
R+T: What is your design philosophy for your home?
Less is more. No clutter. A neutral palette. We bring in color with paintings and flowers.
R+T: What are your favorite pieces in your house?
The hand carved wooden mobile in the den – a beautiful gift from a good friend, constantly changing. I love the dining room trunk; we have had it soo long. It's massive and grand and holds a lot. I also love the Portuguese table in the living room, nice lines.
R+T: What are your favorite home stores?
I love Michael Haskell Antiques, William Laman, Upstairs at Pierre Lafond and Maison K and now, the just opened Jenni Kayne Home – all in Montecito.
R+T: What is your favorite room in the house?
My office with the fire going, so cozy.
Entertaining
R+T: Do you entertain at home?
Yes a lot!
R+T: What are your tricks for entertaining?
Lists. It really helps to be organized. Prep a little bit each day leading up to a party. Make extra.
R+T: How do you set the scene when you have people over?
Candles, music, good lighting, fires going.
R+T: Are there any tips for what to do or what to avoid?
Don't sweat it. Relax and enjoy your own party!
R+T: What is your favorite song/playlist when you have people over?
I am a big music buff and make all the playlists for my stores. I usually create a unique playlist for the evening, depending on the occasion and the guests coming.
R+T: Plated, Buffet, or Family Style for a dinner party?
For a small dinner family style, dishes set on the table. Larger crowds either family style or buffet style.
R+T: What are your favorite flowers and where do you buy them?
Peonies have always been a favorite, but not a local flower so hard to get year round. I love local grown large fresh ginger spears in the summer. Fat dahlias too, and also teddy bear sunflowers – the shaggy, all yellow ones, without the brown in the center.
R+T: Do you do them yourself or do you use a florist?
I do them, but for special events we will use a florist.
R+T: Who is your favorite florist?
Scott Hogue in Montecito – or Botanik in Summerland.
Fashion
R+T: How would you describe your style?
Uniform. Classic. Slightly tomboy.
R+T: Who are your favorite designers?
Saint Laurent, The Row, and Jenni Kayne!
R+T: What are the 5 pieces you can't live without this season?
Saint Laurent shoes, The Row blazer, Jenni Kayne top, Goldsign jeans, my new Valenciana cuffs and jewelry and my iPhone case.
R+T: What is your uniform?
In the summer, I live in shorts or one of my uniform work dresses that I had made. In winter, jeans and cashmere sweaters from Inhabit, an I Pezzi Dipinti scarf, my new Manolete slipper/loafers.
Food
R+T: Is there anything about your diet you would like to share with R+T?
I eat organic. I buy 80 % of our food at the Farmer's Market.
R+T: Do you cook?
Yes, constantly.
R+T: What is your favorite recipe?
The Moroccan Chicken Stew out of my cookbook Eat Well Feel Well – great for a crowd.
R+T: What is your child's favorite recipe?
Fanny likes Sauteéd Halloumi and Luisa likes Banana Leaf Wrapped Halibut.
Art
R+T: Who are your favorite artists?
Picasso, Matisse, Frankenthaler, Richard Serra, Diebenkorn, De Kooning, Charles Fine to name a few. For more, see my Tumblr.
R+T: What is your favorite piece of art you own?
Charles Fine, David Florimbi, my father Barnaby Conrad, and my sister Cayetana Conrad.
Kids

R+T: What are your favorite places to shop for kids?
Jenni Kayne kids' store in Montecito, Poppy in the Brentwood Country Mart, and Upstairs at Pierre Lafond.
R+T: What's your favorite thing to do/place to go on the weekends with your kids?
Go to the beach, the girls surf, we picnic, walk etc.. Or a trip out to Santa Cruz Island. A concert at the Santa Barbara County Bowl – the best, most intimate place to see a concert.
R+T: What is your favorite restaurant to eat at with the whole family?
Love Axe in Venice, Farmshop in Brentwood, and The San Ysidro Ranch in Santa Barbara.