Living
Profile: Brady Cunningham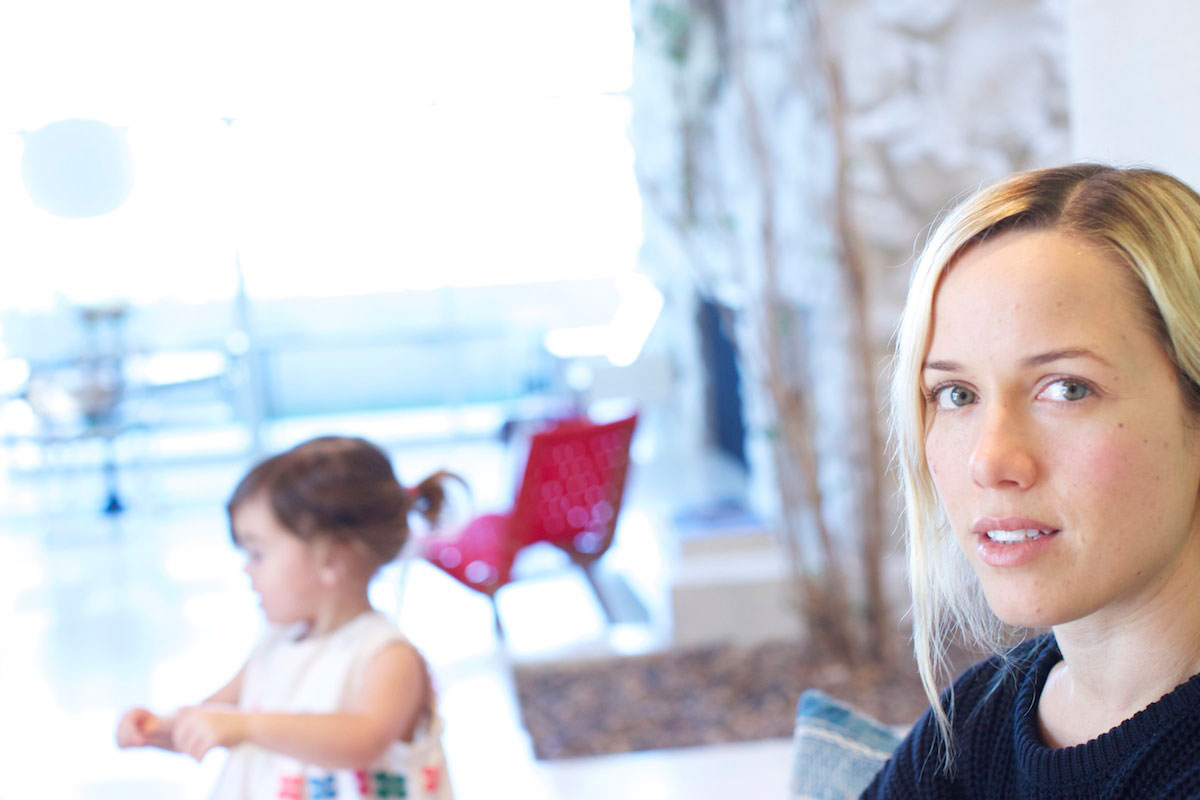 I first met Brady on a flight to Italy two summers ago – we both had babies under six months, and were seated a row apart from one another on what promised to be a long overnight flight. Thank god the little ladies behaved themselves! While we waited for our luggage we began chatting, realized we had some mutual friends, and immediately connected. Once back in LA, Brady started bringing her adorable daughter Marlowe, now 2, to music class at our house, and our friendship began.
Born and raised in Daphne, Alabama, Brady is a Southern girl who moved to NY in the late '90s to work for menswear designer John Bartlett. She eventually left that position to study fashion design at Parsons School of Design, and during this time met Kristen Lee. Kristen and Brady formed a friendship that would travel to LA and eventually lead to their partnership at TENOVERSIX. If you haven't been to TENOVERSIX, it is a special store with a very distinct point of view, which embodies Brady and Kristen's style completely. Their flagship is on Melrose in West Hollywood, and they will soon be opening a second store in Dallas, TX.
Brady was kind enough to let us into her beautiful mid-century home in the Hills, which truly reflects her sense of style. I hope you enjoy her home as much as I did. XXJKE
Beauty
R+T: What are your go-to beauty products? Why?
I'm hooked on Radical Skincare because it makes my skin feel like it did back in the days when I was sleeping 8 hours a night.
R+T: Is there anything special you would like to share about your beauty routine?
Does brushing my lips with my electric toothbrush when they are feeling dry count as a routine?
R+T: What are the 5 products you couldn't live without?
Cetaphil Moisturizing Cream for all over body, Inphenom shampoo and conditioner, La Prairie SPF 30, Vincent Longo Water Canvas, and Jessica nail cuticle cream.
R+T: Bath or Shower?
Both.
R+T: What do you sleep in?
My husband's boxers.
Health
R+T: Do you have any health tricks?
I eat a plant-based diet.
R+T: What do you do to stay healthy and balanced?
I play as much as possible with my two-year-old.
R+T: Do you workout, what do you swear by?
I don't work out regularly, but I do take lots of walks.
Decor
R+T: What is your design philosophy for your home?
Functional, clean, and unexpected.
R+T: What are your favorite pieces in your house?
Our 1960's Freeform Fiber Art by Romeo Reyna that hangs on the rock wall above our fireplace, and our 1920's Steinway piano, which was an insanely wonderful wedding present from my Mother-in-law.
R+T: What are your favorite home stores?
The Future Perfect, Heath Ceramics, Garde, Reform Gallery, and Lawson-Fenning.
R+T: What is your favorite room in the house?
My daughter's room is an oasis. I want to lie down and take a nap whenever I'm in there.
Entertaining
R+T: Do you entertain at home?
Yes, especially during football season.
R+T: What are your tricks for entertaining?
Lighting, music, and my rustic (code for freeform) guacamole.
R+T: Are there any tips for what to avoid?
Bright lights.
R+T: What is your favorite song/playlist when you have people over?
Mellow and moody, i.e. Dusty Springfield, Ron Sexsmith, Johnny Cash, Neil Young.
R+T: Plated, Buffet, or Family Style for a dinner party?
Family style.
R+T: What are your favorite flowers and where do you buy them?
I love freesia, dahlia, ranunculus and whatever catches my eye at the farmers market.
R+T: Do you do them yourself or do you use a florist?
I do them myself. In 11th grade I gave an expository speech on flower arranging – I've considered myself a pro ever since.
R+T: Who is your favorite florist?
Holly Vesecky of Holly Flora.
Fashion
R+T: Who are your favorite designers?
Patrik Ervell, Kaelen, Acne, Kenzo and many, many more.
R+T: What are the 5 pieces you can't live without this season?
Slim cropped pants and a tank, a shirt dress, an easy jumpsuit, and any sweater by Ryan Roche.
R+T: What is your uniform?
Jeans + button down + flats.
R+T: What is your newest purchase?
An Alasdair Twist dress for myself, and BOBO CHOSES pink "MILK" jeans for my two-year-old.
Food
R+T: Do you cook?
Always for my daughter – but very simple dishes.
R+T: What is your child's favorite recipe?
I don't use recipes, but I make easy things – she loves when I cook fresh pasta (from the farmers market) with loads of sauteed cherry tomatoes, fresh basil, and crumbled cheese of any kind.
Art
R+T: Who are your favorite artists?
Ida Ekblad, Mary Weatherford, Landon Metz, Toney Feher, Chadwick Rantanen.
Marriage
R+T: How do you balance work, motherhood, and marriage?
I micromanage.
R+T: What is your secret to your marriage?
Laugh when things get too serious.
R+T: Is there something you do with your husband on a regular basis?
We take walks.
R+T: What is the 1st thing you bought with your husband?
Blueberry pancakes.
Current Projects
R+T: What's your creative outlet and what project are you working on now?
My creative outlet is TENOVERSIX. We are working on a big project at The Joule Hotel in Dallas which includes designing the lobby, a coffee shop, and bar. It's exciting to take our work in a new direction.
R+T: What is your favorite part about your job?
Interior design and visual merchandising.
R+T: How is it working with a close friend?
It has always been really easy for Kristen, Joe and I to work together, and having kids has only brought us closer – we're like one big family.
Kids
R+T: Are there any kids finds you want to share with Rip+Tan?
Mayron's Goods, and anything by BOBO CHOSES.
R+T: What are your favorite places to shop for kids?
TENOVERSIX, Sweet William, and American Apparel.
R+T: What's your favorite thing to do/place to go on the weekends with your kids?
Farmers market + petting zoo.
R+T: What is your favorite restaurant to eat at with the whole family?