Living
Practicing Grace with Stylist Kendra Smoot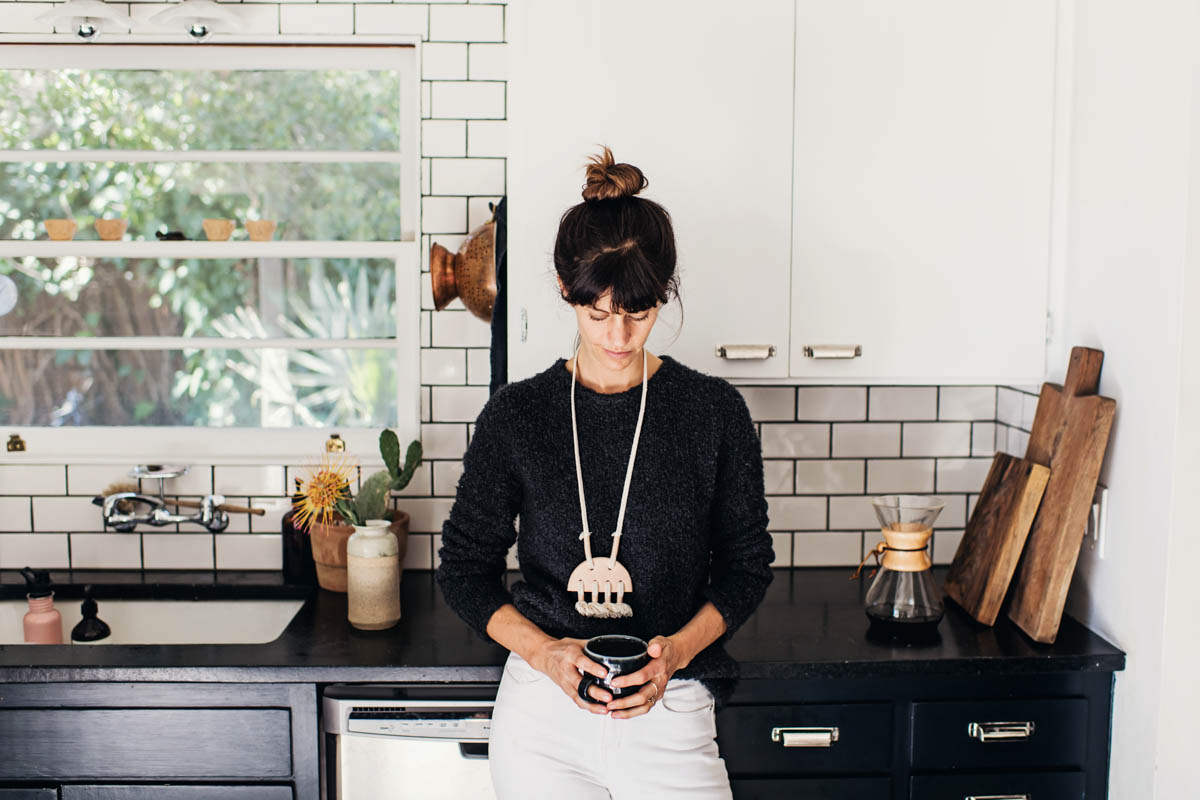 Stylist, art director and mother to three adorable kids, Kendra Smoot's lifestyle is certifiably Instagrammable—in fact, the Marin County resident is one of our favorite accounts to follow. With impeccable style and a trained photographer's eye, Kendra documents her family's adventures and impressive body of work for clients like William Sonoma, Free People, Kate Spade, Bon Appetit, Good Housekeeping, Kinfolk and more. Her family home is a minimalist's dream: wide windows welcome natural light, making the monochromatic white and black scheme look bright, clean and inviting. The décor feels organic and natural, a compliment to the lush, verdant yard whose expanse could be mistaken for a national park. As we hiked through the trees, foraging clippings for her next arrangement, Kendra talked to us about her inspiring career, her busy family life, and the subtle art of paring things down. XXJKE
Rip & Tan: Tell us a little bit about your career path. How did you find yourself in the world of styling and art direction?
Kendra Smoot: I moved to New York City after college with my photographer husband, and started interning with a photo agent and photo studio in SoHo. Through that gig I met a stylist and it was pretty obvious that this was the perfect career for me—all of the time I spent decorating my childhood bedroom now made sense! I learned about styling through assisting for a couple of years and then working at a magazine. Lately, I've loved art directing. it's a pretty natural extension from styling and so fun to concept a shoot and see it through.
Rip & Tan: Have you always worked freelance? What are the benefits and challenges of working outside of a traditional 9-5?
KS: Outside of a two-year stint at a Martha Stewart magazine, I have been working freelance for over 15 years. The biggest benefit is also the biggest challenge—I like being able to work at my own pace and during the hours that I choose, but that means that it's sometimes hard to flick off that work switch.
Rip & Tan: What does a typical work day look like to you?
KS: For each shoot there's a prep period, which can involve researching and sourcing props. I do a lot of sourcing locally at antique shops or boutiques for special/one of a kind items. On shoot days, there's generally a super early flower market run and then working in a location or studio for the day.
Rip & Tan: What is your favorite part about your job? What is the biggest challenge?
KS: I love that my jobs change from week to week and I get to meet a lot of very interesting and cool people. Wrapping up jobs can be challenging; I prefer the beginning of the process when I'm concepting and excited. Post-shoot returns and invoicing are a total drag!
Rip & Tan: Do you ever collaborate on projects with your husband? What is your working relationship like?
KS: We really enjoy collaborating; the expectations are very clear and we like to push each other creatively. Logistically, it can be difficult to work together so we try to keep it to a minimum and only for super fun and special projects we find fulfilling.
Rip & Tan: How do you stay inspired?
KS: As fun as Pinterest and Instagram are, my best ideas come from being out in the world—in a beautiful natural setting or a thoughtfully curated shop. I also love having outdoor space to play around with dyes or paints or plants. And whenever I find someone whose business or product I admire, I seek them out for joint projects.
Rip & Tan: Who do you look to for advice or guidance? Are there any bits of wisdom you've received that you'll never forget?
KS: I love doing yoga and find that I get a lot of personal answers when I practice. Today I was able to move through a pose really gracefully after doing it awkwardly for years and it was a lightbulb moment. Each day is just another opportunity to improve and practice grace in my interactions with other people.
Rip & Tan: Tell us about your children! Do they have any particular qualities or characteristics that remind you of you or your husband? In what ways are they different?
KS: Our oldest daughter Stella is artistic and very musical, and always has her nose buried in a book. I am the exact same way, so even though I get totally exasperated when she doesn't respond to the eighth call for breakfast I also totally get it! Imogen is our middle child. She has a very sparkly personality and gets along with everyone and wants to try everything. Truman is the youngest. My husband Seth also was the only boy with two sisters and both of them have a very gentle nature.
Rip & Tan: We loved seeing pictures from your family road trip on your Instagram this past summer—do you have any tips on traveling with kids?
KS: Not over-thinking it is key. I was a bit nervous when I took the kids on a month-long road trip (by myself!) but none of my worries were realized. I also love to pack super light so I can spend less time organizing stuff and more time having fun.
Rip & Tan: Aside from traveling, what activities do you enjoy most with your family?
KS: We love camping, day trips to the beach, and hiking. During the spring and summer months we spend a lot of time tending our veggie garden. And charades! Stella writes out the clues and then we all have to act them out.
Rip & Tan: You and your husband have been together for an impressive seventeen years—any tips for keeping the bond intact?
KS: We are always trying to evolve our communication; we spend a lot of time talking about the logistics of our family and careers. Making consistent time to talk as friends and partners and lovers is important. When we go on dates we usually go hiking just so that we can have a couple of hours of uninterrupted conversation.
Rip & Tan: What do you love most about living in Marin County?
KS: There are so many things to love! I feel so lucky to live here. 80% of Marin is undeveloped, with so many hikes and cool drives to take. The farmers markets are insane with the most beautiful, organic produce. It feels highly evolved. Everyone does a lot of yoga and meditating and cares about the earth—I'm inspired by the people around me.
Rip & Tan: Are there any books, TV shows or movies you're currently obsessed with?
KS: High Maintenance on HBO makes me laugh and reminds me of living in NYC. And I need to go see Phantom Thread! Paul Thomas Anderson is one of my favorite directors.
Rip & Tan: Are there any beauty products you can't live without?
KS: Using my dry brush feels like a mini spa every morning and my dry skin loves body oils.
Rip & Tan: How do you unwind at the end of the day?
KS: Hot bath with a giant glass of water, huge scoop of scented Epsom salts, and a good book.