Food & Drink
This Perfect Dinner Menu Makes the Most of Summer's Best Produce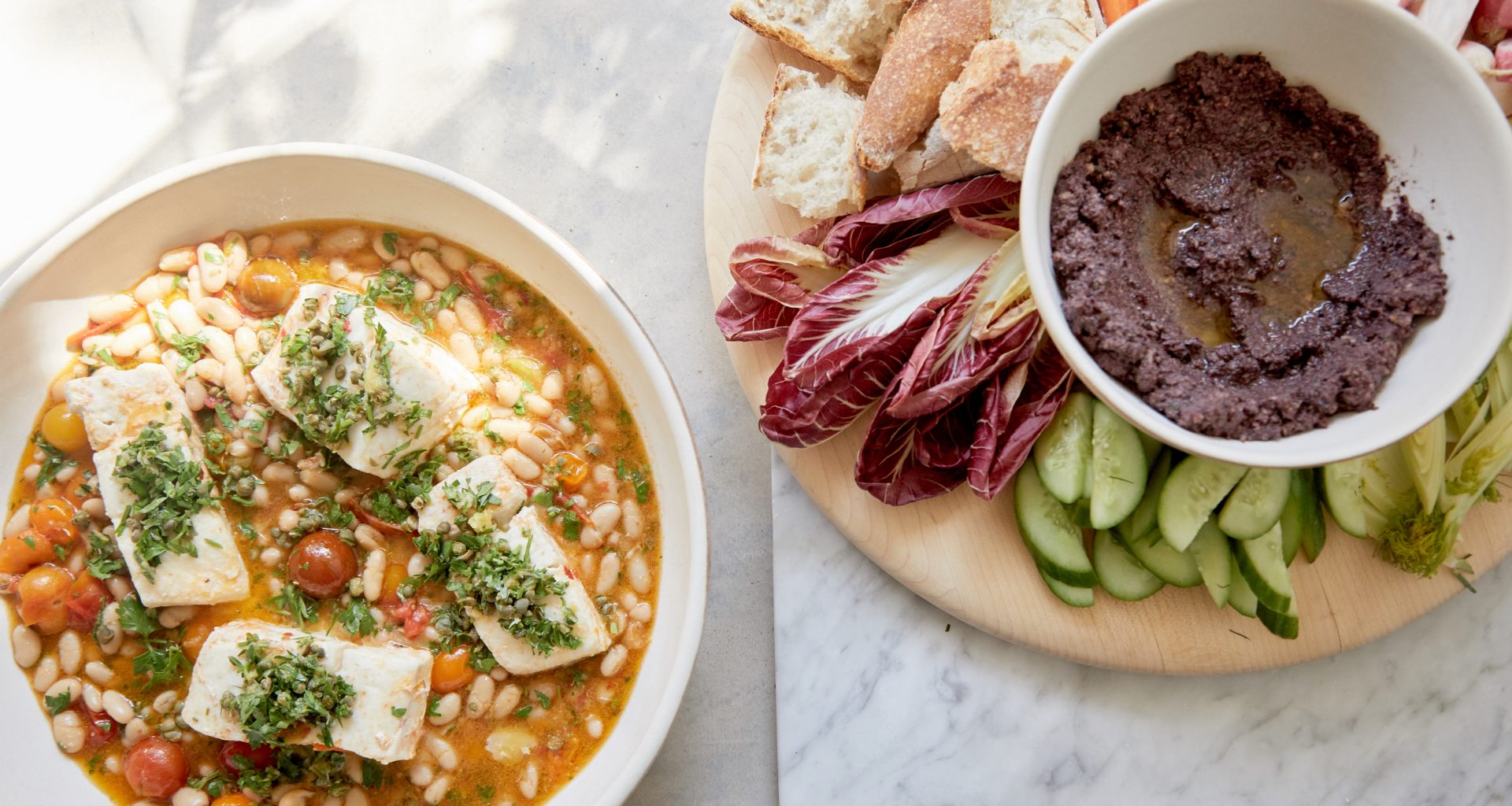 Whenever we need some inspiration for making the most of the season's offerings, we turn to Chef Thea Baumann, former food editor at Goop, holder of a Diplôme de Cuisine from Le Cordon Bleu, and cookbook author and consultant. She's shared her take on the perfect spring brunch, and this season, she's crafted a show-stopping summer dinner in the form of a perfectly flaky halibut with tomatoes, white beans, and salsa verde, a crowd pleasing crudité  (plus bread) board with walnut and black olive tapenade, and for dessert, poached peaches with rosé and thyme à la mode. Look no further for the come-together of your farmer's market haul.
"I try to keep things new and use seasonal ingredients to inspire fresh ideas, but now I place a lot more emphasis on making sure the directions are super clear, the flavors are just right, and the recipe itself is as foolproof as possible."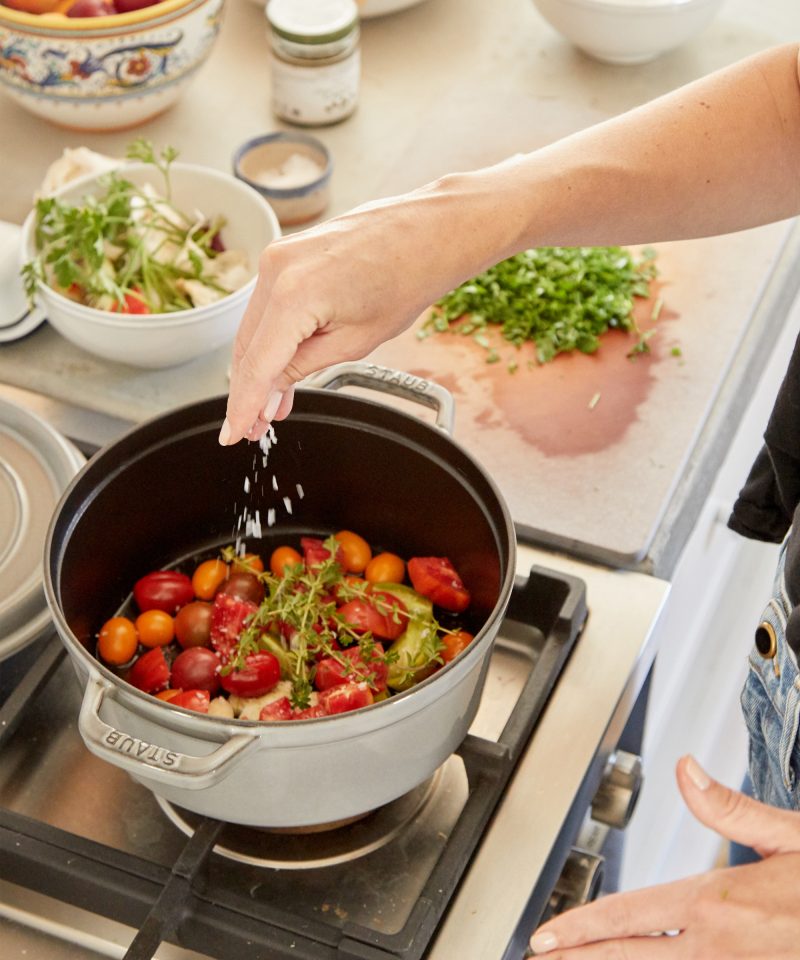 Halibut with Tomatoes, White Beans, and Salsa Verde
Walnut and Black Olive Tapenade
Poached Peaches with Rosé and Thyme
Recipe
Halibut with Tomatoes, White Beans, and Salsa Verde
Ingredients
1/2 cup

118 ml

olive oil

1 lb

1/2 kg

mixed ripe tomatoes (cherry tomatoes left whole, heirlooms or early girls roughly chopped)
5 sprigs fresh thyme
4 garlic cloves smashed and peeled
pinch chili flakes
salt

1 cup

237 ml

packed parsley leaves chopped

1/4 cup

59 ml

capers roughly chopped
zest and juice of 1 lemon

1 1/4 lb

3/5 kg

halibut or other skinless firm white fish, cut into four pieces
28-ounce can cannellini beans drained and rinsed
-Combine the olive oil, tomatoes, thyme sprigs, garlic cloves, chili flakes, and a couple of generous pinches of salt in a medium dutch oven.
-Turn the heat to medium-high, and bring the mixture up to a simmer.
Reduce the heat to low, cover, and gently cook for about 15 minutes, or until the tomatoes have started to break down.
-While the tomatoes cook, combine the chopped parsley, capers, lemon zest and lemon juice in a small bowl.
-Season the halibut generously with salt and add it to the pot. Cook for about 3 minutes on each side (this will depend on the thickness of your pieces of fish, but they should be just firm to the touch.
-Remove the fish to a plate and stir the cannellini beans into the pot. Season with salt to taste, and cook until the beans are heated through. Stir in ¾ of the parsley mixture and transfer to a serving dish.
-Arrange the halibut pieces on top, spoon over the remaining parsley mixture, and finish with a good drizzle of olive oil.