Entertaining
Party Tricks: Small-Space Entertaining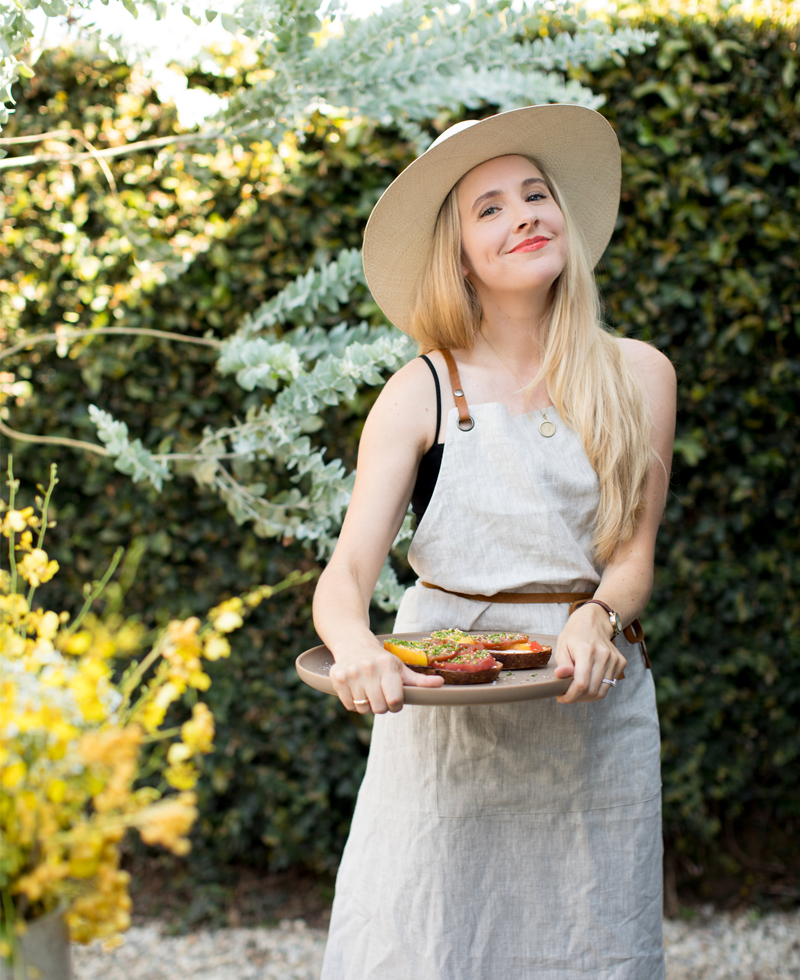 Hayley Feldman is co-owner of Venice favorite
Chez Tex
, and no stranger to small spaces. The restaurant makes up for square footage with great food, endless charm, and that covetable quality we call "flow." For the perfect playlist, the best way to set up a cocktail station, and the few things you can put off prepping right before guests arrive, look no further than this hospitality expert's advice.
Rip & Tan: Perception of a "small space" can be relative—is there such a thing as impossibly small?  

Hayley Feldman: Not in my humble opinion! Small spaces provide a most welcome challenge. In fact, sometimes too much space can be the real issue. Nothing worse than a party with pockets of empty space where everyone spreads out. It totally changes the vibe.

Rip & Tan: One of the most common mistakes hosts make is cleaning up as the party is in full swing, which can make guests feel like the party's ending or at least not as laid-back as it should be. How can you keep your space clean and uncluttered? 

Hayley Feldman: Completely agree. And as a self-proclaimed busy-body, I have to restrain myself to keep from doing exactly this. I've learned that your guests will follow your lead. There's no reason you can't take a break from wine and use the same glass for water. So stick to an all-purpose glass. I have some tiny etched glasses that work for virtually everything. Same goes for plates. Jenni's Sierra Serving Bowl is basically the only piece I use because it is multi-purpose and can hold everything from toast to salad to a main dish. If you really feel the temptation to be tidy, keep a small basket (like Jenni's Nesting Basket) nearby so you don't have to actually get up from the table, but can still tuck dirty dishes away.

Rip & Tan: What can be held off until the last minute, and what should absolutely be done in advance?

Hayley Feldman: Drinks and dressings should always be last minute!  Nobody likes soggy lettuce or a watered down cocktail.  I mix up my dressings in advance and dress them tableside, right before serving. Pretty much everything else can be done in advance. The key to a good party is plenty of prep. Mise en place!

Rip & Tan: How do you account for extra seating or surfaces? Do you think it's a good idea to rent chairs and tables, or should you host with what you have on hand? 

Hayley Feldman: I absolutely support renting chairs and tables if you're hosting a large group. But most of the time, I'm hosting a group of 4-6 and try to work with what I have. My home is already a coherent space and the furniture mostly goes together. I'll pull up side tables, garden tables and lawn chairs as needed. I also borrow furniture from the restaurant from time to time.

Rip & Tan: Do you have any tips for decor or centerpieces that won't take up too much room? 

Hayley Feldman: Go for one tall and narrow vase for the center of the table and focus on florals that are vertical and fairly compact so that your guests don't have to talk over a flower arrangement. Another really nice way to incorporate florals it to take an herb or flower sprig and place them on each guests' plate. Stick them behind your ear during dinner.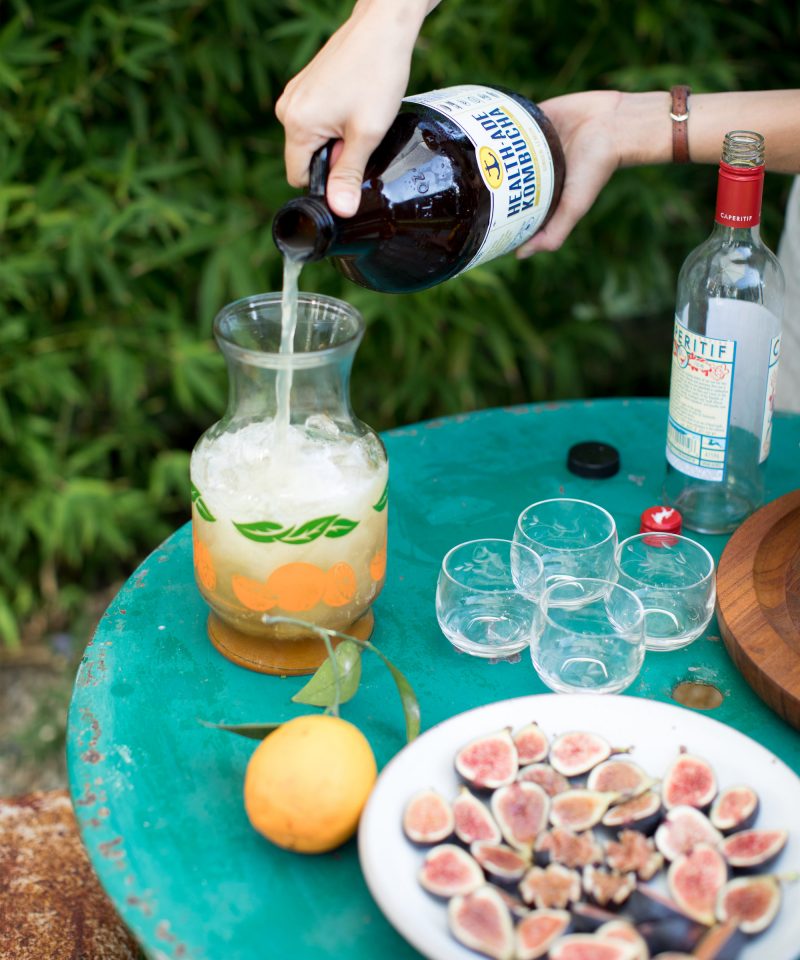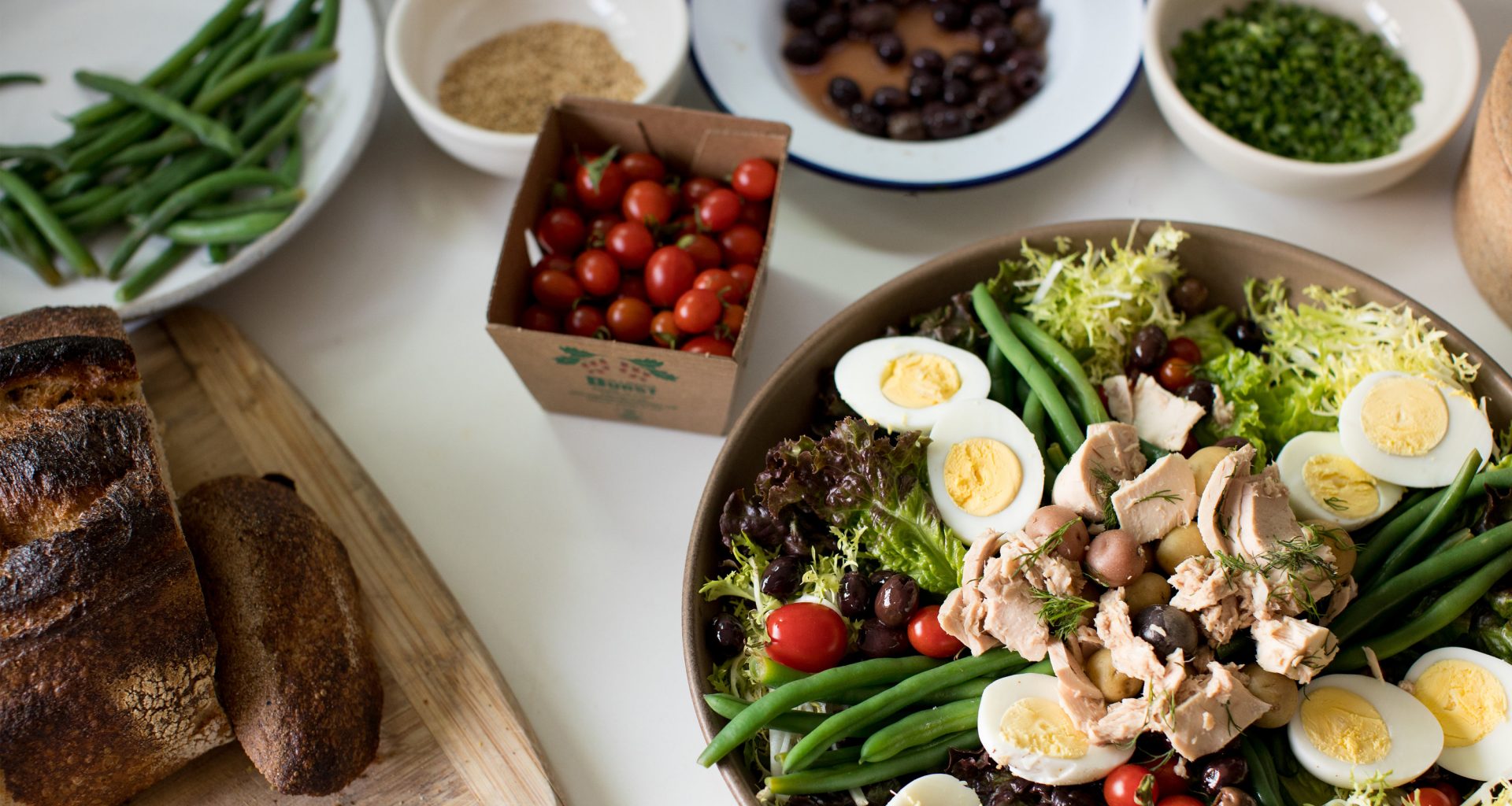 Rip & Tan: We often say that, over the menu or the decor, the mood of a party is what really makes it successful. What kind of vibe do you try to create when you're hosting? 

Hayley Feldman: I seek nostalgia when I entertain, and food is a great way to communicate that. A taste or smell transporting you back to another time or place. I typically play music from the 50s, 60s and 70s. I collect and use a lot of vintage pieces. More than anything, I want my guests to feel comfortable, welcome, and in some ways, give them a small piece of me. In hospitality, the reward is in giving more than you take.

Rip & Tan: We've all been to a party that has no flow—people cluster in the kitchen or in a narrow hallway, making for an already-small space feel super claustrophobic. How can you enhance the flow with the environment or floor plan? 

Hayley Feldman: However small your space, you can start to think about your home in sections. For example, my house has a small outdoor area in the front and in the back, so I'll set up a table for cocktails with lounge chairs in the front yard and the dining table in the backyard under the bistro lights. If you want to redistribute a cluster, ask your guests for a hand.  "Hey, anyone want to help me in the kitchen?"  "Would you mind opening this bottle of wine in the front yard?" It sets the casual tone you would hope to have in someone's home and guests are often more than happy to lend a hand.

Rip & Tan: Do you have any favorite playlists or artists to put on when hosting? Any music that's absolutely off the table?

Hayley Feldman:  I am sort of obsessed with the Spotify radio station "Something's Gotta Give Soundtrack" because I like to pretend I live in a Nancy Meyer movie–ha! It's a lot of Billie Holiday and instrumentals that sort of soothe in the background and don't distract. Most of the time I want to feel music and not hear it. Off-limits? Pretty much anything after 1980.

Rip & Tan: What serveware or tabletop pieces would you recommend that maximizes space and minimizes the number of dirty dishes after the party's over? 

Hayley Feldman: The Sierra Serving Bowl and Sierra Serving Platter are pretty much the only two pieces you need.  They're large enough to manage cheese, toasts, salads, and mains. One platter in the center of the table is always easier than a bunch of small plates. I like to walk around the table with the platter and serve each of my guests the main dish.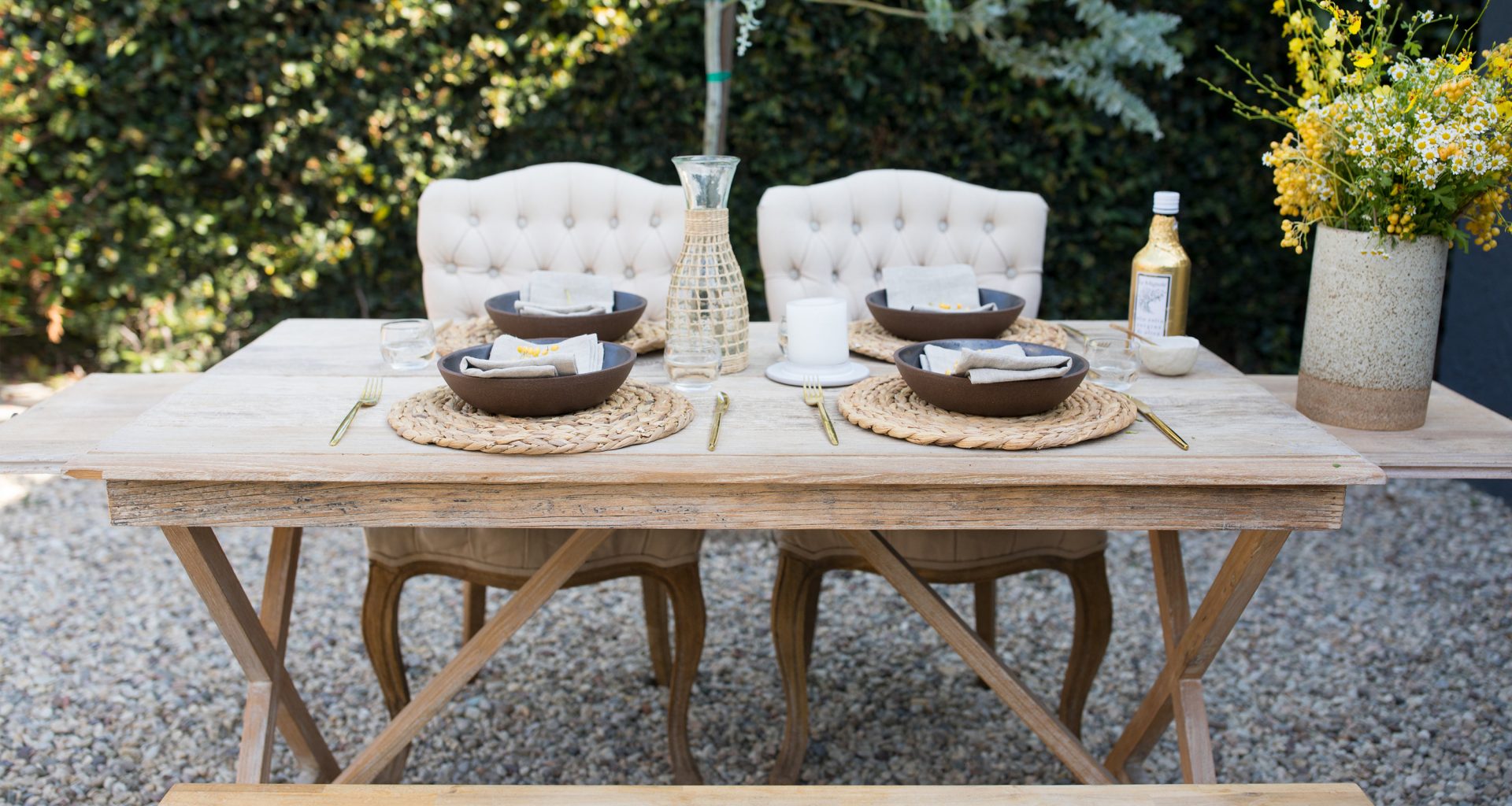 Ginger-Lemon Kombucha Spritz
Decorative Tuna Nicoise Salad
Recipe
Ginger-Lemon Kombucha Spritz
Servings: 1 8 oz glass
Units:
Ingredients
3 oz

85 g

Capertif

4 oz

113 g

Ginger-Lemon Health-Ade Kombucha
1 orange
Garnish of Candied Ginger
Large cubes of ice
Capertif is a 100-year-old South-African aperitif with fairly low alcohol content (for a spirit). It already has an herbal and citrus-forward flavor profile, which is complimented by this bubbly kombucha. It's something you'll want to sip all night. Fill an eight-ounce glass to the brim with large cubed ice. Pour over the Capertif and add the Kombucha. Cut an orange in half and give it a little squeeze into the mixture. Garnish with candied ginger and a thin peel of orange if you so desire.