Living
Of a Kind's Erica Cerulo and Claire Mazur on Evolving Your Business Strategy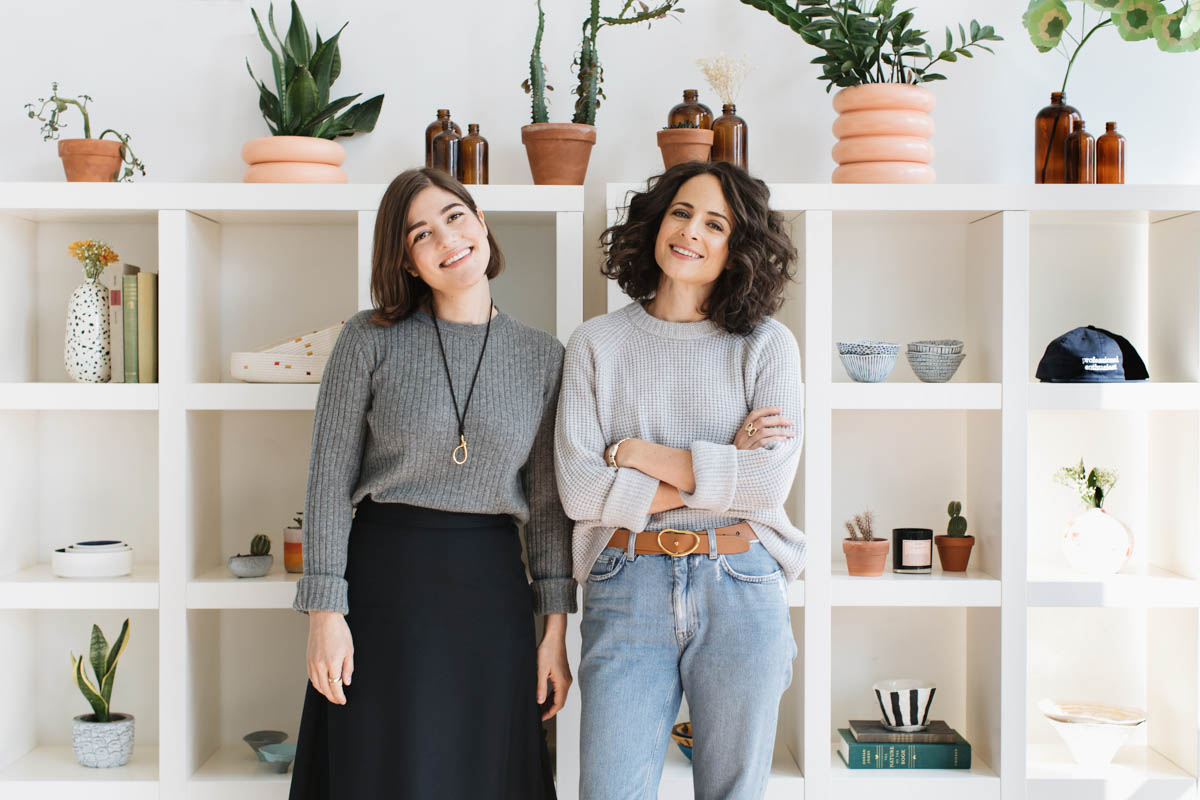 In honor of the opening of our first New York store, I wanted to highlight some of my favorite NYC-based makers and entrepreneurs here on Rip & Tan. Erica Cerulo and Claire Mazur, co-founders of Of a Kind, instantly came to mind. I've always loved Of a Kind for giving independent designers a beautiful selling platform—and consumers the opportunity to discover their truly special creations. Plus, Erica and Claire are both talented, kind, and so smart; I've loved getting to know them over the years as friends and contemporaries in the fashion industry. Whether you're already a fan of Of a Kind, or just discovering it now, take a moment to read our interview with Erica and Claire on the growth of their company, their addictive podcast, and more. XXJKE
Rip & Tan: You started Of a Kind back in 2010. Can you walk us through how the platform has grown and evolved over the last several years?
Claire: When we launched Of a Kind, we were releasing just one limited-edition fashion item every week, along with a series of stories about the item and the designer behind it. It was the two of us working out of our apartments, and the most stressful point of every week was Wednesdays at 10 A.M. when we'd push the new edition live. Seven years later, we're launching new product more days a week than not, our limited-edition offering has expanded to include home goods, and we have lots of non-limited-edition pieces too, like beauty products, paper goods, toys, and the most incredible selection of socks you'll find anywhere on the internet. Our storytelling has also expanded to represent a broader focus on discovery across new categories. Our weekly 10 Things newsletter, where we share our favorite finds from recipes to mobile apps, developed such a cultish following that we launched a podcast called "A Few Things" that gives us a chance to go a little deeper into all these topics that we're professionally enthusiastic about.
Rip & Tan: How has the emerging designer space changed since you launched? How have you responded to those shifts?
Claire: We used to be one of only a small set of multi-brand online retailers carrying emerging designers, and that's not the case anymore. So many new players have popped up, and lots of major retailers have started carrying independent design as a way to differentiate themselves. It's also much easier now for brands to sell directly to their audience rather than relying so much on wholesale accounts where they're giving up control and margins. It puts the impetus on us to offer something really unique that makes them want to work with us. The thing we hear from brands consistently is that there's real value in the service we provide through our storytelling, photography, and curation.  Beyond that, I think what's given Of a Kind staying power is that it's always been a very authentic representation of who we are and what we love. Our voice and vision have been present from day one, so as we evolve and add new categories like personal care or new content properties like our podcast, it doesn't feel forced—it's a natural extension of the things that people know we love. The best compliment we get from our customers is that Of a Kind feels like an in-the-know friend.
Rip & Tan: What do you love about what you do? What is most challenging?
Erica: I think it's been very rewarding for Claire and I to know that the business can evolve naturally as we do—and as the world does. In the early days, there was some trepidation on our parts to break the rules we'd set for ourselves and to think outside of the confines of this business idea we'd come up with. Which was silly! We built this thing, so we should be able to change it, too. That said: Figuring out what new ideas are worth pursuing and determining the best ways to spend our time and energy is always challenging. We are historically good at trying to do too much. 
Rip & Tan: Can you tell us about your other special projects, like A Few Things? It's one of our favorite podcasts!
Erica: Oh, this is so dang nice to hear! We've both had a lot of fun doing the podcast, which has allowed us to connect with our audience in a really special way. We've always told stories on the site, but there's something that feels so raw and personal about audio that has been exciting to explore. Our next major editorial undertaking is a book, coming 2018! It's called Work Wife, and it's about the power of female friendship to fuel successful businesses. In addition to giving us the chance to reflect on our own experiences, writing it gave us the opportunity to interview about a dozen other really amazing women partners about theirs.
Rip & Tan: Where is Of a Kind going next? What do you want to see it become? What don't you want it to become?
Claire: Even though we've been doing it for a couple of years now, it still feels very new to me that we carry non limited-edition pieces on the site and that we're trying out different types of content like the podcast—and I'm really, really excited by it. It's transformed us from this very specific type of concept retailer with a singular focus on emerging design to one that feels like it can relate to our audience and their interests in a much bigger way. The thing that I hope will always be at the heart of this company is a sense of excitement and enthusiasm around discovery. We just get so absurdly excited about finding new things and telling everyone we know about them. That's why we started Of a Kind, and that's why we've grown it in the ways that we have.
Rip & Tan: Where is Of a Kind based (what neighborhood) and why is this the locale for the company?
Erica: After five years in the Financial District in Lower Manhattan, we recently moved to Dumbo in Brooklyn. It's hugely convenient given that nearly everyone on our team lives in the borough. The only drawback: Sometimes we go days—er, a whole week??—without crossing the East River, but we're probably not alone in that. Dumbo feels especially office-culture friendly these days, with new lunch spots opening weekly, a little Wednesday farmers' market, and a really amazing waterfront to walk around when you remember to step away from your computer to do so. Also, Claire and I have both lived in this neighborhood at different points, so we each feel personally tied to it, too. 
Rip & Tan: What drew you to this work space?  How did you end up here specifically?
Claire: We'd been in our previous office for five years and really loved it, so when we outgrew it, we knew we had to find something that could replicate the elements that had made it feel special—chiefly, copious amounts of natural light and high ceilings. The sunlight makes such a big difference in everyone's mood, but it's also a practical matter because we shoot all of our product in our office. The high ceilings are the same—a must for shooting, but also they make the space feel really open and big, which can be a rarity in New York.
Rip & Tan: Tell us about a typical work day here. What is your schedule like and what is the atmosphere in the studio/office?
Erica: As our team has gotten bigger, our days look like meetings, meetings, meetings! But, as Claire mentioned, we do all of our photoshoots at our office, and though that can make things hectic, with hair and makeup artists, models, stylists, and a gaggle of rolling racks milling about, it also makes the space feel collaborative and reminds everyone in a really visible way some of the work that goes into keeping this website running.
Rip & Tan: What are some of your workspace musts?
Claire: Erica is my number one workspace requirement. In January, it'll have been eight years since we started working on this thing, and I'm quite sure I no longer know how to function in a work environment without her. After her I'd say…healthy snacks.. I'm one of those people whose mental and emotional states rapidly deteriorate as soon as hunger pangs set in. My current go-to is sweet chili pistachios.
Rip & Tan: Do you have favorite local spots for food, meetings, drinks, coffee, etc.?
Erica: Two of our favorite nearby restaurants are led by badass female chefs. Vinegar Hill House, helmed by Jean Adamson, is, at this point, a local institution. During the warmer months, eating on their little back patio is a goddamn "am I even in Brooklyn?" dream. And, the neighborhood recently got an outpost of Melia Marden's The Smile. For breakfast, their banana-quinoa muffins are a real stand-out, and Claire and I just decided that their fall lunch game is the best going. I'm not much of a meat-eater, but I crave their lamb meatballs.
Rip & Tan: What do you listen to while you work?
Claire: I've been on a Frank Ocean-while-you-work kick for a while now—for some reason I'm not distracted by the lyrics the way I am with some pop-ier music. 
Rip & Tan: What keeps you motivated and on task at work? What keeps you inspired?
Erica: Having a really impressive, hard-working team of women keeps me both motivated and inspired. That feels especially powerful and meaningful right now.