Style
Minimalist Handbags from Little Liffner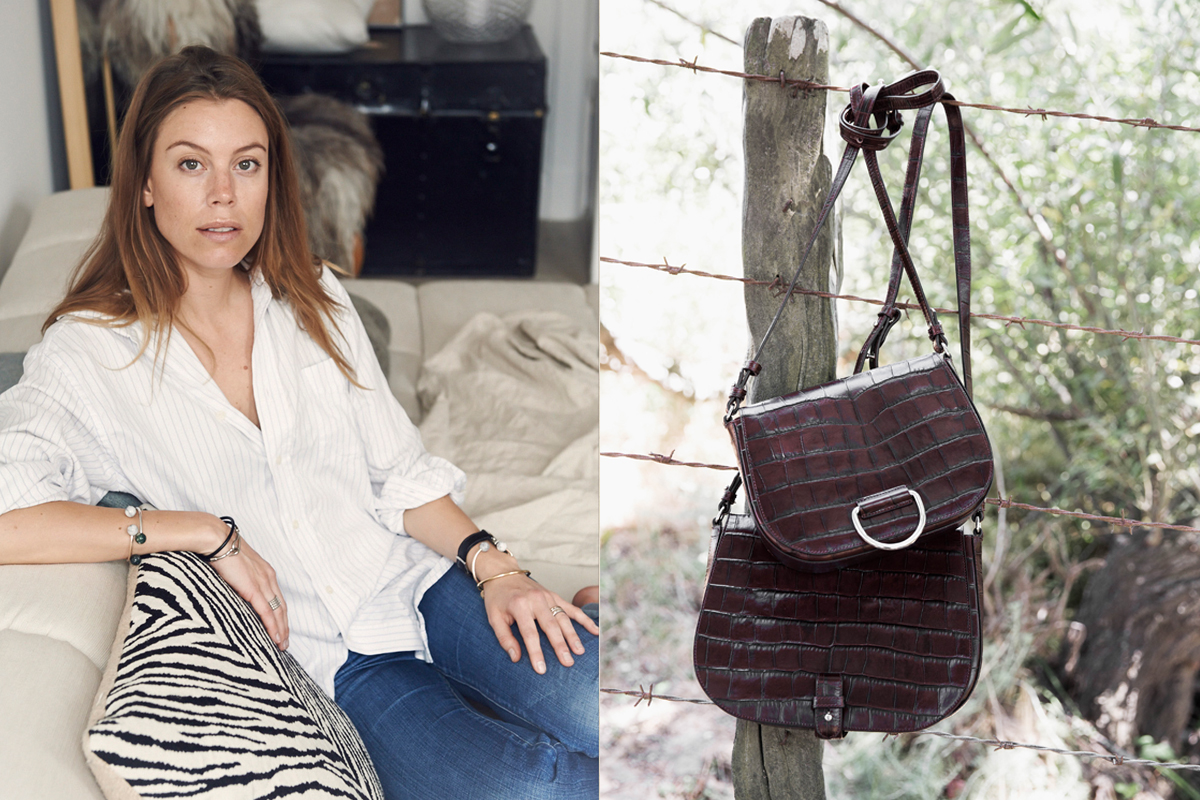 If you're looking for a simple, gorgeous, Italian-made bag this fall, I encourage you to check out Little Liffner. The line is based in Stockholm and has been quietly building a following in the U.S. since it first launched in 2012. The styles are pared down but luxurious, structured but still feminine, and the company uses an ethical and affordable sourcing model too. I especially love the brand's brown croc, '70s-inspired shoulder bags, featured in our Fall Catalogue. They're the perfect complement to denim and a cozy knit or dressier fall looks like a silk slip-dress and heels. 
Learn a little bit more about Little Liffner from our interview with the fashion veteran who founded the brand, Paulina Liffner von Sydow, below. XXJKE 
Rip & Tan: What is your background? Are you trained in design? 
Paulina Liffner von Sydow: My first jobs were as a fashion assistant and junior editor, then I moved into fashion PR and brand building. The whole time I was dreaming of making things. As I'm not a trained designer, starting Little Liffner was a way of giving myself the chance to do just that. My mother is an artist and my father a car salesman which pretty much sums me up. Combining creativity and business comes naturally to me.
Rip & Tan: What inspired you to start the line?
PLS: My friends and I had a hard time finding handbags that didn't come with the price tag of a two-week vacation. I think the Little Liffner woman, like me, wants it all—a great bag and that trip to Jamaica.
Rip & Tan: What is life in Stockholm like? What is your typical day?
PLS: We travel a lot and life is sometimes hectic so coming back to Stockholm and our home here for a longer period is always a treat. It's an easy simple life. I go everywhere by bike. The city is beautiful and clean and, for being so small, the quality is really high when it comes to culture, food, and fashion.
A typical day starts with morning yoga and breakfast at a neighborhood café. Right now, the rest of the day consists of juggling meetings and emails with caring for our five-month old baby daughter. Depending on the season the work is either design, marketing, or sales focused and the possibilities are endless. It never gets boring.
I have lots of lovely, smart, and creative friends whom I love to spend time with. In the evenings I try to see as many of them as possible, most likely over red wine and pizza at our favorite joint around the corner. 
Rip & Tan: What can you tell us about the craftsmanship that goes into your bags?
PLS: I strive to make bags that are refined and alluring yet functional with a blank-canvas quality. Scandinavian with an edge, essentially. The bags are designed in Stockholm, materials are sourced in Tuscany, and the actual production is in a family owned factory outside of Florence where leather craftsmanship is an integral part of the city's cultural heritage. It's an environment that never fails to inspire me and developing samples on site is the loveliest part of my job.
Rip & Tan: How do keep costs so reasonable?
PLS: It's a constant hustle, but truly important to the brand, so I try to keep costs down as much as possible, not spending too much on marketing but letting the brand grow organically by developing lasting relationships. With many designer handbags you pay for the brand rather than the product. With Little Liffner, it's the other way around. I think my customer is confident enough in her skin and style not feeling the need to show of a label.
Rip & Tan: What style are you really excited about for fall?
PLS: I'm looking forward to wear the D Saddle in embossed calf leather, its clean cut and minimal but with some hardware adding a feminine touch. Black Lizard and Chocolate Croc are my favorites—I need them both!
Rip & Tan: What type of handbags do you think every woman should own? 
PLS: A big tote that can double as an overnight bag (if you're a smart packer), a medium-size everyday bag, and a tiny party bag. To me, versatility is vital, I need to be able to wear all my bags in multiple settings. Depending on how you style the Little Liffner bags, you can take most of them both to the office and to whatever fun thing you are doing after.
Rip & Tan: What are your goals for Little Liffner in the future?
PLS: I want it to keep on growing and I want to develop the product range and the business at a pace where I can stay true to the brand. My dream is to build a niche Scandinavian accessories house catering to smart girls globally.