Entertaining
Meet Lisa Przystup of Brooklyn's James' Daughter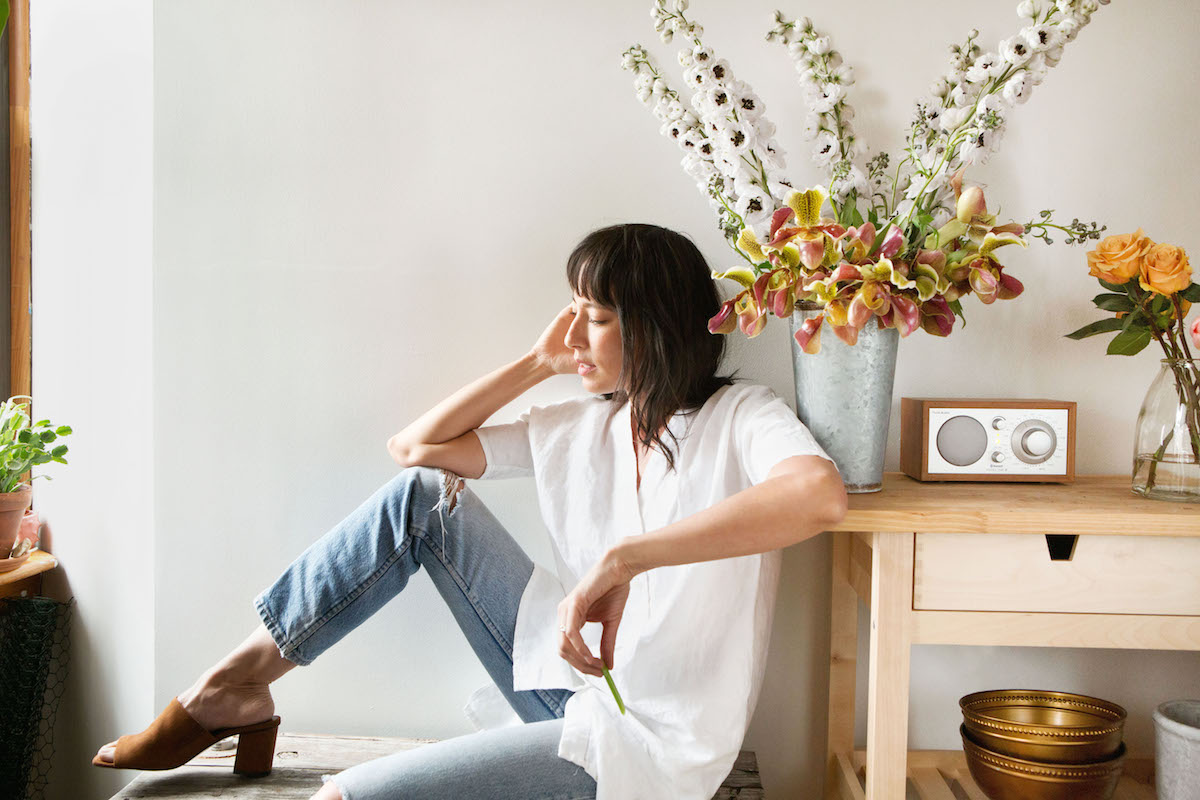 Wherever I am, I love to have fresh flowers around me. That's true at home, in my office and when I'm traveling. In New York City, one of my go-to florists has become James' Daughter. Its founder and creative force is Lisa Przystup, who is actually a freelance writer as well as a talented floral arranger. From the Brooklyn railroad apartment she shares with her husband, Lisa puts together arrangements that mix her deep passion for wildflowers with her love of art, design and the baroque period. I find Lisa's story of getting into the floral business unique and inspiring, and I hope you do too. XXJKE  
Rip & Tan: Have you always loved flowers? What was your first memory involving them? 
Lisa Przystup: It's funny, I actually haven't always loved flowers and I don't really have a distinctive first flower memory. My first real love was with words and writing and reading. I also really loved drawing—I'm pretty sure my parents thought they had an artist on their hands. 
Rip & Tan: Then how did you come to pursue floral design as a career? 
LP: It was sort of offhanded—I was doggedly pursuing a career in writing and journalism at the time (still kind of am, actually) and I hit a real wall. Trying to make it as a freelance writer is incredibly difficult and often frustrating and I think I had just been plugging away for so long with no real results that I needed to step away for a minute. I had done a story for New York Magazine's The Cut on Brooklyn floral girls and felt a bit of a pull to try and play with flowers myself, and it sort of just happened that way. 
Rip & Tan: What do you feel sets your work apart?
LP: I split my time between flowering and writing, so it's not my full-time gig. As far as what sets my work apart, I think each florist follows similar constructs but each of their arrangements are informed—consciously or subconsciously—by their individual personalities. Sometimes the manifestation of their personalities is so subtle that it's almost imperceptible, but it's there. So I suppose what sets my work apart are those subconscious subtleties. 
Rip & Tan: How does your workspace affect what you create? What kind of space do you most like working in and what came into play in your new studio space? 
LP: My workspace is the railroad apartment I share with my husband, so I am limited by space, which means if I'm going to create a gigantic urn arrangement it usually happens on site. Working from home has it's advantages and disadvantages. On the one hand it's really nice to be at home—I can be as schlubby as I want to be and I can look across the room and see my man, and that's really nice. On the other hand, I often dream of taking the plunge and getting a proper studio space with room to make a mess and not care, and build out larger arrangements and just leave my work there at the end of the day. But studio spaces are expensive as hell and I'm really just not there yet (I might never be there). At the end of the day working from home suits my current needs just fine. For the redesign, my little workspace was starting to feel really small. I didn't really have the proper storage for all my things so the redesign involved taking out a bar that was too wide and too high, painting the walls white and just opening the space up a bit. 
Rip & Tan: What are your favorite sources of inspiration? 
LP: Nature. Fashion. Art. 
Rip & Tan: I know it's a hard question, but do you have a favorite flower and why?
LP: Having just gotten back from a month-long trip to the West Coast, right now my favorite flower is jasmine. It was growing wild and lush and spilling thick and beautiful all over the place when I was out there, and I was so happy about it that I thought I was going to float away. 
Rip & Tan: Do you have any other daily practices or hobbies that you feel complement floral design? 
LP: My interest in fashion can sometimes spill over into my arrangements—usually in the color palette. 
Rip & Tan: Do you have any favorite recent discoveries (floral or otherwise)?
LP: I just discovered how wonderful shaker pegs are. Also that I miss the desert more than I thought I did, and that nail polish remover is really good at removing the labels off old jam jars. 
Rip & Tan: What is it about your work that you feel keeps you going and keeps you interested?  
LP: Just the fact that each arrangement is an opportunity to start new. I'll never not be excited about the process of creating one and the prelude of hope and excitement that comes right before you start arranging. 
Photos: Sarah Elliott