Living
WFH & Open Fire Cooking in Seattle: A Day in the Life of Our Content Manager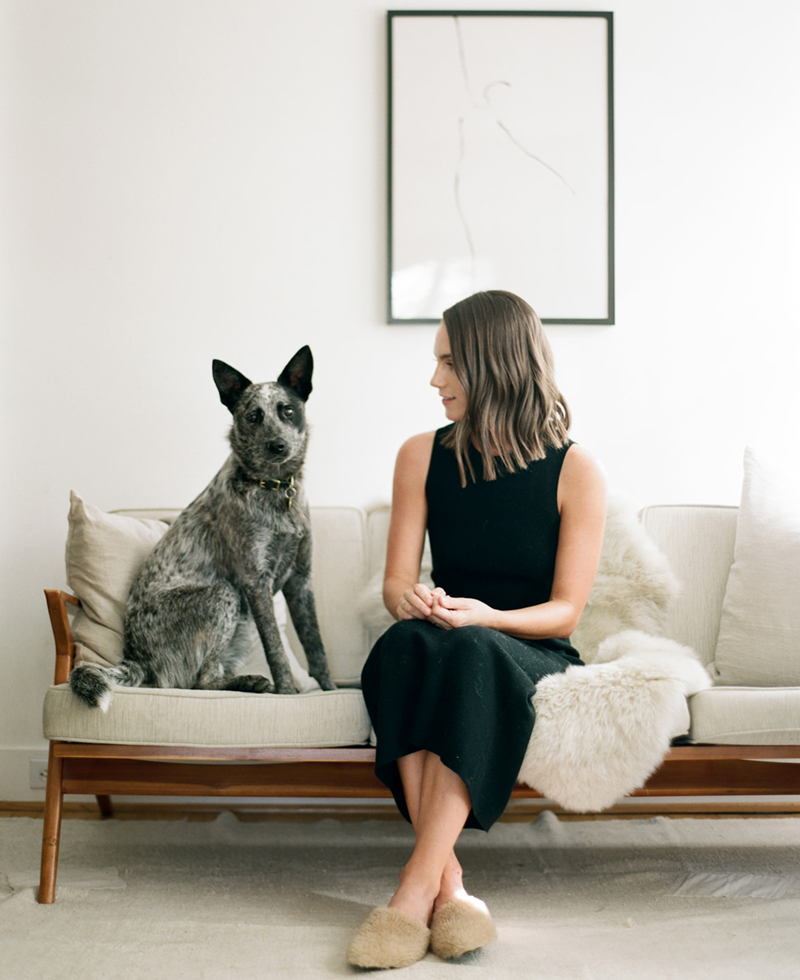 We're popping up in
select Nordstrom stores
 around the country, starting this week in Seattle. Our queen of content,
Meaghan Murphy
, works remotely from the emerald city, so we jumped at the opportunity to spend the day with her and see what her life is like up north. After an evening of cooking freshly caught rockfish over an open fire, taking her adopted pup Charlie on a walk, and getting to know her hometown, this might just have been the best work trip ever.
Rip & Tan: What do you do at Jenni Kayne? How long have you been here and how has your role changed over time?

Meaghan Murphy: I manage our content and social strategy at Jenni Kayne! I have been with the company for a little over 2 years and my role has changed a lot since I started. I was hired to manage the blog content calendar but soon transitioned to managing our seasonal photoshoots and eventually began managing our entire content strategy and having a larger say over all creative content for the brand including social media, video content, photography, and even the music played in our stores. I have truly found my passion and I love my job more than I ever thought possible. It's an exciting time to work for the brand and I'm excited for everyone to see what's coming out this year!

Rip & Tan: How do you stay productive while working remotely? Do you have any tips for organizing your workspace or any rituals to keep you in the 9-5 rhythm?

Meaghan Murphy: It's really important that I'm in the same time zone because it allows me to be on the same schedule as my team in the office. I've found that I can be much more productive at home and get more done than I would in the office but it's important that I start and end my day at the same time, so I can be in the same workflow as the team. My boss and I talk 24/7, either on Slack, text, or on the phone. I also have chat groups with our team which help for me to feel connected to everyone. Constant communication is key.

I don't have a set workspace. I try to move around throughout the day so I'm not sitting in one place for too many hours. I always have tea, water, or juice and I listen to music on the Sonos or the record player all day.

Working from home can be extremely isolating so I make a point to get out and go on a walk during the day with my dog Charlie and to make plans to get out of the house in the evenings.
Rip & Tan: Walk us through a typical Sunday in Seattle:

Meaghan Murphy: My ideal Sunday in Seattle would start with breakfast at home. We get fresh eggs from a farm in the area every week, so we often keep it simple with buttery eggs over Sea Wolf toast with some coconut oil and honey, or I'll spice it up with shakshuka or homemade focaccia with local yogurt, wild smoked salmon, lemon juice, and dill. I don't drink coffee so most days I make a chai latte with Blue Lotus Chai, reishi, pearl, honey, cardamom, nut milk, and hot water. It brings me to life in the morning, though I admit it's a bit extra. 

Our dog Charlie would be begging for a walk at this point. Our street looks out over the water so it's always a beautiful walk, even when it's rainy. After that, we would head out to one of the islands for the day. My favorite island to visit is Orcas Island but I love Bainbridge for its proximity to the city. You can drive but we love walking on the ferry from downtown Seattle and walking into town (it's a 30-minute ferry ride and a 20-minute walk to town from the terminal). After grabbing some juice and a sandwich from Hitchcock Deli and stopping by Salt House Mercantile, we would walk Charlie to the beach and let her swim then grab some wine before heading back to the ferry. 

Walrus in the Carpenter is hands-down my favorite spot for oysters in the city, so it's always ideal to make it there in time for happy hour. Then we would drive over to my dad's house for a big dinner with family and friends. Radishes with butter, crudités with carrot top pesto and ricotta, fresh salmon or halibut with salsa verde, and homemade cookies with Frankie and Jo's vegan ice cream (California Cabin is my favorite) for dessert. These dinners are filled with great music and flowing wine and always end with a bonfire. If we were feeling up for it, we'd head over to the Tractor Tavern for live music.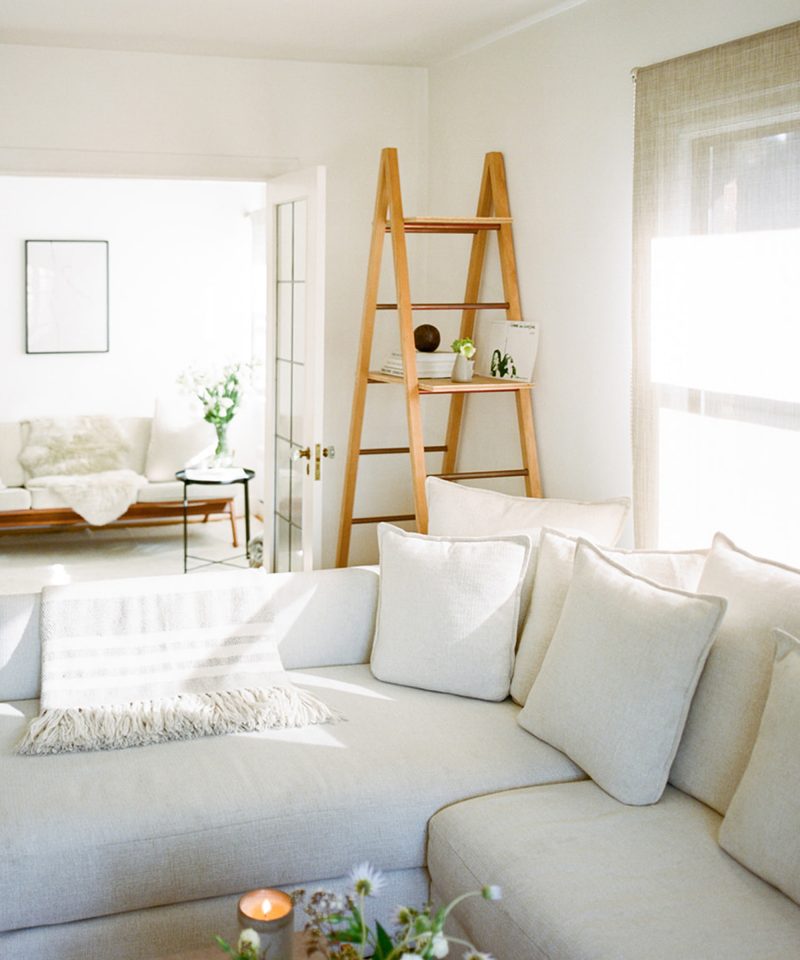 Rip & Tan: It's hard to work at Jenni Kayne without being influenced by the lifestyle and aesthetic. How has yours changed?

Meaghan Murphy: I was attracted to working at Jenni Kayne because of the lifestyle and the aesthetic, so I would definitely say I've been influenced by it! I remember poring over the catalogues long before I ever sent an email inquiring about jobs because I couldn't afford anything at the time, but I was obsessed with the way Jenni lived and of course by the way she dressed and decorated her home.

I've been at the company for a few years now and I am still inspired on the daily to live better with less and to consider not only what I am wearing each day but the sheets I'm sleeping in, the mug I'm using in the morning, the baskets I use to hold Charlie's toys, the scents I fill my home with, and the textiles throughout the space. I've learned that decluttering and sticking to essential pieces that make you happy (both for their functionality and design) can make a huge difference in your lifestyle, because it is the little things you're interacting with every single day that make up how you're experiencing your life. It feels silly to say sheets or a candle make me happy but when the sheets are incredibly comfortable and smell like amber, rose, and lavender musk (the Laundress x Jenni Kayne detergent) and the scent in my home is something every guest will comment on and something people talk about even when they aren't at my house, it makes sense that they bring me joy.

Aside from "things," I've definitely been influenced to slow down, enjoy traditions (and create new ones), spend more time in nature, and to entertain and craft more! I had no idea how to put together a flower arrangement prior to working at JK, and often vocalized my hatred of crafting, but now I feel incredibly comfortable sourcing materials from the market and putting together arrangements for an entire event (like my brother's rehearsal dinner) or leading a wreath-making class with all of the women in my life. I guess it's the Jenni effect!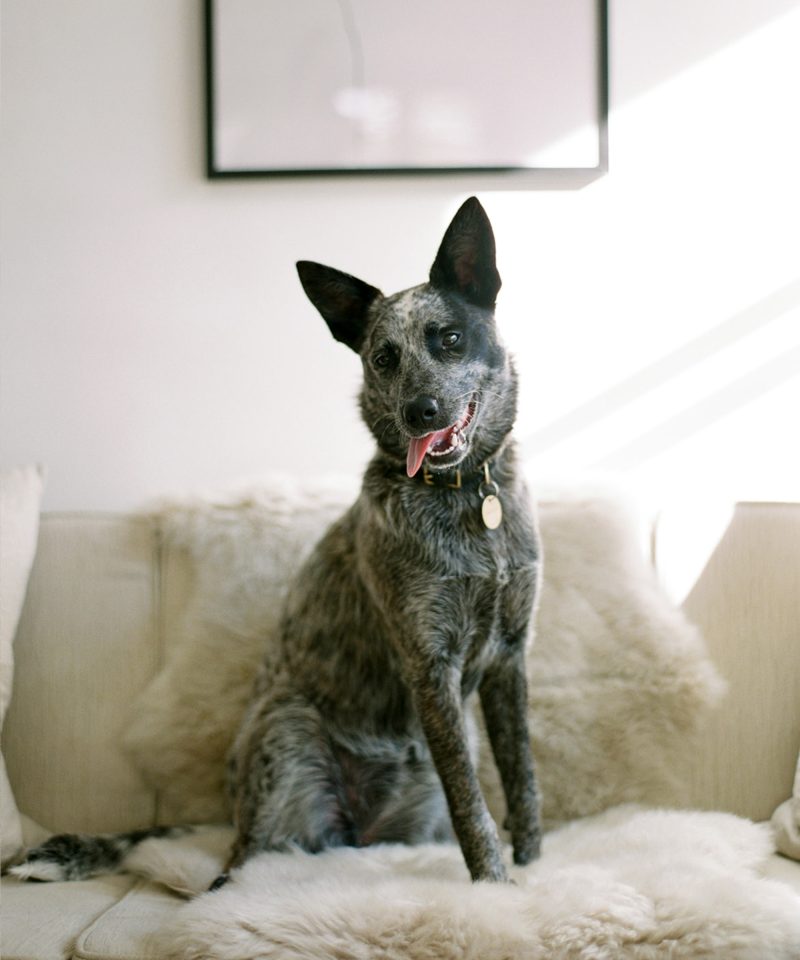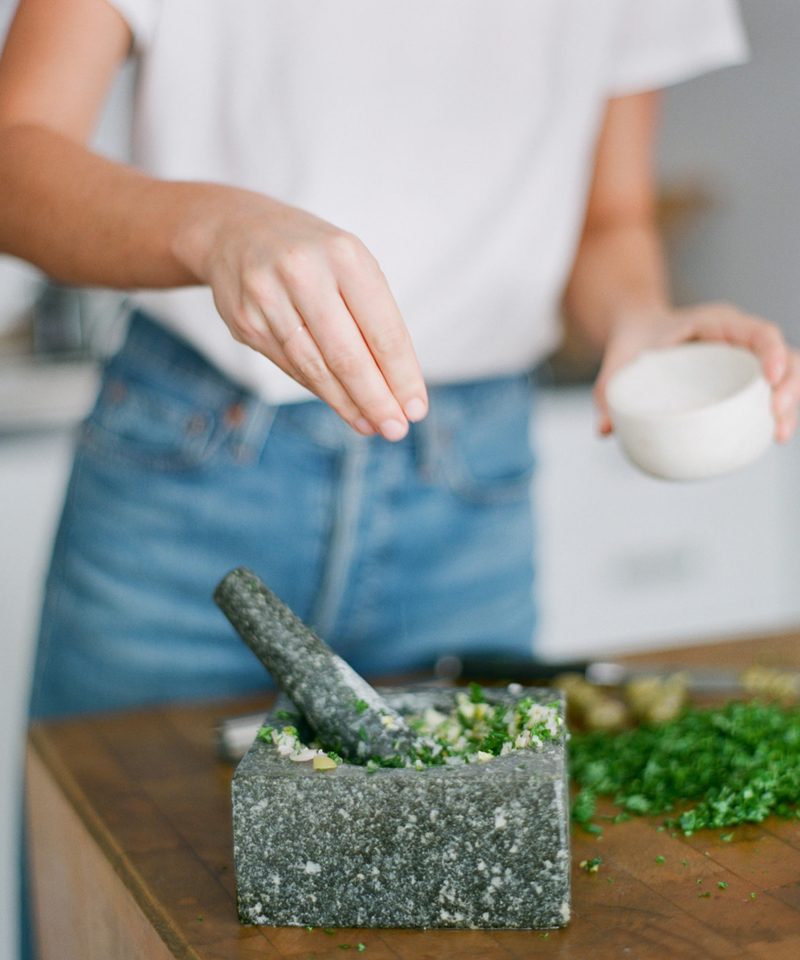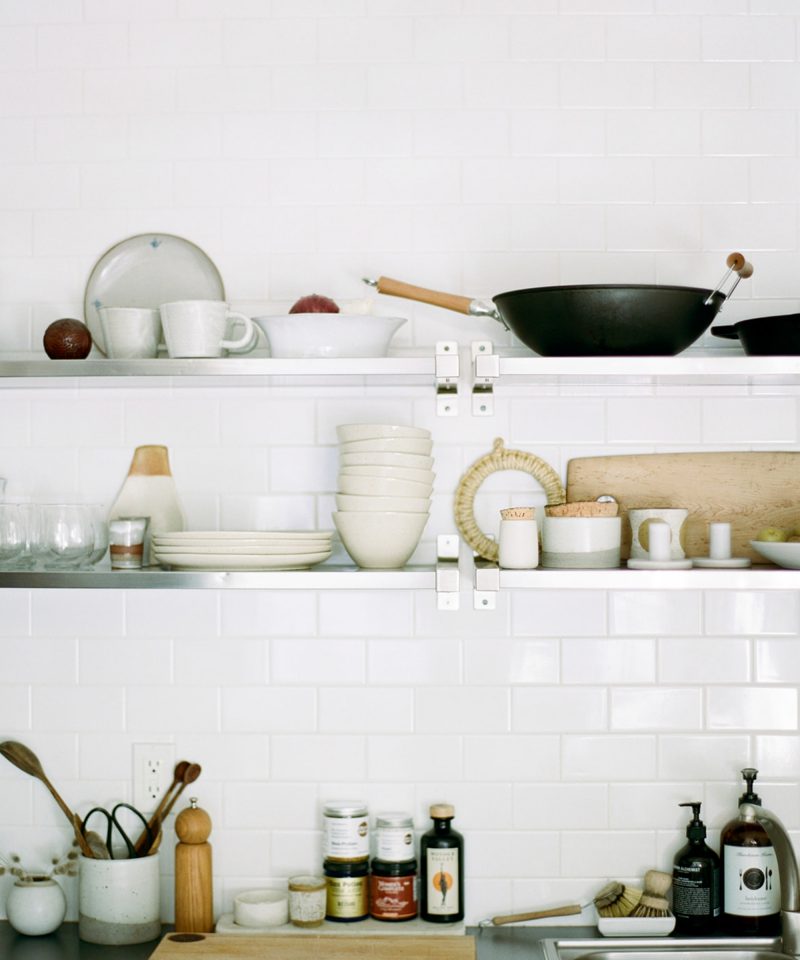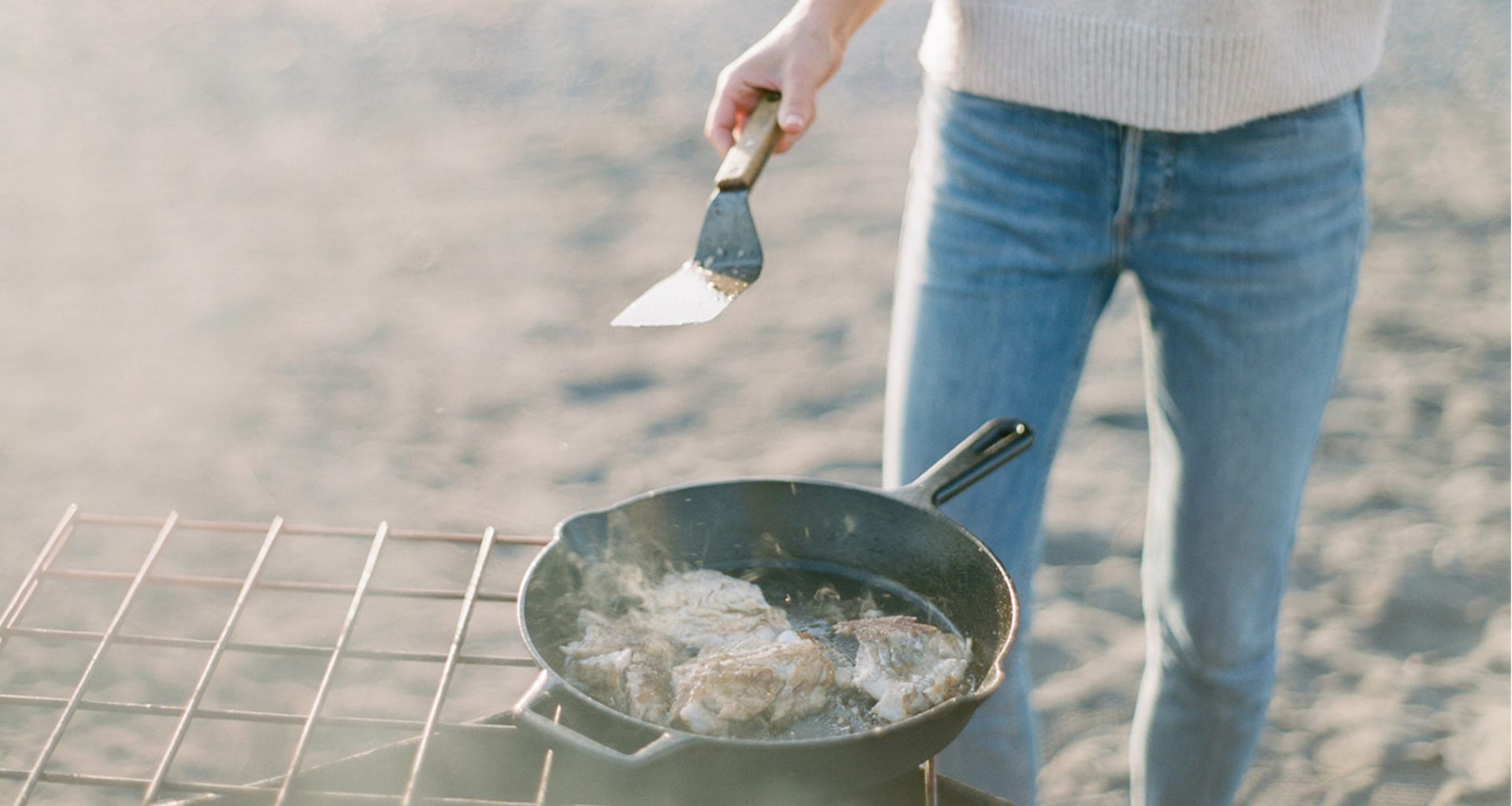 Rip & Tan: Have you always been interested in cooking? How did you learn skills like cooking over an open fire?

Meaghan Murphy: I have definitely always had an interest in food. My dad is a trained chef and my mom is an incredible home cook, so I have been surrounded by all things food since the time I was young. So many of my memories as a kid are framed by what we were eating at the time. Piping hot cioppino with fresh clams and halibut, creamy scalloped potatoes with herbs, carrot soup with homemade croutons, lamb kebabs that melted in your mouth. Growing up, our home was the place to be because it meant you would always be fed well. I didn't become interested in cooking until I was living on my own though. After being very sick with adrenal fatigue for many years of my life and not finding the healthy options I needed in the cafes at my university, I began experimenting with cooking in my tiny shared kitchen. It took many years not only to feel confident cooking but also to truly enjoy it. Now I cook every single day and my life revolves around food, much like it did when I was a kid. 

I haven't had any formal training aside from what I learned from my parents, who have both been incredibly helpful throughout the years, but my primary source has been Google! I've been meal planning for over five years now, which for me looks like finding recipes in new cookbooks or online from sources like Bon Appetit, Rip & Tan, Healthyish, Valleybrink Road, Pamela Salzman, 101 Cookbooks, etc. and assigning a recipe for each night of the week. For a few years I was making a new recipe every single night and challenging myself to cook things I had no experience with in the kitchen. If I ever had a question I would just Google it, like "the right way to chop cabbage" or "how to filet a fish." I still try to incorporate a lot of new recipes, but we circulate many of our favorite dishes now, and I am finally able to come up with my own recipes. Even though it may look like I know what I'm doing in these photos, I assure you the first time I tried cooking fish over an open fire, I resorted to YouTube to watch videos of how it was done. 

Rip & Tan: Describe your personal style:

Meaghan Murphy: My everyday uniform is vintage denim, a white T-shirt, cashmere sweater, tailored coat, and mules. I love anything that fits well and is made with a great fabric and the majority of my closet is made up of black, ivory, and oatmeal. I like a balance—fitted and oversized, comfortable and sexy, masculine and feminine. I don't accessorize much but I love a couple of tiny Stacy Nolan hoop earrings for an everyday look and Sophie Buhai everyday hoops or a cuff if I'm dressing up a bit. I wear my mom's original gold wedding band every day along with a few other simple gold rings from my boyfriend and from myself!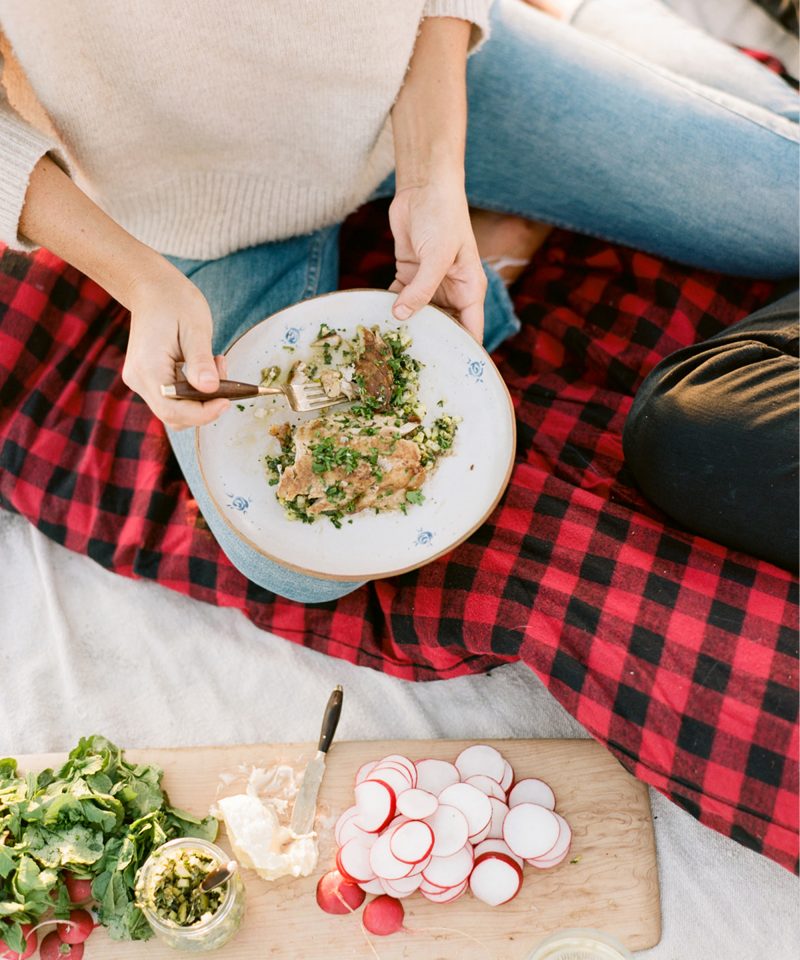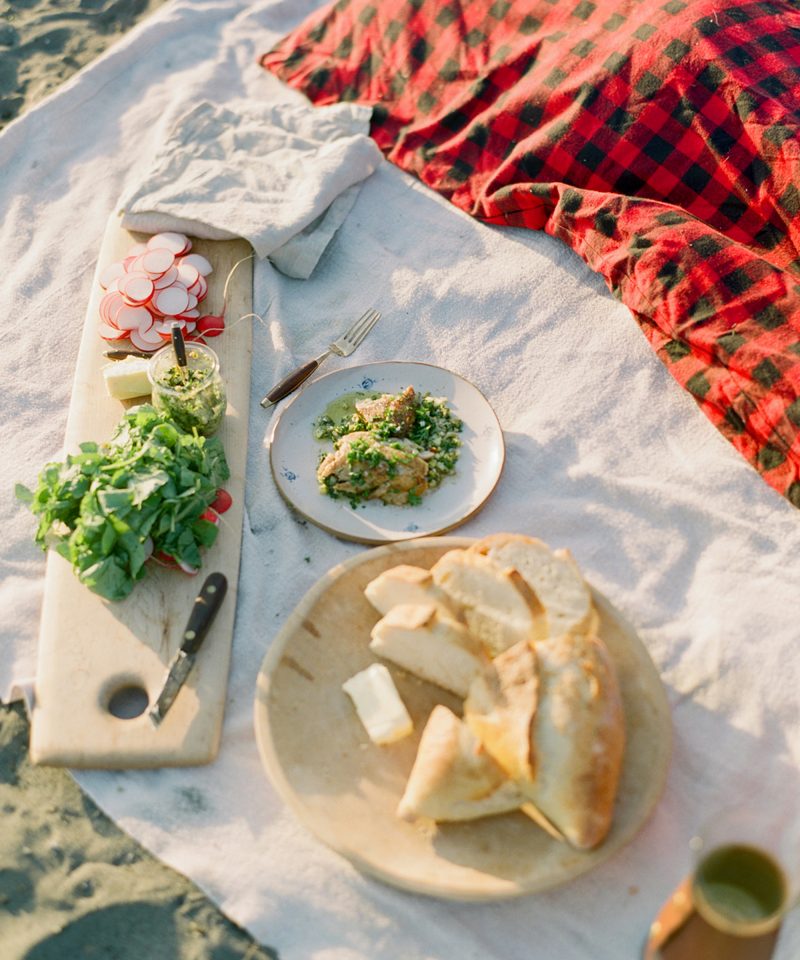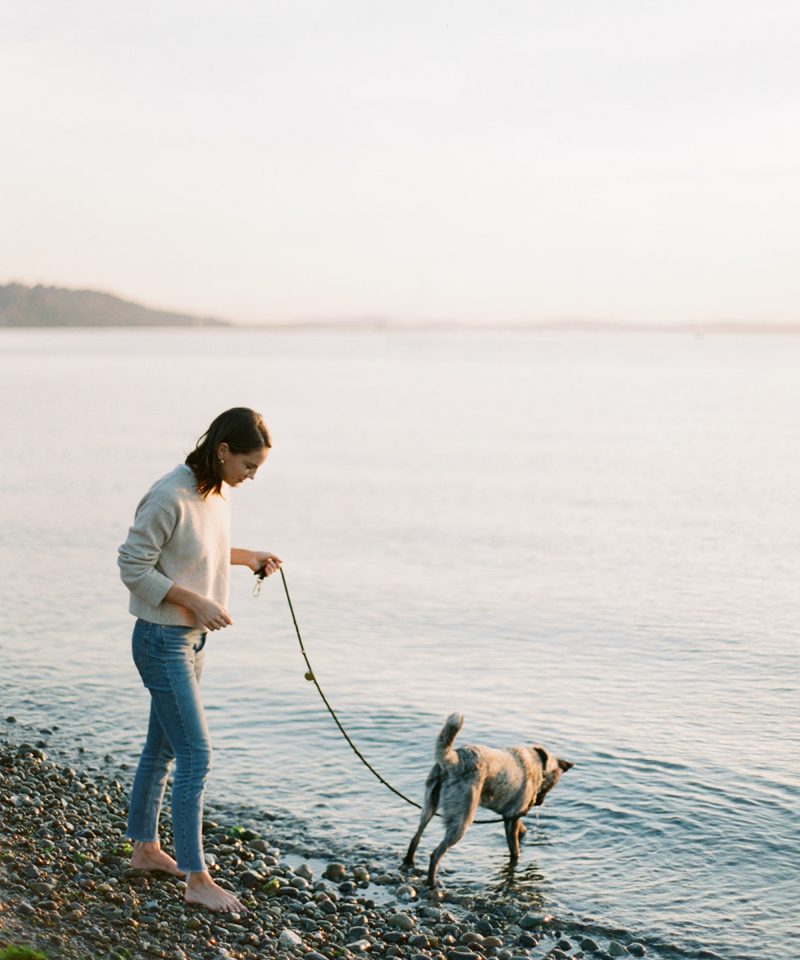 Visit Seattle Like a Local
For the best happy hour…I would either get endless tapas and a bottle of wine at Ocho or plan for an early dinner at Kamonegi for albacore crudo and homemade soba.

On a weekend, you can find me…driving outside of the city to a cabin in the mountains or on the ocean with friends.

I don't always brunch, but when I do…I go for the shakshuka at Fat Hen or Vietnamese-style brunch at Stateside.  

A typical Friday night is spent…trying a new restaurant (our latest find was Homer in Beacon Hill) and drinking wine with friends. 

My house wouldn't be a home without…our dog Charlie.

To avoid looking like a tourist…only go to Pike Place for DeLaurenti.
Seared Rockfish with Lemony Salsa Verde
Recipe
Seared Rockfish with Lemony Salsa Verde
Ingredients for the Lemony Salsa Verde (adapted from Bon Appétit)
1 lemon zested and juiced
1 small shallot finely chopped
1 garlic clove finely chopped
Kosher salt and fresh ground pepper

1 cup

237 ml

olive oil (I love Wonder Valley)

1/2 cup

118 ml

finely chopped fresh parsley

3/4 cup

177 ml

finely chopped fresh cilantro

1/4 cup

59 ml

chopped fresh chives

1/2 cup

118 ml

chopped green olives
Ingredients for the Fish
Rockfish (or halibut) *if using rockfish, ask your fishmonger to take out all the bones when purchasing
olive oil
butter
4 Tbsp cilantro (optional)
3-4 olives (optional)
1/2 lemon (optional)
Rockfish (or halibut) *if using rockfish, ask your fishmonger to remove all bones when purchasing
olive oil
butter
4 Tbsp cilantro (optional)
3-4 olives (optional)
1/2 lemon (optional
For the lemony salsa verde
-Combine lemon zest, shallot, and garlic in a mortar. Season with salt and pepper. Lightly mix and let sit for 5 minutes. Lightly stir in oil, parsley, cilantro, olives and chives. Season with salt, pepper, and lemon juice, then use the pestle to break down and mix the ingredients.
For the fish
-If you want to try cooking over an open fire, find a bonfire pit and fill it with clean wood. Arrange the wood and light the fire so that you have two areas of heat—one that is strong and one that is medium to low heat. Place a grate along the top of the fire pit.
-Place a cast iron skillet on top of the grate over the strong heat and let it get hot. Test it by adding a drop of water or a drop of olive oil to the pan and seeing if it spits or crackles. You want that. Prepare the fish by lightly salting both sides.
-Pour a bit of olive oil to the pan (just to coat it) and lay the fish down in the pan. Sear it on one side for 5-7 minutes, or until golden on one side. Carefully flip it and sear the other side (if it's too hot, move to the medium heat) for 3 minutes. When the fish is near to done, add some butter and cook for 1 more minute over the medium to low heat.
-Serve the fish over top of the lemony salsa verde and add some cilantro, a few olives roughly chopped, and a squeeze of lemon juice over the top! I love this dish served with a green salad or fingerling potatoes.
-If you don't want to cook over an open fire, you can emulate these steps over a traditional burner with medium high heat.