Living
Inside Wellness Guru Daphne Javitch's New York City Home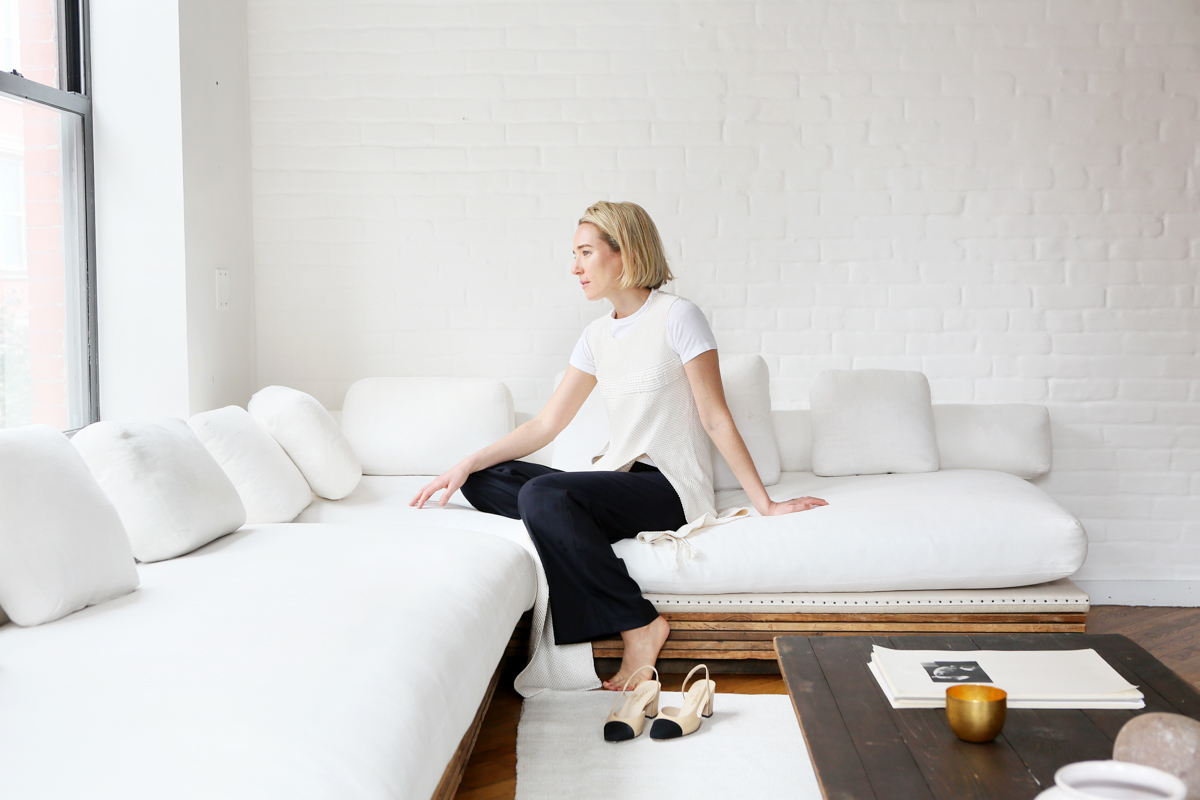 Daphne Javitch and her husband, Pali Xisto Cornelsen, might live in New York City's bustling Lower East Side, but their home—a simple, sun-soaked apartment filled with neutral tones and natural materials—would feel right in California or maybe Greece, where the couple recently went on vacation. It's airy, light, and has an ease that you associate with warm climates and seaside locales. I love their custom-made white couch, which frames the entire living room, and the open shelves in their kitchen, which allow you take in all of their beautiful ceramics and glassware.
Daphne is a fashion veteran turned holistic lifestyle guide. She launched the successful underwear brand Ten Undies before focusing her attention—first personally and then professionally—on wellness. I was inspired not only by her beautiful space, but her career and personal path as well. I hope you feel the same! XXJKE
Rip & Tan: What do you love about living in New York, specifically the Lower East Side? 
Daphne Javitch: I love being able to walk almost everywhere. 
Rip & Tan: How would you describe the décor in your home?
DJ: Warm minimalism. 
Rip & Tan: Why did you decide to custom-design your couch? What was your inspiration?
DJ: My husband Pali designed our couch before he even lived in New York. I wanted something beachy that was comfortable to sleep on (we get lots of houseguests). Pali has great taste and is very original. His designs are exquisite without pretension. We've slept a family of four on that couch! 
Rip & Tan: How do you tend to entertain? Who do you host and what do you do or provide?
DJ: We love having people over for family-style dinners. We have incredible and lively friends who are like family to us. 
Rip & Tan: What stores or brands (or flea markets, etc) do you like for home décor? 
DJ: Most of our furniture is custom- thanks to Pali- but we do collect home things when we travel. We bought perfect towels from a hotel we stayed at in Oaxaca. We love these Brazilian drinking glasses that are typically found in bars—or simple Duralex ones. I'm always looking out for vintage kitchen linens. We like Astier de Villate for bowls, dishes and candles. 
Rip & Tan: What home décor item do you tend to collect? What are you happy to live without?
DJ: Pali has an insane mid-century chair collection. I basically only buy things that I can wear. Or wellness treatments!
Rip & Tan: Tell us about your transition from Ten Undies to your newest project, Doing Well.
DJ: In 2015, I was diagnosed with stage-4 endometriosis, I wasn't keen on the immediate medical options so under the guidance of two teachers I got very deep into natural healing. TEN was going strong and I also had a successful freelance career as a design consultant but more and more I couldn't wait to finish work to return to my wellness studies. My consistent personal practice had positive results. I quit smoking after 15 years, I went from taking 12 Advil a day for painful periods to ZERO and I was connecting to my body in a more loving way. Eventually it became clear that my profession would follow my passion. It was hard to let go of TEN, I was afraid of leaving that part of me behind. And I loved those undies! But I wanted to connect with people in this personal and empowering way. Turns out I'm still me; I love fashion. I'm a chic nutritionist.
Rip & Tan: What do you hope to achieve with Doing Well? 
DJ: We're each designed and hard-wired to express health and my intention is to empower people with that truth. My top priority is listening to, supporting, and guiding my one-on-one clients as they achieve their health & wellness goals. The @doingwell Instagram and upcoming Doing Well Podcast is my vision of health communicated in a straightforward, beautiful and personal way.  
Rip & Tan: How did you get into wellness? Do you have any formal training that informs your work?
DJ: My own health issues and healing journey got me into wellness. I studied privately for 2 years in New York before getting certified as a Health Educator by the Hippocrates Health Institute.
Rip & Tan: Can you share a few wellness tips for our readers to consider for the New Year?
DJ: 1. A pro will focus on course-correction, not constant perfection. If a festive weekend, travel, or the holidays throws you off your wellness routine, avoid a downward spiral and simply step back on track as soon as possible with loads of water, green juice, fresh fruits, leaves, veggies.
2. Consistency Heals. This is one of the most important and understated concepts in wellness. If you adopt a healthy practice and repeat it every day you will receive healthful returns. It's not necessary to constantly add new elements to your process. This approach is called healing through repetition and it's major.
3. Drink more water! This is the simplest game-changer. Staying hydrated creates flow in the body. It helps with digestion, constipation, fatigue, weight loss, headaches. Drinking water flushes out toxins and improves skin quality. It's anti-aging! Try to drink half your body weight in ounces daily. Filtered water is ideal. 
Rip & Tan: What are some beauty products or personal wellness rituals you swear by?
DJ: Daily dry skin brushing and weekly Far Infrared saunas. 
Rip & Tan: How do you stay healthy in terms of your diet and fitness?
DJ: I'm hydrated and I eat mostly plants! Pali and I love simple food and create meals with a focus on local and organic, fresh, seasonal ingredients. I exercise daily even if it's just for 30 minutes. My body was made to move and I feel stagnant (physically & psychologically) when I don't. 
Rip & Tan: What makes you feel more beautiful in your own skin?
DJ: Laughing. Or when someone laughs at my jokes. 
Rip & Tan: How would you describe your everyday style?
DJ: Casual but special.
Rip & Tan: What do you wear when you want to dress up?
DJ: I add a beautiful coat. Sometimes lipstick.
Rip & Tan: Where do you tend to shop and/or what brands do you love to wear?
DJ: I mostly wear vintage for denim, tee shirts, sweatshirts and dresses. And The Row. 
Rip & Tan: What style advice or mantra do you live by?
DJ: After seeing the film 'The True Cost', I stopped buying fast fashion. I didn't realize that when I bought an amazing Celine knock-off at Zara I was participating in ethical and environmental violence. Every day we vote with our wallets, I'm working on aligning my investments with my values. Wear vintage! 
Rip & Tan: What are your New Year's resolutions or goals for 2017?
DJ: My ongoing resolution is to work on developing patience. Mostly with myself! 
Rip & Tan: What are you listening to/reading/watching right now? 
DJ: We just got into the HBO show 'Enlightened' from 2011. It's so good and very now. Been listening to a lot of Leonard Cohen these days. And I'm reading 'High Level Wellness' by Halbert L Dunn and a popular 1970s self-help series by Mildred Newman and Bernard Berkowitz.