Makers
Inside Parachute Home's Venice Beach Studio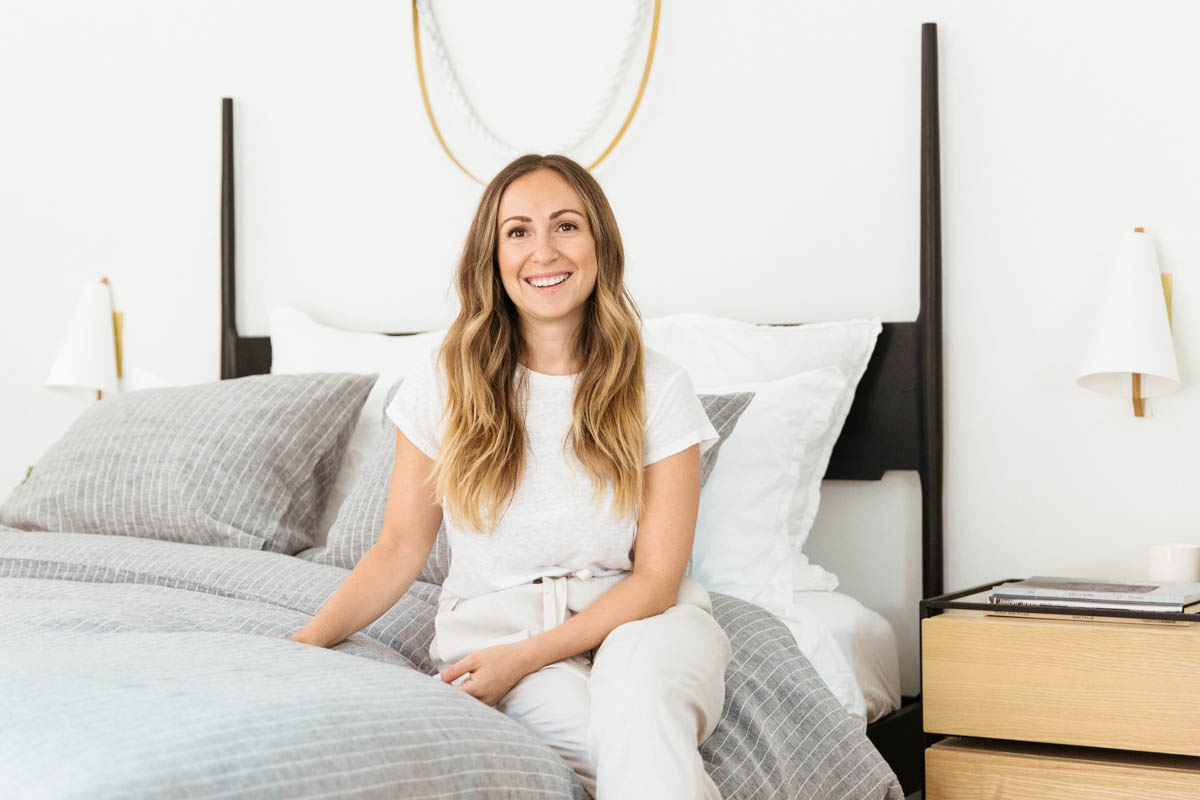 Today marks the launch of my collaboration with Venice Beach based bedding company Parachute and I couldn't be more excited. We'll be sharing more on the collection tomorrow—and also giving you some tips on constructing an effortless but well-appointed bed—but today I wanted to take you inside Parachute's beautiful office space on Rose Avenue and introduce you to its founder, Ariel Kaye.
Ariel studied business and branding and came up with the idea for Parachute while on vacation in Italy several years ago. Since then she's been slowly and thoughtfully building Parachute from the ground up. Now the brand has two stores, a showroom-cum-boutique hotel, and a thriving online following. And their Egyptian cotton sheets, European flax duvets, and Turkish cotton towels are simply heaven on Earth. Get to know Ariel and Parachute and shop our collaboration below, then tune in tomorrow for more. XXJKE
Rip & Tan: What is your background and/or what led you to start Parachute?
Ariel Kaye: I created Parachute because I want people to start and end their days feeling their very best—and that begins with better sheets for a better night's sleep.
Years ago, while traveling in Italy, I checked into a picturesque hotel on the Amalfi Coast and discovered the softest, most comfortable bedding ever. Later when I was shopping for some new sheets of my own, I found myself frustrated. I wanted something like those beautiful linens I'd experienced in Europe, but I didn't want to spend a fortune or settle for something treated with chemicals. I didn't know where to turn.
I started to do some research. Many consumers remembered where they bought their bedding (a department store or big box retailer), but there wasn't a brand that was connecting with them–or addressing all their needs.
I left my job in advertising and joined a Santa Monica-based startup accelerator to develop my direct-to-consumer bedding concept and brand idea. I was quickly introduced to investors, mentors and other entrepreneurs who were all extremely helpful in getting my business up and running (and who continue to support me today).
In 2014, Parachute launched with an assortment of bedding, and today we continue to make exceptional products that deliver the highest quality to you and your family.
Rip & Tan: What is the mission or mantra of the brand?
AK: Parachute makes modern bedding and bath essentials for a more comfortable home. Our products are designed in Venice Beach and responsibly manufactured by the world's best artisans. We also live by the mantra to Dream Big!
Rip & Tan: Where do you manufacture the products? 
AK: Our bedding is made in a family-owned factory, located in the Guimarães region of northern Portugal. Owned and operated by the founder's great-grandchildren, the mill has adopted modern technologies while preserving their culture's time-honored techniques.
For our bathroom textiles, we source the finest Turkish cotton from the Aegean region. And lastly, our tabletop collection is crafted in a Tuscan mill that has been weaving linens for over 80 years.
We're Oeko-Tex certified, meaning all these products are free of harmful chemicals and synthetics. Better for you, better for the environment.
Rip & Tan: How has the brand grown since you started it?
AK: We started with a core line of bedding—including sheet sets and separates—and added duvets and pillows several months later. We've since added new collections and color options and expanded into different areas of the home. Today we offer not only bedding, but a bath collection, table linens, a baby line and one-of-a-kind furniture pieces!
As we've grown, we've also taken the brand offline by opening two retail locations (Venice Beach, CA and Portland, OR) and launching The Parachute Hotel, a unique gathering space for locals and visitors alike. It's extremely rewarding to offer a tactile experience to our customers so they can discover the Parachute lifestyle firsthand.
Rip & Tan: Where is it going next? What do you want to see it become? What don't you want it to become?
AK: Our mission has been to make the highest quality home textiles for everyday use – from the sheets in your bedroom to the towels in your bathroom to the table linens in your kitchen. Our goal is to continue to expand our assortment of essentials for all rooms in your home.
We recently finished developing our Hospitality Collection for hotels, enabling our customers to enjoy Parachute while traveling to their favorite destinations.
Finally, we'll continue to bring a physical and experiential version of Parachute to our customers in more cities through additional retail spaces and hotel concepts. We want to be where all of our customers are!
Rip & Tan: Why is Venice Beach the locale for the company?
AK: I grew up by the beach in L.A. but lived in New York for 10 years. I decided to return to launch Parachute because I was looking for renewed inspiration and a change of pace. The relaxed, laid back vibe and sense of community in Venice Beach are integral to both Parachute's brand aesthetic and work culture.
Parachute is in great company here in Venice, surrounded by some of the city's best food and shopping destinations. There's also a phenomenal interior design movement happening in L.A., attracting world class architects, artisans, decorators, etc. It's exciting to be a part of that.
Venice also celebrates health and wellness in a way that I appreciate. We have many yoga studios, fitness centers and juice bars within walking or bike riding distance of our headquarters. I view sleep and comfort as a critical part of health and wellness, and I love that our brand provides a product that enhances the sleep experience and upholds the values of our community.
Rip & Tan: What drew you to this work space?  How did you end up here specifically?
AK: Our store and headquarters are located on Rose Avenue. We signed a lease here, specifically, because it's the most vibrant and exciting block in Venice. It's super cool but retains a distinctly local feel. Rose is also one of the main thoroughfares in Venice, making it an ideal meeting place and bringing great foot traffic to our store.
Rip & Tan: Tell us about a typical work day here. What is your schedule like and what is the atmosphere in the studio/office?
AK: I like to wake up early and work out before I come into the office. Physical activity fuels me more than all the coffee in the world. It gets my creativity flowing. I also like to sneak in a cuddle session with my puppy, Lox, before walking to work.
Once I'm at the office, I wear many hats. I read and respond to emails, meet with various teams, pop in and out of the store to talk to customers, manage our investors…I am actively involved in every part of the Parachute brand. We're a start-up and that hustle is what keeps me motivated to succeed. Every day is different, which makes them always seem to fly by!
Rip & Tan: What are some of your workspace musts?
AK: I've found it helpful to maintain a minimalist desk. I like plants or flowers for some color inspiration, a Parachute Scented Candle for a calming vibe, and a huge glass of water to keep me hydrated throughout my busy days.
I also like to keep the Parachute kitchen stocked with gourmet and organic foods. Not only am I investing in my team's health and happiness, but the kitchen brings people together!
Rip & Tan: Do you have favorite local spots for food, meetings, drinks, coffee, etc.?
Moon Juice: Located just a block away, their nutrient rich cold pressed organic juices are a delicious and healthy breakfast option.
Venice Beach Wines: If it's more of a wine and beer night, I like to stop by Venice Beach Wines to catch up with friends after a busy week.
Rose Café: The long-awaited return of this Venice institution did not disappoint. Situated on the same street as Parachute, it's one of my top recommendations for dinner.
Café Gratitude: Café Gratitude is a mainstay for delicious, plant-based cuisine. The Parachute team runs on their matcha and turmeric lattes.
Rip & Tan: What do you listen to while you work?
AK: Our office is an open floor plan, and I'm in meetings for much of the day, so I don't have ear buds in often. When I take a walk around the block to walk Lox or get some fresh air, I like to hear what's new on my Spotify Discover Playlist.
Rip & Tan: What keeps you motivated and on task at work? What keeps you inspired?
AK: I'm constantly motivated by my team at Parachute. Their hustle, ideas and enthusiasm get me stoked every day. I'm also inspired by the outdoors and the casual beauty of the Southern California landscape. Bike riding, sunset yoga or a quick walk to the beach keep me energized and focused.