Living
Inside Pamela Shamshiri's Rudolph Schindler-Designed Home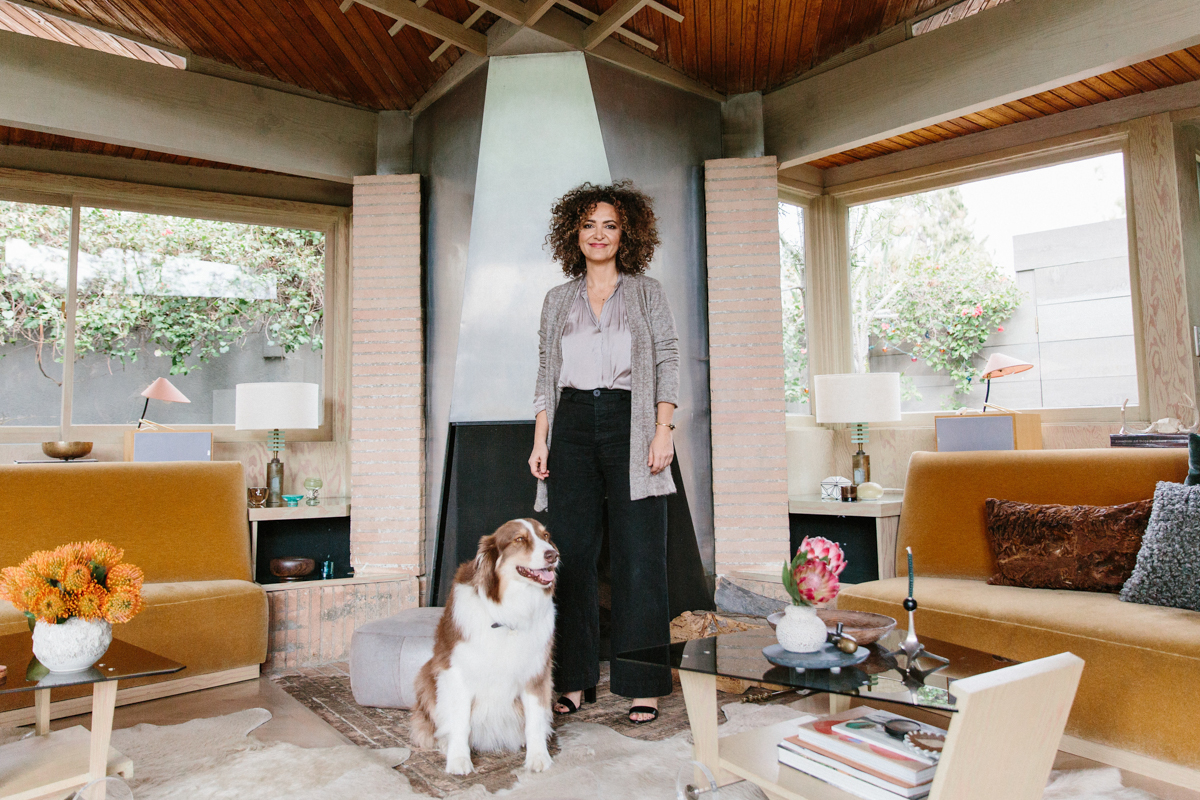 When I started looking to Rudolph Schindler's work for inspiration in designing my Spring 2017 collection, I knew it was the perfect time to feature Pamela Shamshiri on Rip & Tan; she lives in one of Schindler's largest residences in the Hollywood Hills—a V-shaped house with glass walls, clerestory windows, and lush landscaping—and spent many years restoring the space to its original glory; while injecting her own personal touches here and there. 
Pamela just so happens to be successful, vivacious, and deeply stylish, too. She is the co-founder of Commune, a creative firm that designs spaces for brands like Ace Hotel and Opening Ceremony, along with private residences and other projects. Recently, she started another design firm called Studio Shamshiri with her brother, Ramin. And she does all of this while raising two beautiful kids and entertaining friends and family often. 
Needless to say, Pamela is an inspiring woman. I hope you enjoy seeing inside her beautiful historic home, and getting to know her through our interview on all things interior design, career, and style. XXJKE
Rip & Tan: You first saw this historic house in 2008. Can you walk us through the timeline of restoring and designing it over the last nine years?
Pamela Shamshiri: For the first 6 months, we couldn't live in the house.  There were metal windows and we had to change them all back to wood. It was also the "excavation" period where we discovered a lot of history and layers of changes in the walls.  We did our forensics in that time period. 
Once we had windows, one working bathroom, and a makeshift kitchen, we moved in downstairs while the upstairs was getting restored.  That was another year!
After the kitchen went in and everything was sealed, we moved into the upstairs as well but the restoration continued for another 5 years.  It was all very detailed millwork and wood paneling so we took our time with it. I could only focus on it in-between projects so it moved slowly. 
In the last two years, the master bathroom, deck, and garden were completed.
Rip & Tan: What do you love and admire about Schindler's work as an architect? How would you describe his style to those who aren't as familiar with his work?
PS: Someone once told me, "he is the soulful one out of all of them."  I think it's true.  Things that I admire about him: he sculpts space, he focuses on creating long views and diagonals, the use of "low materials" in a "high design".
Rip & Tan: The home includes many of Schindler's original design details and furniture without feeling like a museum. How did you accomplish that balance?
PS: We really live in it. I am not precious about design. It needs to support life and add quality to your daily life. The boys and I are so fortunate that we live in a Schindler.  There's so much to learn from him but after the restoration, we all decided it was time to make it our own.  We paid homage, we saved it and now we get to enjoy being stewards of a piece of history.  It's important not to be slaves to it and, in doing so, it stays relevant. 
Rip & Tan: What room, corner, or object in the house holds the most meaning for you? Why is that?
PS: It's my sanctuary; the master bathroom.  It's not original in any way but I think Schindler would approve of the design. It's where I recover and recharge. I have a big steam shower, a hinoki tub, a vanity, plenty of storage and lots room for getting dressed.
Rip & Tan: Do you entertain often in this house? If so, who comes over and what do you do? How do your guests use the space?
PS: I have lots of family and lots of friends and our house is often the gathering place.  We spend lots of lazy Sundays on the deck and I shish kebobs or do Persian Tea spreads. 
The great room can seat 30.  I have a modular table in the garage that can be used at kid's height, sitting on the ground height, or dining height. I do a great fondue and beef bourgeon on pillows with the table set low. My parents entertained a lot and I think I got used to having a full house.
Also, our pool is drained and empty right now so we have lots of parties in the pool—painting!  Sometimes it's black lit and white spray paint, sometimes it's kids doing murals, most recently it was body painting and sliding down the slope on sleds.  We've had some great artists paint in the pool!
Rip & Tan: For our readers that love your home and taste but are on a budget, what design advice would you give them? What's an affordable way to achieve a great look like this in their own homes?
PS: Low materials, highly thoughtful design. That is what Schindler would say.
I would say, do not use plastic; only natural materials. Avoid things that let off gas like polyurethane.
Also, less is more. Buy fewer items of great quality rather than lots of mediocre objects.
One more: I call it "smalls". The small things that you interact with on your day to day are the most important.  These add value to your daily life. It's the sponge at the sink, the soap dispenser, the inside of your drawers, the pottery on the shelves, the lamp you turn on every day, the hardware you touch, the bed sheets you sleep on.  These tell your story and are a collection of your experience in life until now.
Rip & Tan: You spent many years working in New York as a movie set designer. How did you end up building a career in that field? What did you love about it?
PS: I got my masters in Film Production Design from NYU.  We studied how to tell a story through design. Whether it's color, lighting, decorative arts, architecture, molding, or costume, it all tells a story. To this day, we have the same process in our studio.  It's about creating an experience, telling a story or painting a portrait of someone through their interiors.
Rip & Tan: Tell us about the transition between that phase of your life and starting your design firm, Commune, and moving to Los Angeles. What precipitated the change?
PS: I was on the road for nearly three years at that point.  I loved all the travel and today, I am very grateful for my time living in hotels but I wanted to settle down and have a life in Los Angeles, which still felt like home.
I also wanted to create thoughtful beautiful spaces that lasted over a span of time. The waste that comes with creating sets and tearing them down was also bothering me. 
Rip & Tan: You've found so much success with Commune, working on dream design projects. What do you attribute your company's success to? What does Commune get right that others might not?
PS: Collaboration; it's why we called ourselves Commune. We wanted to assemble the right team for every job.  I'm very proud of how collaborative the partners were, the studio members, the artists and craftspeople and especially our clients!  We created an environment that was truly inter-disciplinary.  We always knew a good idea could come from anywhere and that we were strongest when we had multiple viewpoints incorporated.  That creates tension in design and makes for more interesting and fresh perspectives.
I also think Commune is so good at mixing high and low.  I love how democratic Commune is at heart.
Rip & Tan: Tell us about your new project, Studio Shamshiri. What do you hope to accomplish with this business? What inspired you to start it?
PS: I felt like I had one more business in me!  My brother and I, who was also a partner at Commune, started Studio Shamshiri because we have a particular view on living and living with design.  It's pretty specific and we are very fortunate to have this opportunity to explore it.  I'm letting it grow and develop organically.  Last year was about assembling an incredible team of designers and now, we can all build this new studio together.  It's going to be highly collaborative, a little more boutique, inter-disciplinary, and conscious about quality.
Rip & Tan: How do you make time for your kids while running these great businesses? What is your schedule like or what tricks do you use to make time for both?
PS: I am very strict with my time.  I leave every day at 5:30pm and work out on my way home.  That way I enter the house having left the stress on the treadmill and ready to focus on the kids. I also rarely work on the weekends. Of course, there are deadlines, but generally I prioritize my time with the kids over everything.
Rip & Tan: What beauty of wellness ritual do you cherish?
PS: I travel a lot and I cherish that I can come home from the airport, take a big steam, soak in the hinoki tub and wash away the travel. It also helps me sleep! 
Rip & Tan: How do you stay healthy when it comes to your diet? What are some of your healthy habits?
PS: It's been a few years now that I've on a vegetable and protein diet with the occasional grains. It's been amazing for my energy. I no longer have the ups and downs that come with carbs and sugar. I do cheat a lot and just enjoy those moments.
Rip & Tan: What do you have your eye on for spring, or what's something you bought recently that you are loving?
PS: I have gotten into vintage recently and I am loving it!  Vintage Chanel, older textiles, and YSL are my weaknesses. Also, I recently got a Jenni Kayne sweater and mules. They've become my new uniform.  I can't stop wearing them.