Living
Inside Lizzie Fortunato's Art-Filled Brooklyn Brownstone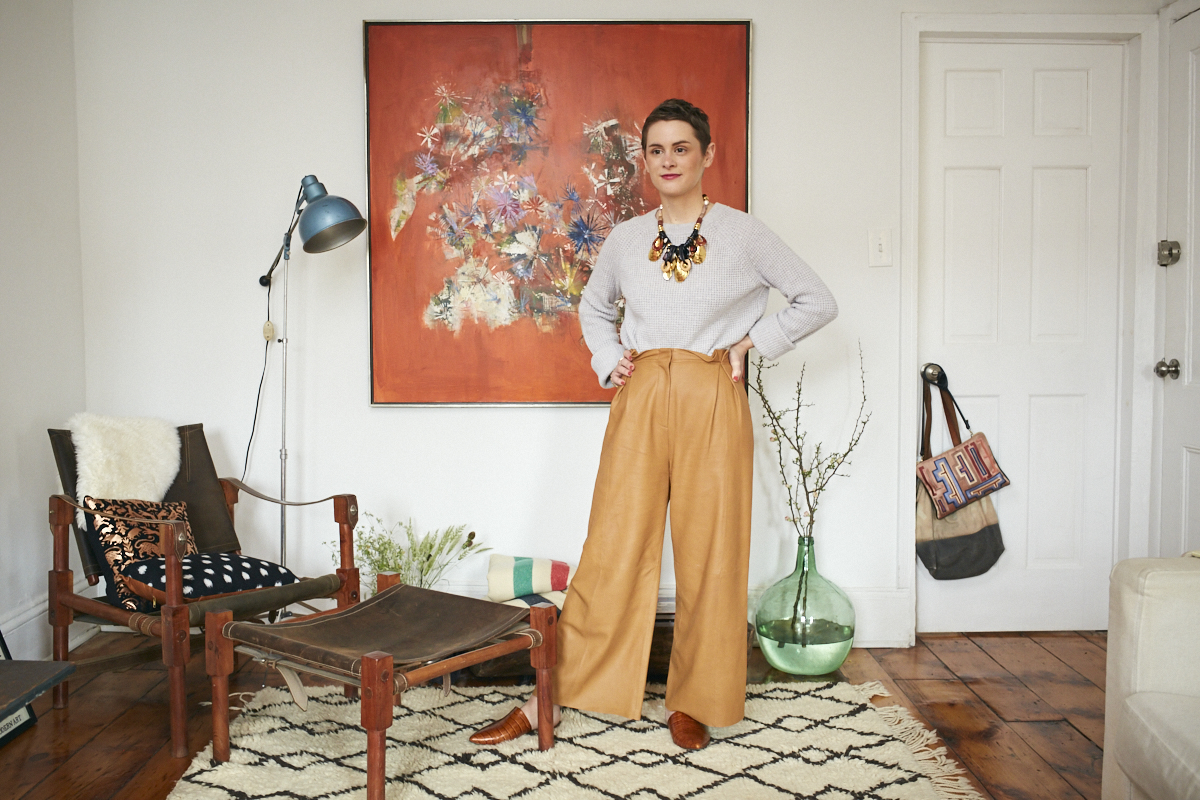 I've been a fan of Lizzie Fortunato's jewelry since she first started the line in 2008. I love the oversized proportions and beautifully diverse materials Lizzie gravitates towards in her work; her pieces make a big impact in a singular and focused way. I also appreciate how much care Lizzie and her team—which includes her twin sister, Kathryn, who helps manage the business—put into the craftsmanship of the line. It's no wonder her label is still thriving, almost ten years later. 
As someone who travels often and has a great eye for materials and shapes, Lizzie's apartment—a Clinton Hill townhouse which she shares with her fiancé, Peter—is, by extension, incredibly stylish and eclectic. And yet, like her jewelry designs, the mix of art, objects, and textiles is more down to earth than trendy. It's the kind of space built for dinner parties, with a big farm table to sit around, beautiful natural light pouring in through the windows, and plenty of places to comfortably lounge and perch in every room. Take a tour of the space, and read our interview with Lizzie on entertaining, business, and style, below. XXJKE
Rip & Tan: What drew you to Clinton Hill or this space specifically? How did you go about finding it? 
Lizzie Fortunato: I loved my last apartment, which was pretty much the exact opposite of this one: a 5th floor walkup, shoebox space in an old SoHo tenement building. It was on Crosby Street and felt like a little sanctuary in the midst of all the action. That building was being sold and so I started frantically looking and realized moving in downtown Manhattan was pretty much impossible for me. One of my best friends (Taylor Patterson of Fox Fodder Farm) was moving to Clinton Hill around the same time and I basically said "I've never heard of that but let me type it into Street Easy." When this apartment popped up I thought it was a fake listing – it looked too good to be true. The very next day I met the landlord and asked him where to sign. 
Rip & Tan: What type of rehab/DIY projects have you taken on since you moved in?
LF: The bones of this apartment are so incredible that we haven't had to do much. The shelves in the kitchen / living area are an Ikea Hack: They're the Lack shelves which I just added leather and brass rivets to for a cool update. 
Rip & Tan: How would you describe the décor? Where do most of your pieces come from?
LF: Eclectic. And also textile heavy. I love collecting textiles when I travel because they inspire so many of my designs, so there are rugs from Morocco and textiles from India, Peru, Guatemala, Vietnam, etc. I really like to layer different tactile elements and play up textures. I also have a few favorite wall hangings, one of which is in our stairwell (it's about 12' tall), and previously lived in my grandparents' extraordinary mid-century home in the middle of Pennsylvania. It's a beautiful reminder of them.
Rip & Tan: What is your favorite corner or object in the apartment?
LF: I love the exposed beams in our bedroom—they transport me out of NYC and make me feel like I'm out West or in upstate NY, where we spend a lot of time. I also love the marble mantle in the dining room.
Rip & Tan: How do you tend to entertain? Who comes over and what do you do for them?
LF: We do small dinner parties, which often include my twin sister and her fiancé who live 4 blocks away.  My fiancé Peter will make his famous homemade Bolognese or I'll whip up fish tacos and he'll mix cocktails (my favorite is his tequila negroni) and we'll gather around the dining room table and sit and chat and eat for hours. 
Rip & Tan: Tell us about how Lizzie Fortunato has grown and evolved since you started it in 2008. Where did you start and where are you now?
LF: It's interesting because in some ways it has changed a ton, while in so many ways it's really stayed the same. I launched the line from our living room sofa in '08 and at the time, Kathryn had a very full time job on Wall Street. Now she runs our business full time and we have a proper office and an incredible team. Our distribution has expanded greatly as has the breadth of our collections. We have introduced leather goods, launched "Fortune Finds" on our website (curated travel finds and objects from artists we admire), and added scarves, belts, and hair accessories to the mix. However, we still produce about 95% of the jewelry in New York City with a team of skilled craftspeople. Our head assembly-person joined me full time before Kathryn even came on full time! And the tenants of our work: wanting to tell a story with small batch, artisanal-y produced pieces have really stayed the same.
Rip & Tan: All of your pieces are so thoughtfully considered and expertly made. What are some methods you use or rules you have for the business that help you keep quality high?
LF: We have resisted shipping our pieces out to an overseas factory where we just submit a PO and then sit back and wait for a box of accessories to arrive. We've remained so involved in every step of the sampling (I still make each first sample myself) and production processes (we work so closely with our assembly team to make sure each pieces comes out to our liking). Production can be such a challenge for small lines and I think it's so tempting to take short cuts, but maintaining the "slow production" that defines our brand is something that makes us proud; it allows us to put pieces into the world that we're really proud of. 
Rip & Tan: What new piece are you most excited about or is selling well for you? Why do you love it?
LF: I love our new printed neck scarves which are sold with metal and semi-precious stone components that can be used to "close" the scarf. I am such a scarf person and it seems like kind of a natural extension of a necklace since we've added a hardware component to it. 
Rip & Tan: What is your typical (or "perfect") work day like from start to finish?
LF: There's truly not typical day, but a good one starts with a large coffee at my desk around 8:45 am. I'll do a few hours of emails and then will focus on sampling new designs or working with the production team depending on the time of year. We try and do bi-weekly meetings with our team which are so productive because they allow us to bounce around ideas and reflect on what's selling well and how to grow effectively. Sometimes I'll run up to the garment district from our Lower East Side office to source materials or meet with a vendor and oftentimes my weekdays end with drinks or dinners with industry friends and colleagues. I try to make it to yoga on the days that don't!
Rip & Tan: What are your goals for the line in the future? Is there anything you know you do/don't want to do with the business?
LF: Our direct business has grown a lot over the past few seasons and I've loved expanding into "lifestyle" items with the Fortune Finds portion of our website. I feel like we've created the "Lizzie Fortunato World" on our site (from the accessories to the homewares to our Journal, A Fortune Found) and it's nice to be able to present the whole 360-degree universe to our customer. I definitely don't want to depart from wholesale because we have such great relationships with boutiques around the world, but I'm interested in growing the direct relationship we have with consumers and expanding the options and experience that we can offer them exclusively through our site.
Rip & Tan: Tell us about your wardrobe and personal style. What do you wear every day?
LF: I'm drawn to classic silhouettes and I believe in investment pieces. I don't shop a ton, but when I do I try and purchase things I'll wear for years to come. The majority of my closet is solid colors in a palette of neutrals but then I always love to layer in a stripe, or a good floral (my favorite for print is Dries Van Noten) and of course, accessories.
Rip & Tan: Any rules for wearing jewelry you think every woman can benefit from?
LF: Don't underestimate the power of a big earring; it automatically dresses you up and makes you look finished. I also embrace statement necklaces for day. I think there's nothing better than layering a big necklace or lots of beads over a sweater and pairing it with jeans and a simple loafer or sneaker.
Rip & Tan: What is your go-to look when you want to dress up and feel a bit glamorous?
LF: A statement earring and lip color. 
Rip & Tan: What wellness or beauty ritual do you cherish?
LF: Baths with coconut oil and also Vintner's Daughter Serum every night before bed. 
Rip & Tan: What are your beauty staples? What do you buy over and over again?
LF: I tend to stick to natural products because I have sensitive skin. I love Osmia Organics for natural cleansers and moisturizers. RMS is my go-to for cover up and lip color.
Rip & Tan: How do you unwind at the end of a long day?
The best is being home with my fiancé Peter, cooking dinner together, sipping on a tequila negroni and listening to music.