Living
Inside Athena Calderone's Bright Hamptons Home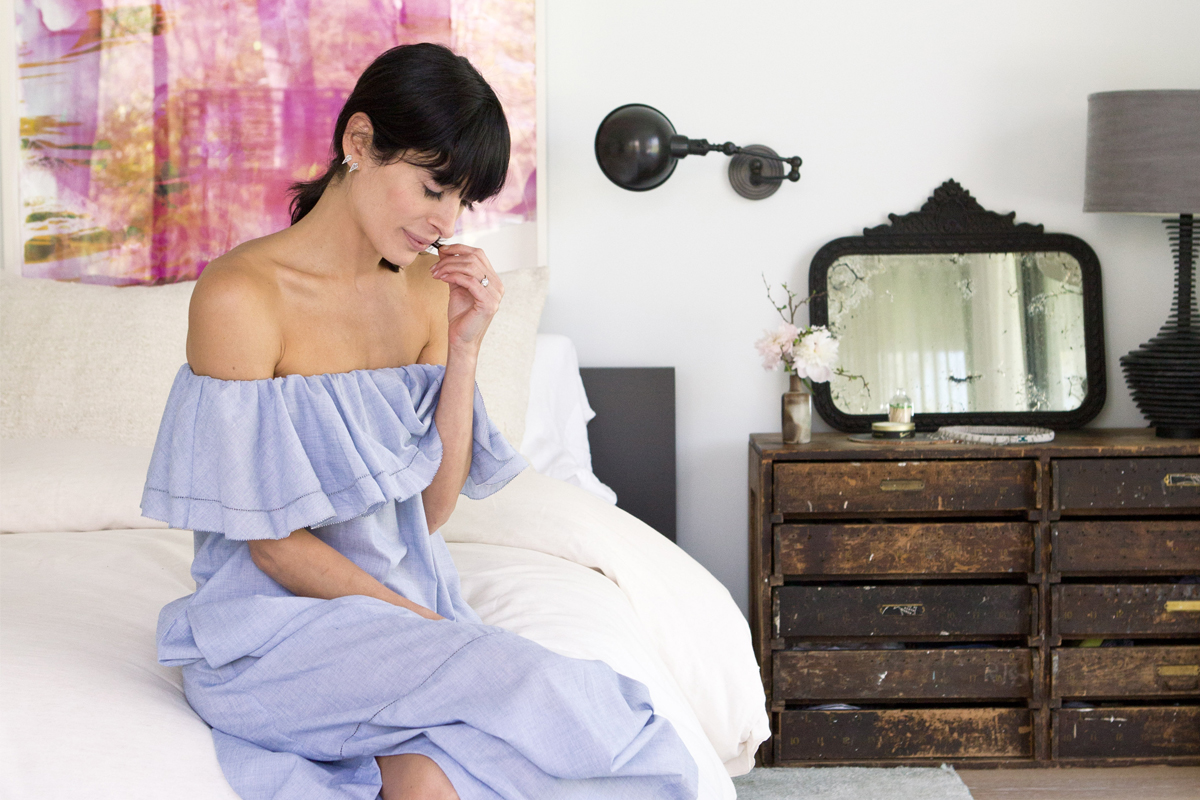 Athena Calderone is a talented interior designer and chef, runs the successful blog EyeSwoon, and is a mother and wife to top it off. While we were out in the Hamptons getting everything ready for our Southampton pop-up store, we visited Athena at her house in Amagansett. The space was bright and peaceful while still having darker fixtures and furniture that gave it a little bit of New York City edge. Athena spends most of the summer in the Hamptons, and loves it there. Read about how she found her mid-century home and her relationship with the community in the Hamptons below. Just be prepared: It'll probably make you want to pick up and move there! XXJKE
Rip & Tan:  How long have you been spending time in the Hamptons? What do you love about it?
Athena Calderone:  Although I grew up in Long Island, I'd never explored the Hamptons until about seven years ago when I discovered Montauk and the surfing community there. We started looking for a summer home immediately, and found one about five years ago. Our Amagansett home is our family retreat and haven. Buying this house really improved the quality of our lives. It brought us closer to nature and each other, and helped us slow down. We take long bike rides and walks at sunset when we're there. My son surfs. I cook and entertain more when we are there, which I love. It is a very special place for so many reasons!
Rip & Tan:  How did you find your home here? What drew you to the space or neighborhood?
AC:  I went on the hunt to find a very specific mid-century style home—and believe me, they do not exist much in the Hamptons. I yearned for unique architecture and was willing to explore a variety of neighborhoods to find it. The search went on for over a year until we stumbled upon our diamond in the rough! The house was a 1960's mid-century modern beach house that was literally falling apart, with the roof caving in and the ceiling covered in mold. There was even a dead deer in the pool–it was in horrible shape! When my husband and I first stepped into the house we immediately fell in love with the great room's clerestory windows and saw an incredible amount of potential in the "bones" of the house.
Rip & Tan:  How would you describe the décor? How is it different than your city residence?
AC:  I wanted the home to feel beachy, cozy, and somewhat undone. A place where friends and family can come and relax. The architecture is so uber-modern so I chose furniture and materials that felt natural and rustic; reclaimed wood, lava stone, standard manila rope, and leather that would wear and patina over time. There is a modern, rustic balance that plays a role throughout the home which really allows the space to feel warm and inviting. I wanted to see imperfections—wood chipped and nails haphazardly placed. I wanted sand on the floors and for no one to feel the home was too precious.
No doubt, one of the defining features of the home is the rope that is woven throughout the ceiling in the main living room and in the master bath. This detail was inspired by a favorite Danish chair I swooned over. Again, the rope adds a cozy vibe, an expected use and execution of materials, as well as a specific scent to the home. I also love how the entire back of the house is glass and open, inviting the outdoors in. Even on a rainy day the home feels light and bright somehow!
Rip & Tan:  What's your favorite room or space in your house? Where do you spend the most time?
AC:  For certain, I spend the most time in the kitchen but my favorite retreat is the master bath.
Rip & Tan:  What are some of your favorite shops for home items in the Hamptons?
AC:  I love Botanica Bazaar, The Line, Love Adorned, and Tiina. Also cannot live without Jack's Coffee and Hampton Chutney.
Rip & Tan:  How did you first become interested in interior design and also cooking?
AC:  Design and food became a natural extension of the things that I was most passionate about organically. I got married and had a child in my early twenties. When the majority of my friends were focused on wild nights out and their careers, I was making my homes beautiful and cooking for my family. I was nesting and loved everything about it! Entertaining became an extension of what I loved and became a social outlet too—a way for me to see my friends more. I would lure them into my home with yummy food when Jivan was asleep. I have always been at my happiest when I am cooking, it is my creative outlet. Design and food are one of the same for me, I approach them both the same way; adding layers and texture and often opposing or contrasting elements, finding that unexpected moment.
Rip & Tan:  What did your education at Parsons give you that you're especially grateful for?
AC:  Technical confidence and a vocabulary surrounded design that I lacked. I had already been designing and intuitively trusted my instincts and eye for composition and a juxtaposed style but I really needed a deeper understanding of the technical aspects of design.
Rip & Tan:  What career goals are you still hoping to achieve?
AC:  I am currently working on my first cookbook to be followed by a design book, this was a goal I set forth when I started EyeSwoon, so I could not be happier. I would love to expand into video and TV and create my own product line that would range from kitchen to tabletop.
Rip & Tan:  What is your typical day like in the summer?
AC:  It usually begins with driving Jivan to surf in Montauk at 7am. Followed by a long beach walk, and, when I can squeeze it in, yoga. I tend to drive a lot in the summer but usually because I love to visit all the local purveyors. I like a certain farm for my eggs, another stand for my zucchini bread, always Balsam Farms for my corn and berries, my CSA at Amber Waves, and Stewart's, the local fish market for line-caught fish. It really is small-town living and everyone knows one another. I live in Amagansett full time in the summer so I work on EyeSwoon from my dining room table every day. Looking out onto vast greenery and the pool makes it quite swoony!
Rip & Tan:  How do you find balance between work and personal life?
AC:  I'll let you know when I figure that out. Currently not a lot of balance in my life but moving out to Amagansett and being in nature and doing my yoga certainly helps!
Rip & Tan:  What do you typically wear in the Hamptons? How is that different than your city style?
AC:  Super casual—a sundress and flip-flops over a bikini most days or jean cutoff shorts. Just less structured in what I wear and how I live at the beach. I suppose I care a little less!
Rip & Tan:  What do you wear when you want to feel comfortable?
AC:  Something loose and billowy.
Rip & Tan:  What do you wear when you want to feel glamorous?
AC:  A red lip. I love Nars' Red Square, which is an orangey red. It's perfect for summer.
Rip & Tan:  What's the best style advice you've ever received or came to realize on your own?
AC:  Don't follow trends, wear what you love and trust your initial instinct. Wearing something that does not exactly feel like you, can make you feel uncomfortable in your own skin and off your game. Style is influenced by how we feel internally, it is releasing the inner YOU and expressing it outwardly. Give yourself license to express.
Photos: Sarah Elliott