Entertaining
How to Create a Standout Spring Floral Arrangement at Home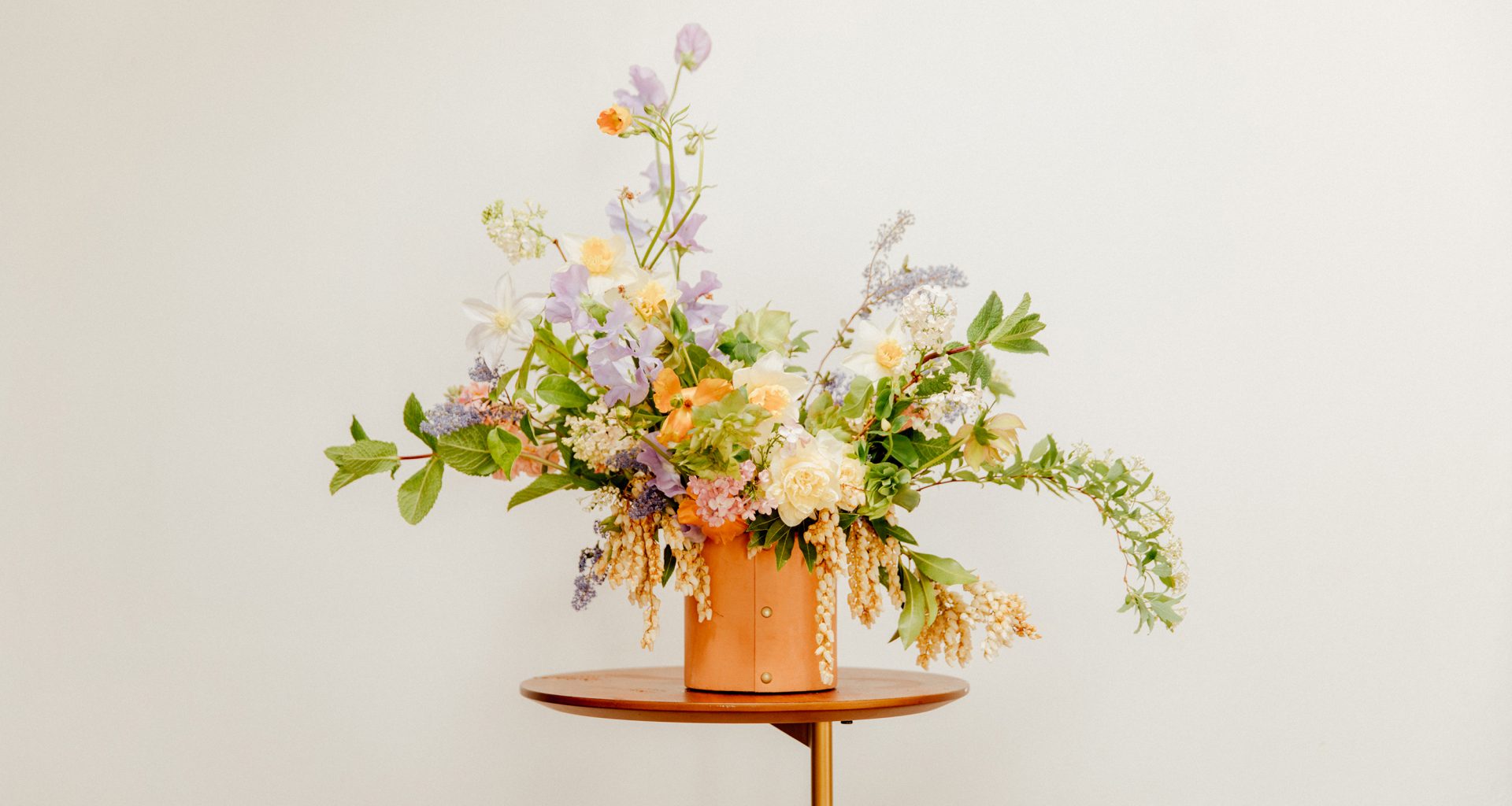 With spring in full bloom, we can't help but feel inspired by nature's colorful scenes that grace nearly every place, from the backyard garden to our neighborhood sidewalks. For Hope Sword, the whimsical mind behind the Venice-based floral design studio Pigsty, curating the colors of the season is an everyday occurrence. Eager for some vibrancy in our own homes, we asked Hope for a simple step-by-step guide on how to arrange flowers with spring's finest. Choose your vessel of choice and get ready for a flower arrangement lesson worthy of the season.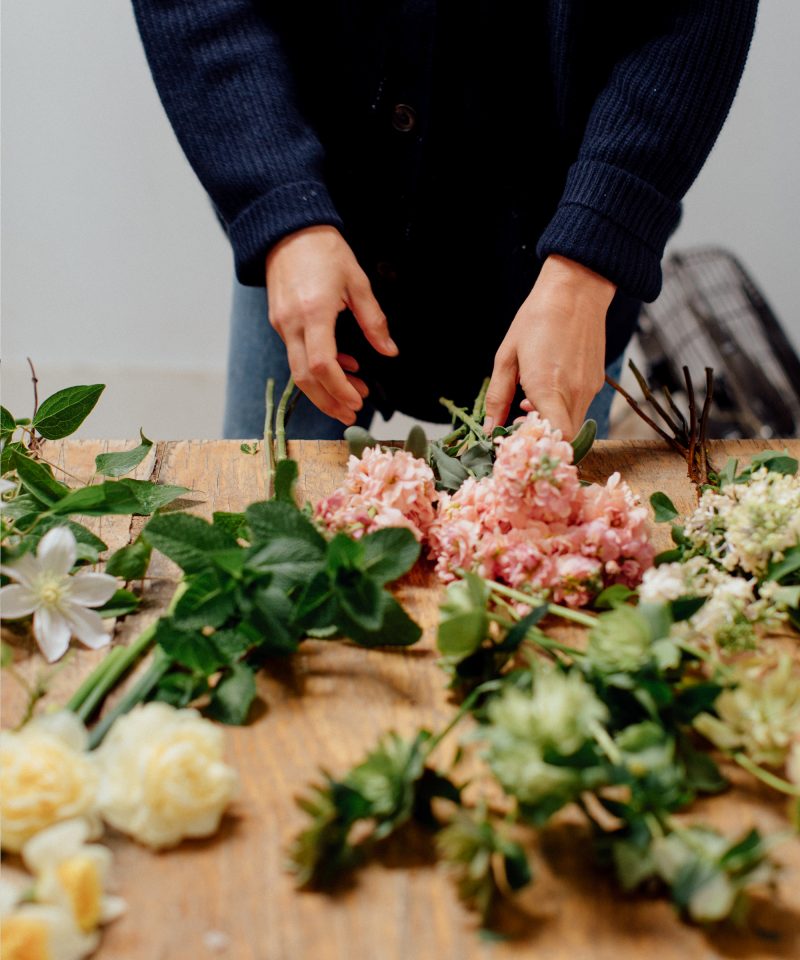 Rip & Tan: Walk us through the flowers in this arrangement. Where did you source them and what drew you to these specific varieties? Any good alternatives if we can't find these exact florals?

Pigsty: The flowers in this arrangement are ceanothus (a native, growing wild in the California hills and easy to forage), daffodils, lilac, mint, blooming spirea, butterfly ranunculus, Pieris japonica, sweet peas, hellebore, white clematis, and soft pink stock.

A lot of these are easy to find or forage, but some would be easier found at the wholesale flower market. I'm generally looking for a cohesive color palette as well as different textures. I'm also looking for smaller blooms, nothing too heavy or color saturated.

Rip & Tan: Once we bring flowers home, what's the best way to store them?

Pigsty: Fresh water and flower food are great—if you have it. Once you're home, remove the greens from the base of the stems and give them a generous chop. Fresh flowers with fresh water should give you a minimum of 4-5 days.

Rip & Tan: How can we make our arrangements last longer?

Pigsty: Refill the water every day (if you remember!). Another helpful tips is to run the sink over the vase for a minute or so, which will help rinse the flowers.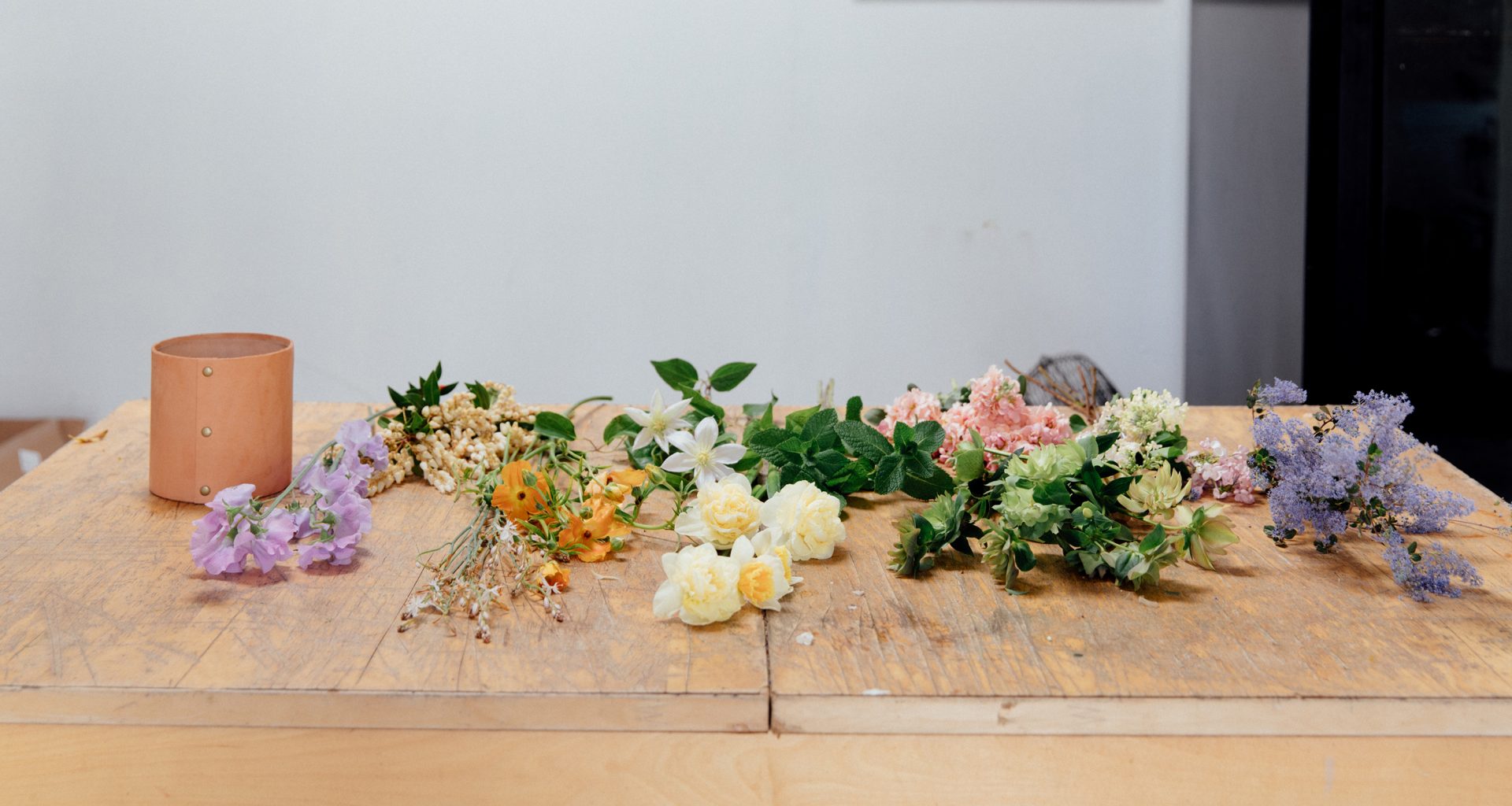 Rip & Tan: How did you go about creating this particular arrangement? Any must-know details for us beginners?

Pigsty: It's helpful to start with your foliage. You should cut at an angle, and measure the stem to be about 1.5 times as long as the vase. This will ensure the stem is not too heavy to fall out of the vase. You're creating a grid to hold the delicate flowers in place, so a minimum of 6-8 stems around the vase will do the trick. Then add flowers in one variety at a time, in clusters of 2 or 3. I balance a few on one side, and maybe one on the other side. You want the color as well as the flowers to feel evenly distributed, and feel like they are growing wild out of the vase. Try different angles, different heights, and spin the vase around while you go. Nature is not organized, so don't feel like the arrangement needs to be. 

Rip & Tan: From varying heights to adding pops of color, what are the basic rules of arranging? Any must-know tips for those new to the floral game?

Pigsty: It's all about balance. Feel free to be weird or wild with your stems, just try to find balance from side to side. A good sharp pair of clippers, fresh seasonal flowers, and some good music is all you need. I really encourage people to shop locally (farmers markets, your garden, your friends' gardens, or anything that says locally grown or rainforest safe at the store ). The fresher and more locally grown, the more personality the flowers will have. Try to use colors that feel warm and blend together well.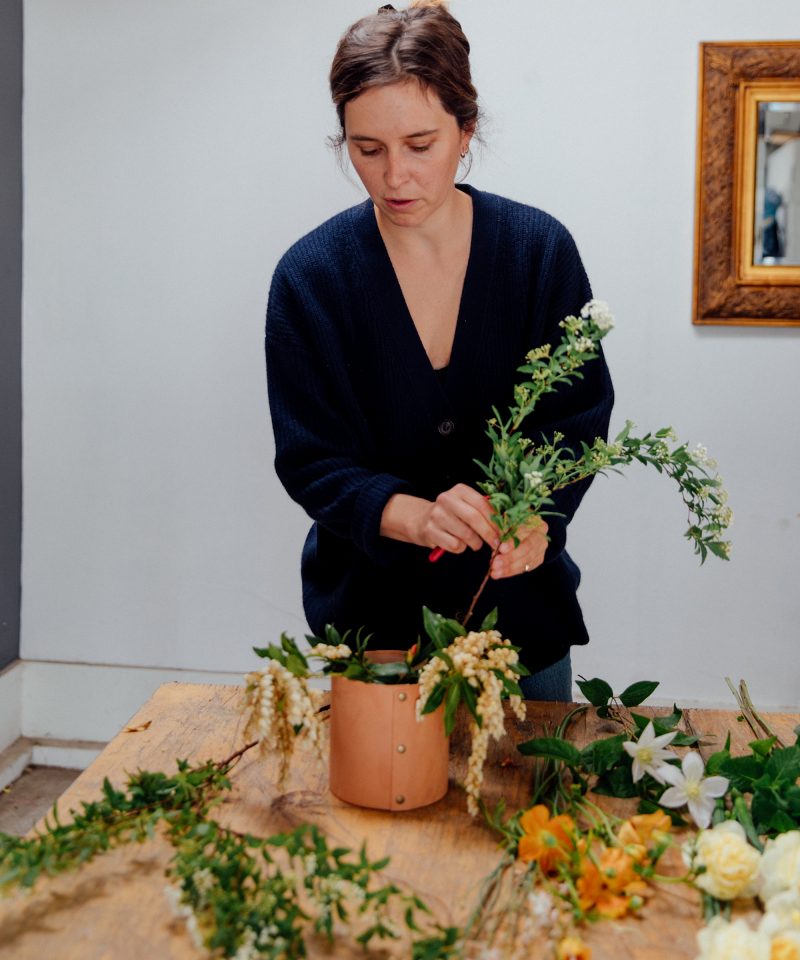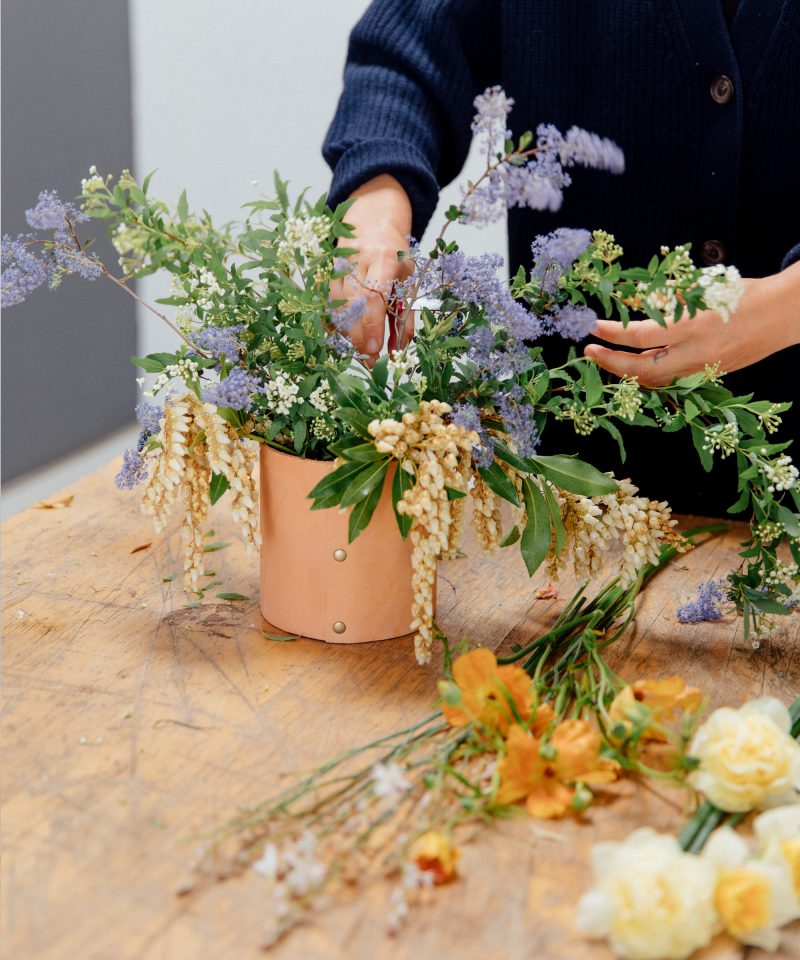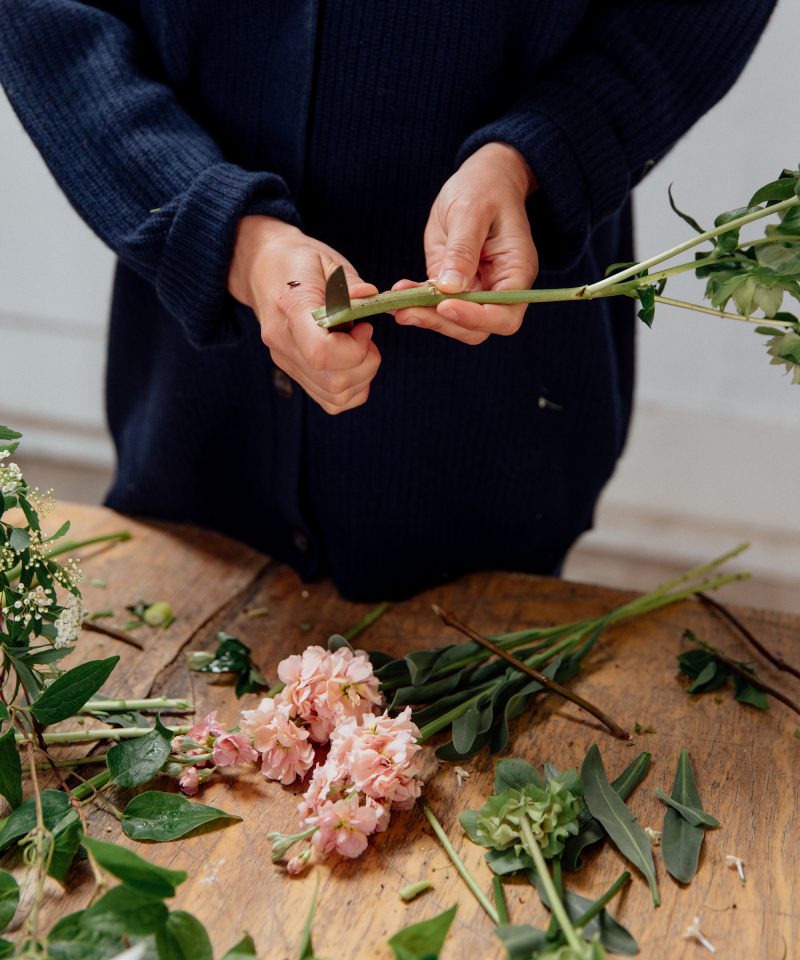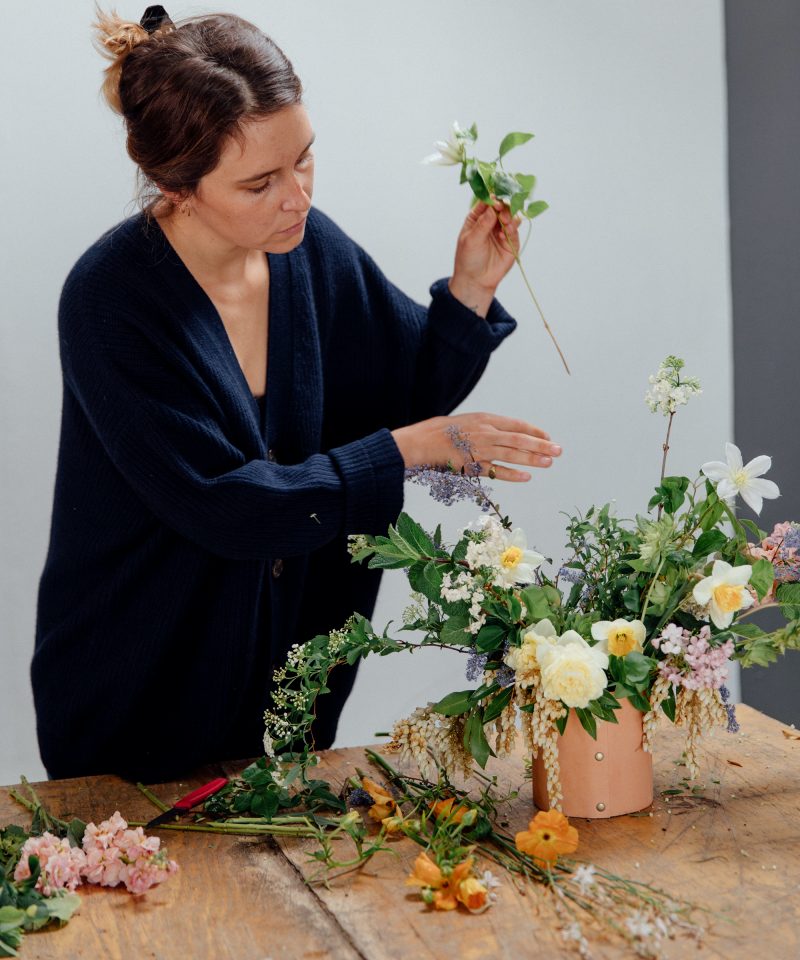 Rip & Tan: Tell us a bit about Pigsty—when and how did you get your start? What do you love most about your work?

Pigsty: Pigsty started in my studio in Los Feliz when my roommates and I all did our own creative endeavors together. I moved to Venice and it began to be my full-time job. I learned floral design by way of my mother and grandmother and a very special teacher in Boulder, Colorado. It eventually all organically fit together and now I cannot imagine doing anything else. I love what can be taught in the quiet moments of building arrangements alone. Pushing my creativity, working through my thoughts, and getting to really live fully in each season. Much like food, I get excited about the season shifts. Stone fruits and peonies are coming!

Rip & Tan: Where do you turn to for inspiration? Whether it's a wedding or an everyday arrangement, how do make sure each arrangement tells its own sensorial story?  

Pigsty: In terms of floral design, I look to lots of fellow florist friends and artists for direction. I love to see a new color palette that I might not have seen before, come to life in someone's vase, on a plate, or canvas. I tend to be inspired just by the shopping; unusual Oregon grasses or alliums, herbs, peculiar garden roses, or sweet peas.

After 15 years of designing florals, I have a very specific balance that I'm looking for in each arrangement. I know once I've seen it and will tinker with color and shape it until it gets there.
"Try different angles, different heights, and spin the vase around while you go. Nature is not organized, so don't feel like the arrangement needs to be."