Style
Florist Lisa Przystup's Weekend Style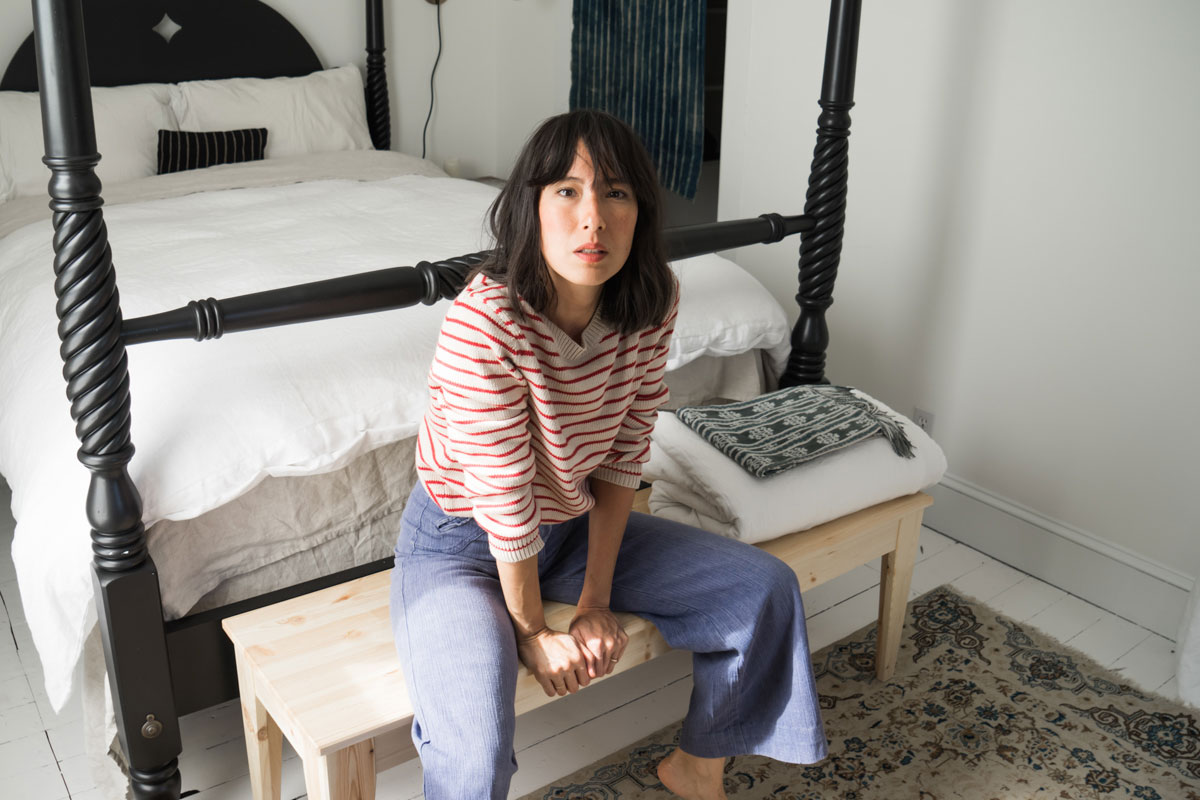 Yesterday we introduced you to florist and writer Lisa Przystup and took you inside her beautiful upstate New York farmhouse. Like so many of the stylish women I know, Lisa favors practical pieces that never go out of style in her wardrobe. Vintage jeans, simple cotton T-shirts, and super-soft knits are among her everyday staples. Like me, she has a soft spot for Imogene + Willie's high-waist, off-white denim (so flattering, and so comfortable) and is a minimalist when it comes to accessories. 
Lisa gravitated towards our silk ribbed shirt and striped cotton cashmere sweater for today's Styled By feature. While a little bit different in mood, both knits look great with high-rise pants and are comfortable enough for a weekend retreat, while still feeling special. I love the Western belt Lisa added to the neutral look, and the way she tucked in the striped knit and pushed back the sleeves for more of a feminine finish. XXJKE
Rip & Tan: Why did you gravitate towards these specific Jenni Kayne pieces? How do they complement your personal style?
I love that they're classic pieces that you could have forever. They're basically the nicest, softest, most perfectly draped version of my favorite t-shirt. 
Rip & Tan: What personal items did you incorporate into the looks? Tell us about where you found these pieces.
My style is pretty simple and usually consists of a high-waisted jean or pant. The cream jeans are Imogene + Willie's Elizabeth cut—they've got a super high rise that makes my other high-waist numbers look low-cut. And the wide leg numbers are from Where I Was From. I kept things pretty simple.
Rip & Tan: Where would you wear these outfits? How do they fit into your lifestyle?
I'd wear them every day—they fit seamlessly into my lifestyle. I probably wouldn't wear them if I was working with flowers because your clothes get trashed; there's a lot of schlepping and wiping hands on jeans that goes down.
Rip & Tan: Do you have any rules or advice on building a wardrobe—or even just an outfit—that works for both the city and the country?  
Buy what you know you'll wear. Don't try to be someone you're not. I've done it and it just doesn't work. But I guess you have to go through that first—figure out what doesn't work so you know what does. The main difference between city and country dressing is that I tend to care a little less about how I look when I'm upstate. There's also a level of functionality that is key to upstate living. You need a proper pair of pull on muck boots (lace-ups take forever and make no sense for how often you're in and out). You need a proper pair of snow boots and gloves. And work gloves. Basically every kind of utilitarian glove and boot you could think of.
Rip & Tan: How would you describe the "perfect" summer sweater?
Anything that belongs to my husband. That or a classic cotton crewneck in an open knit. It should be easy and lightweight and feel like it belongs on a beach at sunset.
Rip & Tan: How did you/would you accessorize these looks? 
With a chore coat or a jean jacket and a hat of the Greek fisherman variety. Accessories are not my strength.