Entertaining
Floral Encyclopedia with Moon Canyon: Early Spring Blooms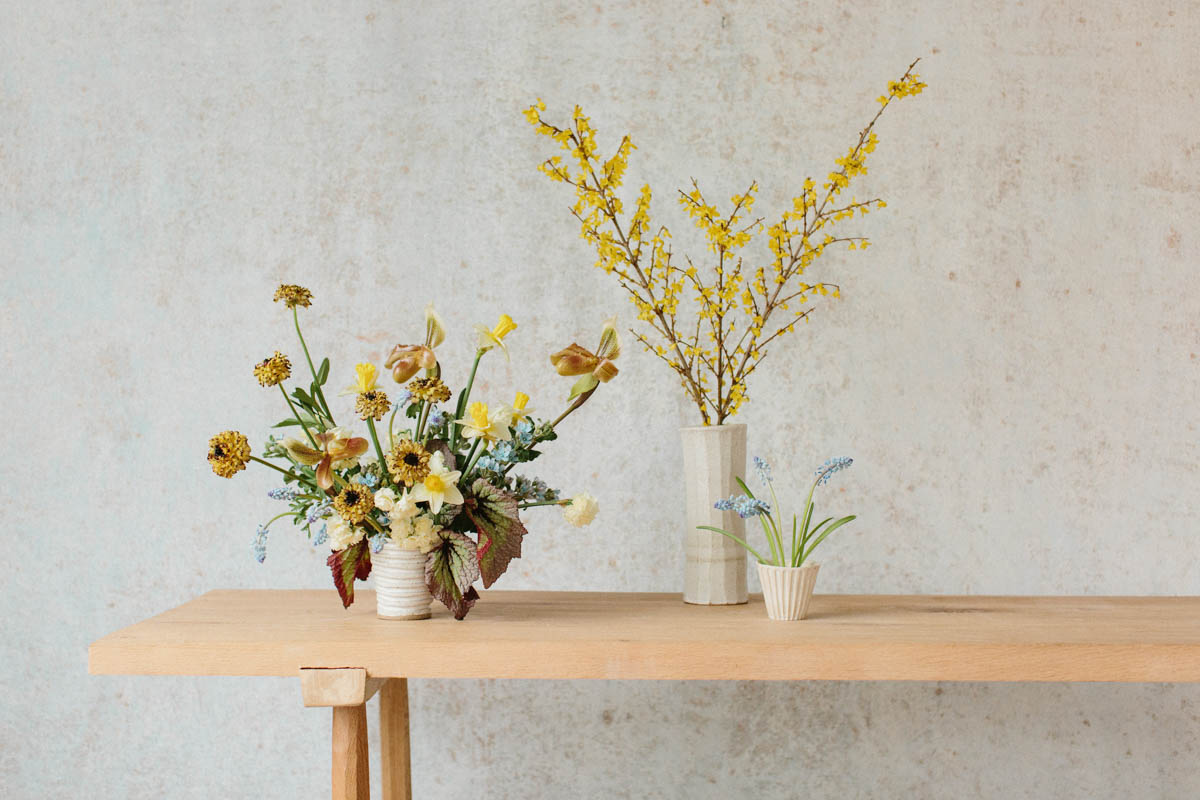 Kristen Cassie of Moon Canyon is back with a January installment of our floral encyclopedia. This lush arrangement is comprised of early spring blooms arranged in a ceramic vase by Mt. Washington Pottery. The wabi-sabi aesthetic of the handmade vessel adds to the arrangement's playful proportions. Earthy yellows, rich greens, and a touch of blue tell a color story that's unexpected, yet warm and welcoming. Perfectly undone early spring blooms (Kristen's favorite to design with) emphasize the meeting place of winter and spring. XXJKE
Muscari – More commonly known as a grape hyacinth for their clusters of small, bell-shaped flowers that resemble a bunch of grapes on a vine. These delicately fragrant bulbs will bloom in early spring and will naturalize quickly when planted in a good, fertile soil.
Narcissus – Daffodils are instantly recognizable by their six petals surrounding a trumpet-like corona, most often in variances of white, yellow, or both. The ubiquity of the daffodil dates back to ancient times, both medicinally and botanically. They have been said to get their name because the image of languid daffodils along a stream evoke the image of Narcissus gazing into his reflection.
Lady slipper – Characterized by the slipper-shaped pouch (or labellum) that sits between the petals, these orchids range in color from white and yellow to a deep pink and purple. The lady slipper might take four to sixteen years to produce a bloom, but it's worth the wait—in comparison to other, more temperamental orchids, this type can be considered fairly low-maintenance.
Tweedia – This delicate perennial is coveted for its light fragrance and pale blue star-shaped petals. Found commonly in vines and trellises, tweedias are prime for an arrangement as they cut well and last long.
Ranunculus – Also known as the buttercup, these spring bloomers are coveted for their delicate layers of petals, resembling ruffled tissue or crepe. In a wide range of vivid shades, ranunculus can bloom from late winter to early summer.
Begonia foliage – Rex begonias are a popular houseplant and filler foliage in a variety of intricate patterns patterns and interesting shapes. Its leaves tend to vary in size, making it a welcome eaddition to any arrangement, allowing room to play with proportion, texture and form. 
Forsythia – Named after William Forsyth, a Scottish botanist, Forsythia is an early spring flowering shrub often found in gardens and parks. Forsythia are well-known for their resilience and tenacity as much as the bright, cheery yellow of the branches' blooms.