Entertaining
Floral Encyclopedia with Moon Canyon: A Subtle Spring Bounty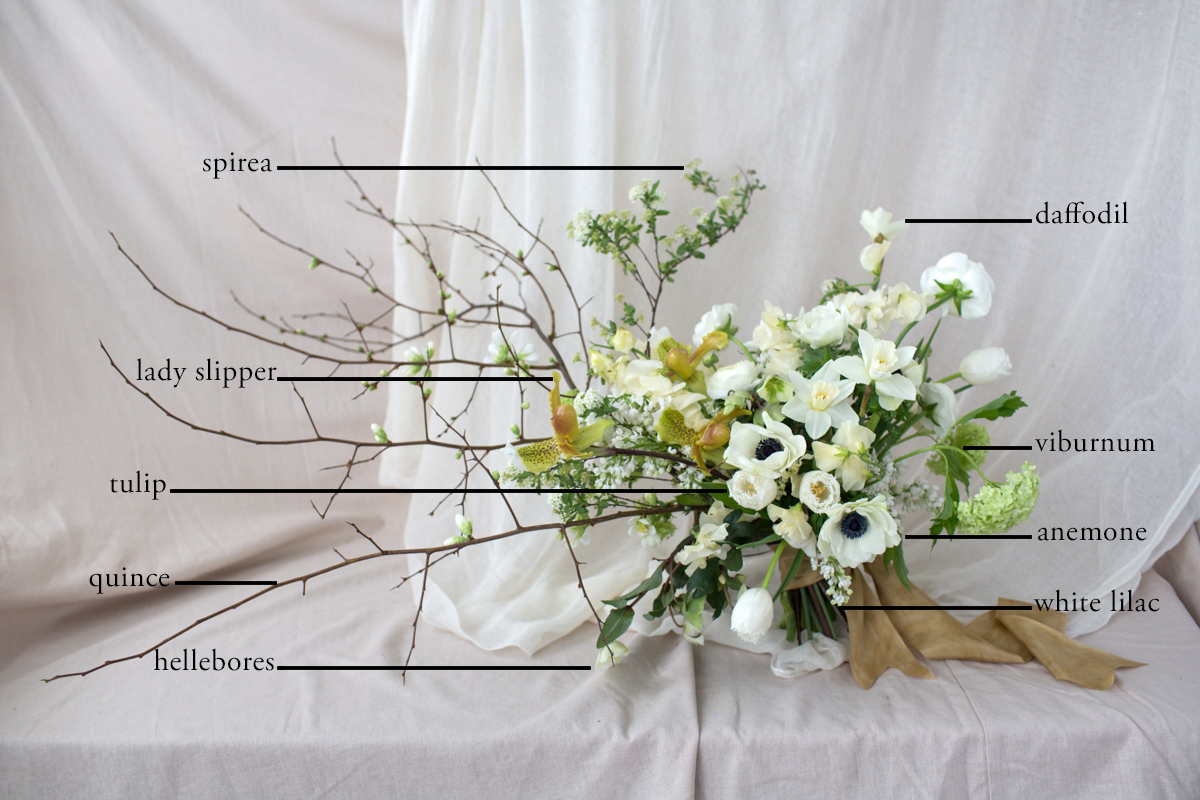 We've officially entered springtime, and with it a glorious burst of flowering trees and plants. For her latest Floral Encyclopedia entry, the ever-creative Kristen Caissie of Moon Canyon took inspiration from the delicate colors present this time of year. While we tend to think of spring as a vibrant and colorful season, she points out that it brings about a toned-down palette, too. "It's the more subtle side that makes my heart flutter," Kristen says of these blooms. Here, we break down her feminine arrangement into its beautifully wild elements. XXJKE     
Spirea — This is a species of flowering shrub native to the Northern Hemisphere and grown in much of eastern Asia. Its cascading branches carry delicate clusters of colored blossoms and can be used as the foundation of an arrangement.
Lady's slipper — This delicately colored orchid is categorized by its slipper-shaped pouch that traps insects so they must fertilize it. The clever shape is also beautiful and can grow in varying speckled pastel hues. 
Tulip — These delicate lacy flowers are evocative of spring, and grow in many colors and patterns from bulbs to native to Eurasia and North Africa.
Quince — Another flowering, spiny shrub, which makes an excellent base or foundation in an arrangement, adding texture and oftentimes color. It's native to areas of Asia and is in the family Rosaceae.
Hellebore — While hellebores generally bloom in the late winter, they can be found in the spring and offer a unique shape and bright yellow center regardless of shade, thanks to their inclusion in the Ranunculaceae family.
Daffodil — Also known as narcissus, daffodils are instantly recognizable flowers with six petal-like tepals. Their classic color is white or yellow, and they've been used since ancient times both medicinally and botanically.
Viburnum — These small deciduous trees or shrubs produce full closers of petals which range from white to cream or pink in color, and can have a strong, sweet fragrance.
Anemone — Anemones are technically wildflowers, but one of the most beautiful types. It hails from the Ranunculaceae family as well, and its name, from Greek, means "daughter of the wind." 
White lilac — These flowering woody plants emerge in the springtime and are typically the pale purple shade they were named for, but can be found in a delicate white. Traditionally they are a symbol of love, and in the Mediterranean they are strongly associated with Easter. 
Photos: Brittany Wood