Living
The Experts' Guide to Organizing Everything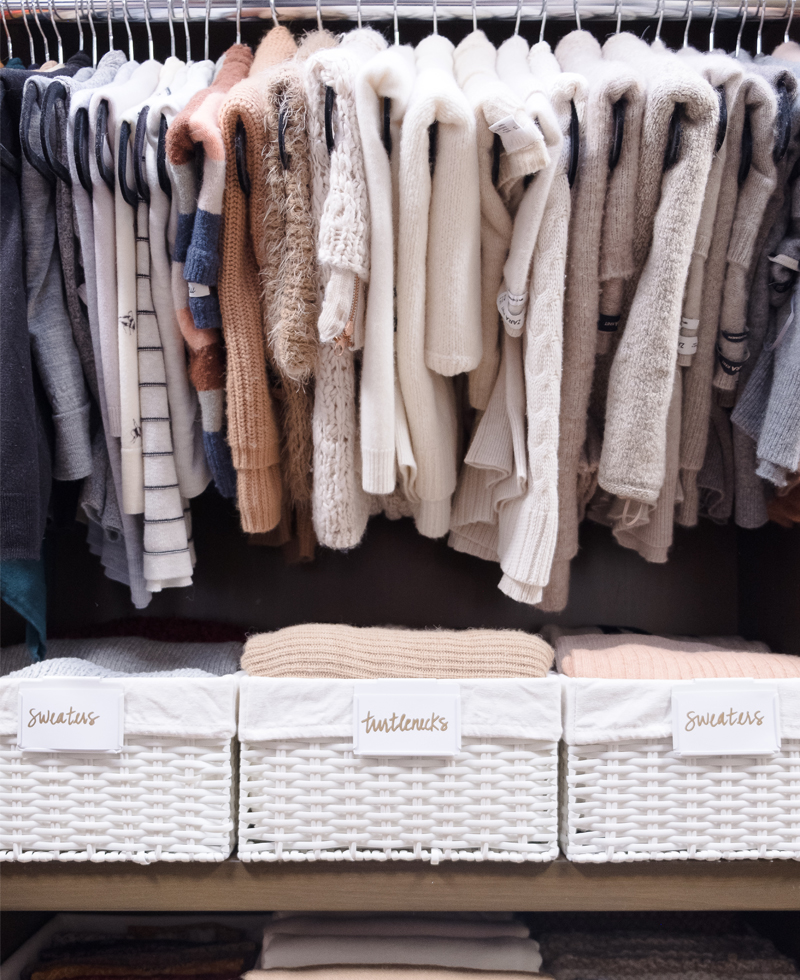 Have you ever stood in front of a closet brimming with options thinking you have nothing to wear? Of course you have, because everyone has. But, have you ever considered that maybe it's how you organize your clothes? Clea Shearer and Joanna Teplin are here to help you streamline your wardrobe, and, by proxy, your life.
These women are professional organizers—and yes, that is a job, with a huge following of current and recovering clutterbugs. The duo goes by
The Home Edit
, and we talked to these two clean-up connoisseurs about getting things in order—and keeping them that way.
Rip & Tan: Tell us a bit about yourselves—how did you decide to start a business together? Why home organization?

The Home Edit: Organizing is the only thing we're good at… And if you're only good at one thing, you should probably do it professionally! We ended up going into business together because a mutual friend suggested we connect. We went to lunch, spent 4 hours talking about building an empire, and created a partnership that same day. Hours later, we had created our logo, our business name, secured our social handles, website domain, etc. Organizers are very efficient and do NOT waste time. 

Rip & Tan: Do you have one system that works for every type of client, or do you adjust to their needs? How do you work with people who might be resistant to structure? 

The Home Edit: Ever project is bespoke and customized to fit the needs of the client. We have a general methodology that guides us through each project, but the systems end up being specific to the household. If a client is resistant to structure, we can usually agree on a happy medium. Since everything is built around the client's lifestyle, habits, and preferences – maintaining the organization shouldn't be a chore.

Rip & Tan: How do you make storage aesthetically pleasing? 

The Home Edit: Anything can look pretty, but first and foremost, it has to function. Once we figure out the nuts and bolts of the project, we can move on to the beautification. I (Clea) have a background in fashion and design, and I bring my analytic aesthetic eye to every job. 

Rip & Tan: How do you two work together? Do you each have your own area of responsibility when it comes to getting a project done,  or is it mostly collaborative?

The Home Edit: We are always collaborative, as is our entire team. But each of us have areas where we are strongest. For instance, Joanna (and members of our team) are particularly good at sorting papers and working with granular pieces, while I (and other members of our team) are better at styling and creating the flow of each shelf. We can all do all things, but each of us have areas where we are particularly strong. 

Rip & Tan: We consider our pieces seasonless, and prefer to layer when the weather calls for it, but for those who don't live in temperate climate most of the year, how would you advise storing away your heavy knits in summer, or summery pieces in winter?

The Home Edit: We always create seasonal storage for winter or summery pieces. Most pieces can co-exist together waiting for the right season, but for bulky knits, we often recommend moving them to a top shelf bin to make room for lighter-weight pieces.
Rip & Tan: Is there a certain space or room that is your most frequent organization request?

The Home Edit: We are known for our pantries, so that is the most common request. We like to think of ourselves as pantry professionals since we have probably organized over 500 in the past few years. 

Rip & Tan: If someone isn't quite ready to employ your services, what are some quick things they can do to feel more organized?

The Home Edit: For anyone not quite ready to hire us for a full service job, we also have a virtual DIY program where we can organize remotely via email. It's a great option with a flat rate cost, and it provides the guidance and instruction for a willing participant. (Editor's Note: For those of us out west, they are launching a full-time Los Angeles-based team in June!)

Rip & Tan: Can you describe your workspace and how you've organized it to promote productivity?

The Home Edit: We are a pretty split work-household on paper. Some of us prefer everything to be digital, and some of us prefer the 1980's… I'll let you decide who is who. But we all agree that ONLY essentials should be kept and stored. There is no need for a "maybe we will use this some day" approach.

Rip & Tan: We are big proponents of a pared-down wardrobe, but even the most austere of us struggle with efficiency. What is the best way to organize a closet so that everything is within reach?

The Home Edit: The six month rule and the 80% rule always apply to a closet. If you haven't worn it in the past 6 months, you won't. Let it go. And just like you should only eat until you're 80% full, you should keep your closet 80% full as well. Bursting at the seams doesn't feel good at any level. 

Rip & Tan: Sometimes we find ourselves staring at an item in our closets and wondering, "to keep or to give?" What are the rules?

The Home Edit: IF you have not worn it in six months, and have no immediate plans to wear it, the ONLY reason to hold on to it is if it makes you happy on some level. We all have dresses we don't fit into, but it just makes us happy to own it – and that's okay provided you have enough space to keep it. But if you can't honestly say you love it, and you can't honestly say you've worn it or will wear it – it needs to be donated.