Wellness
Essential Oils & How to Use Them: Advice from an Expert
Shannon Davenport used to be a fashion industry fixture, but these days, she's getting grounded: the former trend forecaster traded life in New York to start her own business and family in Los Angeles. And we're glad she's here, because she started one of our favorite natural beauty brands,
Esker Oils
.
Getting into essential oils is, well, "
so
L.A.," but Shannon is no poser. Her encyclopedic knowledge of essential oils and experience in the fashion industry makes her a rare breed: earthy and intellectual with a unique eye for style. We met up with Shannon to talk natural beauty, her favorite oils, and the life changing art of embracing what you've got.
How to Use Oils 

How to store oils: Keep away from direct sunlight—it's essential for potency and freshness.

Favorite face oils: Squalane, kukui nut oil, and jojoba are great before bed. They're nutritive and absorb quickly, so you won't get that greasy face look. (Note: carrier oils typically come from the fatty part of a plant like the nut or the seed. Essential oils are distilled plant essences and can come from leaves, roots, flowers, resins or peels. Most skincare oils are a combination of carrier oils and essential oils).

If you have sensitive skin: Make sure you do a test on a small segment of your skin before introducing a new oil. Carrier oils like avocado or evening primrose are best for sensitive or dry skin.

You might not know: Every essential oil isn't created equally. They're very diverse and come from different parts of all types of plants. There's a debate going on in the skincare industry about whether or not essential oils irritate the skin, which is a bit of an oversimplification because there are close to one hundred essential oils. It's all about understanding what oils do what. Lavender, geranium, and frankincense are time-tested, gentle, and lovely oils for the skin.

Carrier vs. essential oils: Carrier oils can be used to dilute essential oils. Carrier oils typically come from the fatty part of a plant like the nut or the seed. Essential oils are distilled plant essences and can come from leaves, roots, flowers, resins or peels. Most skincare oils are a combination of carrier oils and essential oils.

What's the deal with lotion? The key difference is that lotion is an emulsion—it has water whipped into it. You can replace your moisturizer with an oil because they solely contain lipids, also known as fatty acids, also known as essential for the skin barrier.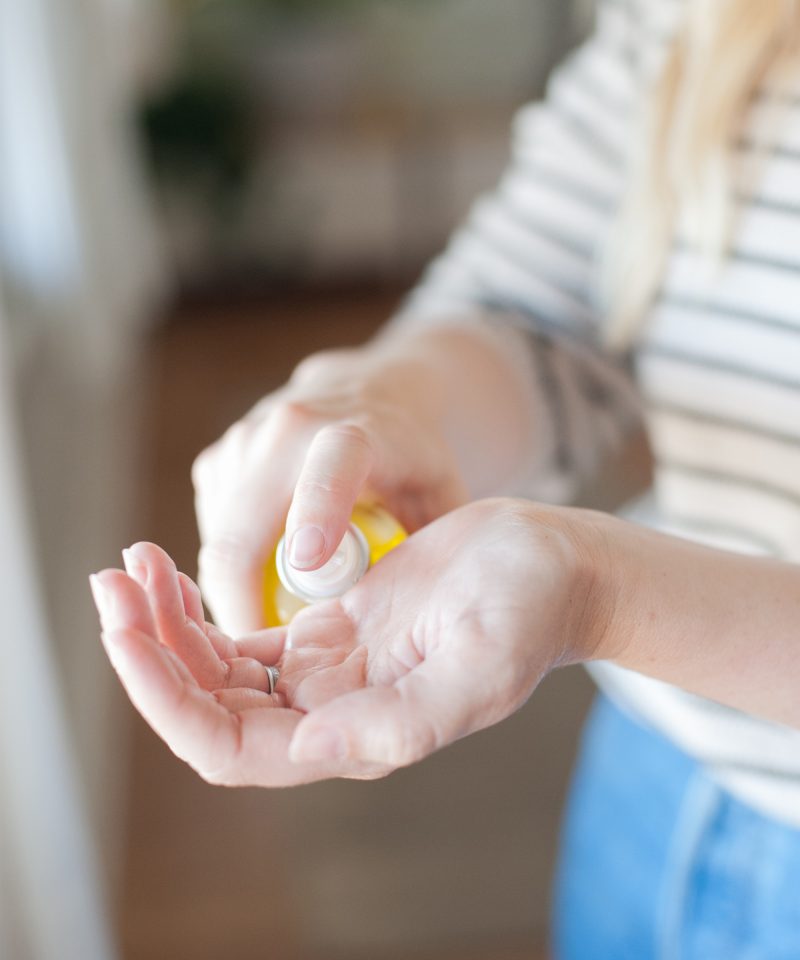 Rip & Tan: Have you always been interested in natural beauty? How did you decide to start Esker?

Shannon Davenport: Growing up in Berkeley, I had a lot of exposure to naturals. When I was young I loved to go to a store called Body Time, they are a natural beauty store that was started in the 1970s. I remember how amazing it smelled inside and I loved the way all the labels were handwritten. I decided to start Esker after studying essential oils for a few months. I was so inspired by the incredible plant-based ingredients and I hadn't seen a lot of products out there for body that were really taking advantage of these amazing oils in a functional way. I also had a really specific idea for packaging that used color in a creative way. Once all those ideas came together I realized I had the makings of a brand.

Rip & Tan: How did you formulate your blends? How much research went into creating your oils?

Shannon Davenport: I was curious to learn more about essential oils, so I enrolled in a certification program at a small aromatherapy school in the East Village. We learned about 20 different oils in that course and that really kick started my exploration of essential oils. I bought tons of books and built up my personal collection. I partnered with a natural formulator and all in all it took about a year and a half to get three formulas that were perfect. We tweaked and tweaked until each blend had the right feel, aroma, and skincare benefits. 

Rip & Tan: What is your usual skincare and makeup routine? Any products you can't live without?

Shannon Davenport: I do a mix of blending my own products and experimenting with different brands. It's such an amazing time for natural beauty right now and there's a great variety of effective, clean products out there. For my body, I moisturize with my oils, my favorite is the firming oil. For the face, I'm a huge proponent of SPF so I always start the day by washing my face, spritzing with a hydrosol (my favorite is neroli) putting on a light oil like squalene and then applying sunscreen, no matter what. I also think brows are important so usually I'll do pencil or powder followed by a brow gel and a little mascara. If I'm going to a meeting I'll sometimes do blush and eyeliner too. 

Rip & Tan: What skincare advice would you give all women?

Shannon Davenport: Aside from SPF I think it's important to create a ritual that works for your lifestyle. It's important to find products that work for you, for example I've never been big into masking, and that's okay. Instead I focus on cleansing, moisturizing and exfoliating. 

Rip & Tan: Have you made any beauty mistakes you regret? 

Shannon Davenport: So many! Most of them have revolved around trying to change something instead of embracing it, like obsessively straightening my wavy hair, trying to tan or bronze my way out of being super pale or over-tweezing to try to get that perfect arched brow.