Wellness
Campo Beauty's Next Generation Aromatherapy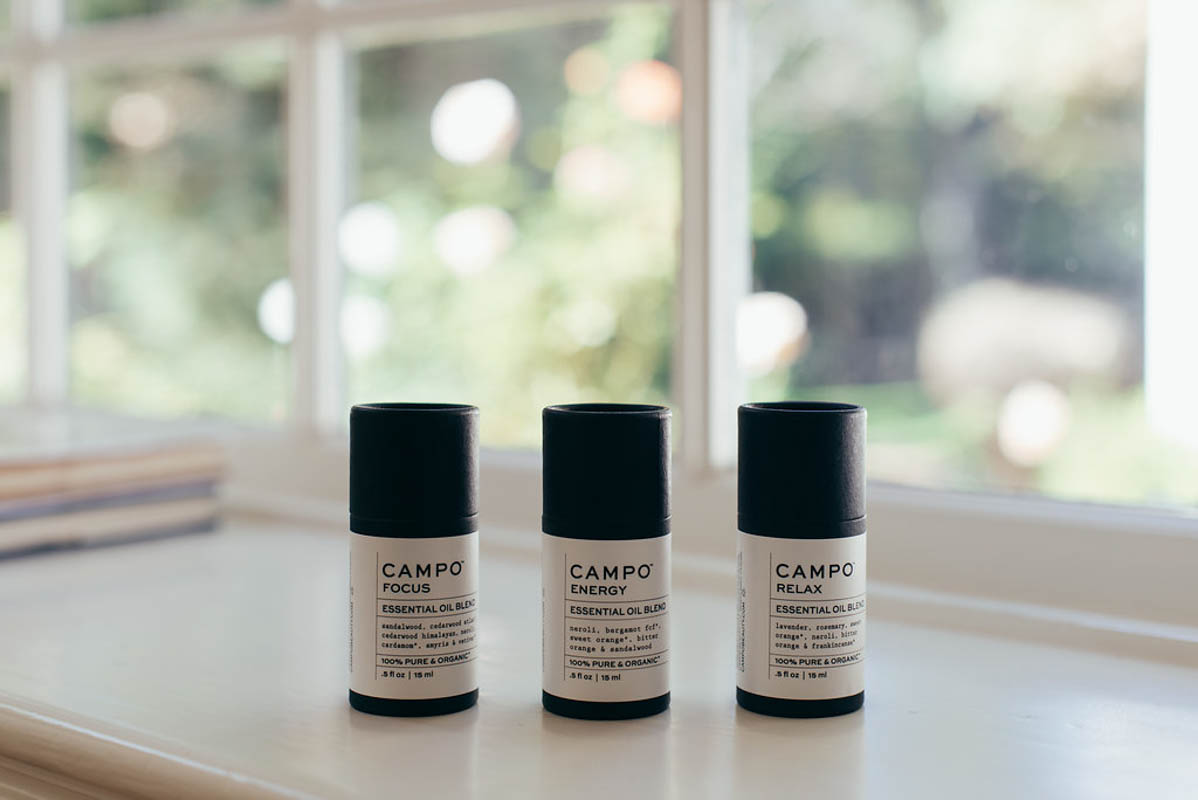 As a natural beauty supporter and a believer in aromatherapy, essential oils are an important part of my skincare and wellness routine—I even clean with them! Campo Beauty is one of my new favorite brands in this growing space. Launched by businesswomen and childhood friends Jessica Frandson and Jill King, Campo offers essential oils, body oils, and roll-ons that are free of synthetics, artificial fragrances, dyes, and other harmful ingredients. They also donate a meal to a child or family in need through Feeding America for every item purchased.
I love using Campo's signature blends in one of their minimalist ceramic diffusers for a simple way to make a space more relaxing and restorative. If you're looking for a gift or a treat for yourself during this busy holiday season, I highly recommend the combo, which costs just under $150. To learn more about Jess and Jill and their backgrounds and mission with the line, check out our Q&A with the duo below. XXJKE
Rip & Tan: Tell us about your careers before starting Campo Beauty and how your experiences helped you develop the skills needed to launch the line. 
Jessica Frandson:  I am a serial entrepreneur with a gift for spotting needs not being met, creating products and services that simplify life and make it better. Most recently, I built and sold my hip hair tie company, Twistband, creating a movement and new category with hair ties that did not damage or leave dents in hair (no dents or damage to hair that you could wear as a bracelet, mixing fashion and function). Our products connected women of all ages, touted as the new Scrunchie. I have over 20 years of marketing and branding experience with the non-toxic cleaning company Simple Green, where I worked closely with R&D to develop natural scent stories for their products and brought them to market. Being the daughter of former hippies/gyspets in Laguna Beach, I received an immersion education in essential oils. I studied with a top perfume maker to learn the art of making perfume, which we then applied to blending essential oils that had top, middle and base notes with amazing results.
Jill King:  I started my career in lifestyle & entertainment marketing at the PR powerhouse Rogers & Cowan in LA over 20 years ago. I went on to manage my own department of the firm when I launched the West Coast Fashion & Beauty division.  At Rogers & Cowan and later as an independent branding and marketing consultant, I worked closely with top global brands, Fortune 500 companies, start-ups, celebrities and non-profit organizations, including: Rayban, Rolex, Ralph Lauren, Target, Proctor & Gamble, Rolex, DirecTV, L'Oreal, Revlon, Elton John's Aids Foundation and InStyle Magazine.  It is this extensive experience that helped me not only learn everything that goes into launching and building a brand, but also to develop the business skills I needed in launching Campo. Throughout my career, I have also been a student of aromatherapy and essential oils. I have been blending beauty oils for decades and am sentimental about my tattered journal with all my beloved recipes. 
Rip & Tan: What is your mission with Campo?  
JF: Our mission is to provide wellness beauty products that simplify life, decrease stress & increase energy for a more joyful life. We believe you don't have to sacrifice luxury for natural and the days of essential oils hiding in the back of the store or staying tucked away in your cabinets is over. We designed our collection to look and feel like a modern beauty brand, but we formulated it with 100% natural essential oils to deliver active beauty benefits along with mood-altering, perfume-worthy scents. We also think it's important to give back.  Through Campo Cares, we give a meal to a child or family in need for every product purchased. One product. One meal.
Rip & Tan: Where do you source your ingredients? How do you know that they are authentic?
JK: We scour the globe to find the highest quality oils with the most intoxicating scents, knockout healing powers and active beauty benefits. We have tested a lot of stinkers along the way on our quest to find the very best.  Although all of our premium oils are sourced from the finest countryside from around the world, our products are all made in sunny California (Campo means field or countryside in Italian and Spanish).
We take special care to ensure that our essential oil and beauty carrier oil producers and distributors utilize the optimal production methods, are properly tested and have the necessary certifications documents. We don't use any oils with fillers and we source organic whenever possible. We also do our own research and check references for all of our producers and distributors to ensure we are getting the highest quality and 100% pure oils.
Rip & Tan: Why are essential oils an important part of our beauty/wellness routines? What do you believe they can do?  
JF: Essential oils offer 100% natural wellness remedies and beauty benefits free of synthetic fragrances, endocrine disruptors and carcinogens, and there are infinite blending combinations.  Essential oils can instantly change your mood and state of mind:  by uplifting a depressive state, turning anxiety into clarity and turning stress into calm, just to name a few.  
Essential oils are also ideally suited for skincare because, when diluted properly and applied topically, they are readily absorbed through the skin and offer a mother load of benefits. They can help speed up the removal of dead skin and stimulate new cell growth, improve muscle tone and blood circulation, reduce inflammation, regulate sebum production, are highly antiseptic, and can reduce the impact of emotional stress which can be reflected in your skin. 
Our hero essential oil is Neroli (bitter orange blossom) and we incorporate it in every blend we create.  It has an intoxicating floral citrus scent that is calming, uplifting, a bit hypnotic and works wonders to improve your overall mood.  At the same time, it is a beauty oil powerhouse loaded with key vitamins, minerals and antioxidants that will impart a natural and healthy glam glow to your skin.  It also helps to improve skin elasticity, soften wrinkles, reduces inflammation, increases blood and helps to maintain the right moisture and oil balance in your skin.
Rip & Tan: How do you plan to expand the brand from here?  What won't you do?
JK: Even though essential oils have been around for thousands of years, we have found that so many people don't fully understand all of their benefits and how to use them, whether it is through inhalation or topical applications. We are currently working on a new wellness beauty lifestyle blog to help address this. Our blog will be an educational resource for aromatherapy, essential oils and clean beauty, and will also provide stylized lifestyle inspiration and simple ideas to help people live well, to live with intention and to go 100% natural whenever possible. 
Our Relax blend is a homerun with our kids so we are in "development" with them for the ultimate kiddo essential oil blend. They crave the wind down ritual and the cool massage of the metal roller ball found in our roll-ons…especially at bedtime, and we want to make a super kid-friendly version with just the right dilution. 
We are also in the lab experimenting with a miracle lip balm, rejuvenating face oil and hydration face mist. We are getting such a positive response to our current product line up, but we also want to continue to address all beauty and wellness needs.
As we continue to expand our brand, we will always stay true to our commitment to never use synthetic fragrance, endocrine disruptors and carcinogens in any of our products at all costs. Your skin is your largest organ and we want only want it to experience 100% natural goodness. 
All of our aromatherapy collections are free of synthetics, artificial fragrances and dyes, parabens, sulfates, formaldehyde, phthalates, PEG, GMO, mineral oil, petroleum and fillers.  And always cruelty-free. 
Rip & Tan: What wellness or self-care ritual complements the line?
JF: Breathing and meditation complement our line are the most cost effective and accessible practices that have incredible benefits like improving energy, clarity and sleep and reducing stress. That's why we created our blends with the ethos Energy, Focus and Relax that have universal appeal. It's as simple as applying oils to common pulse points or even just in the palm of your hands, rubbing the oil to warm it and activate the aromatic molecules and then taking 5-10 deep breaths. The nose will instantly relay these positive scents to the brain with tremendous benefits.
At our launch party, we had a Qi Gong expert take us through Qi Gong movement breathing exercises with our Energy blend. It was so wild to see 100 ladies stop partying and use Campo to hone in on their breath. This is such a powerful opportunity to help the people ground themselves at any moment of the day, return to wellness through breathing and meditation. Staying in the moment will reduce stress and allow you to sleep more soundly.
We suggest a daily ritual of taking moments to apply our roll-on oils to key pulse points like the wrist and neck, taking care to rub the oils to warm them to activate the aromatic molecules.   We also love our body oil self-care ritual that includes warming the oil in the palm of your hands before application, breathing deeply into your palms and then giving yourself a little massage as you apply the oil to your body and set an intention. We love the Louise Hay intentions. You fill your "I AM________" (healthy, loved, blessed, grateful) and repeat it three times. Breathe in our products prior to each intention. Your body and mind will respond better than ever.
Rip & Tan: What do you hope all of your customers take the time to do in addition to using your products? 
JK: We hope our customers take time to hydrate, breathe deep and enjoy mini-mindful moments throughout each day.  We created all of our products for today's busy lifestyle in order to make it easy for people to weave the benefits of essential oils into their daily routines.  We encourage people to use our products as a trigger to help them remember to pause, to be present and to reset…to glow from the inside out.
Rip & Tan: Do you have any advice for friends who want to start their own business?
JF: Don't be afraid to put yourself out there. People are so afraid of not succeeding they get analysis paralysis and do nothing. Don't be afraid to ask for what you want and dream big. Don't be underfunded…80% of most companies fail not because they were not good ideas, but because they could not ride out cash flow, sales cycles and unforeseen expenses. 
Do plan ahead and hire good people before you are too crazy busy so you seek/attract talent and not mediocrity because you are desperate. Do write a mission statement. This may sound trite, but having a solid mission and vision is a critical success factor. It helps you stay on brand and focused so you can prioritize and make sound decisions. Do find a mentor and create an advisory board even if it is informal. It's priceless. Do manifest your dreams. It works!
When we first hatched our plan to launch Campo Beauty, Jenni Kayne was on our top target list! Hello positive thinking.
Rip & Tan: Tell us about your personal lives. What do you do in your free time? What are your respective hobbies? 
JK: Since before college and even during our LA party days, we have always had a shared love for all things domestic; baking, entertaining, knitting, and, of course, DIY beauty and blending our beloved essential oils. We both love fresh flowers, French fries, vino, caramel corn, music and impromptu dance parties with our friends and family. Growing up in Southern California, we are nostalgic for the intoxicating smell of orange blossoms in the spring, and that is why Neroli essential oil (magical, complex and coveted) is the secret sauce in all our products—it connects us and reminds us of home.
JF: I am a morning girl so I kick off each day with a trail run or spinning. I love girl time with my daughter Lauren (age 9) and my kick-ass Mom (GG/Gorgeous Grandma) riding horses, all forms of shopping, board games (from chess to Go Fish), and stealing time alone doing nothing with my husband, Justin. When I am not busy with my family or work family/Campo I can't pass up a great interior design/remodel project. 
JK:  When I am not running around with my twins, Cole and Avery (age 7), you will find me on the golf course with my patient husband, Clay, on the tennis court with my gal pals or playing around in my office with "my oils." I am a comfort girl to the core and cherish the rare quite weekend at home with my family and getting lost in a DIY project.  I am sucker for dogs of all shapes and sizes and have an insatiable appetite for learning new things.