Living
At Home with Solly Baby's Elle Rowley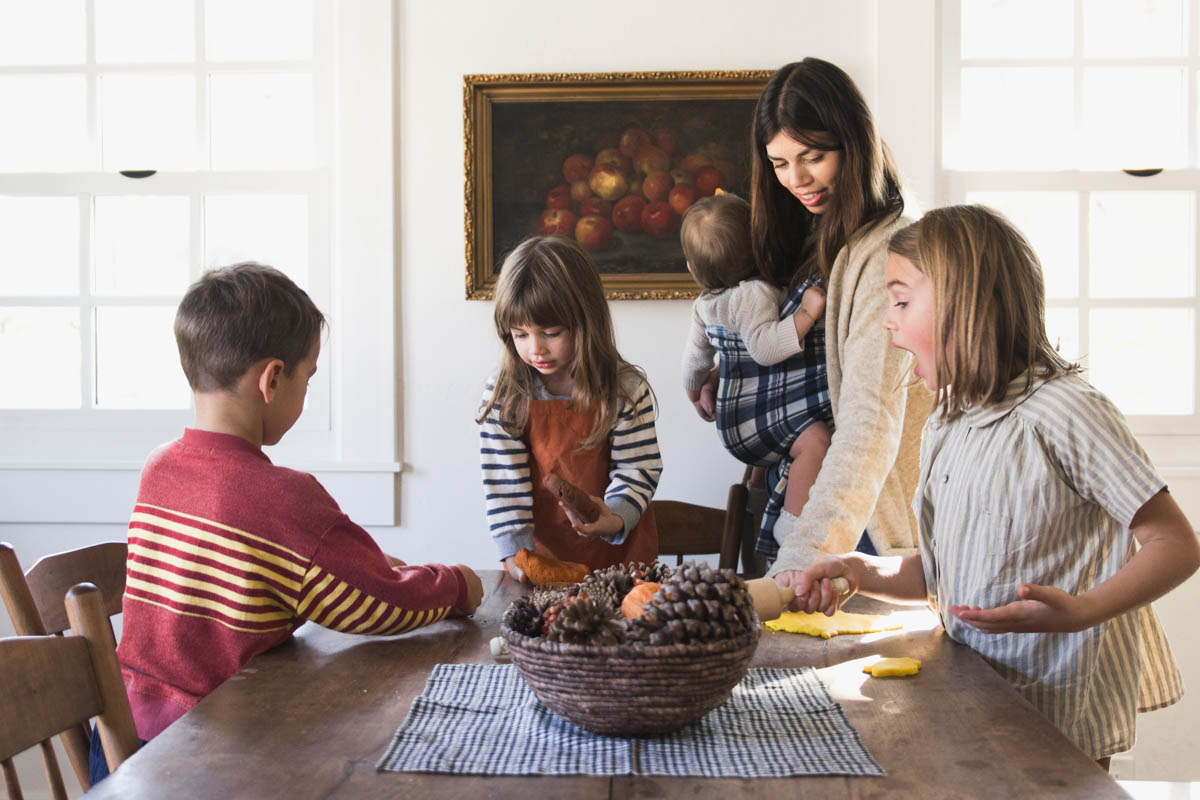 In honor of our just-launched collaboration with Solly Baby, and getting into the spirit of fall family gatherings, we recently spent the afternoon with Elle Rowley; Solly Baby's founder and a mother to four little ones. Elle's minimalist meets French country decorating style is warm yet modern, and her DIY skills are equally inspiring. We asked Elle to share one of her favorite fall family activities for the shoot, and she whipped up some homemade play-dough using a pantry basics and her favorite essential oils, herbs, and spices for a festive twist. 
After the DIY activity was finished, it was time for reading. Seeing Elle's sweet family huddled together over books reminds me of how wonderful those stay-at-home afternoons are. Reconnecting with your loved ones and unwinding from the work week is so important, whether you're in your own space, visiting family, or on a winter getaway. For Elle's play-dough recipe and more on her home, career, and personal style, check out our Q&A below. XXJKE  
Rip & Tan: How did you find your current home? What drew you to the space or locale?
Elle Rowley: We fell in love pretty instantly with our current home as soon as we saw mature trees and that it was on almost an acre, two things that are a rarity in North County San Diego. The home itself is also really functional and has a nice flow to it, which coming from a very charming but not quite functional Oregon farmhouse, we really appreciate.
Rip & Tan: What types of rehab/DIY projects have you taken on since you moved in?
ER: We purchased our home from realtors that had purchased it as a foreclosure and flipped the home pretty poorly. Still, we could tell the bones were really solid and it was just their finishings that needed to be swapped. We put in new wood floors, windows, and did a lot of painting. My husband went crazy on the landscaping. We thought we had hit a stopping point but then we had it painted white this last week. We can't stop.
Rip & Tan: How would you describe the décor? Where do most of your pieces come from?
ER: Our style is always somewhat eclectic. Our last home was a mix of Scandinavian rustic and mid-century modern, but we decided this home has such a storybook cottage feel, that we've pulled in a lot of art and antiques from the late 1800s/early 1900s.
Rip & Tan: What is your favorite space or object in the apartment?
ER: Our French farmhouse table. I love thinking about all the meals that have been eaten on it over the last 150 years.
Rip & Tan: What's your approach to organizing your kid's toys/books/stuff? How do you keep the chaos under control?
ER: Having a playroom has changed our world in terms of mess. They can keep "treasures" like shells from the beach, rocks, photos, etc. in their rooms but no toys. They still manage to make a mess of most things, but the toys generally stay pretty contained.
Rip & Tan: How do you tend to entertain? Who comes over and what do you do for them?
ER: We have family over for dinner a few times a month. I love making soups and bread for guests, especially around the holidays. I have to admit that, since having kids, it can sometimes feel overwhelming to invite friends over. I worry about not being able to juggle taking care of my guests and my kids, but I made a new goal to keep it simple and focused on connection rather than executing a picture-perfect dinner party. A little while ago, I even skipped dinner and planned a really simple dessert night where I literally just made some simple brownies, bought ice cream and invited a few families over for an after-dinner hangout. Our house had kids playing all over and the adults all hung out talking for hours. I think the casual approach to it made it easier for everyone to get to know each other better than a more formal get together.
Rip & Tan: Tell us about how Solly Baby has grown and evolved since you started it in 2011. Where did you start and where are you now?
ER: I started the business in Salt Lake City after making a wrap for my second baby, Solomon. I fell so in love with the experience that I wanted to share it with other women. Bringing this product together in a way that felt like a fashion accessory rather than baby gear was really inspiring to me aesthetically. Nobody saw baby wearing in this way at the time so we decided to connect the two worlds and release new lines seasonally, which got mothers excited not only about new prints and colors, but also to wear their babies.
Rip & Tan: What do you love about your job? What are some of the challenges?
ER: I love the stories. Choosing colors and working on the vision for the brand is really fun to me as well, but the stories of mothers wearing their little one's for the first time, especially in cases where bonding is an issue or postpartum depression or colic, situations where our wraps really come in handy, it's such an honor to have our product play a small role in those stories.
Rip & Tan: What inspired you to launch ARQ? 
ER: My sister-in-law and partner in ARQ, Abigail Quist is a brilliant designer. She has been making her family's clothes for years so I told her for years that as soon as she was ready, I would love to partner with her on a children's clothing line. After having her third and last child she told me it was time. I've just watched in awe as she has designed line after line. Her sense of aesthetic and brand is so consistent and so rooted in her values and lifestyle.
Rip & Tan: What are your goals for your career or business in the future?
ER: Working with mothers is definitely my space. I think mothers have been served on a superficial level for a long time, but largely ignored in a way that really meets their needs. I'm excited to continue to share stories in motherhood and to support mothers through our products.
Rip & Tan: What mantra or belief guides your work as a creative person and business owner?
ER: This quote from Oprah is everything to me, "Align your personality with your purpose, and no one can touch you."
Rip & Tan: Tell us about your wardrobe and personal style. What do you wear every day?
ER: I'm definitely a minimalist when it comes to my wardrobe. I'm most comfortable in Levi's, tee and cardigan with flats. If someone stole all of my shoes besides my D'Orsay flats and Birkenstocks I don't think I would notice for a several months.
Rip & Tan: What is your go-to look when you want to dress up and feel a bit glamorous?
ER: Because I so rarely dress up, heels and lipstick are all it takes!
Rip & Tan: What wellness or beauty ritual do you cherish?
ER: A long bath and a candle feels so luxurious after a long day.
Rip & Tan: What are your beauty staples? What do you buy over and over again?
ER: I use pretty much all Laura Mercier makeup and, although I try new skincare products often, Dr. Bronner's Pure Castille Soap and almond oil are my constants in terms of skincare.
Rip & Tan: How do you stay healthy and grounded? 
ER: Daily exercise and time by myself to recharge makes all the difference.
Oil and Spice Holiday Play-dough
·      1 cup flour
·      1 cup water
·      2 teaspoons cream of tartar
·      1/3 cup salt
·      1 tablespoon vegetable oil
·      food coloring
·      Create your own combo of essential oils, herbs, and spices. *optional 
Our favorite "holiday" add-in combos:
·      cinnamon and peppermint
·      vanilla and lavender
·      ginger and frankincense  
·      all-spice and orange
Instructions:
Mix all ingredients besides the food coloring and add-ins in a saucepan. Stir over low heat. As it thickens add your desired food coloring and "add-ins". Continuously stir until dough thickens. Remove from heat and form a loose ball with spoon on wax paper to cool. Store in sealed container.