Living
At Home with Beth Katz of Mt. Washington Pottery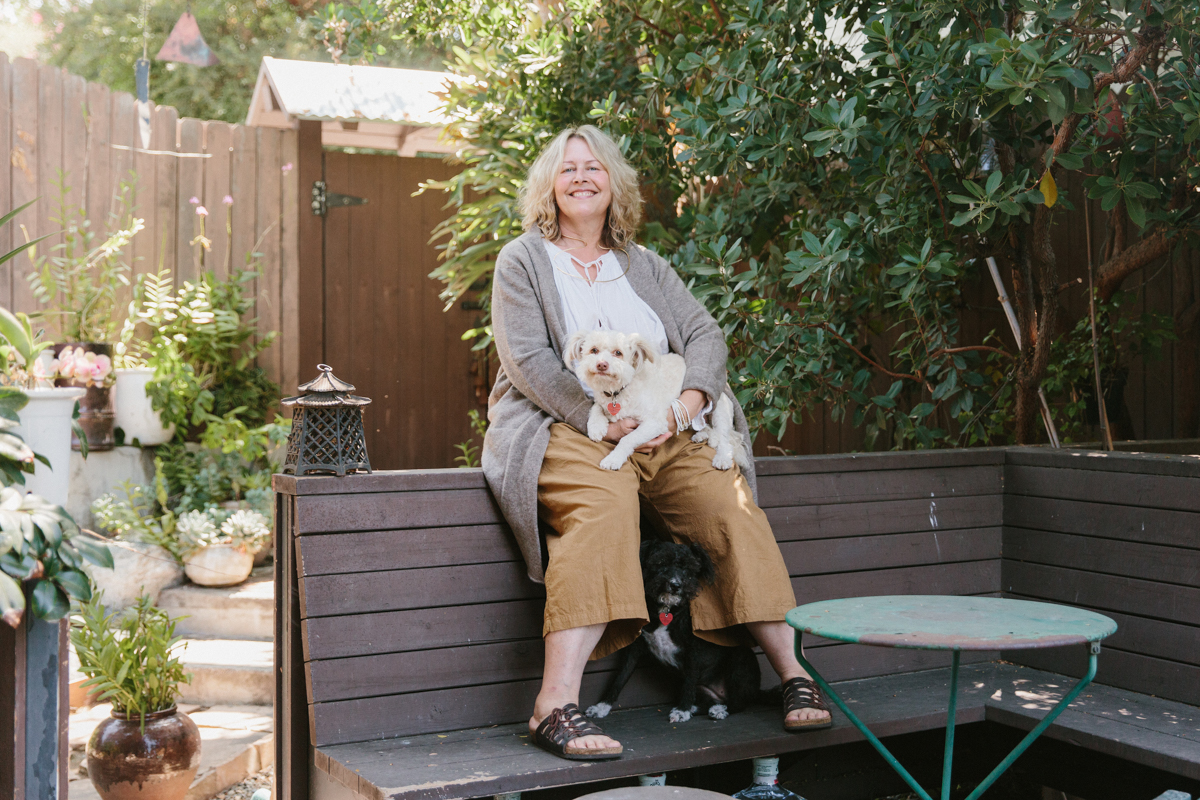 We started carrying Mt. Washington Pottery for the first time this summer but I've been a fan of Beth Katz's handmade pieces for a little while now. I love the earthy textures in her work, and her unique talisman wall hangings, which look beautiful in any entryway or small space. Tomorrow we'll be posting our interview with Beth on her career and craft as well as showing you her studio. Today, though, I wanted to share a bit about Beth on a personal level through a tour of her renovated, 1920's cottage and a Q&A with the ceramic artist on all things interior design and style. Beth's home is located in the hills of Mt. Washington, hence the name of her company, and is the coziest spot while still being very minimal. If you've got a soft spot for LA canyon homes like I do, you'll love this space. XXJKE
Rip & Tan: Tell us about your home. What drew you to the space and/or neighborhood?
Beth Katz: My house is like a beach house that got stuck up in the trees. Initially I was drawn to the hilly canyon aspect of Mt. Washington. While I was growing up we lived in Topanga Canyon and then Laurel Canyon. The narrow windy streets and the wild landscape felt instantly like home for me.
Rip & Tan: What renovations or DIY projects have you taken on since moving in?
BK: I added a few windows and French doors in the bedroom when I first moved in. It wasn't until the third year that I added a second floor and took the original house down to the studs, redoing almost everything. It's my understanding that originally it was a two room hunting/weekend cottage built by a woman and her daughter in 1924. By the time I got here the house was a mash up of crown molding and knotty pine. My design goal was to update the house to function as a modern home but to look like I imagined it would if I had built it in the 1920's.
Rip & Tan: How would you describe the decor? Where did you find most of your things?
BK: The décor is eclectic, a mixture of Japanese, Shaker and natural elements. The only requirement I have is that have to love something to bring it into the house. Friends and family have made all of the art and much of the furniture. I love to travel and I am guilty of bringing things home with me from places near and far. 
Rip & Tan: What is your favorite corner or room in the home and why?
BK: If I have to choose I'd say the back deck. It has a roof, screened windows, copper gutters and beautiful light all day.       
Rip & Tan: How do you tend to entertain here? Who comes over and what do you do or provide?
BK: I like to have people over for dinner. I love to cook and tend to want to do everything myself, from going to the flower market downtown for fresh flowers to creating something delicious for dessert. That said, I've started to do more pot-luck meals so I can relax and enjoy spending the time with my friends.
Rip & Tan: How far apart are your studio and home? How do you travel between them?
BK: My studio is five and half miles from my home. It takes me twenty minutes to drive there during the week and only ten minutes on the weekends. I'm looking at a new studio space that's even closer to home. I would love to be able to walk to work!
Rip & Tan: What are your favorite neighborhood spots? 
BK: There was not much in this area when I first moved here. Now there are so many great choices for everything. I love to eat at Yolk and Flour during the week and Amara Kitchen on the weekends.  And El Buen Gusto, the pupseria at the bottom of my hill.
Rip & Tan: How would you describe your personal style? What do you tend to live in?
BK: I love textiles and well constructed clothes but most importantly everything must be comfortable. I'm all about how things feel. Sandals, shifts, clogs, cardigans and pajama pants. I wear a combo of these everyday.
Rip & Tan: What do you wear when you need or want to dress up a bit?
BK: Rings and bracelets. I can't wear them when I'm throwing on the potter's wheel so wearing them feels dressed up.
Rip & Tan: What are some of your beauty staples?
BK: I like to keep it simple. I scrub my face with a Japanese linen washcloth and moisturize with organic jojoba oil.
 Rip & Tan: What beauty or wellness rituals do you stand behind?
BK: Drinking lots of water and stretching and walking every day.
 Rip & Tan: How do you stay healthy? 
BK: Getting enough sleep is key for me to stay healthy.