Food & Drink
An Interview with Canyon Coffee's Ally Walsh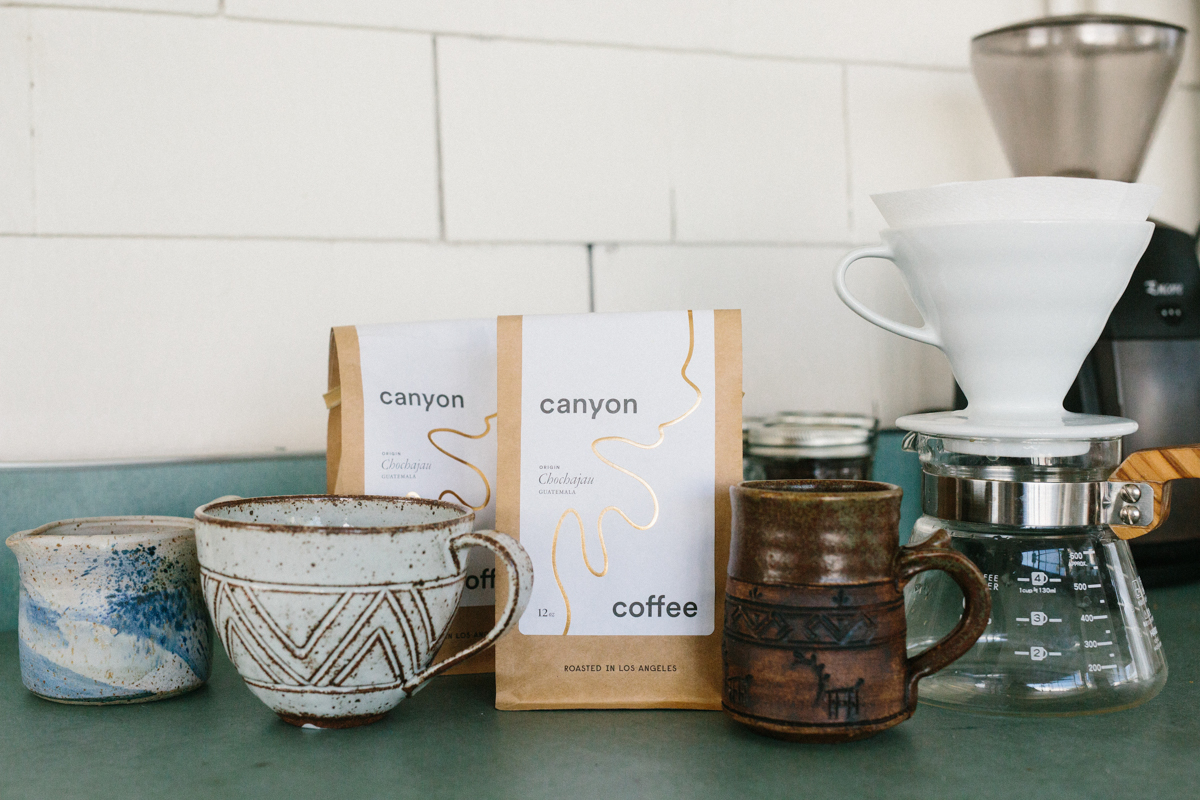 Yesterday, the stylish Ally Walsh shared her favorite ways to wear plaid this fall, but we couldn't miss the opportunity to talk to the globe-trotting model about her newest project; a coffee company she recently started with her musician/writer boyfriend, Casey Wojtalewicz.
Born from their shared love for the ritual of the morning cup, and the atmosphere of coffee shops all around the world, Canyon Coffee launched with one Guatemalan-grown, Los Angeles-roasted signature coffee, with new roasts in the pipeline for next year. Learn a little bit more about Ally and Canyon Coffee below, including her recipe for brewing a pour over for two. An important life skill, to be sure! To purchase Canyon Coffee, visit their website. XXJKE
Rip & Tan: What inspired you to start Canyon Coffee?
Ally Walsh: My boyfriend Casey and I love coffee. When we met, we were both traveling a lot for work, and we really started looking forward to those mornings when we'd finally be home together, making each other coffee. Meanwhile, checking out coffee roasters and shops became the focus of our travels, as well as our weekend adventures around LA. Casey started working in the coffee industry a couple years ago, and after becoming friends with a roaster, the idea came to us to start our own brand. We have to give credit to our friends. From the moment we started telling people about the idea, we received so much support and encouragement. They've helped motivate us the whole way. 
Rip & Tan: Where do you source your beans?
AW: We decided to choose a bean from Guatemala for our first coffee. We love the chocolatey flavor we've come to associate with Guatemalan coffees! For future coffees, we can taste and choose beans from anywhere in the world thanks to the network of the importer we work with.
Rip & Tan: What are your standards in terms of sustainability?
AW: We only choose organic beans—preferably from small farms, ideally cooperatives. We aim to pay higher-than-fair trade prices (fair trade just means 10¢ over market average, so if the industry average takes a dive, even fair trade prices be bad news for a farm).
To us, sustainability isn't just environmental—it's also economic and social. Our interest is not only to reward farms that prioritize eco-friendly practices, but to support a high quality of life for the workers who grow the beans and their families. As we grow, it's our goal to make direct connections with farms to foster stronger give-and-take relationships and help ensure we're sharing the wealth (and the love!)
Rip & Tan: What makes a great cup of coffee?
AW: When you have good beans, you're basically just trying not to mess them up! By good beans, we mean the ones that have been handled with care at every step of the process—during growth, harvest, shipment, roast, preparation and finally serving. This ties into the last question! Sustainability makes for great coffee.
Rip & Tan: What other coffee brands or coffee shops do you love?
AW: There are so many! I love Tandem Coffee Roasters in Portland, Maine, Satan's Coffee Corner in Barcelona, Menotti's in Venice, California, Sightglass & The Mill in San Francisco, Le Marche Saint George in Vancouver…this is a tough question! We're actually starting to make little coffee guides of our favorite shops from our travels to keep track of them all!
Rip & Tan: Do you have any coffee rules or rituals you believe in?
AW: I love one cup of black coffee in the morning! I really enjoy the process of making coffee at home.
Rip & Tan: How will you grow the Canyon Coffee business from here?
AW: Slow and organic; through word-of-mouth, collaborations with friends, and people we trust, and aligning ourselves with brands we love and resonate with.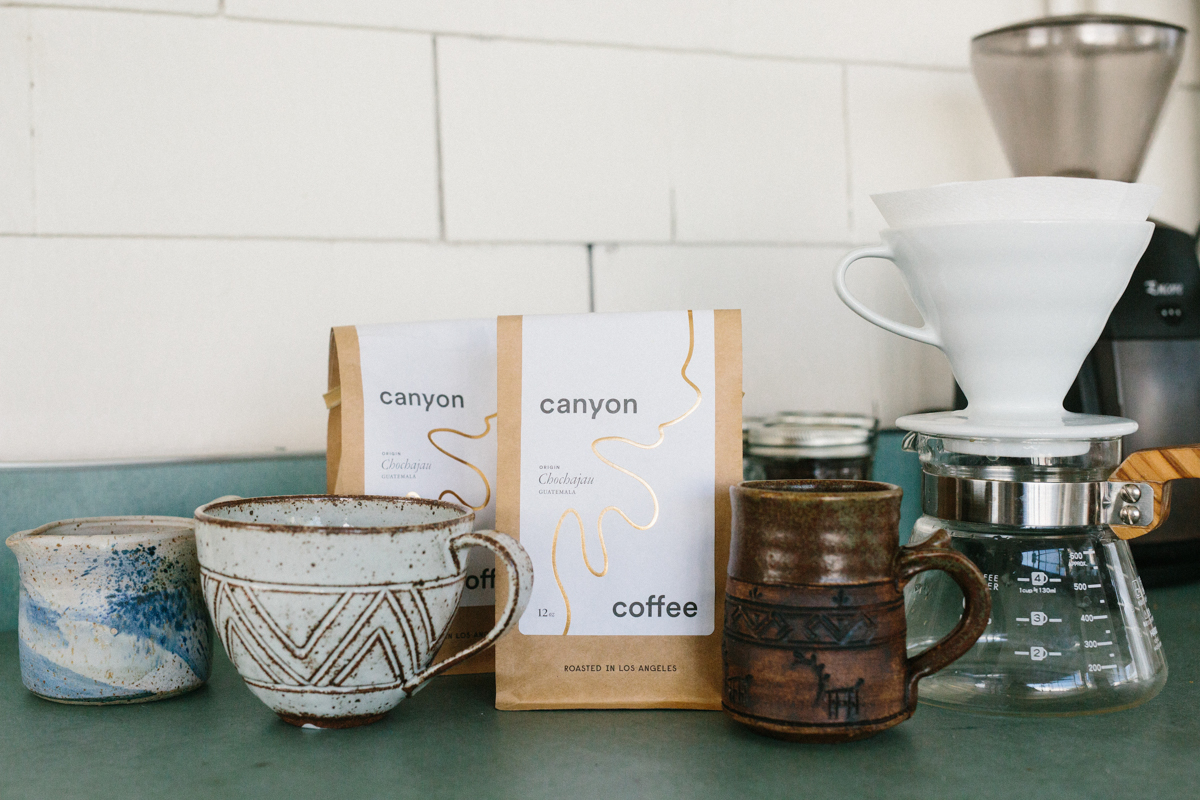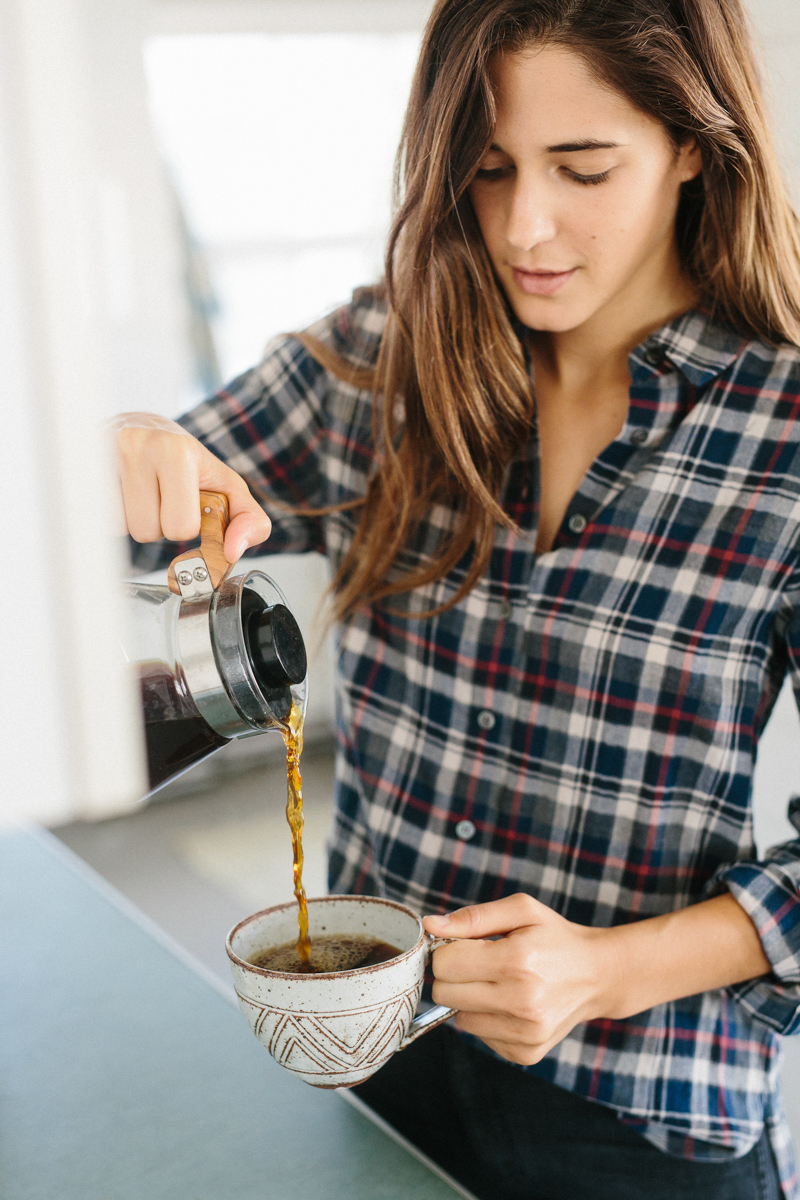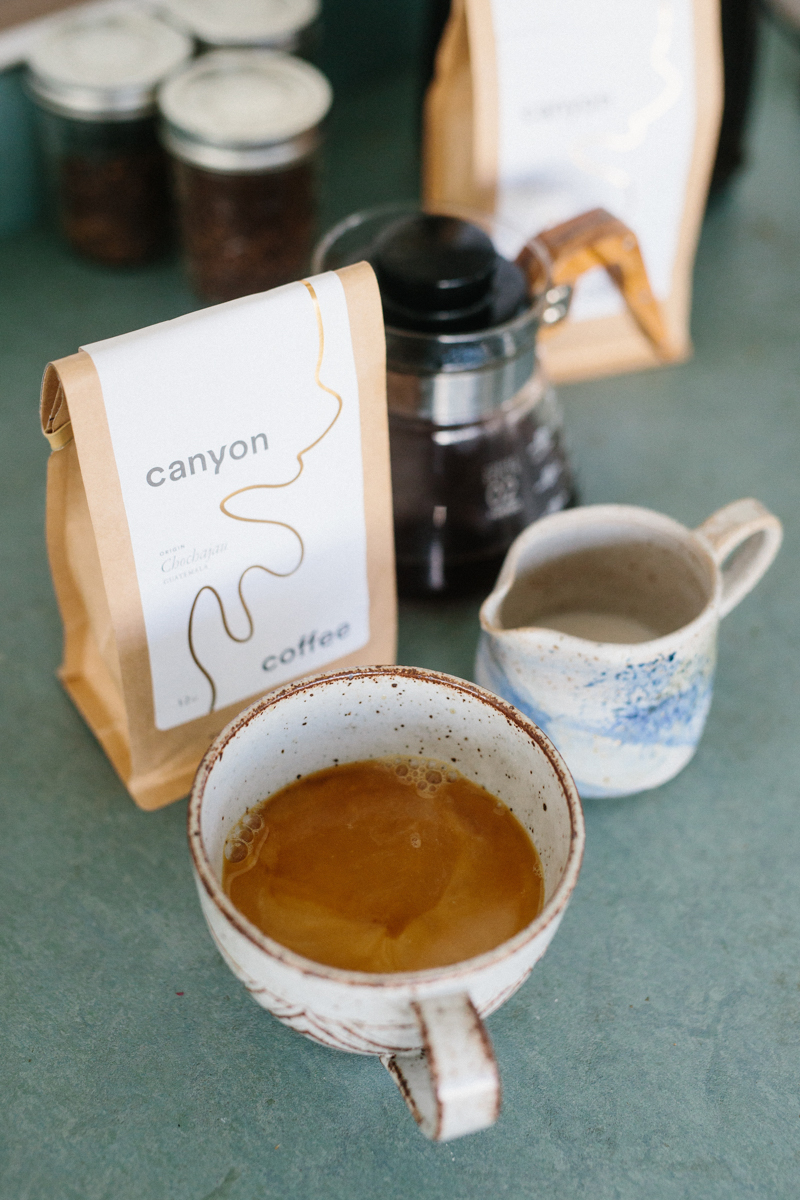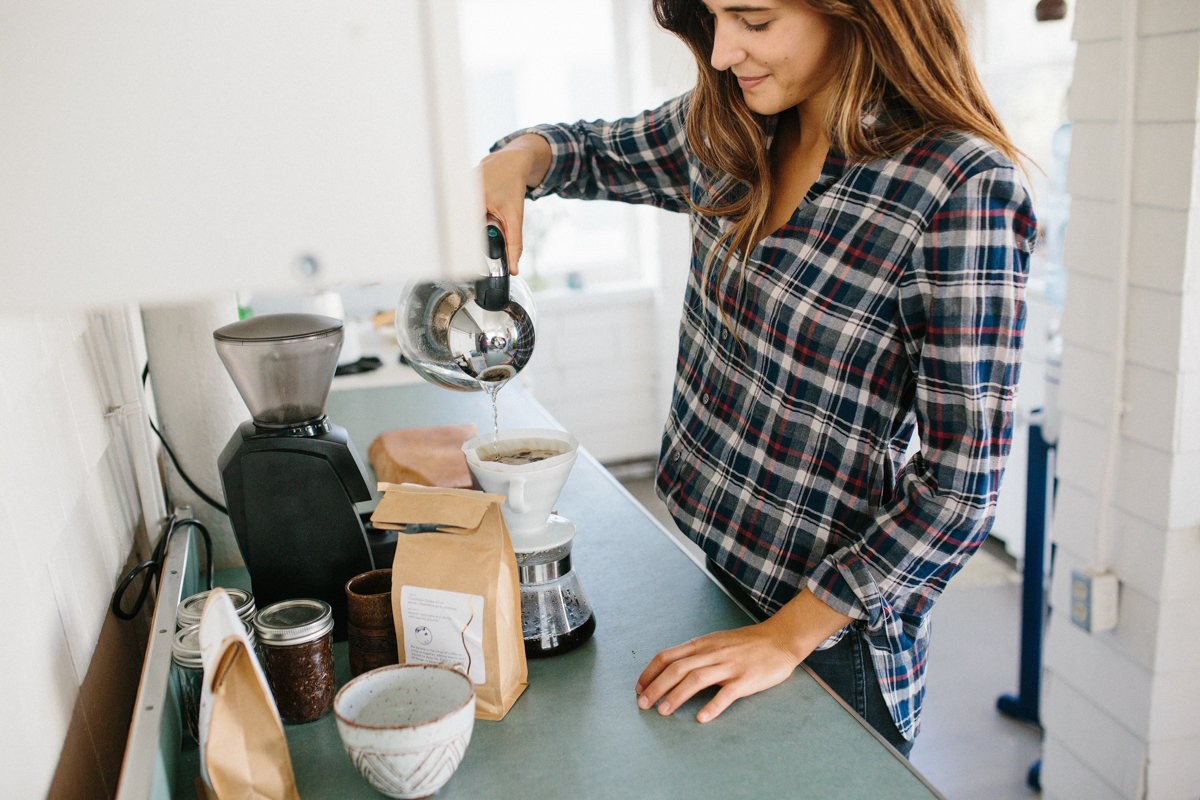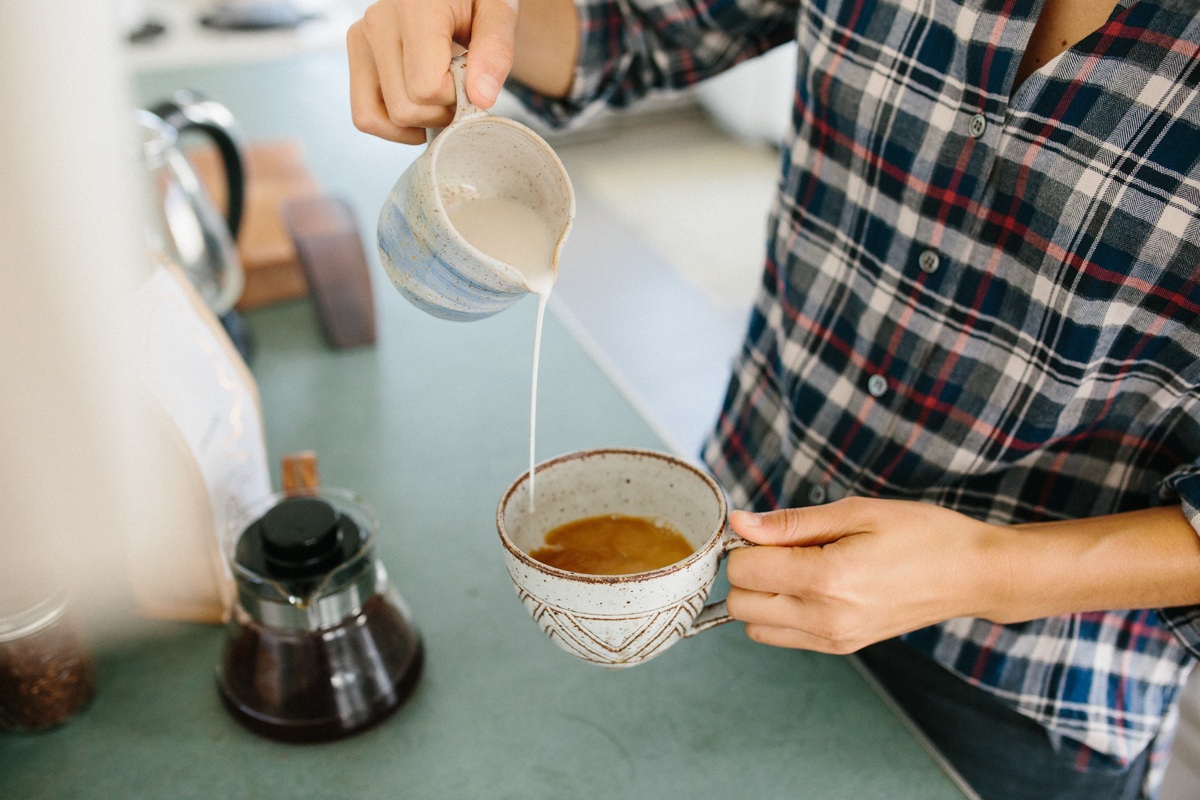 Recipe
A Pour Over for Two
Servings: Makes 2 big cups of coffee
Units:
Ingredients
Canyon Coffee beans
V60 Pour Over Dripper
V-60 Filter
Hario server (optional)
Kettle
Grinder
1. Bring 4 cups of water to a boil.
2. Place a filter in the dripper, and lightly pour water, just enough to wet the entire filter. When you are finished, dispose the water in the bottom of the dripper.
3. Grind 4 tbsp of Canyon Coffee beans so they're somewhat coarse (about medium grind).
4. Add the ground coffee to the filter. With your finger, make a small hole in the center.
5. Start to lightly pour water into the center of the grounds, moving slowly in a circular toward the rim of the filter.
6. Once all the grounds are wet, stop and wait 30 seconds to let the beans "bloom."
7. Once all the water is drained, begin slowly pouring more—again, from the center; and out towards the rim.
8. Continue this until the Hario server is full to the 4 cup mark.
9. Enjoy black, as Ally prefers it, or add a bit of almond milk.