Living
A Tour of Florist Lisa Przystup's New York Farmhouse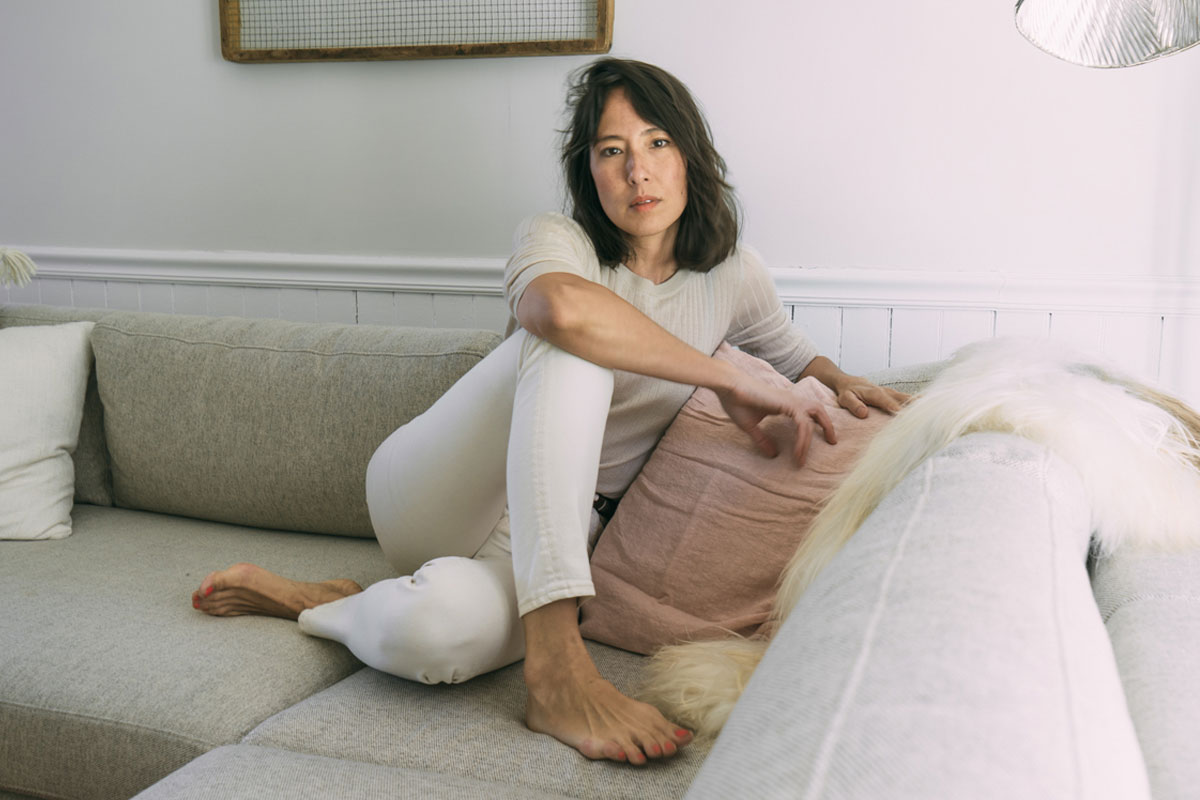 I love a good home tour, but I have a special sweet spot for seeing people's weekend retreats. These spaces tend to be really unique and pared down in way that I find so beautiful. Plus, when you know the owner spends most of their time relaxing and living life in an easy and simple way while in the house, I think it instantly endears you to the space. A perfect example of this is florist and writer Lisa Przystup's upstate New York farmhouse, which she shares with her husband. You can feel the calm, creative, dreamy energy of the home as soon as you see it. I love how pared down it is, with beautiful white walls, earthy textures, natural light, and—of course—florals everywhere. 
See all of the photos and read our Q&A with Lisa below. Between her entertaining home renovation stories, down-to-earth outlook on career, and intrinsic sense of style, I know you'll love her! XXJKE
Rip & Tan: What inspired you to buy this house? What do you love about it?
Lisa Przystup: My husband and I were looking for an escape from noisy 3am garbage pickups, packed subway cars, and poorly insulated (not temperature-wise but sound-wise) apartment buildings. He went to school in upstate New York and the Catskills has always been our happy place. We looked at 17 houses before we found this one—it's a beautiful 1800's farmhouse that sits at the top of a hill at the end of a long, winding driveway (which is very romantic in the summer but winters are a nightmare).  
I love that it belongs to us. That it's totally ours. It's our first home so it still feels surreal that we own this home that sits on this specific special slice of the world. I love that we can't hear a thing but the birds and the coyotes and the frogs.
Lisa Przystup: What type of rehab/DIY projects have you taken on since you moved in?
LP: We painted the wood floors white—painted almost everything for that matter. I'm a sucker for a good whitewash—it breathes new life into everything and makes rooms feel fresh and bright and new.
The kitchen and one of the bedrooms had these terrible acoustic tiles—my husband and a friend of his spent a weekend putting up tongue-and-groove boards on the kitchen ceiling, which was painstaking to say the least. We also hung canvas to cover up the same acoustic tiles in one of the bedrooms.
We knocked out a wall around our chimney to open up the room and I've got to say, demo-ing feels really, really good—very cathartic—it could save you a lot of money on therapy. We'll be redoing our whole front porch this summer—we (and by we, I mean our home inspector) somehow completely missed that it was crooked as a politician.
We also put shelves in the kitchen, spray painted a bedframe black (indoors on the aforementioned newly painted white floors—bad idea), and painted the stairs and railings too.
Rip & Tan: How would you describe the décor? Where do most of your pieces come from?
LP: Minimalist by default. We had a lot of pieces that we ferreted away and kept in storage but even with all those we still need more—turns out, filling a three-bedroom farmhouse is no small feat.  I guess if I had to land on something I'd say our aesthetic is rustic farmhouse with modern touches here and there. I really love the look of juxtaposing rustic, weathered pieces with a more modern aesthetic—it feels unexpected but also somehow looks perfectly natural. 
Most of our pieces have been thrifted from stores or Craigslist. I've been writing a journal about our renovation experience for West Elm so we have quite a few pieces from there as well.
Rip & Tan: What is your favorite room, corner, or object in the space?
LP: Right now the kitchen is my favorite. We just finished painting the walls bright white and as I mentioned, just finished putting up the tongue-and-groove board ceiling—we left the pine wood unfinished and I love the texture and warmth it gives the room. The cane Bentwood chairs in the kitchen were a Craigslist score and make me so, so happy.  
As far as objects go we found this amazing oversized antique wood rosary and woven basket on a trip to Tucson this past May and I'm pretty much head over heels about them.
Rip & Tan: How do you tend to entertain here? Who comes over and what do you do for them?
LP: When we bought the house we talked about how we wanted an open door policy in our home—it's so nice to be able to host friends from the city as well as both our families. The more people that have passed through for a weekend stay, the more our house feels like a home. Entertaining is a super laid-back affair; something about being upstate makes it so. We usually just put on some good music, cook a simple dinner, and pour some mescal. My husband used to bartend so he'll often whip up a cocktail or two, which is always such a treat. This will be our first summer in the house so we're really looking forward to crickets and dinners and drinks on the porch and building a fire pit.
Rip & Tan: Tell us about your career as a writer and florist. How did you end up in these two fields simultaneously?
LP: It sort of happened randomly. I was pursuing a career in New York as a freelance writer, which I discovered is a Sisyphean task of epic proportions. Also: it doesn't pay well (or at all really). I sort of hit a wall with pitching and following up and basically feeling like a pathetic dog scratching at editor's back doors so I took a break. That industry is so tough—the turnover rate at publications is so high that by the time you 1. establish a connection with an editor, 2. manage to sell them on one of your 15 pitches and 3. have the pitch pass muster with the rest of the staff you're getting an email from that editor saying that they're leaving the publication. It's brutal. The floral world is tough too but for different reasons that I didn't know about when I got into it. I had just written a piece for New York Magazine's The Cut about florists and their sartorial/floral styles and I thought, "This seems like fun…maybe I'll try." It wasn't the most solid business plan. But I started playing around with blooms and found that I really enjoyed it. I'd take advantage of our frequent trips upstate to clip and arrange wildflowers I found in yards and roadsides and when I was in the city I'd treat myself to more expensive stems and combine them with bodega blooms to teach myself about creating shape and lines. Then I started using all my connections that I used to pitch stories to and started pitching flowers instead. As soon as I felt like I was hitting a stride florally, I was presented with the opportunity to actually make some money writing. It felt like that moment when you finally get over an ex and he calls you saying that he wants you back. I decided to try to do both and it's worked out pretty well. Right now writing is a priority and I do flowers on the side so it's more of an 80/20 breakdown. 
Rip & Tan: How would you describe your floral arrangements? What is your signature style?
LP: Loose and wild. Ever-evolving.
Rip & Tan: What is inspiring your work right now whether in writing or florals?
LP: I'm reading a wonderful book called "Between Them" by Richard Ford—it's a frank and beautiful remembering of his parents. I'm sort of fixated on the idea of family these days. That (and this is the answer I've been giving for pretty much a year now) I really want to finish reading East of Eden—such epic, beautiful language and story.  
Florally, I'm digging the idea of making arrangements from foraged things.
Rip & Tan: What is your typical (or "perfect") work day like from start to finish?
LP: Oooh. A perfect work day for me would be a small, low overhead floral gig followed by a late afternoon reading and writing session. 
Rip & Tan: What goals do you have for your career in the future?
LP: Always a hard question. I'd really love to focus more on personal writing projects—work on something that really, truly inspires and feeds me.  That and grow a flower garden at our house.
Rip & Tan: Tell us about your wardrobe and personal style. What do you wear every day?
LP: Some variation of jeans and a t-shirt. I was so happy when my default setting started to pass as an intentional style choice—I plan on riding that wave as long as I can. Also: anything high-waisted. I've been gravitating towards vintage minimalist pieces lately and have been known to buy an ill-advised avant garde item (or two) that I wear once and promptly put away and never wear again.
Rip & Tan: What is your go-to look when you want to dress up and feel a bit glamorous?
LP: A little bit of a heel, the perfect orange-y red blotted lip, rose perfume oil, and a tan (achieved with SPF of course).
Rip & Tan: What wellness or beauty ritual do you cherish?
LP: Burning Palo Santo wood and sweetgrass. A good clay facemask.
Rip & Tan: What are your beauty staples? What do you buy over and over again?
LP: Chapstick, matte bronzer, blot powder, and face oil. 
Rip & Tan: How do you unwind at the end of a long day?
LP: Take off the clothes I've been wearing all day, sit on the floor in a t-shirt and underwear in that one patch of sun that finds our kitchen in Brooklyn every night around 6 and have a glass of ice cold wine with my husband while we talk about our days.
Rip & Tan: How do you stay fit and healthy? What diet and/or exercise habits do you believe in?
LP: I was doing Ballet Beautiful regularly for years but feel off the wagon this past fall. I'd really love to get into a regular pilates/yoga regimen. My diet is pretty light and healthy (save for all the chocolate). I tend to gravitate more towards fresh vegetables and lighter cuisines like Japanese or Mediterranean. Now that we have this house upstate we're surrounded by a strong farming community and I'm hoping to take advantage of working with those ingredients.