Living
A Tour of Ann Stephenson's Historic Fire Island A-Frame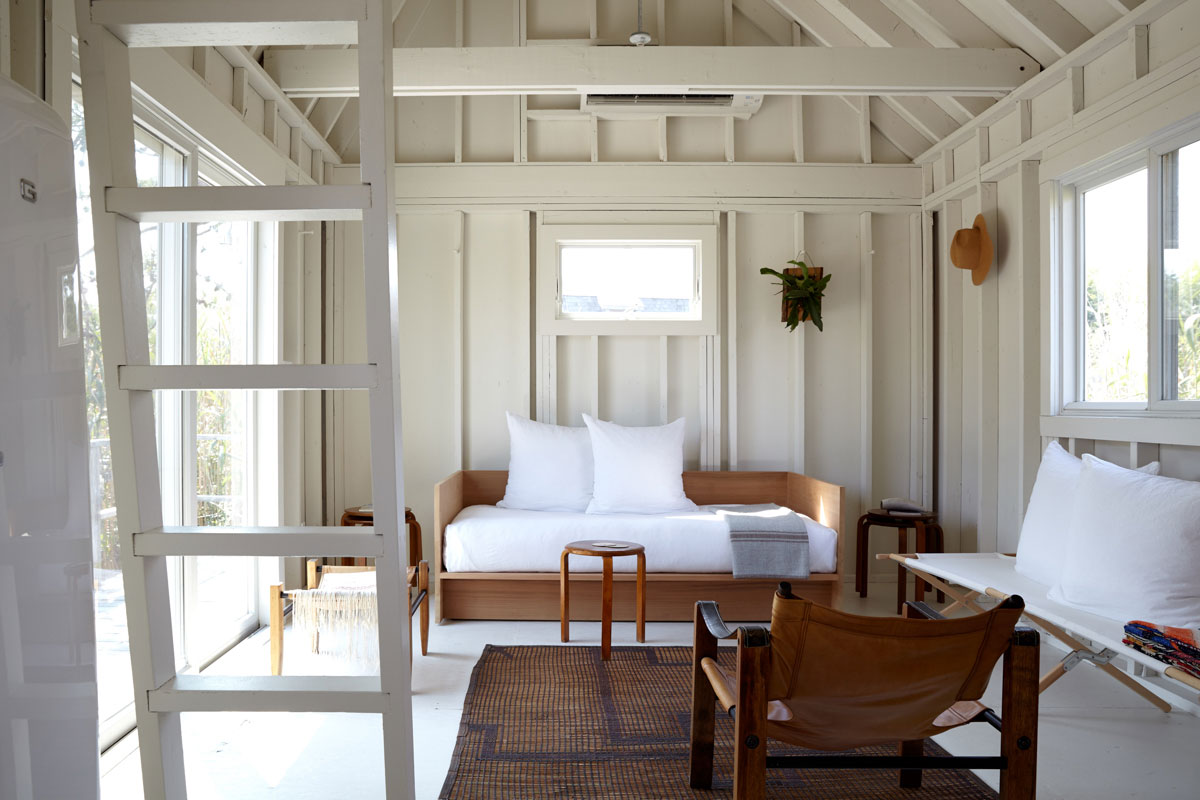 Fire Island in New York is one of those special vacation destinations people tend to visit and immediately fall in love with. Of course, it also has a community of locals who have lived there for years, even generations. After spending some time on the island, Ann Stephenson and her partner Lori Scacco purchased their tiny but beautiful A-frame cottage from the family who built it in 1945. They have since lovingly renovated and restored the space, adding fresh white paint and updating the kitchen, and decorated it in a spare, rustic aesthetic that suits both the locale and layout. When I saw photos of their space on Remodelista, I knew I had to talk with Ann about the renovation process, Fire Island community, her career in interior design, and more. I hope you enjoy this dreamy summer home tour as much as I did! XXJKE 
Rip & Tan: What drew you to Fire Island and this specific home?
Ann Stephenson: Fire Island has such an important, vibrant, and varied history that my girlfriend (composer Lori Scacco) and I have always celebrated. I had spent time there in my 20's and when looking into rental options over fifteen years later, we literally stumbled upon our peculiar house and fell in love with it. We weren't setting out to buy a house but everything lined up organically once we laid eyes on it. The off-kilter roof line, the old-school salty rusticity of it, and the beautiful land it sits on won us over. We kept the name Far House that the previous owners had defined—the house and land had been in their family for several generations, and was originally powered from a windmill.
Rip & Tan: Tell us about the process of updating the house. What were the main projects?
AS: We wanted to preserve all the fundamentals of the house architecturally, but also draw them out further and remove any flourishes that had been added over time. We stripped all extraneous wood out so that only original beams and rafters remained. Beyond that the house was in dire need of TLC. We installed a new roof on an outer shed, several new windows, and a new full glass door to bring the light in. We made several bathroom upgrades, painted everything including the floor, and built a completely new galley kitchen. We rewired the electrical, installed an efficient heating and cooling system and ceiling fan, and added new lighting and hardware throughout. We refit the small space with more efficient shelving and customized interior doors.
Rip & Tan: What is your favorite aspect of the house and why?
AS: I love the way our house feels like an enchanted houseboat. We are midway between the ocean and the bay and it is incredibly soothing and restorative listening to the waves breaking nearby, or watching the tall reeds blow in the wind and dapple the light. I also love the quality of time it provides Lori and me, far away from the pace of our city lives.
Rip & Tan: Where did you find some of your favorite décor elements in the space?
AS: We have a lot of vintage elements that came from a variety of sources over time—a collection of Aalto stools, a Willy Guhl planter, a cot, and an old safari chair from my family that we refinished.
We have a lot of brass elements that came from Sir Madam, which is a brand that Aesthetic Movement conceived of and designs in house. Sir Madam also makes the best caftans I've ever found in a variety of colors; I pretty much live in them on Fire Island. There's a sleeping caftan, a messy working caftan, a beach caftan, and a glamour caftan!
We recently added a pair of stunning Steltman chairs based on the Rietveld design, handmade by my wonderful stepfather. They fit in seamlessly and feel like a natural extension of the architecture.  
Rip & Tan: What decorating or architectural lessons did you learn from renovating this house?
AS: 1. That shaker peg rails are a revelation—we have them running on several walls throughout the space and, 2., that making decisions with awareness of spatial relationships and scale will always create the best results and feeling to a space. We learned a lot from looking at and reading Judd.
Rip & Tan: How do you use the home? How do you entertain here?
AS: I am a poet and run the small press Tent Editions, and our house definitely functions as a writing and editing retreat for me at times. Lori similarly sketches out new projects here. Our schedules are such that we can go weeks in the city hardly connecting, so the house provides an incredible space to soak each other up. We love each other a lot but we also like each other's company, which is convenient! No one makes me laugh harder or makes the day more fun. We also love having friends out and getting cozy in our small space – it really beautifully defines the quality of time together. It's always about eating great food together, telling stories, and exploring some new part of the island. Our deck area is actually quite large and we have a few bier garden tables we line up for a grand feast with friends.
Rip & Tan: What are some of your favorite places or things to do in Fire Island when you're not at home?
AS: Hands down, we most enjoy soaking up the stories of Fire Island and those who have helped define it, and particularly its gay history is immensely important to us. We live in an area surrounded by people who live on the island year round, or who literally grew up on the island, or who have been coming here since they were children. There are endless stories and worlds of knowledge that we eagerly devour. I'm slowly starting the process of documenting these oral histories. We feel very connected to this place at a cellular level. Fire Island is narrow, but long at about 31 miles. We love walking along the beach to other communities and exploring along the way. We start each day asking ourselves what our adventure will be, and in which direction will we go to find it.
Rip & Tan: What are you reading, watching, and listening to right now?
AS: Reading: I'm about to dig into John Ashbery's long anticipated biography The Songs We Know Best: John Ashbery's Early Life by Karin Roffman. I'm also loving Alan Felsenthal's Lowly from the excellent publisher Ugly Duckling Presse. James Schuyler and Lorine Niedecker are two poet constants for me, so I am always returning to their work.
Watching:  I'm all in for the Twin Peaks return!! And I love all things Masterpiece Theater on PBS.
Listening:  Most mornings at Far House begin with Brian Eno's Music for Airports or Discreet Music. I'm also pleasantly surprised by how much I love the new Slowdive record; their first in 22 years. I also have the pleasure of getting to listen to Lori's new songs from her next in-progress record as they're created. Her music is transformative and sounds so incredibly good in this environment.
Rip & Tan: Tell us about your career path and educational background. What did you set out to do and how did that lead you to where you are now?
AS: I am a poet and studied literature in college. I went to graduate school for writing, but never pursued the academic path in my work life. I have always had an intense love of design, interiors, and architecture and had the very distinct honor of working with the insanely talented creative director and editor Michael Reynolds for 6+ years. I ran his production, shooting ad campaigns, interior projects, or conceptualizing ideas from his visual genius and bringing them to life. I received the most incredible and treasured education from Michael. Mayer Rus, West Coast editor of Architectural Digest, once referred to Michael as "the Oracle of Delphi of the style world," and I couldn't agree more. I then went on to my current role with Aesthetic Movement working alongside another talented visionary Jesse James. And I'm not one to dole out flattery for sport. I am sincerely grateful to have the opportunity to work with such amazing people, dear friends, and immense talent.  
Rip & Tan: What does Aesthetic Movement do as a company and what is your role there?
AS: Aesthetic Movement is a design studio, brand consultancy, and product representation firm started by Jesse in 2010. We focus on the broad home and lifestyle retail landscape and represent brands such as Chilewich, Fishs Eddy, Minor History, and Sir Madam, among many others. I work as one of our Sales Directors and manage an assortment of our brands.
Rip & Tan: What do you love about your job? What is most challenging?
AS: We have an incredible team that truly feels like a family, where everyone has immense respect for each person's specific role and what everyone brings to the overall process. I have never seen a company be so successful in that specific aspect, and that comes directly from Jesse's approach. I also love being able to see the 360-degree scope of our design process from inception to the end user, whether it's a product or a retail concept or a store design. It can be a challenge to keep up with the pace and our tradeshow cycles, but both those things also function as driving forces. 
On the poetry and publishing front I'm very grateful and honored to have received a 2017 New York Foundation for the Arts Fellowship in Poetry. I'm so excited by the opportunity this affords me for Tent Editions and upcoming and future publishing projects for incredible poetry. I absolutely love and cherish this part of what I do. 
Rip & Tan: How does your work schedule jive with your Fire Island tradition? Do you work from the island or take time off?
AS: As new homeowners, our vacations will be rooted on Fire Island for many years to come, which is fine by us! Our home is not fully winterized so we close it up in November and reopen the house in April, and take advantage of every weekend possible within. The time spent on Fire Island definitely helps to reset and rebalance me for my work life. And Lori and I both love the seasonality of it, and that upon closing the house we can then recommit to the city that we love so much. 
Rip & Tan: Tell us about your idea of the perfect work day. What is your schedule like and what is the atmosphere in your space?
AS: Aesthetic Movement days are quite dense, but the best days are the ones where I feel that I have made a bit of a positive difference for the people I work with, whether internally in our NY office or for our team of lovely sales associates working across the country. My days are a balance of meetings, calls, and computer time—and the most ideal version of that is where one of those doesn't outweigh all the others. Our flagship showroom and design studio is in a beautiful old cigar factory in Long Island City; it's an inspiring atmosphere to be in as there are always lively discussions happening and interesting people coming through. 
Rip & Tan: What is your professional mantra? What overarching belief guides your work?
AS: Honestly there is no separation between mantras that I refer to creatively, personally or professionally. "Find the lesson" and "keep the channel open" are two that I find myself conjuring often. The latter is from a widely known and celebrated quote from Martha Graham that is hugely important to me. Poetry helps keep the channel open.
"There is a vitality, a life force, a quickening that is translated through you into action, and because there is only one of you in all time, this expression is unique. And if you block it, it will never exist through any other medium and be lost. The world will not have it. It is not your business to determine how good it is, nor how valuable it is, nor how it compares with other expressions. It is your business to keep it yours clearly and directly, to keep the channel open. You do not even have to believe in yourself or your work. You have to keep open and aware directly to the urges that motivate YOU. Keep the channel open."