Living
3 Steps to an Organized Pantry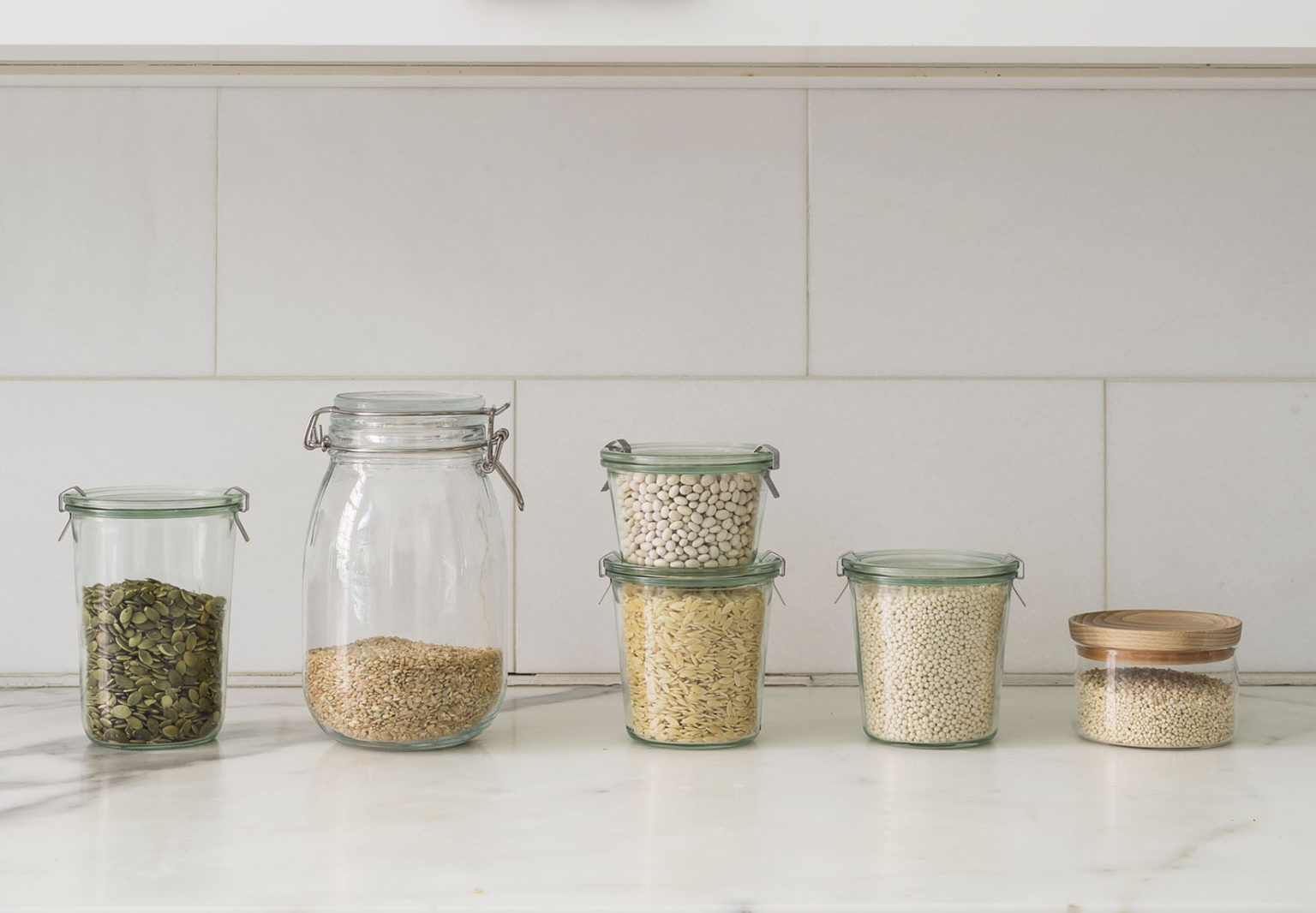 January is the month to reset and recalibrate. Resolutions are promises you make to yourself in the spirit of living and feeling better—we like starting off with small adjustments to our daily habits. From paring down our closets to finding clever solutions for household routines, eliminating excess and embracing essentials brings clarity and focus to start the year off right. The Organized Home (from the editors of Remodelista and Gardenista) is one of our favorite resources to find household storage solutions. Inspired by their pantry reorganization, replete with mix-and-match glass jars and easy visual guides, we compiled a few of our own tips to create a beautifully efficient kitchen:
Minimize
Take inventory. Making a list of the pantry essentials you use most often will help prioritize shelf space and shop smarter. Note that some raw nuts, seeds, and other goods found in the bulk aisle should be refrigerated (chia seeds, hemp seeds, almond meal and wheat germ, for example, should never be kept in the pantry or cupboard). Get rid of items that may be expired to make room for new, fresh staples.
Organize
One way of organizing a pantry is by the principle of grouping like with like: baking supplies live on one shelf, kids' snacks on another, and baskets on the bottom shelf hold bulky bagged goods. You can move your most-used items like cooking oils or quick breakfast foods towards the front for easy access. Using glass jars for dry legumes, flours and grains makes restocking easy: being able to see how much of everything you have on hand means no more overbuying. We use jars of all sizes—Weck and Ball are classics—but you can also repurpose old jelly jars and get creative with what you have.
Visualize
An organized pantry is intuitive, pragmatic, and easy to navigate. Use washi tape to color code and label your jars—marking each item with date of storage is a simple visual tool to understanding your household's habits and knowing when to replenish. Remember to change out the label with a new date each time you refill your jars. You can also label your shelves if you prefer to section your pantry by purpose—we love erasable chalk labels for their versatility.
Having a pantry that's not only easy to access but pleasing to look at will make you love your kitchen just a little bit more. Simplifying your space creates an important foundation that makes spending time in the kitchen a little more special. The organized pantry frees your space from clutter and chaos, From brown bag lunches to Sunday suppers, the organized pantry omits clutter and chaos, making room for a more mindful mealtime. XXJKE