Food & Drink
This is the Summer Menu We've All Been Waiting For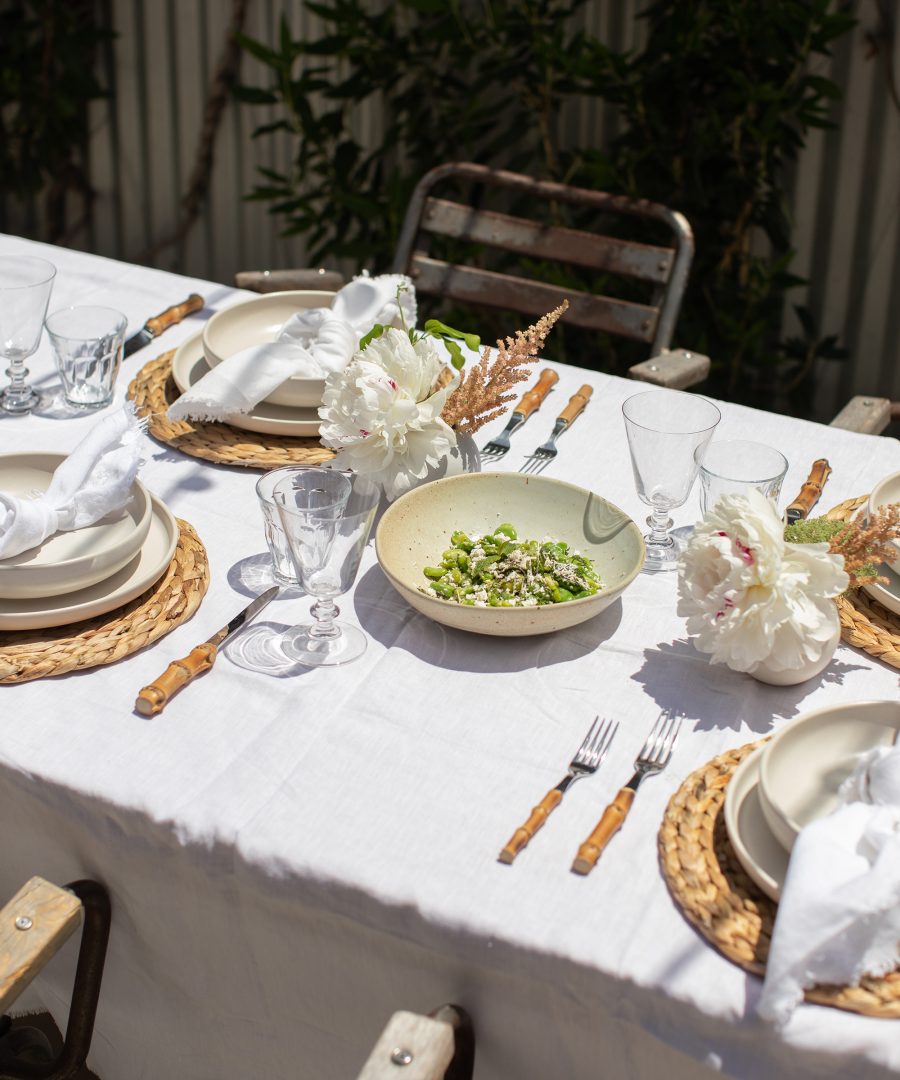 There's nothing quite like the simple joy of hosting a backyard summer gathering. With the table set with relaxed linens and timeless dinnerware, the playlist queued, and all the details accounted for, there comes the most important element: the menu. In our search for the best summer recipes, we enlisted chef
Olivia Muniak
of
La Cura
for a menu that's equally effortless and delicious. Fair warning: every guest is guaranteed to come back for more.
Rip & Tan: Tell us a bit about your career trajectory. What's the story behind La Cura?    

Olivia Muniak: La Cura is a full-service event & catering company. Gatherings small or grand and everything in between, we cook, coordinate and design your event. My philosophy was simple: good food and great company make an unforgettable event. 

It all started with a supper club. When I moved back to Los Angeles in 2017, I met a lot of wonderful new people, but connections were fleeting. I was craving environments that could support real conversation, unhurried enjoyment, a place where we could linger. Despite my best efforts, I couldn't find those opportunities—so I created them. The supper club is a sit-down, family-style meal for 20-30 guests hosted throughout Los Angeles.

A little background: I was working as an event producer for Moet Hennessy, I had moved into my first home and was hosting friends for dinners that were becoming more and more elaborate, and then the idea came to me. I applied everything I knew from building out brand events, with my love of cooking and hosting. Shortly after its launch, I began getting inquiries to cater private events. 

In addition to the catering & events and supper club, La Cura was designed to be a creative platform where I could share how cooking, beautiful, seasonal food is actually really easy. People are often intimidated about entertaining and I want to show them how to do it with grace and ease.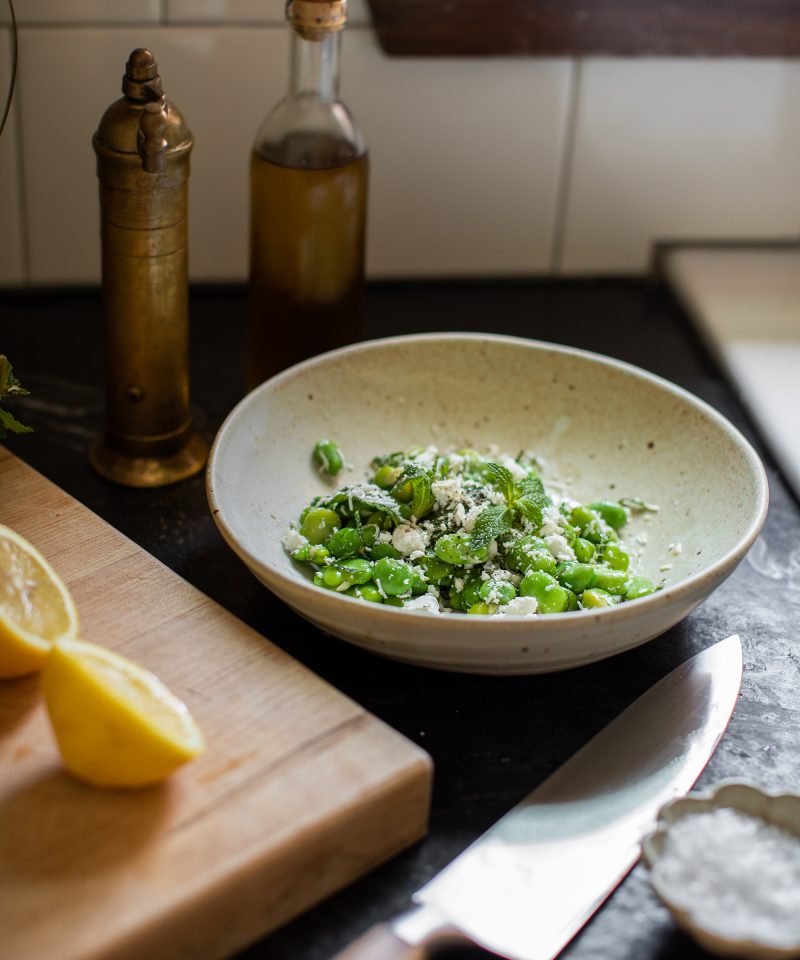 Rip & Tan: Where does your love of cooking stem from?

Olivia Muniak: For me, it's the spirit of dining that calls me to the kitchen. Cooking is my way of bringing people together, one of the few ways I slow down, and fully savor the moment. 

Growing up we had delicious, seasonal food at home—it was never fussy, but it was always thoughtful. I think my style of entertaining and cooking reflects those childhood experiences. My mother plated food with natural beauty and created stunning table settings, making meals memorable.

My parents opened Mangia in 1982, and overnight they became the lunch destination in Midtown Manhattan and the chicest delivery option in the city. Neither of my parents were chefs, but they were brilliant collaborators. Mangia really shaped fast-casual dining in New York. The original idea was to create a casual, yet sophisticated café like you'd find in Italy. To this day, it still serves as an inspiration for me. 
Rip & Tan: What inspired this menu? How does it make the most of the season?

Olivia Muniak: So much of my inspiration comes from my family's restaurants, this menu highlights early summer flavors. The Fava Bean salad is a classic, Italian dish in spring/summer and a recipe from a former restaurant of my family's, Gusto, in New York City. The nutty, earthy fava beans are complemented by the salty, pecorino cheese and the cooling mint and zesty lemon are perfect on a warm day. 

Traveling further around the Mediterranean, the Harissa Salmon Burger is a crowd favorite. Salmon is easy for a gathering and tastes delicious at any temperature (cold, room temp or hot off the grill). All the warming spices like cumin, coriander, and spicy Harissa match the cooling and creamy Fava Bean Salad. 

Pavlova is one of my all-time favorite desserts, it's mouth-watering and can be made a day or two ahead. I infuse the whipped cream with a seasonal herb, lemon verbena, that adds a zinginess to the cream. Piled with fresh berries, it's a beautiful, summer dessert.

Rip & Tan: Do you have any tips or tricks for executing this menu with ease?

Olivia Muniak: After working in catering & events for years, so much of the cooking and prep is done prior to the event. I use the same approach for when I host at home. I like having a clean kitchen and an empty dishwasher when guests arrive. All my serving platters set-out and know which dish will be plated on which. The salmon patties are premade in the fridge ready to be cooked off,  and sauces & accoutrement, plated. Salads just need to be drizzled with dressing. Taking these extra steps ensures that you are a relaxed host, and most importantly, you have fun and your company!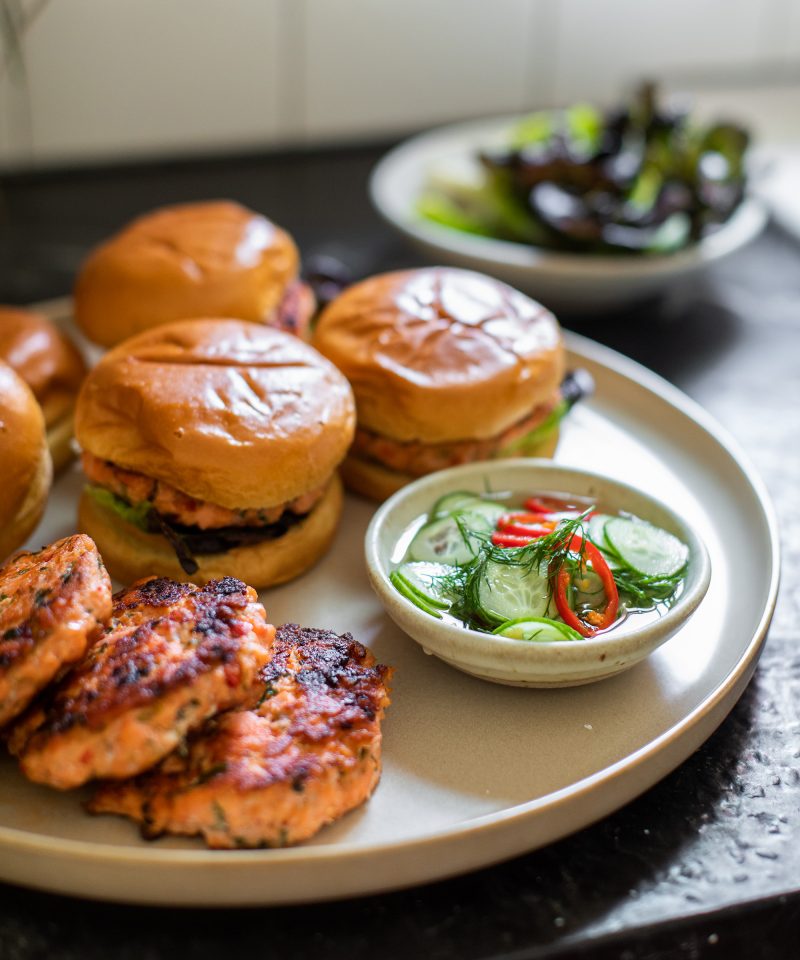 Rip & Tan: Whether it's a perfect playlist or a great set of linens, what are your must-haves for summer hosting?

Olivia Muniak: Well, I think you need both! I love the everyday elegance of using linens, even when they are wrinkled, and lived in (there's a time and a place for perfectly pressed linens, too). Our experience of a meal is heightened when we sit at a thoughtfully prepared table. The linens, flatware, and collected pieces of glassware, ceramics, and china all tell a story of the host. I collect linens when I travel; cotton blankets that double as a tablecloth from an outdoor market in Mallorca, napkins from an antique shop in Bordeaux, I'm reminded of these trips every time I use them.

Rip & Tan: How can someone new to cooking find confidence in the kitchen?

Olivia Muniak: When you are learning to cook, it's so helpful to read lots of recipes, and read through them multiple times before attempting to cook them. I still read cookbooks to dial in on techniques (and for pleasure!) and get inspired by ingredient pairings. I always recommend to also prep all of your ingredients prior to cooking set your "mis-en-place" which is a French cooking term for "everything in place", if you think about a professional kitchen, a chef has everything they need at their fingertips. Having my mise en place set, whether I am cooking at an event or hosting friends at home, calms me in the kitchen.
Rip & Tan: What are some kitchen staples you always have on hand for easy, last-minute hosting?

Olivia Munniak: Your produce shopping should be very seasonal, America is one of the few countries where we have access to ingredients year-round, but tomatoes in December don't taste like tomatoes in June. So focus on only buying peak-season produce, it literally is more delicious and therefore makes cooking easier! 

In the early summer, I buy asparagus, fava beans, and peas before they go out of season. As well as lettuces like arugula, butter lettuce, and mesclun, and lots of fresh herbs cilantro, flat-leaf parsley, dill, and chives. Summer fruit is just coming into the season, so I go for all types of berries, especially mulberries. 

Other than that, I always have Parmigiano Reggiano or a burrata on hand. You can dress up simple vegetables with the cheese and a drizzle of olive oil. Anchovies, nuts, red harissa, and pickled onions are other ways I add a lot of flavor and texture to dishes.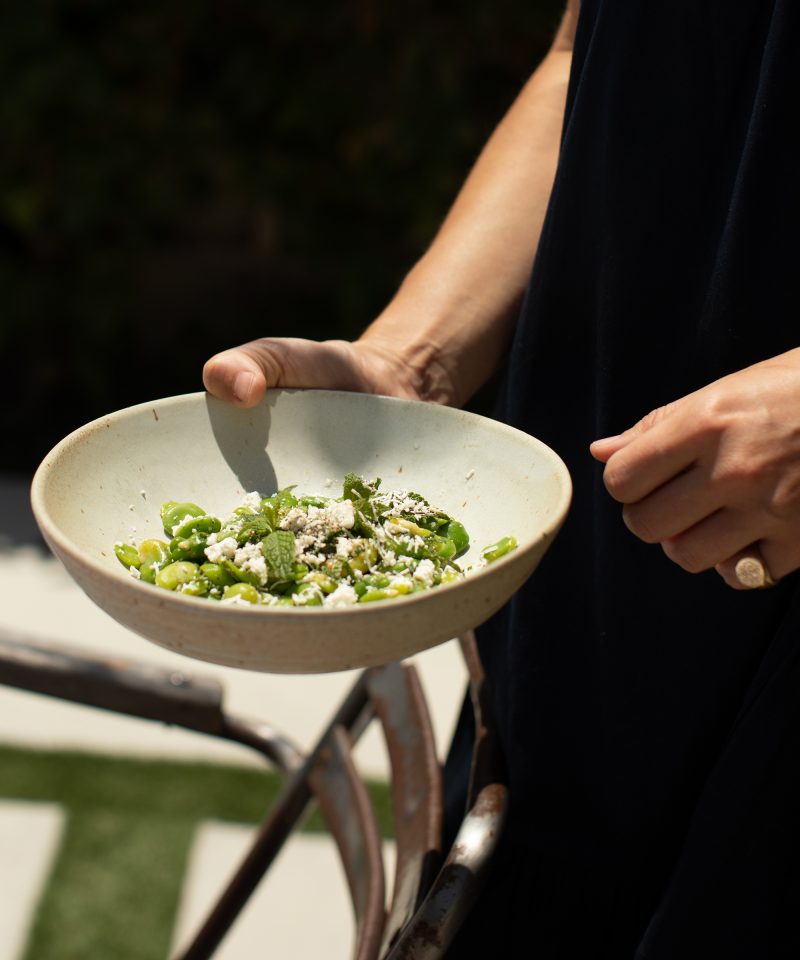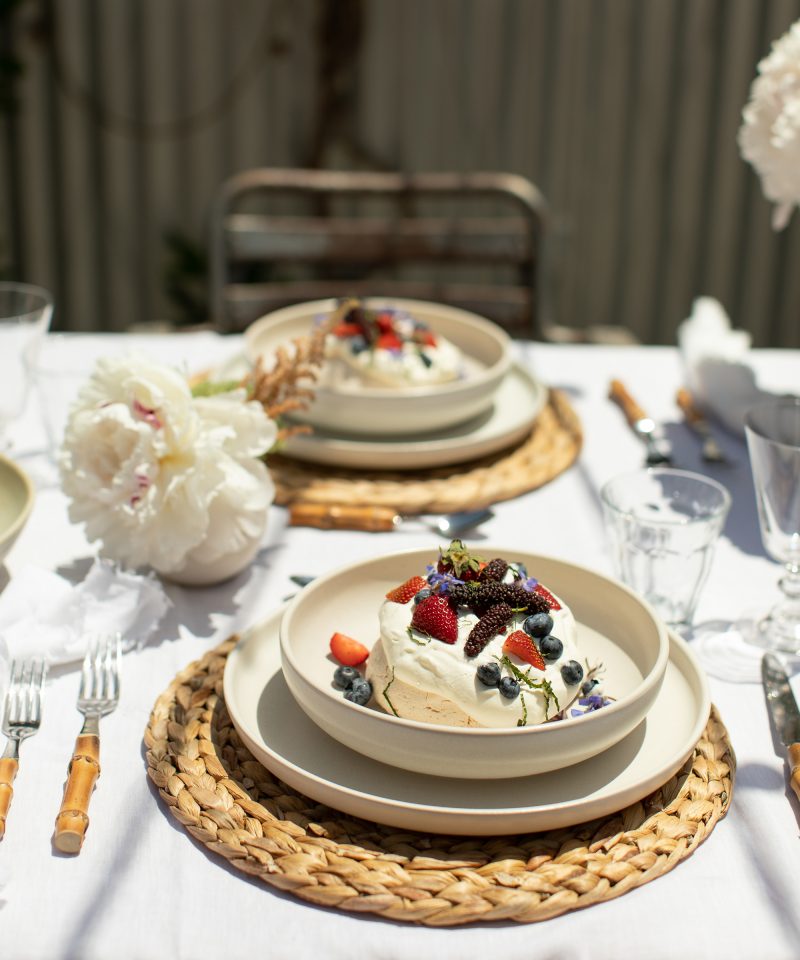 Rip & Tan: Any other summer ingredients we should keep an eye out for this season?  

Olivia Muniak: Beginning in July all of the stone fruits come into season, peaches, nectarines, pluots, plums, and cherries. Also, tomatoes are just coming into season as well. So when you start to see them at your local farmers market, sample some or only buy one until you know they taste amazing!

Rip & Tan: What does living well mean to you?

Olivia Muniak: Aside from eating and drinking well, because to me, that is one of life's luxuries. Living well means having the ability to truly disconnect from devices; travel and experience the world in a more analog way. Have an aperitivo at a bar you found because you got lost on your way back to a hotel. Dig my toes in the sand, swim in the ocean, raise a family, relax for hours after dinner with loved ones. Those are the moments that become the stories that we will one day tell our grandchildren.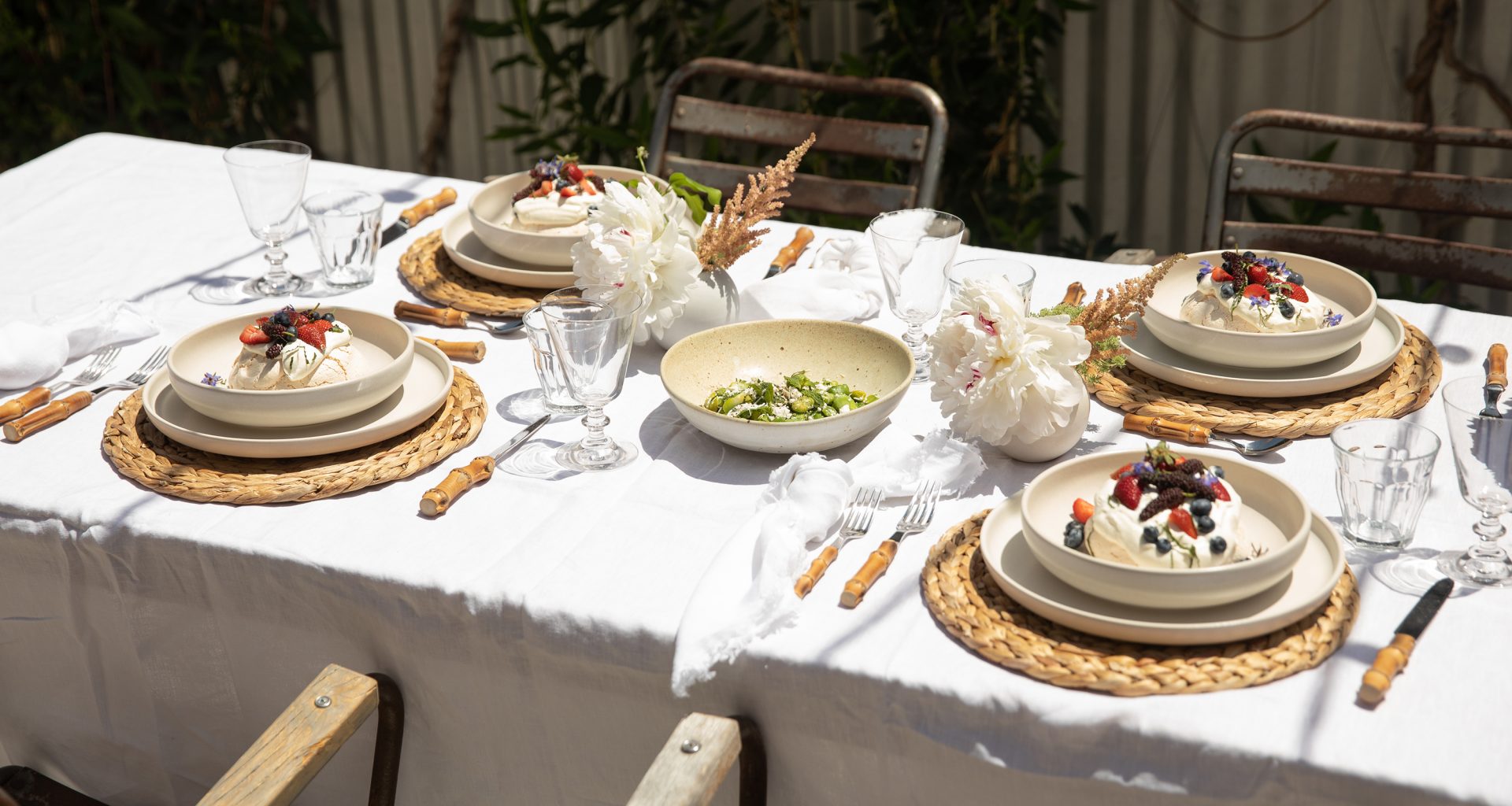 Fava Bean Salad
Harissa Salmon Burger
Pavlova With Mixed Berries and Lemon Verbena Whipped Cream
Ingredients
2-3 pounds fava beans shelled should yield about 1.5-2 cups

2 oz

57 g

pecorino romano cheese
10-15 whole mint leaves
extra virgin olive oil
1 lemon zest reserved
-Shell the fava beans from the outer pod, they will need to be shelled twice because they have a waxy shell on the bean.
-Prepare an ice bath in a medium-sized bowl with water and a handful of ice, and set aside.
- Boil the beans in 2 quarts of water salted with 1 tbsp of sea salt. Boil until just fork tender, otherwise they will get mushy. Immediately after straining the beans out, add them to the ice bath.
- Using a pairing knife, cut a small slit on the side of the beans' waxy shell, and squeeze the bean out. Toss the beans with the mint leaves oil, salt, squeeze 1/2 lemon juice over the beans. Place in a serving bowl and crumble the pecorino cheese over the beans and lemon zest.