Wellness
Rest and Recharge with Fat & The Moon's Healing Bath Soaks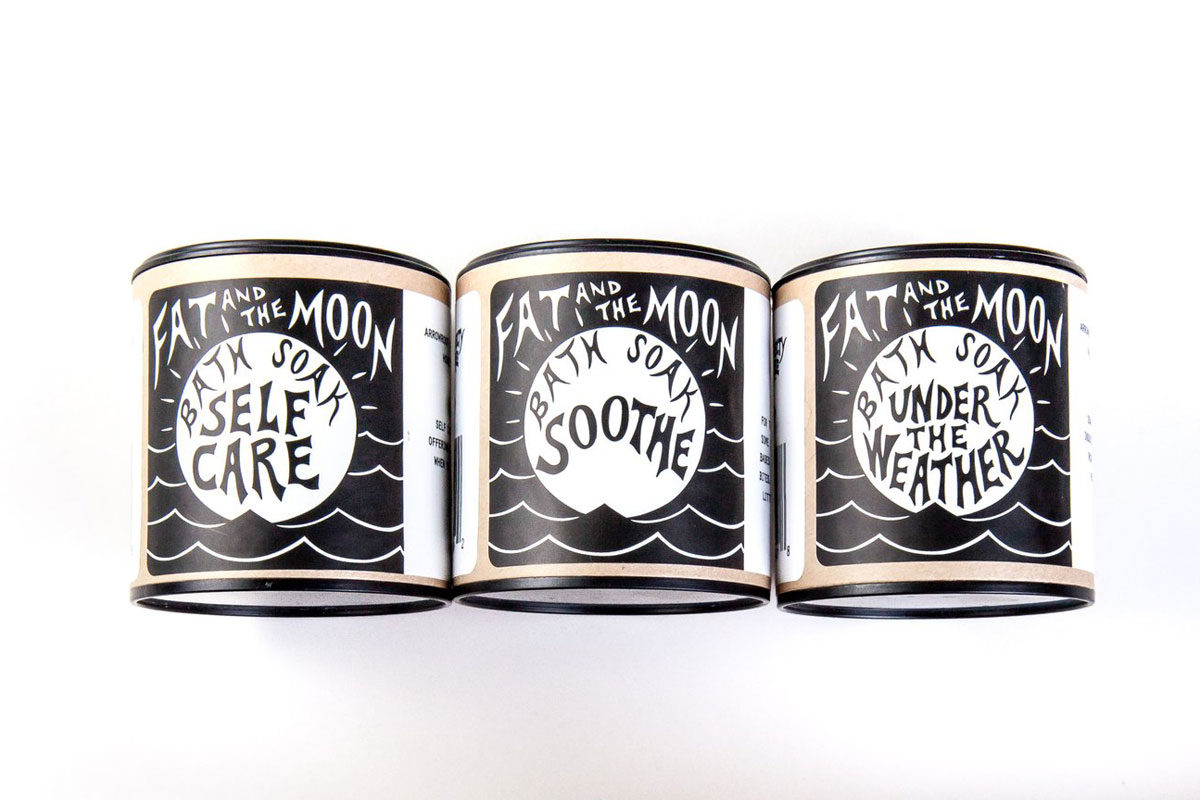 I love seeing how many beauty brands are focusing on the medicinal qualities of herbs and other natural ingredients to create products that heal as well as nourish the skin. Eir NYC exemplifies this movement, and I love Oakland-based brand Fat & The Moon as well. The handcrafted, small batch organic line, started by herbalist Rachel Budde, has an entire category to "first aid" remedies and also makes a trio of healing bath soaks that I recently fell for. 
The "Self Care" bath soak includes anxiety-relieving clary sage and lavender, "Soothe" includes oats and kaolin clay to reduce inflammation and irritation, and "Under the Weather" is made with warming and clearing eucalyptus, rosemary and clove essential oils. The mineral-based formulas keep ingredients suspended in the water so they don't just sit at the bottom of the tub and they smell and feel divine. 
Energized by Rachel's healing soaks, we asked her a few questions about her vision for the brand and why it's important to make time for baths. Here's what she had to say! XXJKE
Rip & Tan: Why did you start Fat & The Moon? 
Fat and the Moon came out of a deep need to create what I want to see in the world. Through Fat and the Moon, I discovered a fertile edge where my passion for herbal medicine, art, nourishing ingredients, and body-affirming messages converge. For me, non-toxic deodorant that actually works is the gateway to a whole new way to relate to one's body, to the vibrant, plant dominated earth around us.
Rip & Tan: What is the mission of the brand? How would you define your assortment of products and standards when it comes to ingredients? 
The mission of Fat and the Moon is to make a full array of body care products based on the principle of simple, non-toxic ingredients harmonizing with the profound efficacy of plant medicine and magic. All the products arise out of a need. Whether it be a request from my auntie, my farmer friend, a kiddo in my life, a new mama—I'm all ears. Potion making for the masses. So often the message touted by body care products is that there is something wrong with us that we need to fix. Taking care of oneself is very different than trying to fix oneself. Fat and the Moon products are the medium of radical self-care.
Rip & Tan: Why are baths an important part of a beauty/wellness routine?
The healing power of baths come from the alchemy of time, water, and heat. The slow pace of a bath takes the routine beyond simply washing. Blood is the life force in our bodies, so when we enter into a hot bath, the heat on our skin stimulates circulation. Since blood carries with it all the immune cells we need for healing, stimulating blood flow to the skin heals our skin. For those who run cold, or have injuries that restrict blood flow to the extremities, baths can be a beautiful way to promote healing and better circulation overall. Taking a bath is like stepping out of time. I have some of my best ideas in the bath. Time is the most precious commodity, having a bath is giving yourself gold.
Rip & Tan: Tell us about your bath soak formulas. What do each of them accomplish and how?
Our three bath soak formulas emphasize the healing effects of a bath, for a spectrum of issues. The 'Under the Weather' Bath Soak boosts the decongesting power of a hot bath when you're feeling sicky and achy. Mustard, eucalyptus and clove promote deep circulation and sweating to assist your bod's efforts to kick the sick.
'Soothe' Bath Soak is the antidote for an irritated epidermis. Rose geranium and oat make a perfect sweet and soothing duo. I've used it for eczema on the fritz, sunburn, and weird bouts of contact dermatitis. Soothe is stellar for the whole fam, babe included.
'Self Care' Bath Soak is medicine for your Spirit, clary sage and lavender open the mind and heart to a wider horizon. Rhassoul clay is one of my favorite clays, drawing yet moisturizing. 'Self Care' Soak is the perfect reminder that prevention is the best medicine.
Rip & Tan: What products should we use after taking a bath? How do you stay relaxed and keep skin nourished once you get out of the tub? 
Bath Soaks and Bod Oils are the dynamic duo. When we emerge from the bath and our skin is nice and supple, and just a bit damp massaging nourishing oils into the skin captures that goodness. We can think of this action as a metaphor too, a ritual even. As we massage our skin with oil to retain the beneficial effects of our bath, we can ask that our spirit stays nourished by our self-care. Bod Oils lock in the moisture from the bath but also help to protect the skin from dryness and oxidization, especially with the help of the magic rosehip seed oil. We live in a world that requires us to be savvy about when we are vulnerable and open and when we need to protect ourselves from an array of external toxins. The plants and their oils can aid us in cultivating that wisdom. 
Rip & Tan: What's next for Fat & The Moon? What goals do you have for the company in the future? 
My home burned down about two months ago now, and from that devastating event I am that much more compelled to create and cultivate life. Fire is one of the most cleansing and fertilizing forces, so my energy is going towards a Fat and the Moon farm!
I'm also in the process of writing a book on herbal medicine, to share my inspiration and journey with the plants.
I have an incredible team of women who make up the Fat and the Moon coven. My goal for Fat and the Moon is to be a model for business that is focused on integrity, not only in the ingredients in the products, but how the people who make, ship, and promote them are treated and nourished.