Living
Profile: Lawren Howell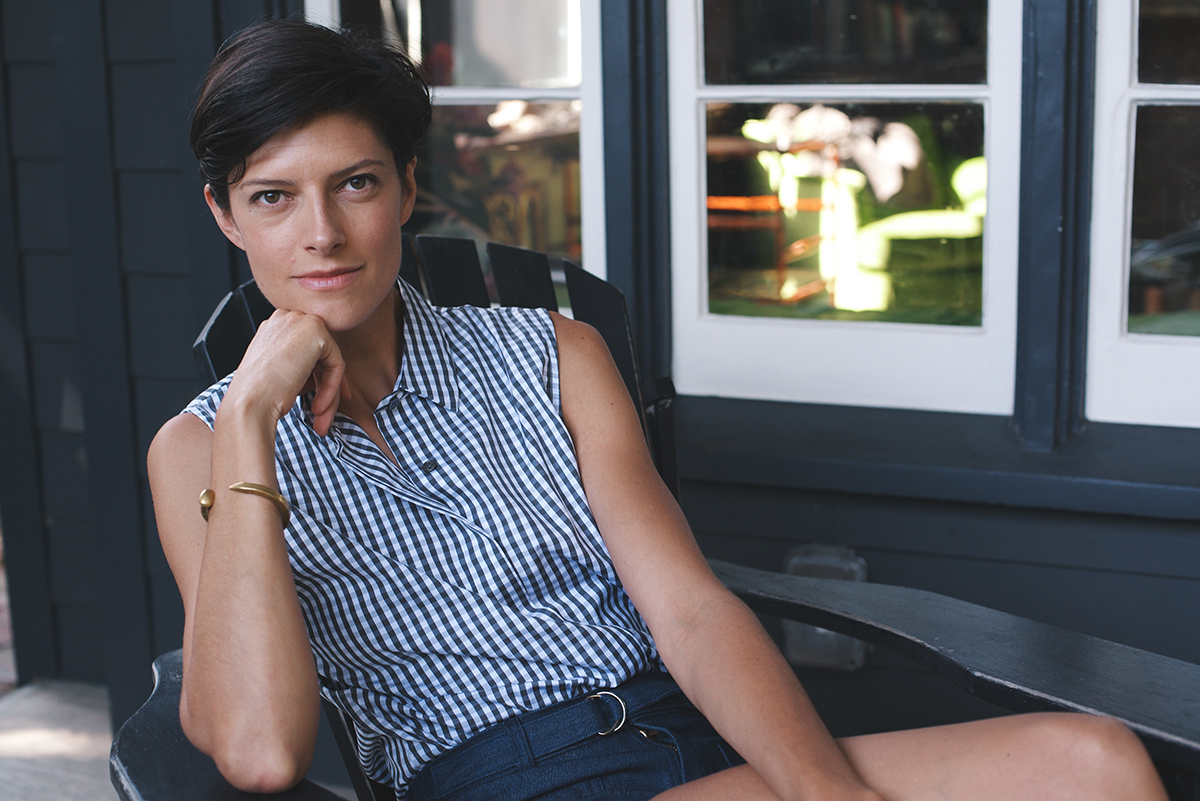 Lawren and I met in New York about ten years ago when I first started showing at Fashion Week. A fashion editor and stylist, she was working at Vogue at the time and was a guest at a dinner Vanessa von Bismarck hosted for me at her home – and we hit it off instantly. When she moved to LA a few years later, we reconnected and our friendship grew.
Raised in San Francisco, Lawren is a California girl at heart (but with a New York state of mind) and now lives in Venice with her husband and young son and daughter in an old Craftsman that has been modernized throughout. Her home is a bit traditional, a bit masculine, a bit French, and a bit earthy all at once – and perfectly captures her signature style. She was kind enough to welcome us in for a laid-back afternoon with her little ones, and share a glimpse into her world, her favorites, and the beautiful space she calls home. I hope you enjoy this look inside. XXJKE
Beauty
R+T: What are your go-to beauty products? Why?
Caudalie facial spray – I love it on airplanes and as an afternoon skin refresher.
Alexandra Wagner's White Tiger Serum – Alexandra is an amazing facialist (and my neighbor) who has a very under the radar but very good skin care line.
Rahua shampoo and conditioner – A natural shampoo and conditioner that really cleans.
Living Proof 5-in-1 styling treatment – The only hair cream I've found that doesn't make my hair too weighed down. With short hair, I really need a good styling product and one that works with very infrequent shampoos – I shampoo once in a blue moon!
Grapeseed Oil from Whole Foods – An after bath body oil that keeps my very dry skin hydrated.
Charlotte Tilbury's Wonder Glow before an evening out – It's thinner than a foundation and creates a really subtle sheen that is the perfect skin evener and highlighter.
Josie Maran's argan oil Color Stick – This stuff is never-ending. I dab the tiniest bit on and it goes a long way.
R+T: Is there anything special you would like to share about your beauty routine?
Fifty percent of the time I'm too lazy to wash my face, so I swipe witch hazel on my skin everyday. It seems to do the trick of removing a lot of the makeup and dirt from the day, and works on those nights when you're just too exhausted to splash water on your face.
R+T: Bath or Shower?
Shower after exercising, otherwise baths every evening.
R+T: What do you sleep in?
LFrank nightgown!!! I'm a recent silk nightgown convert, and got rid of practically all of my pjs. I throw a Stevie Howell Robe over my LFrank Silk nightgown or LFrank silk shorts and cami in the morning as I'm getting kids breakfast and school lunches made and I feel so luxurious. It's hard to get dressed in the morning!
Health
R+T: What do you do to stay healthy and balanced?
Aside from eating organic and from local farmer's markets, I've always had exercise in my life. These days with kids, work, and life I am happy if I manage two mornings of exercise a week. That's really my goal. I try to eat one complete vegetarian day a week (but often end up doing more than one) although I am a total carnivore by nature. But really, my mantra is moderation. If I feel like I've had a meat-heavy weekend, I'll do a day or two of vegetarianism, or if I've had too much wine, I lay off of it for a few days. It just feels natural to me, I try to listen to my body. I've never fasted or cleansed, I'm not good at depriving myself of one of my greatest joys in life. But I know when I've overindulged, so I just try to implement my own system of checks and balances when it comes to health, nutrition and exercise.
R+T: Do you workout, what do you swear by?
I've always been a runner, so I regularly run on the beach or wherever I am in the world. But the one exercise class that I've loved and stuck with the longest is The Dailey Method – housed in a clean and airy studio on Abbot Kinney, the teachers are fun and motivating, they play great music, and you get a full body work out each time. It doesn't get old. And, my husband has turned me onto ocean swimming. Whenever we're on a beach vacation, or in a vacation mood, we do ocean swims.
R+T: What do you do to relax?
Take baths, go for runs on the beach, rearrange bookshelves or bulletin boards, and look at recipe books.
Decor
R+T: What is your design philosophy for your home?
I like things with character…whether age or quirkiness. I'm not afraid of dark rooms, I actually love for a house to have a few dark and cozy corners for different occasions. I like my colors to be off colors – not super saturated, but more muted and mixed. I like contrast, I like shine and I like the contrast of earthy with polished. I like a little reality in rooms, I'm afraid of perfectly decorated rooms, so I let the kids do what they do. I like the weird travel souvenir that doesn't really fit, but is eye catching nonetheless. I like my house to look like a well-lived home, which it is.
R+T: What is your favorite room in the house?
The kitchen.
R+T: What are your favorite pieces in your house?
I love the horn chairs, which my parents passed down to us. I love the Mid Century brass light chandelier we have in our living room which has a visual language that works with Craftsman era. And I love the walnut dining room table that my husband made.
R+T: What are your favorite home stores?
March (SF), Liz's Hardware, Lawrence of La Brea, Nickey Kehoe, Obsolete, Jenni Kayne in Montecito, Chelsea Antiques in Petaluma, Sue Fisher King (SF), Siglo Moderno.
Entertaining
R+T: Do you entertain at home? If so, what are some of your tricks?
Yes, we often have small, casual dinner parties with just one or two other families. It's nice to move the party, maybe start with drinks and an appetizer on the patio and then move inside for dinner, and, in winter months, dessert in living room by the fireplace. I think it's nice to create movement and little chapters in the evening.
R+T: How do you set the scene?
I rely heavily on the dimmer switch, nothing worse than an over lit room. Candle light is great, fires in the fireplace in the winter, a great playlist, a welcoming charcuterie spread.
R+T: Plated, Buffet, or Family Style for a dinner party?
Usually buffet. We have a long kitchen island, and an open kitchen which really makes it best-suited for spreading food out in platters.
R+T: What are your favorite flowers and where do you buy them? A favorite florist?
I love fragrant flowers like tuberose and hyacinth for bedside tables. I love wild arrangements, like cut backyard jasmin, trailing out of a small round vase. I love big dahlias in pinks and purples, and garden roses.
Joseph Free is a floral genius, but when he's not available, Lily Lodge is wonderful.
I love big architectural branches like protea or peach blossoms…I also love citrus branches with sweet smelling flowers mixed in any arrangement. I mostly buy flowers at the farmers markets – whatever's in season – or at the wholesale market Downtown if I'm doing a big party.
Fashion
R+T: How would you describe your style?
East Coast patrician meets Californian boho.
R+T: Who are your favorite designers?
Celine for the occasional investment article, and not the one that every fashion editor or blogger bought, Junya Watanabe, Trademark for cool work clothes, The Row for super luxe basics, Marni for color print dresses, Newbark for everyday shoes, Stevie Howell robes and scarves, Sophie Buhai jewelry, Irene Neuwirth jewelry, Marc Alary jewelry, Spinelli Kilcollin jewelry, Jenni Kayne for basics, Crippen for basics, Valentino, Edun, Maiami knitwear, Barrie knitwear, Acne jeans, Prada.
R+T: What are the 5 pieces you can't live without this season?
Newbark loafers, Junya Watanabe jeans, black Acne skinny jeans (JK boutique), Ancient Greek Sandals, Marimekko red and white striped boxy tee.
R+T: What is your uniform?
This summer it's been: white stovepipe Crippen jeans, Ten Thousand Things/Gregory Parkinson denim espadrilles, and Jenni Kayne black and navy sleeveless tee.
Food
R+T: Is there anything about your diet you would like to share with R+T?
I'm obsessed with bacon.
R+T: Do you cook?
Yes, I love to cook, but these days I feel more like a leftover wizard than chef. Fortunately, I get great satisfaction from concocting new mini-meals out of what we ate two days ago.
R+T: What is your favorite recipe? Your child's?
That's a toughie. Over the years, I've always made a linguini with clam sauce (most epic was when I made it on a boat in the Meditteranean with fresh clams that opened up when tossed in with the steaming pasta). But as of late, my brother made us all a wonderful sheet chicken recipe from Melissa Clarke that has the chicken cooked with fingerling potatoes, doused in a yogurt harissa and topped with arugula, and it's all we can make for each other now.
Art
R+T: Who are your favorite artists:
Russell Crotty, Becca Mann, Tierney Gearon, Caravaggio, Kim McCarty, Irving Penn, David Hockney, Cathie Opie, Mark Bradford, Elizabeth Peyton, Walton Ford, Louise Bourgeois, Paul Wackers, Matisse, Thomas Cole and many of the Hudson River Valley School painters.
R+T: What is your favorite piece of art you own?
I love the painting my sister did above our mantel called The Bathers.
Kids

R+T: What are your favorite stores online and in store to shop for kids? 
Over and Over Kids (my friend's line and it's amazing), Zara, Crewcuts, Mulholland Girls, Jenni Kayne kids store in Montecito, Talc (an adorable kids store in Paris), Bon Ton in Paris, Eggy in LA.
R+T: What's your favorite thing to do/place to go on the weekends with your kids?
Beach picnics, farmers markets, bike rides along the beach, friend's houses for BBQ, LACMA for an afternoon exhibit and walk around the campus. Our weekends are largely ruled by nap schedules, birthday parties and small neighborhood outings these days, so I'm sorry our weekend activities couldn't be more exciting.
Shopping & Blogs
 R+T: What are your favorite stores (online and in store) for clothing?
Trademark, Jenni Kayne's West Hollywood Store, Heist, A'maree's, Net a Porter, Yoox, eBay, Zara, Opening Ceremony, Barneys, Tiina in Amangansett.
R+T: What is your favorite city for shopping?
Paris, bien sur!
R+T: Are you an impulse buyer, or do you wait to commit?
Both.
R+T: What are your favorite blogs?
I love Rip & Tan, Cle Tile, Chalkboard Mag, Domaine, Remodelista, Gardenista – I wish I had time for more!
Lawren is wearing a Jenni Kayne Gingham Sleeveless Shirt
Photos: Yayo Ahumada