Living
Profile: Hannah Henderson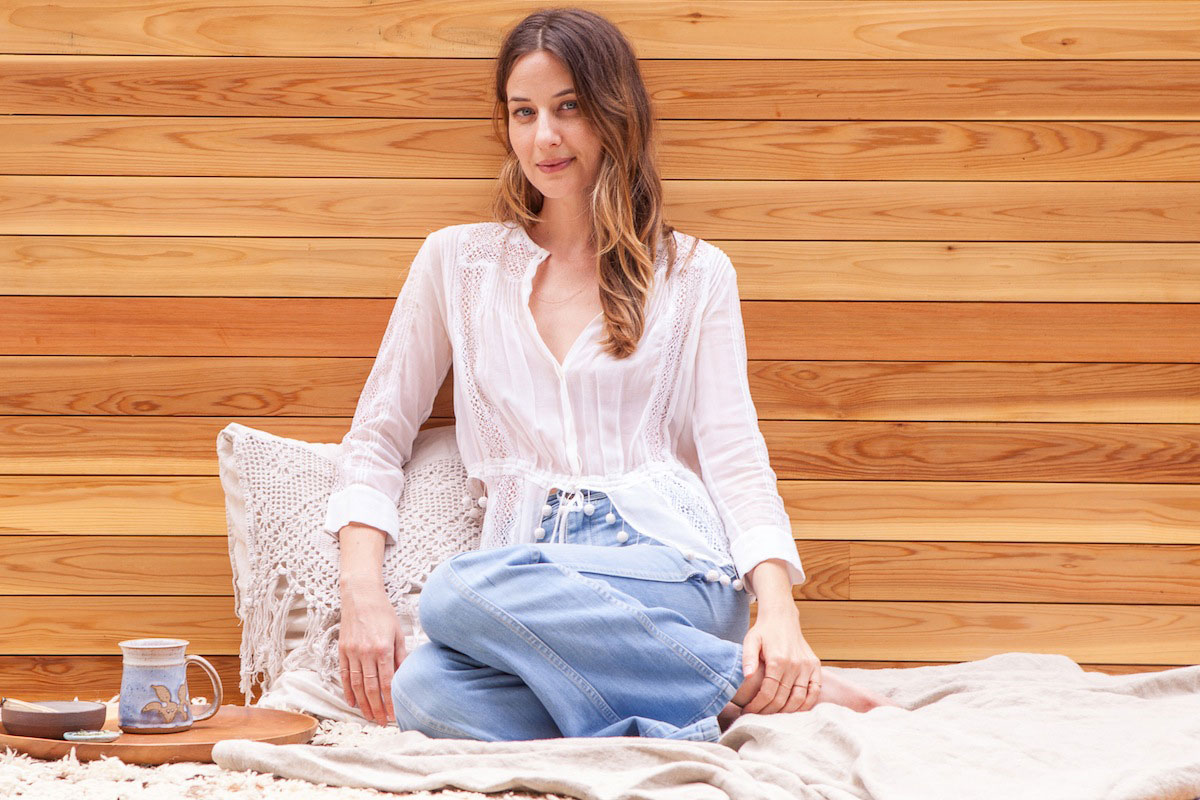 As I mentioned earlier this week, General Store has become a Venice favorite, and a must-see when I am in the neighborhood. I met Hannah, who together with her long-time partner John Moore opened its second, swoon-worthy outpost, during my first visit to the store. She was with her adorable son, and much like General Store itself, I was immediately taken by her overall aesthetic and vibe.
Hannah lives in Venice with her partner in work and life, John Moore, and their two beautiful children, Lennon, age 9, and Costa, age 4, in a classic modern California home built in 1975. Since moving in over a decade ago, they have taken their time making thoughtful updates that highlight the space, while keeping the bones and charm of the original house intact.
Beautifully designed, decorated, and laid out, it features an abundance of natural light and a great open floor plan. Perhaps my favorite part: everywhere you look there are the most effortless details that feel like an extension of Hannah, and her store – nothing too precious, just wonderfully warm and inviting. I hope you enjoy this look inside. XXJKE
Beauty
R+T: What are your go-to beauty products? Why?
Whenever I need a little skin pick-me-up, I use Aztec Secret Indian Healing Clay. It's a really intense clay mask that I have used since I was a teenager. It feels like it is taking everything bad out of your skin so you can have a fresh start. It's really affordable and lasts forever.
R+T: Is there anything special you would like to share about your beauty routine?
I think what makes the biggest difference is deciding not to nit-pick at your imperfections. The most beautiful people are the ones with a great, authentic smile. And you don't get there by beating yourself up over the minutiae of your appearance.
R+T: What are the 5 products you couldn't live without?
La Roche-Posay melt-in sunscreen
Bumble and Bumble Brilliantine
Earth Tu Face Sea Buckthorn + Geranium Eye Serum
Maybelline Greatlash mascara in dark brown
Decor
R+T: What is your design philosophy for your home?
We try to only bring things into our home that we love, things that have some soul, and over the years it has turned into a meaningful collection. It takes time and patience to find the right things, and constantly evolves. We really just want our home to be comfortable and feel like us.
R+T: What are your favorite pieces in your house?
Costa's vintage peace flag, our Heather Levine ceramic spike wall hanging, a strange cone basket, old cotton textiles, and our collection of vintage carved hands.
R+T: What are your favorite home stores?
I don't get out much beyond General Store and the Rose Bowl Flea Market, but they do the trick.
Entertaining
R+T: Do you entertain at home?
Usually just our closest friends.
R+T: What are your tricks for entertaining?
Do everything last-minute. It's so much more fun to have people over spontaneously. Otherwise, I stress about the planning.
R+T: How do you set the scene when you have people over?
Music + Drinks
R+T: What is your favorite song/playlist when you have people over?
Crosby, Stills & Nash, Devendra Banhart, Johnny Cash, with some Beyoncé for good measure.
R+T: What are your favorite flowers and where do you buy them?
I love ranunculus because they're like wildflowers. I buy them everywhere I can find them.
R+T: Who is your favorite florist?
Kristen from Moon Canyon.
Fashion
R+T: How would you describe your style?
A daily attempt to surprise myself with something really simple.
R+T: Who are your favorite designers?
Electric Feathers, Black Crane, and Lauren Manoogian. Plus a longtime love of Phoebe Philo.
R+T: What are the 5 pieces you can't live without?
Vintage jeans, old hippie dresses, Beatrice Valenzuela Botines, a perfect white t-shirt, and a thin gold ring on every finger.
R+T: What is your uniform?
jeans jeans jeans
R+T: What is your newest purchase?
A pair of 1940's boy's jeans.
Art
R+T: Who are your favorite artists?
Mike Paré, Ed Ruscha, Louise Bourgeois, John Lennon
R+T: What is your favorite piece of art you own?
The Mike Paré nude in the bedroom. Everyone thinks it is John – he has morphed into the man in the drawing over the years.
Kids

R+T: Are there any kids finds you want to share with Rip+Tan?
ESP No.1, UNO, and Window Crayons.
R+T: What are your favorite places to shop for kids?
The flea market – kids' vintage is hard to find and is so great when you do!
R+T: What's your favorite thing to do/place to go on the weekends with your kids?
The beach – it's one of the only places they can run wild. And it's sweet how alive they feel playing in the waves.
R+T: What is your favorite restaurant to eat at with the whole family?
Axe – our kids have grown up eating their pancakes on the weekends.
Shopping & Blogs
R+T: What is your favorite city for shopping?
LA
R+T: What are your favorite sites for shopping?
Etsy is great for vintage.
R+T: Are you an impulse buyer, or do you wait to commit?
Vintage – I buy impulsively because if you don't, someone else will snatch it up and you will almost never find that piece again. Designer pieces – I tend to think about a little longer. I try to decipher between what I will love for many years vs. what is exciting just for that season.