Living
Profile: Amanda Chantal Bacon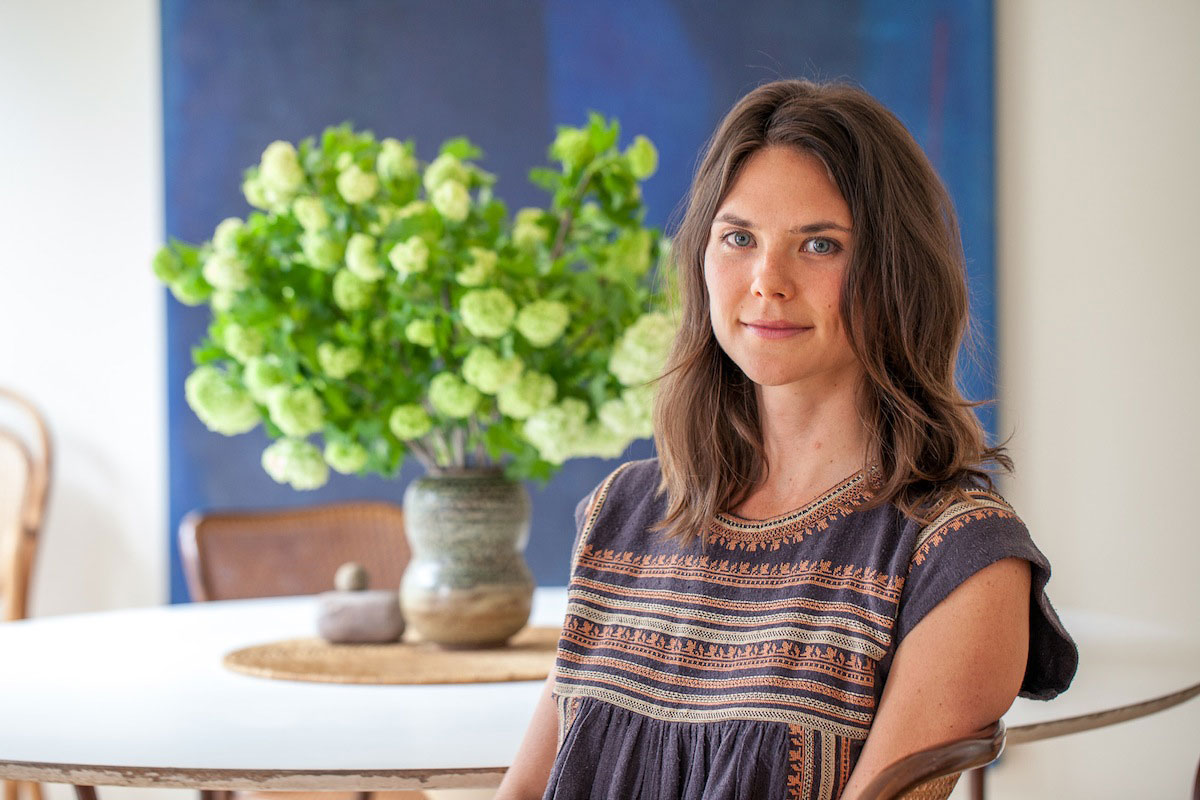 I was recently introduced to Amanda, after already being acquainted with her amazing juicery Moon Juice, and we soon discovered that we shared many close friends. Amanda opened Moon Juice, an organic pressed juicery and nut milk shop, in Venice in early 2012, and has since enjoyed incredible success fueled by a philosophy rooted in nutrition, wellness, and simplicity.
Amanda's culinary journey began after high school when she traveled for years, working in kitchens and exploring the different cultures and tastes of Europe, South America, New Zealand and beyond. It was during this time that she developed a love, not only for the preparation of food, but for tracing ingredients back to their purest forms.
Upon her return to the States, Amanda studied at New England Culinary Institute, with an impressive resume to follow that included posts at celebrated LA restaurants Lucques and Canele, as well as editorial assistant and reporter for the food section of the Los Angeles Times Magazine. Ultimately, it was her fine dining experience coupled with her culinary travels that formed her belief in food as equal parts art and medicine – Moon Juice is that belief actualized.
Amanda lives in Venice with her young son, Rohan. Her home is earthy, modern and warm, and feels as organic and inspired as her menu. I hope you enjoy this glimpse into her beautiful home and refreshing outlook. XXJKE
Beauty
R+T: What are your go-to beauty products? Why?
I love Dead Sea Mineral Soap for my face – I've used it for years. With proper hydration and this gentle soap I rarely need moisturizer, but when I do, I use a little organic potion that I make for myself in small batches. The blend depends on the season, but I keep it basic with jojoba, tea tree, carrot seed oil, and calendula.
R+T: Is there anything special you would like to share about your beauty routine?
My beauty routine really boils down to making sure that I keep a mostly alkaline climate in my body, steering clear of bad salts that bloat, drinking plenty of green juice for glowy skin and sparkly eyes, and managing stress when It comes up so that it doesn't settle into the face.
R+T: What are the 5 products you couldn't live without?
I should probably learn to live with more. I don't stray too far from my wide tooth comb, an extra soft toothbrush, coconut oil, rose oil, and Tweezerman tweezers.
R+T: Bath or Shower?
Shower and then a long swim with Rohan in our deep, tiled, plunge tub – hours are spent there.
R+T: What do you sleep in?
I don't sleep in much, but often sleep on my Bio Mat.
Health
R+T: Do you have any health tricks?
Nothing tricky, just slow and steady with the buckets of green juice, making sure to eat only organic food, and avoiding sugar, wheat, dairy, and soy, unless I am indulging in a work of art. I also take adaptagenic herbs – I use maca and shilajit daily, and then add ashwagandha or rhodiola if im feeling extra stressed.
R+T: What do you do to stay healthy and balanced?
If I feel a bit off, tired, or unbalanced, I'll do a 3-day juice cleanse. It's miraculous what even just a couple days of resting the digestive system will do to the body and mind. I'll also be sure to get myself to a few Kundalini classes and do some home meditation. Filling my body with deep breath will change my entire energy and outlook in literally six minutes. If that doesn't do it, I run to my acupuncturist and kinesiologist.
R+T: Do you workout, what do you swear by?
My workout is the nonstop movement of 18-hour days that includes carrying around a 25 pound sweetheart, and if I'm lucky, a yoga class at RA MA. Btw, if you ever find yourself in Venice, you should check out a class with Guru Jagat – she's pretty deep.
R+T: What do you do to relax?
Relaxation is being oblivious to my phone and fully present in the moment.
Decor
R+T: What is your design philosophy for your home?
Cozy but clean, modern but earthy, the simplicity and sophistication of California.
R+T: What are your favorite pieces in your house?
The lighting forever entrances me. Some pieces are old and some are new custom designs, all done by Rewire. I also love the Anfibio couch – it encourages the multiple person, full lounge, hang.
R+T: What are your favorite home stores?
I love Rewire, Reform, and Galerie Half.
R+T: What is your favorite room in the house?
I love the garage that became the living room. Nothing feels better to me than the high ceiling with original wooden beams and natural light streaming in from all directions.
Entertaining
R+T: Do you entertain at home?
Yes.
R+T: What are your tricks for entertaining?
My trick is to keep it all very last minute – the inclination, the invite, and the execution. It all flows better when fueled by fresh desire and excitement.
R+T: How do you set the scene when you have people over?
Candles, flowers, an abundance of fresh herbs, a little Paulo Santo, and bare feet.
R+T: Are there any tips for what to do or what to avoid?
Avoid meticulous details – this took me a while to let go of, coming from a fine dining background. The key to success is your ease and happiness, not the brunoise vegetables and perfect chervil plushe!
R+T: What is your favorite song/playlist when you have people over?
My friend Carlos Niño made me an amazing play list for my baby shower; it has been recycled many times.
R+T: Plated, Buffet, or Family Style for a dinner party?
I'm all about a buffet and having people sprawl around like cats and go for thirds.
R+T: What are your favorite flowers and where do you buy them?
I love the seasonal flowers that Oliver Woolley brings to the Wednesday Santa Monica Farmers Market. I also love the bouquets that get made by taking clippers to my block; I always come home with the most exotic mixes of wild flowers, roses, and tropical specimens.
R+T: Do you do them yourself or do you use a florist?
I usually do the flowers, though I do love Moon Canyon Design and will always call on Kristen when in need.
Fashion
R+T: How would you describe your style?
Classic, functional, and timeless. I'm simply after a perfect cut and exquisite material.
R+T: Who are your favorite designers?
Some of my favorite things come from Margiela and Celine. I gravitate towards a smart, casual, unisex style that fits my body effortlessly. I love Kathleen Whitaker jewelry, especially her ear cuff.
R+T: What is your uniform?
I do a lot of jump suiting – Black Crane makes a great silk one, and I have it in many colors. Other than that, I'm mostly found in white pants or shorts, sandals, and a linen/cotton t-shirt. The outfit has to lead me through a day of meetings, hopping into a kitchen, getting down on the ground with Rohan, and everything in between. White pants and a refusal to use anything unnatural to treat stains becomes a bit dramatic at times.
R+T: What is your newest purchase?
Just picked up a great little shirtdress from Crippen.
Food
R+T: Do you cook?
I'm never not cooking! Sometimes it's just mental preparations, but it all makes it onto a plate or into a glass at some point.
R+T: What is your favorite recipe?
I've never really cooked with recipes, even when inspired by a recipe – I like to feel it out. I'm very sensitive and flexible to what the produce is calling for that day and what's on hand. I don't know if I've ever cooked the same thing twice outside of a restaurant.
I can tell you what I had for lunch though, it was delicious! I made a salad with Flora Bella Farms arugula, Harry's Berries gaviota strawberries, walnuts from Rancho La Vina, shallots and lemon from Schaner farms, and a peppery olive oil from a biodynamic vineyard in Paso Robles.
R+T: What is your child's favorite recipe?
Rohan loves chocolate ice cream and nuts, so I have created this wonderful treat for him. We blend 2 organic avocados, 3 tblsp of organic raw cacao powder, and a little dash of green stevia in the blender – if it needs a little thinning out we use coconut or spring water. We put it in the freezer for 20 minutes and then top it with cracked Oregon hazelnuts and a pinch of chunky sea salt.
He has the ride of his life with a bowl of chocolate ice cream and I relish in the fact that he's eating a bowl of avocados and raw nuts without any type of sugar.
Art
R+T: Who are your favorite artists?
This is way too hard. Too many geniuses, too many mediums. It's a revolving study and appreciation of work ranging from architecture to traditional weaving to philosophy. Contemporary artists in our city that I am currently in awe of are Tierney Gearon and Tanya Aguiniga.
R+T: What is your favorite piece of art you own?
I love every vintage Serge Mouille fixture I have, I love my Evelyn Ackerman weaving of the sun, and I love the Chinese magnolia tree that I planted outside my bedroom.
Moon Juice
R+T: When did you first become interested in juicing, healthy living, etc?
This has been a lifelong theme for me. I was ill as a young child and could only stay well with a vey regimented healthy diet that excluded all sugar, wheat, and dairy. After working in kitchens for years, constant tasting exhausted my body and palette – juicing was salvation.
R+T: How did you come up with the concept of Moon Juice?
It was a fantasy and a joke for a while…"One day I'll quit my life in the kitchen and just go open a tiny juice shop." At some point I just wanted to throw caution to the wind and do something that felt like a dream come true and would take care of my body, mind, and family for years to come.
R+T: What are your next plans for Moon Juice?
We are opening a store in Silver Lake this summer that I am super stoked about! We also have a bunch of raw, sprouted, simple treats coming out of the kitchen as well as a line of tonics and more Moon Milks. I guess the big plan is to stay engaged and inspired and see where that leads. Growth for Moon Juice will have to always feel sustainable and like it's adding to the splendor, not spreading it too thin.
R+T: What's your favorite Moon Juice?
I love, love, love the Canyon Greens – it's how I get pretty much all of my iron and calcium – and have at least one every day. I also start each day with the Deep Chocolate and I add a shot of our shilajit. The maca, raw cacao, shilajit combo puts coffee and tea to shame.
R+T: Any tips for first time cleansers?
I always like to talk to people about the fact that by drinking the 8 juices a day they are actually "eating" about 25 pounds of fruits and vegetables each day of the cleanse. The only thing that is being removed is the fiber; no one's being compromised by not eating fiber for a few days.
The key to really letting go and getting into the cleanse is knowing that you are 100% safe and taken care of. You are drinking organic juice pressed that day, and consuming the 8 bottles (1 every 2 hours) that have enough calories to keep your organs and metabolism running smoothly. Your body naturally knows how to do the rest, your job is to relax into the process!
Kids

R+T: What are your favorite places to shop for kids?
Jenni Kayne always has the best shoes for Rohan, I love the Acorn Store in Santa Monica for grabbing birthday presents, and Tomboy in Silver Lake has the absolute best international round up of kids clothing.
R+T: What's your favorite thing to do/place to go on the weekends with your kids?
I truly am happiest with nobody getting dressed, watering the garden, having a picnic on a blanket, and taking a long afternoon nap together. If we have to leave home there's a beautiful morning hike at Tree People off Mulholland, or there's always a day trip to the hot spring and a bite at Farmer and the Cook in Ojai.
R+T: What is your favorite restaurant to eat at with the whole family?
Axe is the best. Aside from simple farmers market fare, there's an outdoor garden to run around in, and we can walk or bike home.