Living
Paula Mallis of WMN Space on Loving Honestly & Authentically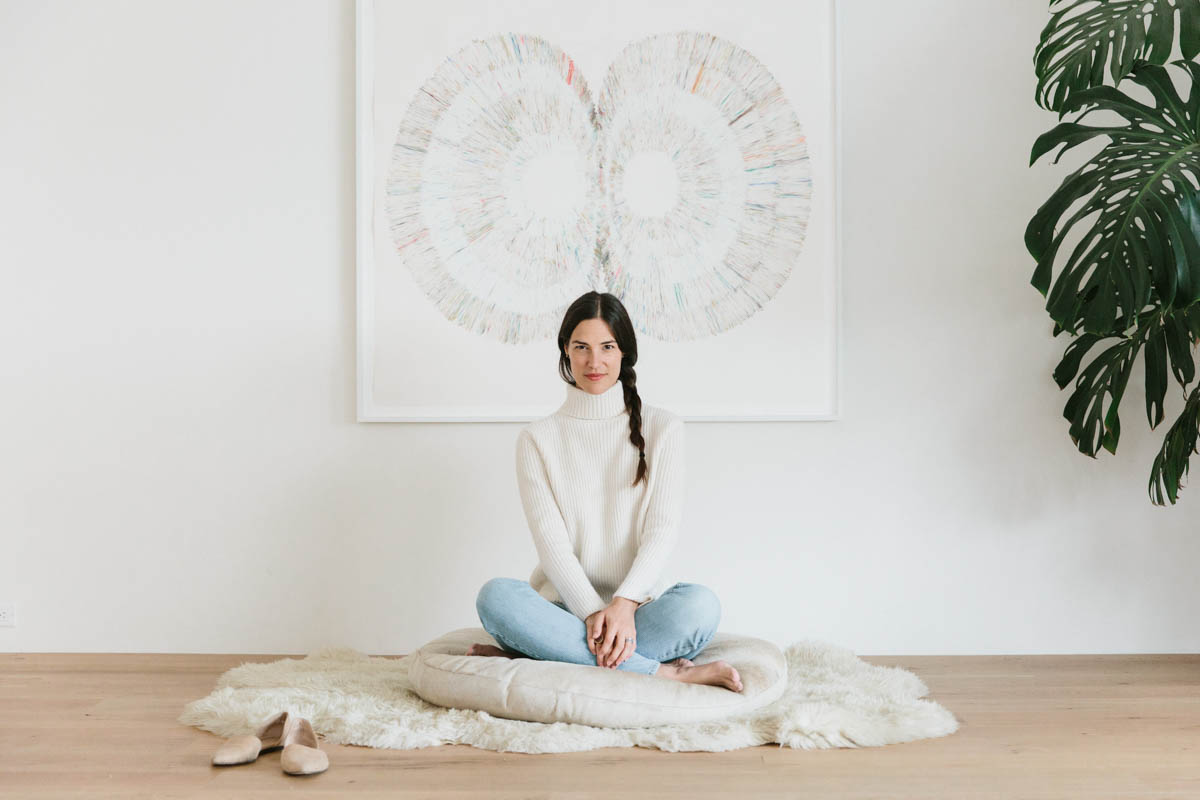 The last time we met with doula and spiritual counselor Paula Mallis, her life looked a bit different. You may know her as the founder behind WMN Space, the Culver City-based community space where women gather to share experiences, lend and receive support, and attend workshops, gatherings, and spiritual counseling sessions. When we visited her in Venice a little over a year ago, WMN Space had yet to open. Instead, Paula opened her home to women seeking comfort, support, and community, holding circles and sessions right in her living room. Flash forward to today, and WMN Space is up, running, and thriving. We caught up with Paula and took a tour of the space, which, much like her home, is warm, inviting, filled with natural light and—dare we say—really good vibes. That's not the only thing that's changed—Paula is now a mother of two. Along with her husband Todd and daughter Madeline, Paula welcomed baby Phoenix into the family in late November of last year.
One thing that stayed the same, however, is Paula's warmth, generosity, and kindness. Effusive and open as always, Paula talked to us about her work as a doula, creating boundaries to preserve her energy, and what it means to seek authentic community and connection. Amongst all her wisdom, she left us with one of the easiest self-care tips we've ever come across: just pause. XXJKE
Rip & Tan: Can you explain what a doula is for those who may be unfamiliar? 
Paula Mallis: The word doula means "servant to a woman." In my practice, doula support includes educating women and families about the birthing process, along with supporting my clients prior to the birth. Becoming pregnant can bring a lot forward for the woman and her partner. I support the woman and/or couple in the preparation of the birth as well as the postpartum period in private sessions that cover the physical, mental, emotional, and spiritual layers of the process. I believe doula support is holding a loving space for my clients as we travel the unknown journey through pregnancy, birth, and motherhood. 
Rip & Tan: What should someone expect if they're attending their first WMN circle? 
PM: Our signature WMN CIRCLES are not as "whoo whoo" as one might think. These circles are to support the modern woman wherever she is on her journey. There are no prerequisites to attending a circle. Just an open mind and an open heart. During our gatherings women have the opportunity to share, spend time journaling and listen to the experiences of like-minded women. When we share from a place of authenticity, in a non-judgmental space, we uplift and inspire each other. Women receive greater clarity and purpose in all aspects of their lives in making a commitment to this process and monthly practice. 
Rip & Tan: Have you always been interested in health and wellness? Where did your journey begin? 
PM: When I was fifteen years old, I found the one and only yoga teacher in my small southern town in North Carolina, and Iyengar yoga was my first introduction to health and wellness. I would say the pivotal part of my journey began almost eleven years ago when I woke up to the awareness that there was opportunity for a new life through different healing modalities in the health and wellness world.  
Rip & Tan: What inspired the design for WMN SPACE? What was important to you in deciding the aesthetic and ambiance of the space?  
PM: Prior to opening the doors to WMN SPACE, I had been holding women's circles in my home. When women would attend circles at my home they would always comment on the simple and calming vibe of our home. Our home—built by my husband—was the inspiration for the design and build of WMN SPACE. I wanted to create the calm feeling of coming home, but in a public space, with a warm and minimal design, where women would feel comfortable gathering together to feel supported and held. 
Rip & Tan: Doula work is inherently intimate—do you create any boundaries to separate the personal and the professional? 
PM: Yes. I am adamant about creating boundaries around my work and personal life. Creating a loving boundary allows my client to receive the support they need without depleting my energy while I am of service. 
Rip & Tan: How do you build your team of healers and community members? What characteristics or qualities draw you to the people you surround yourself with? 
PM: The healers that align with WMN SPACE are authentic in their work and offerings. They are healers who are truly called to be of service to the community with the intention of holding space for healing, empowering, and uplifting women in our community. Women who live a life of integrity and authenticity. Women who are willing to go deep into their own process with the intention of shifting the consciousness on this planet. This is their calling—they're not just jumping on the spiritual wagon.
Rip & Tan: With a line of work that is so energetically concerned with the care of others, how do you make sure to take care of yourself? 
PM: I am a huge advocate for self-care. Self-care, for me, is taking care of the physical, mental, emotional and spiritual layers within me. It's vital that I partake in self-care—it's not a luxury. I truly cannot be of service to anyone until I take the actions I need to fill my own cup. With all the roles that I play in my life I have to dive into taking care of myself daily. Most of the time, it's meditating while breastfeeding or taking a pause in my car after school drop-off or driving around town in between meetings and appointments and listening to my mantras. 
Rip & Tan: What advice would you give to working women to avoid burning out?
PM: PAUSE!!! I know it sounds so simple but pausing and taking a breath can be the opportunity to turn your attention inward and take a moment to come back to yourself. As working women, our attention is constantly outward. Taking time to pause—whatever that looks like for you—is a moment to align yourself with breath and love for yourself and all you are navigating by multi-tasking in your inner and outer worlds. 
Rip & Tan: How would you introduce a Western mindset to more "alternative" therapies or treatments?
PM: I would encourage being open. Regardless of your mindset, whether you gravitate towards Western or Eastern in your journey, there is healing in both worlds. It's being open to shifting to the perspective of "and" and "both" instead of "either or". Holding space for both worlds as medicine to heal imbalance supports the whole being.  
Rip & Tan: What are some of the biggest myths or common misconceptions about your line of work?  
PM: Regarding doula work, people assume that to hire a doula you have to want a water birth. HA! I have supported women and families through all types of births. Medicated, un-medicated, C-section, home births, etc. The most common misconception about attending a circle or workshop at WMN would be that you have to be "into that kinda spiritual thing" to attend. At WMN SPACE, there is an offering for all women because all women inherently seek authentic community and deep connection. 
Rip & Tan: Who are the women in your life that have shaped you and supported you? What are some of the biggest lessons you've learned from them? 
PM: My grandmother, mother, and aunts have been my first supporters in my life, loving and uplifting me through it all. I have a small core group of women I check in with regularly that have been in my life for years. They know and love me through and through. They call me out and reflect back to me when there is an opportunity for growth and healing within me. The biggest lesson I have learned from all of them is how to love myself honestly and authentically.  
Rip & Tan: Many of the leading voices in wellness today are those of women. What does it mean to lead that conversation? What power do we hold to create change? 
PM: In circle one night, a woman shared about Feminism vs Feminine, and I think we are still working out what it means to be a woman in this modern age. There is a huge shift of consciousness into the feminine. I believe this is our time to shift the planet back into balance and alignment. So much is coming forward for us to heal so that we can reside in a more balanced state between the masculine and feminine. Women hold so much power, but we cannot do it alone. Coming together with intention to support and heal is the alchemy for change. This is my vision and passion for holding space and welcoming women into the doors of WMN SPACE. 
Rip & Tan: Do men have a place in WMN Space? How can they best support the women in their lives? 
PM: All circle offerings and gatherings are for women or anyone who identifies as a woman. During the appropriate private sessions, men are encouraged to come with the intention of support for their partner. The physical space is intended for women only, but men can play a crucial role in reaffirming and reinforcing the work that the women in their lives are doing. Just by giving a woman the space to explore her femininity and by keeping an open mind and heart as to how this might look, a man becomes a powerful ally in her process of growth. 
Rip & Tan: What upcoming workshops or events are you most excited about? 
PM: Just coming off maternity leave, I am most excited about our signature WMN Moon Circles, along with the Mindful Menstruation series and Conscious Conception workshops. Our schedule at WMN SPACE is so exciting this year and has something that can align with every woman, wherever she is on her journey. 
Rip & Tan: Before opening WMN Space, did you have any concerns or reservations about its success? Was there a particular moment you felt your dream become a reality?  
PM: I never looked at WMN SPACE in the context of success. I was most nervous about fully putting myself out there into the world in a way I had not in the past. WMN SPACE was born from such a deep place within me. Every day I walk into WMN, I feel a deep sense of gratitude that I get to show up in the world in this way of holding space and being of service. I am truly living my dream, and it is now my reality.