Entertaining
Inside the Pacific Northwest Dinner Party of Our Dreams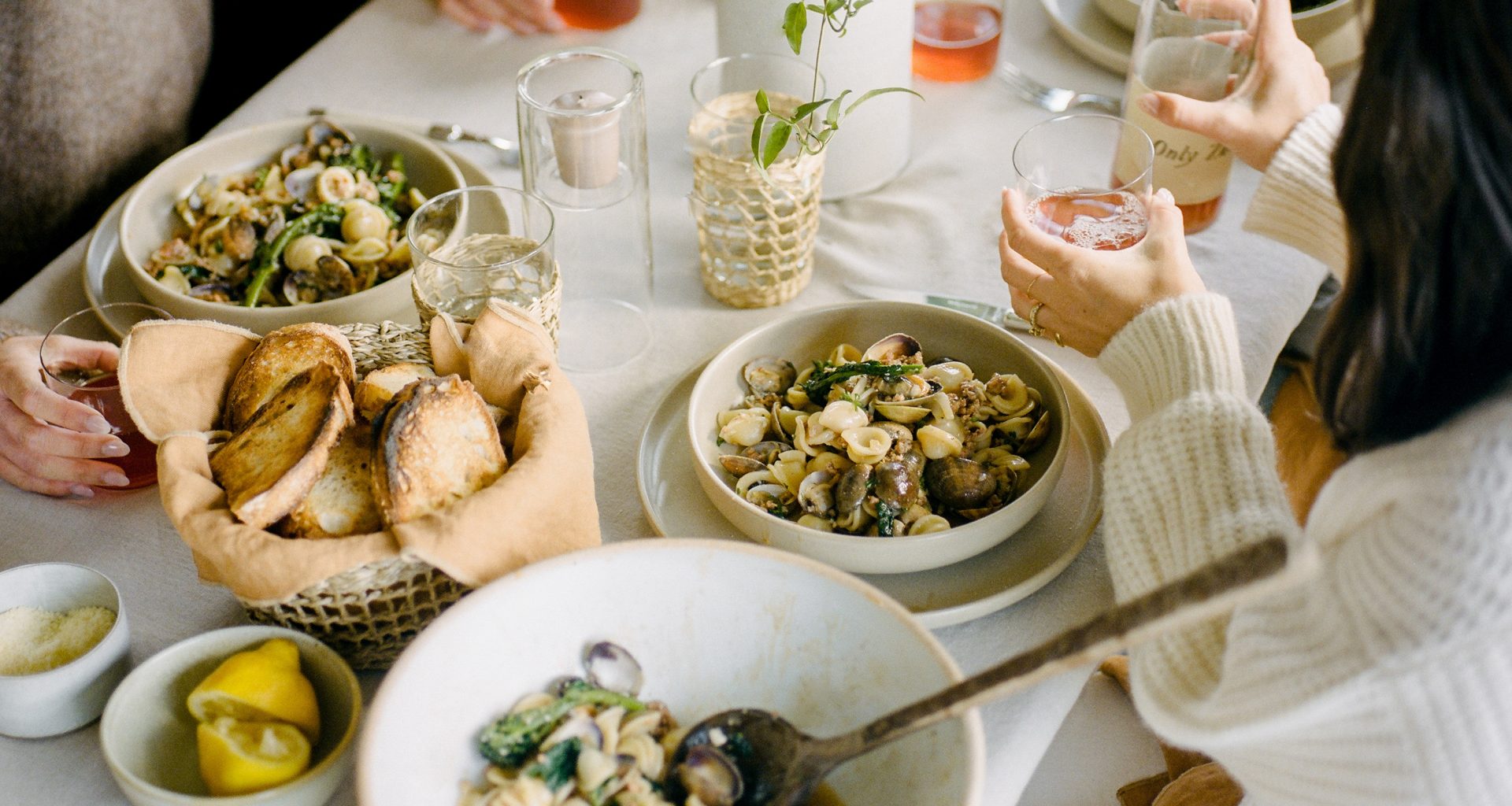 Some of life's greatest moments happen around the table. This is a belief we especially take to heart come summertime, when evenings call for setting a table outside where friends and family can share incredible food, lots of laughs, and plenty of wine. In preparation for her upcoming cookbook (which you can pre-order here), culinary curator Ali Primrose of Lyke Minded teamed up with our Director of Brand Creative, Meaghan Cox, to throw the dreamiest dinner party on the picturesque Lummi Island. We asked Ali and Meaghan to share their tips on how to recreate this scene—from the crowd-pleasing pasta dish to the ins and outs of how to host a dinner party, read on for the ultimate guide to effortless entertaining.
Rip & Tan: Tell us about this dreamy dinner location. How did your surroundings influence your decisions in and out of the kitchen? 

Meaghan Cox: I live in the beautiful Pacific Northwest and my very favorite part about living in Seattle is the easy access we have to the islands here. Whidbey Island is where I got married last year and we spend a lot of time in the San Juan Islands during the summer but Lummi Island has quickly become one of our favorites here too, especially after finding this rental on the island. It has the charm of a beach house (think outdoor shower, big deck overlooking the water with rocking chairs, and the cutest window seat ever to read and watch sunsets) and it just makes you want to unplug and relax, cook and drink wine, and play games.

My favorite thing to do in the house is cook and set the table out on the deck. I knew it was the perfect place for this recipe! I invited some friends to go out there for the weekend and we had the best time decorating the table, making floral arrangements, drinking wine and cooking, and lighting a fire at night.
Rip & Tan: Walk us through your process in styling this particular table. Where did you source some of your favorite pieces from?

Meaghan Cox: I knew I wanted to move the dining table out on the deck also we could enjoy the ocean view and sunshine. I love the mismatched chairs at the house and the way the setting feels perfectly imperfect. Because of the setting, I wanted to make sure the table was neutral but played off the coastal vibe. I started with a neutral base using the Jenni Kayne Frayed Linen Tablecloth and our Pacific Dinnerware Collection in Taupe. I used simple glasses from CB2 for water and some rattan glasses. I added some color with these amber-colored linen napkins from LOQ and decided to tie them in knots to make it feel more casual. I made an arrangement with a lot of greens and whites and some branches in a Tracie Hervy vase, then let the food really be the star of the table and served it alongside big wedges of lemon and parmesan cheese!

Rip & Tan: From versatile linens to do-it-all dinnerware, what essentials do you think every tabletop should have? 

Meaghan Cox: I always use our Frayed Linen Tablecloths. They are the perfect base for a well-decorated table! I also recently got the Pacific Dinnerware in Taupe and it has been a go-to for us. And definitely a cocktail—Ali has the best cocktail recipes!

Ali Primrose: I am a sucker for greenery, so definitely big branches, garland, or wild florals. Don't forget a cocktail, of course!
"I fell in love with the motif of 'where land meets the sea' for this recipe. From the Italian sausage to littleneck clams, the ingredients stay true to their origins and really embody Meaghan & mine's favorite environments: the ocean and farmland."
Rip & Tan: What are the elements of the perfect outdoor dinner party? Any go-to tricks for hosting with ease? 

Ali Primrose: String lights, romantic linens, and yummy scented aromas or candles. To me, it's all about the first impression so I really enjoy activating all of the senses right when guests arrive.

Meaghan Cox: Agreed! Ali sets the most beautiful tables so I always look to her for inspiration. I also love lighting a fire if you have a fireplace. There is nothing better than that smell, and it's so cozy! If you don't have a fireplace, our Ash Candle is the next best thing. But the combination of Ash and a fire is heaven! I am all about snacks, so I always have a lot of snack items to serve before dinners, like fresh veggies with dill and tahini dips or bruschetta. Lots of wine, prep the food as much as you can beforehand, and choose easier recipes (like this one!) so you aren't stressed about getting it all together. It gets chilly at night in the Pacific Northwest, so I would also recommend having a room inside ready to host in so you can move inside after dinner and keep the party going!

Rip & Tan: Any tips for recreating this tabletop scene on our own? How can we use the pieces we have on hand to create an impactful setting?

Ali Primrose: My favorite thing about Meaghan's vision was how neutral yet warm it felt. There was this glow around it and although the meal was also neutral, it stood out and really felt like it was meant for that space at that moment with those girls. My tip for recreating something similar would be less is more and be intentional with your palette. If going neutral, try whites and woods with clear glass to let the sunlight in and give vibrant bottles of vino the focal point they deserve!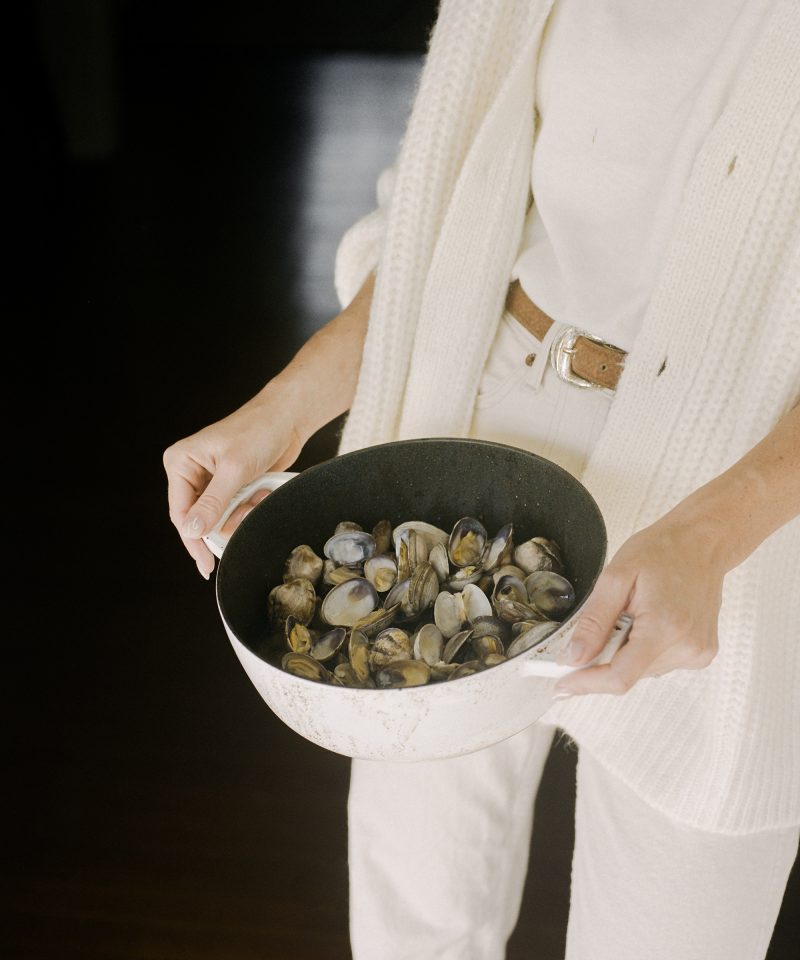 Rip & Tan: What inspired this dish? How does it draw on the sensibilities of the Pacific Northwest?

Ali Primrose: My mother inspired this dish. She makes a very similar version of this meal and it is one of her favorites to plate (who doesn't love placing a giant bowl on the dinner table?). I fell in love with the motif of "where land meets the sea" for this recipe. From the Italian sausage to littleneck clams, the ingredients stay true to their origins and really embody Meaghan & mine's favorite environments: the ocean and farmland. When explaining to Meaghan what that meant and the provisions that follow, she knew this meal belonged by the coast. Little did I know, the perfect cottage would be found for the perfect pasta.

Meaghan Cox: When Ali and I first talked about collaborating on a dish, I told her I wanted to make a seafood pasta based on a pasta that I was regularly cooking at home (a broccoli Bolognese with sausage) and Ali immediately showed me her mom's famous pasta dish that incorporated everything I was dreaming of. It was meant to be! My favorite thing about Ali's recipes is that they are incredibly flavorful while being very simple to make. She somehow makes it easy to incorporate a lot of ingredients and flavors without a ton of extra steps. I am SO excited for her cookbook for this reason!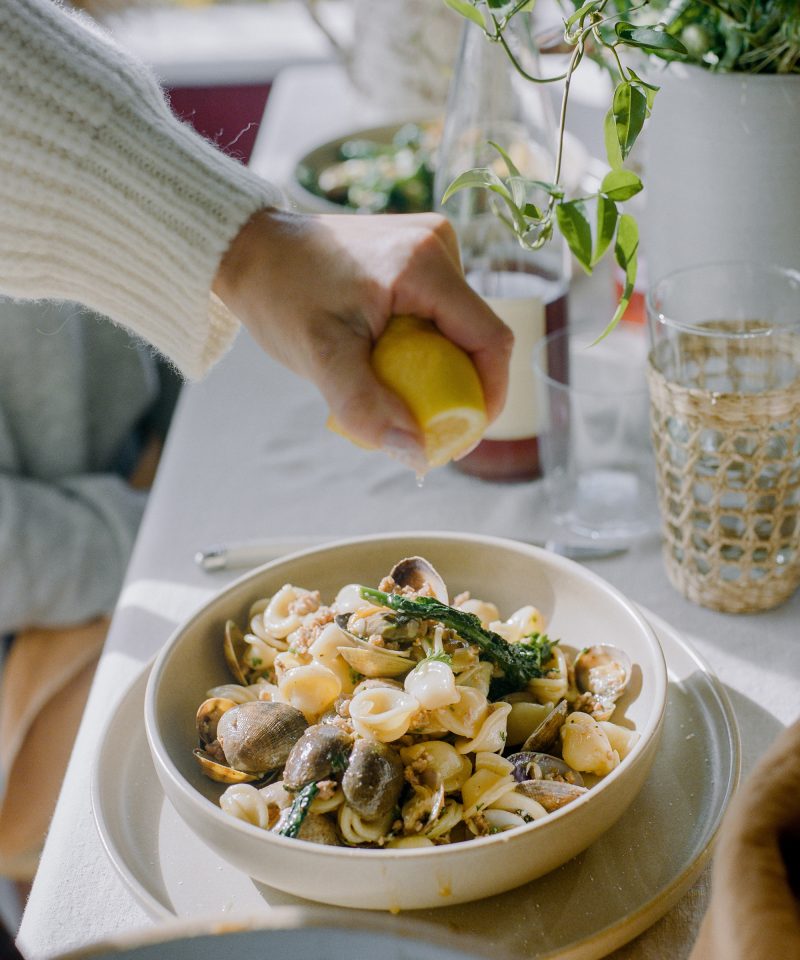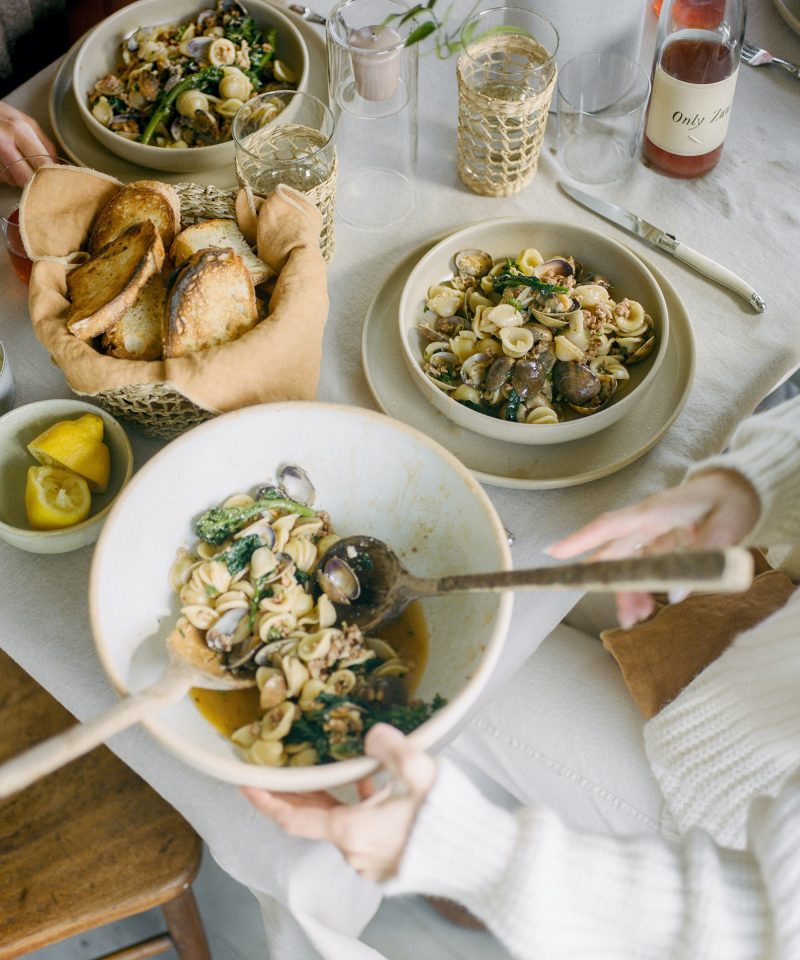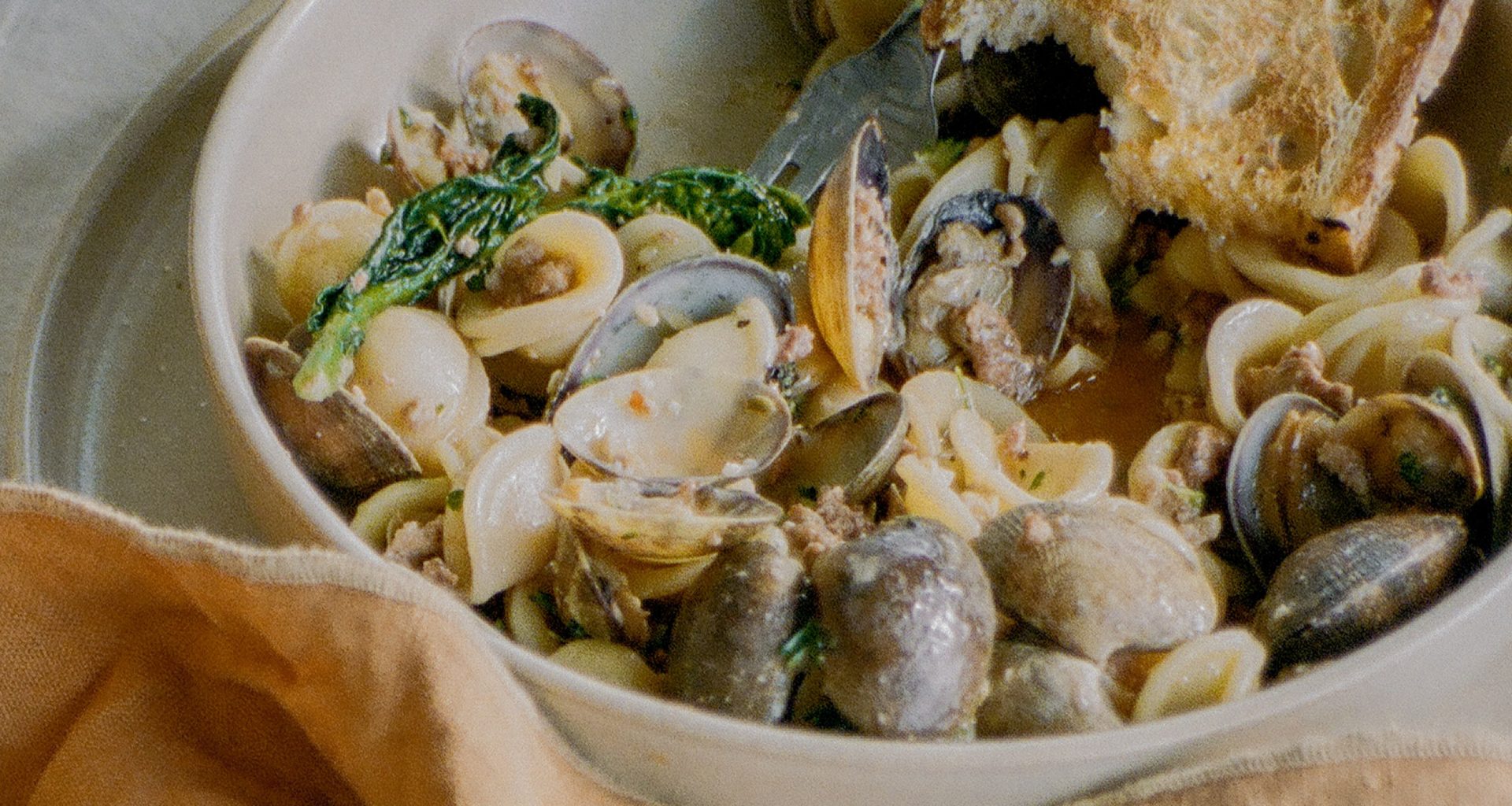 Lyke Minded's Where Land Meets Sea
Recipe
Lyke Minded's Where Land Meets Sea
Ingredients
1 lb

1 lb

ground spicy Italian sausage
2 bundles broccoli raab
orecchiette pasta
20-30 littleneck clams
1 shallot
1/2 stick butter
6 cloves garlic minced

1/2 cup

1/2 cup

white wine
1 lemon
olive oil
1 handful parsley
Parmesan cheese to garnish
salt and pepper
-Loosely roll 1 lb ground Italian sausage into 1/2" balls. Cook. On medium heat, bring olive oil, minced garlic, shallot, white wine, 1/2 stick butter, and 1 handful fresh parsley to a sizzle.
-Pour in 20-30 clean and scrubbed littleneck clams. Turn off heat when clams open.
-Boil water and cook pasta. 5 minutes into pasta boiling, add 2 large bundles of broccoli raab. Drain broccoli raab and pasta. Pour into large serving bowl. Add meat to pasta. Take clams and "sauce" and pour pan into serving bowl. Garnish with a drizzle of olive oil, parm, parsley, salt and pepper.